Alright, NSW's best country pubs. The rules are, if it's got VB on tap, a gravy-loaded schnitty worth your weekly calorie intake, or a cosy fireplace—we rate it.
Country pubs are the bee's knees and it's not just because they know a thing or two about plating up wholesome feeds. It's because they ooze that all-Aussie no-frills air you simply can't dig up anywhere else. They're all about supporting local producers, brewers, and musical talent plus, they never fail to reel in a crowd that serves up some solid bants.
Jump in the car, here are the best country pubs in NSW to visit.
North
Eltham Hotel
Eltham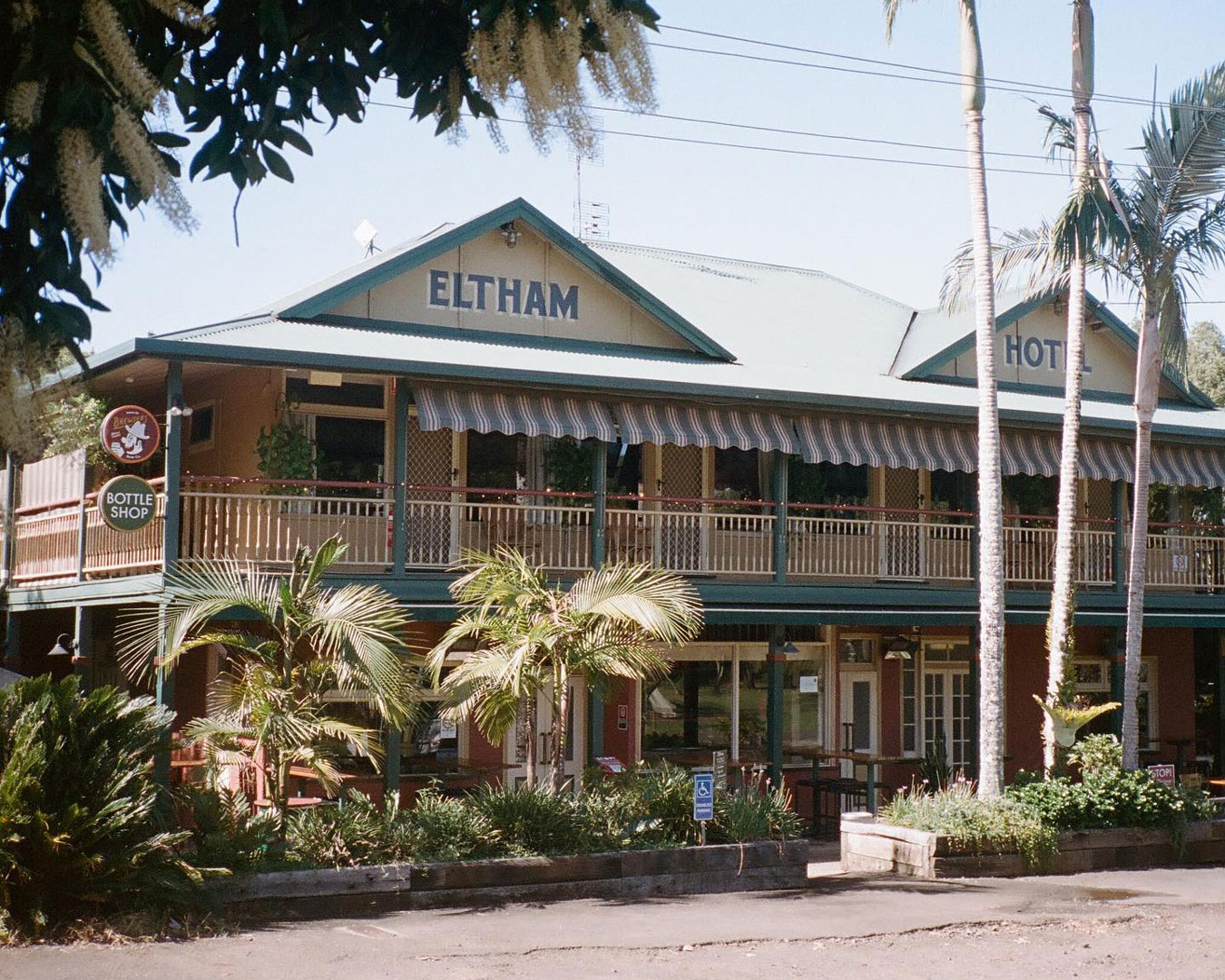 This Northern Rivers watering hole looks like it belongs on a postcard. It's got charm aplenty thanks to its towering palm trees, retro paint job, and expansive outdoor area that's perfect for soaking up that fresh country air. While tourists may flock here for lunch in the summer months, it's really a locals' pub year-round. It hosts regular gigs and trivia on Tuesdays, and it's got a good mix of craft brews and classic cold ones. Plus, the pub grub is both hearty and Byron Bay-friendly—think chicken schnitties, fish and chips, and steak alongside veg-heavy dishes like eggplant parmy and spiced cauliflower burger. The Eltham also has five beautifully styled rooms upstairs where you can stay the night—so now you have no excuse not to visit, do you?
Great Northern Trading Post
Laguna
Looking for an old-school pub a little closer to the big smoke? Just below the Hunter Valley you'll find the Great Northern Trading Post in Laguna. And it's more than just a pub. You can head here for your morning coffee, pick up fresh veg and artisan cheese from the on-site grocer, hit up a seasonal market, check out the local land for sale at the adjoing real estate agent, catch some live tunes, and, perhaps best of all, settle in for a pub feed and a schooey. It's also the only petrol station around these parts (which is handy to know when on a road trip). The establishment located on Tourist Drive 33 has been around since 1879, making it a charming spot for an afternoon brew in its outdoor courtyard or cosy interior. Keen to check out another gem in the area? The historic Wollombi Tavern is less than a ten-minute drive away.
The Pub With No Beer
Taylors Arm
If it's good enough for Slim Dusty, it's good enough for us. Contrary to its name, the Pub With No Beer actually does stock the good stuff (thank god) and is located about a 20-minute drive out of Macksville (you can also scope the best things to do in Nambucca Heads right here). Many call this country pub the "eighth wonder of the world" and when you take your first step inside, it won't take you long to figure out why. The Pub With No Beer is a step back in time and dates back to the start of the 20th Century plus, it's decorated with all the nostalgic Slim Dusty memorabilia.
Here, you'll find hot pizzas cooked to perfection and 16 different beers on tap. When the mercury drops, the go-to here has to be the belly-warming roast beef and gravy roll. You'll also be able to cop an array of housemade pies (specials change every day), which all get served with chips or mash and gravy.
Commercial Boutique Hotel
Tenterfield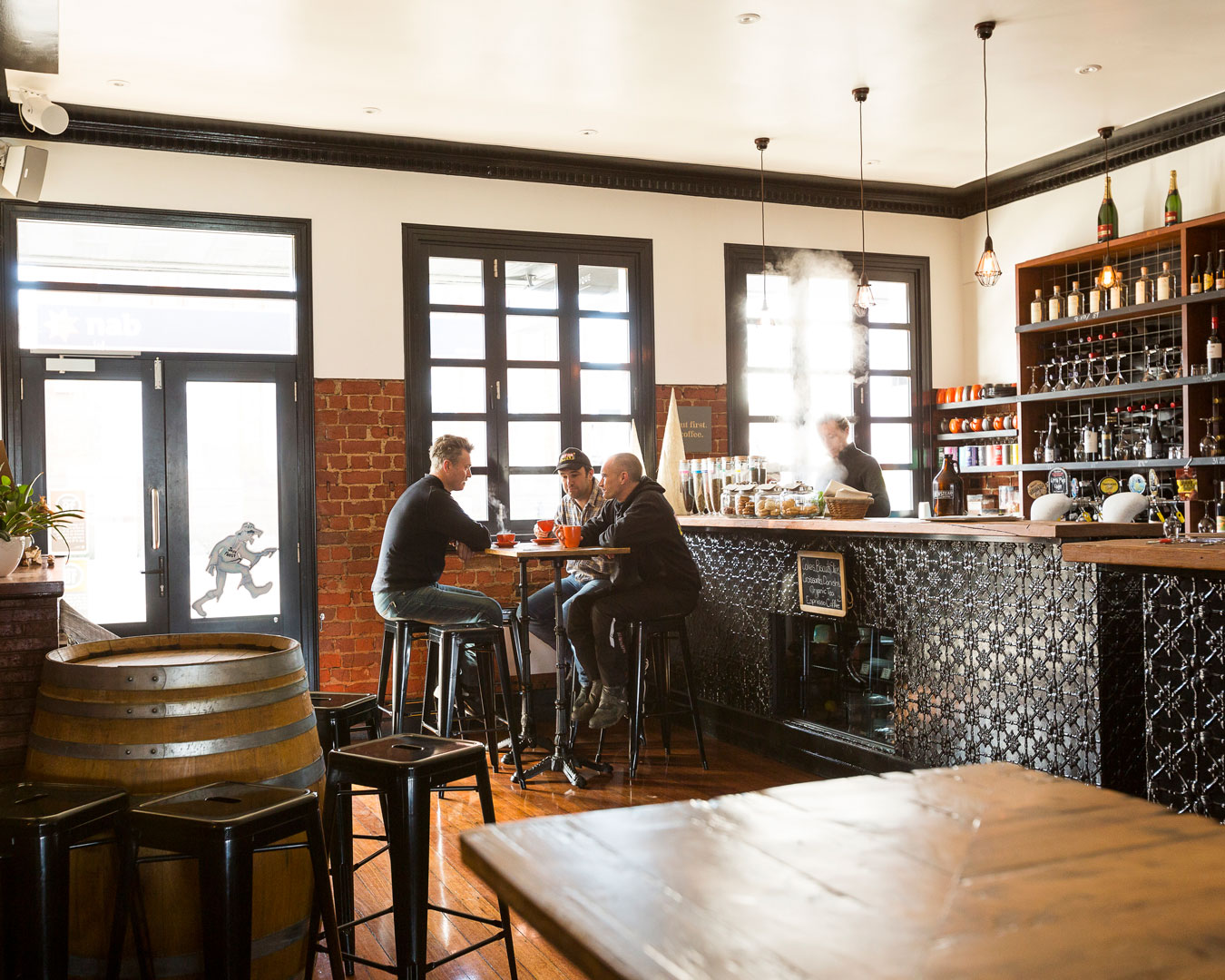 Taking residence in New England High Country, the Commercial Boutique Hotel is one of the best country pubs in NSW, especially during the winter months. Oozing art deco vibes and all the country charm, this pub also has a cosy fireplace to boot. The beer and wine situation here pays tribute to local and Australian brewers and winemakers, while the food is a sure nod to classical French cooking.
The Coast Hotel
Coffs Harbour
The Coast Hotel is a permanent festival of feasts, frothies, and the best damn trivia around. The country pub sits loud and proud on Monee street and is everything you want in a watering hole and more, with special antics on every night of the week. Trivia Tuesday here is pretty iconic and backs production value bigger than Avengers: Endgame. Fiesta Fridays look like a BBQ in the beer garden with $6 beers and $10 margaritas, and Sundays bear witness to one of the greatest roasts around for a cruisy $15. There's also a cheeky "Thor Burger" on the menu packed to the brim with double beef, bacon, onion rings, egg, pickles, cheese, beetroot, lettuce, and tomato relish—it should be a crime not to attempt it.
The Billinudgel Hotel
Billinudgel
Located within Brunswick Valley, The Nudge is an absolute institution, and its bar and beer garden has undergone some solid refurbs to keep the early 20th Century vibes alive. Back in the day, this goldy was the local watering hole for farmers, timber-getters, and construction workers, and you can expect the same no-frills situation to be hammering away today. In summer, the beer garden is the place to be with wide open, grassy spaces, fairy lights, and "The Shed"—the pub's resident live music pergola. In winter, you can cosy up inside and warm your body with hot schnitties (which are on special every Monday and Wednesday).
Settlers Arms Inn
St. Albans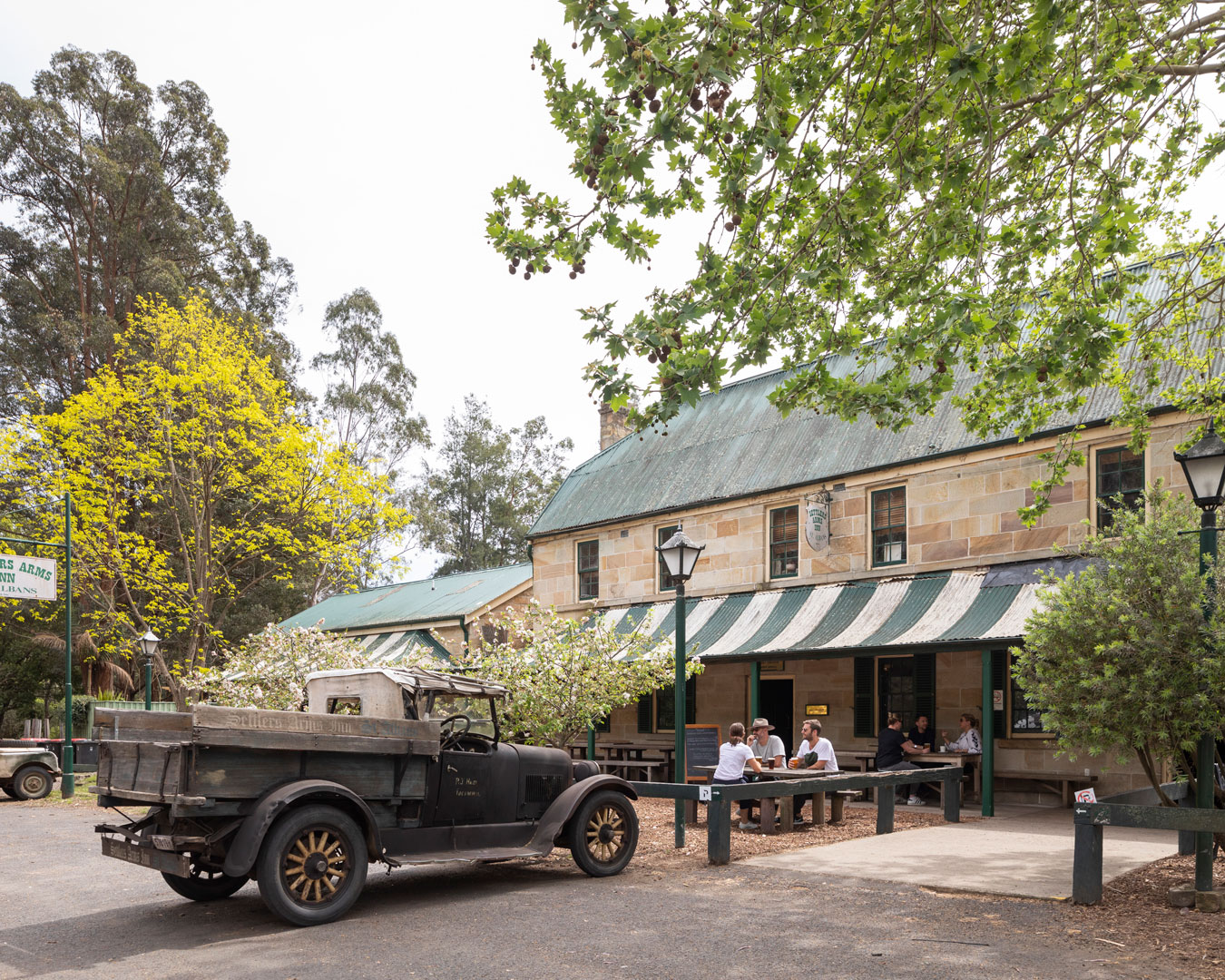 The Settlers Arms Inn is as much of a pub as it is a historic site. Built from convict-hewn sandstone, this country pub is surrounded by mountains next to the Macdonald River and is the perfect place to spend a day when the winter chill starts to set in. She's a bit of a destination pub, only accessible by driving your car onto the river ferry, but she's so very worth the adventure. The beer garden involves a bit of dirt in your shoes and the food menu is never really the same with fresh produce brought in throughout the week (however, you will find some staple pies, tarts, cakes, and scones every day, all of which are made on-site).
Hotel Brunswick
Brunswick Heads
You'll find this mega pub at the end of Mullumbimbi Street in good old Brunswick Heads. It's a mecca for live music up this way and has been since it was built back in 1884. Known for its laidback "caravan beer crowd", the vibes at Hotel Brunswick go off and you can expect to leave this joint with few more mates than you went in with. There are a few bistro-style spaces to settle into here, like The River Bar with 16 beers on tap and views of the Brunswick River, and the River Room, with even more local and international beers on tap. On the food front, you can hit anything from pappardelle pasta and soft shell tacos to gravy-loaded schnitty or cheeseburger sliders.
To top it all off, Hotel Brunswick also keeps a "charity tap" that pours the new Hotel Brunswick Classic Brew and sends 100 percent of the profits to a worthy cause. The summer ale has been hand-crafted at Seven Mile Brewery and uses all-Aussie ingredients with a mild bitter finish of hops, malted oats, tropical fruits and citrus.
Star Hotel
Macksville
For big river views of the Nambucca River, a wrap-around verandah and an impressive reno of its 1880s-era facade, Mackville's Star Hotel is an icon. This riverside pub is known for its pontoon and jetty (so it's a popular pitstop for boaties and houseboats), as well as its fern-filled courtyard and the pavilion-style beer garden. The "star" menu item goes to the succulent baby back pork ribs cooked for 24-hours. These beauties get smothered in a spicy watermelon BBQ sauce and yeah—we had never heard of that combo before either.
Packsaddle Roadhouse
Packsaddle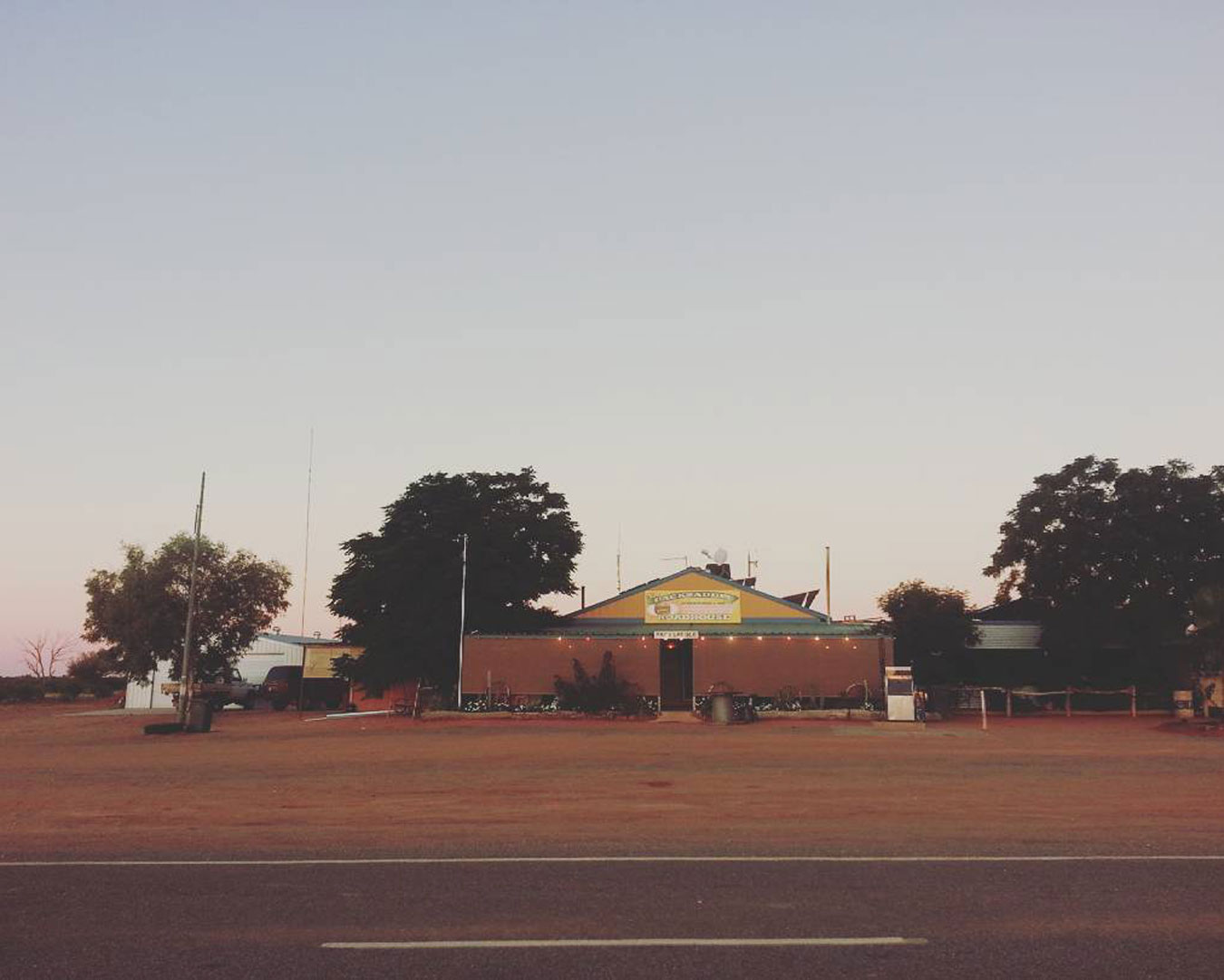 For the ultimate outback pub vibes, look no further than the trusty, rusty Packsaddle Roadhouse. He's been dubbed a "diamond in the dust" and lies almost 200km north of Broken Hill sporting a bar, dining room, a beer garden, and even some on-site camping if you're keen. Decked out with corrugated iron, monster kegs, fairy lights, and hanging cowboy hats and boots, you'll feel like you're in the middle of a Clint Eastwood movie. No surprise, it's all about rump steak, T-bones, grilled feeds, and schnitzels here, with a solid slew of tasty meat pies as well.
South
Burrawang Village Hotel
Burrawang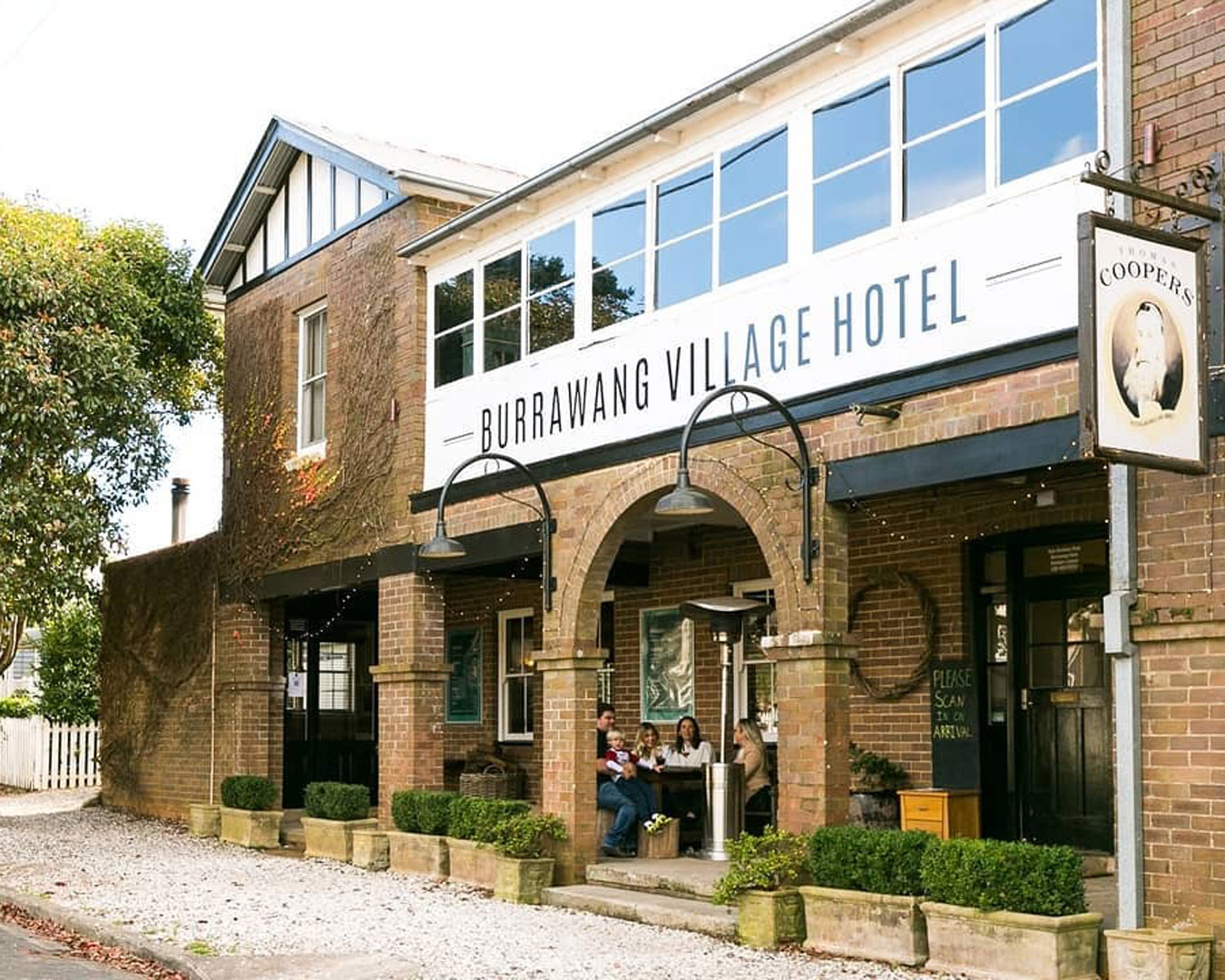 It really doesn't get more country than The Burrawang Village Hotel. Surrounded by stunning grounds and views of the Southern Highlands, The Burrawang is a firm favourite with locals and Sydneysiders hitting the Highlands for a weekend escape, and the foot traffic here definitely amps up during the winter season. The food game here is pretty unmatched with a long line-up of essential pub specials like "2 for 1" Mondays, $15 schnitty Tuesdays, $15 pork ribs and rump Wednesday nights and, the magnum opus of all feasting—$1 oyster Fridays.
The Sir George
Jugiong
A bar, a restaurant, a cafe, an artisan bakery, and a homewares store—there's a lot going on at The Sir George. However, all you really need to know is that no matter what time of the year you hit this country pub up, the beer is always cold, the wine list handpicked, and the cider always crisp. You can knock back a couple of frothies at the Pheasant (front bar), or delve in deeper to the ladies lounge or whisky lounge. The menu covers off all sorts of feeds, like lamb kofta, house-smoked ocean trout rillette, a side of royal blue potatoes, and Swiss chard with chickpeas, charred pumpkin and celeriac mustard.
As for the bakery, brace yourself for the most famous sourdough in the region (famous for its slow fermentation), sourdough doughnuts filled with jam, vanilla custard and Nutella, and an ever-changing selection of baked treats.
The Friendly Inn
Kangaroo Valley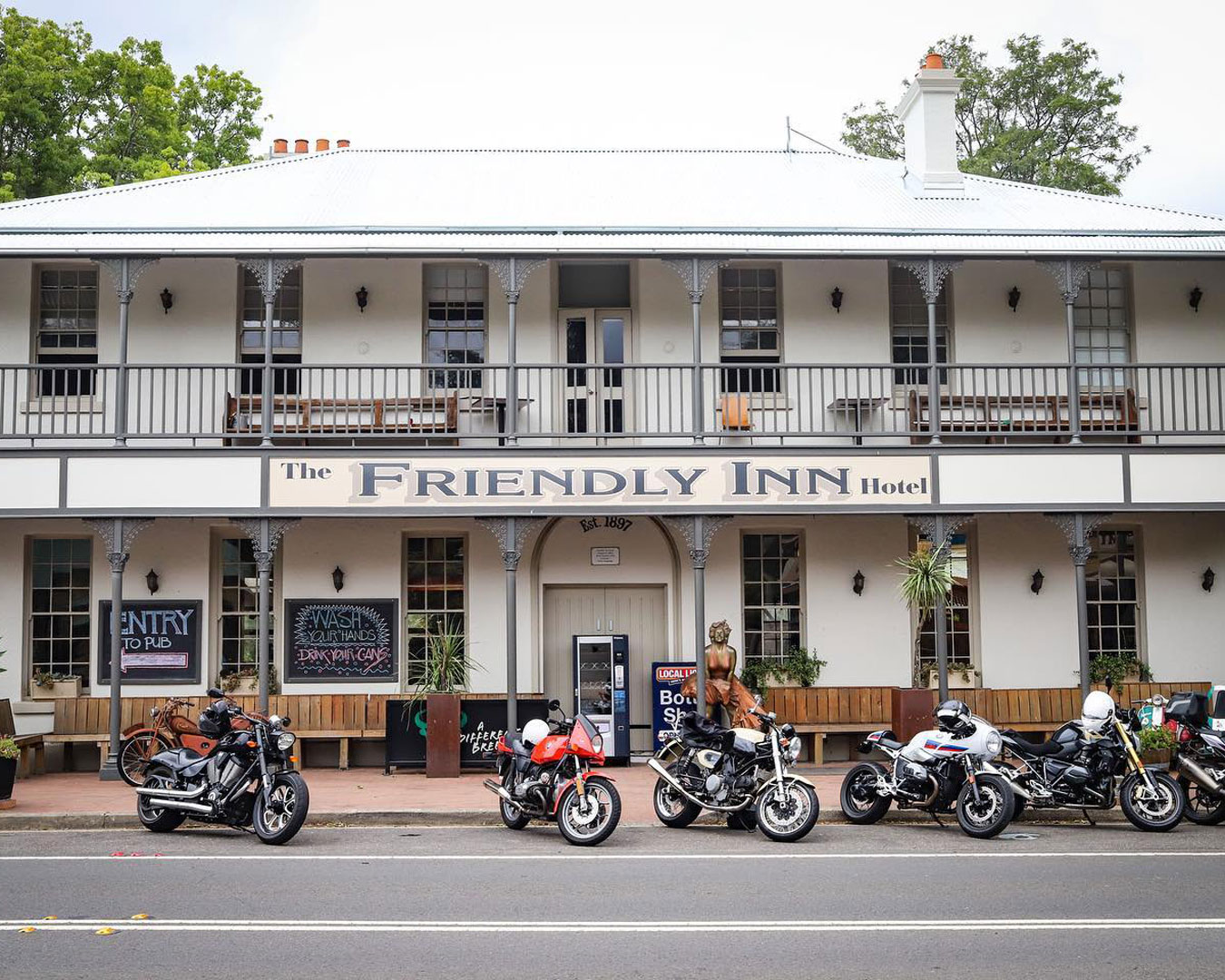 The Friendly Inn is one of the oldest pubs down yonder and boasts solid views of the Valley and a menu of top-notch favourites like seafood platters, hefty steaks, and crunchy schnitzels. There's a lot to explore here, including a family bistro with soft shell crab burgers, an open-air beer garden, a bottle shop (who knows when you'll need to stock up on beer, wine, spirits, or ice) and a full-service bar open seven glorious days a week.
The Royal Hotel
Queanbeyan
The Royal Hotel means business with a kitchen churning out any and every kind of pub feed you could dream of. Dig into a half rack of house-smoked and marinated pork spare ribs, cheesy pizza bread, sizzling fajitas, garlic herb panko crust lamb and one hell of a southern fried chicken burger (featuring maple glazed bacon, smashed avocado, slaw, greens and chipotle mayo trimmings). It's also event central with live music gigs, themed lunches and Christmas in July celebrations.
West
The Royal Richmond
Richmond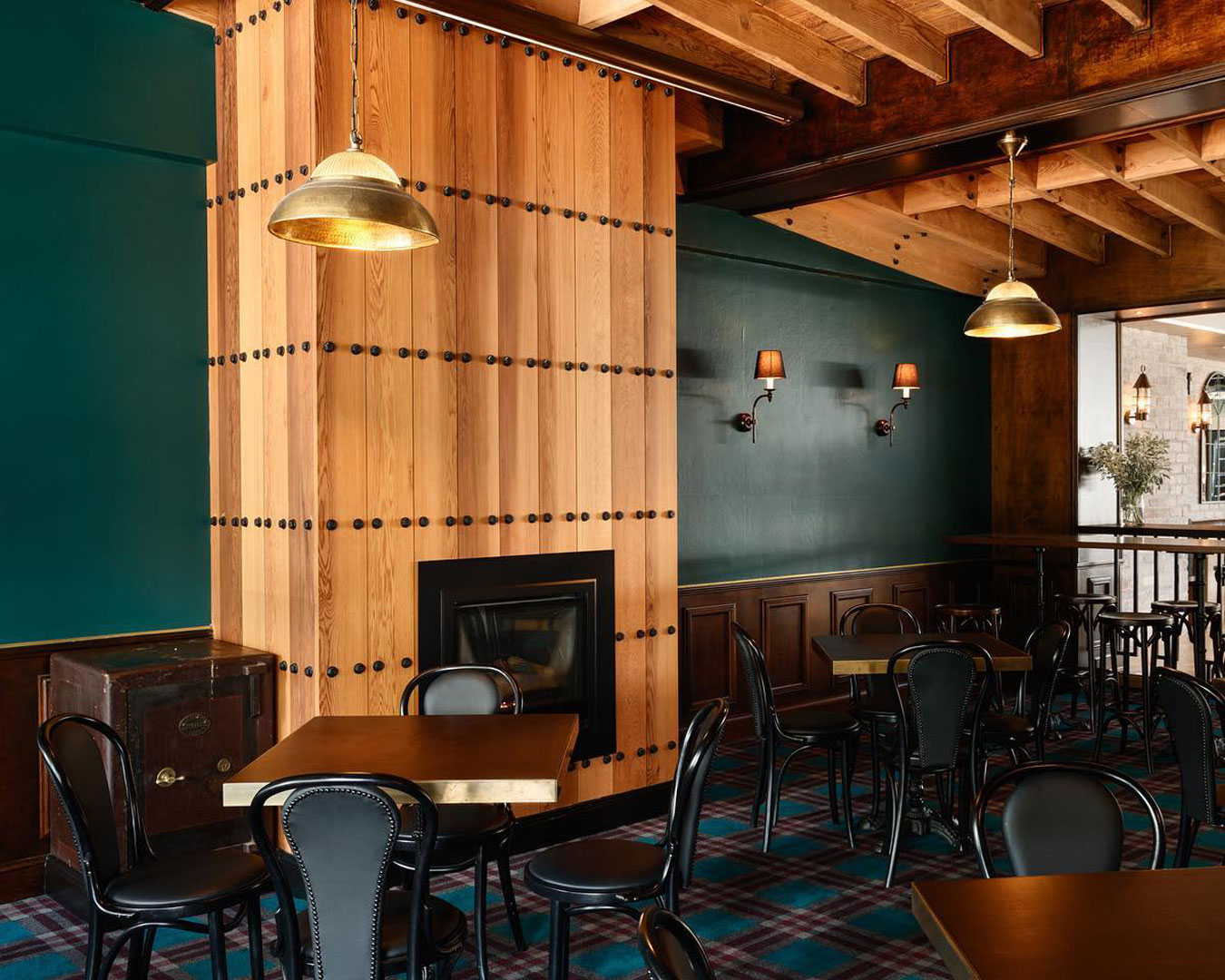 A major transformation of one of the country's oldest continuously operating pubs has arrived to give you a whole new reason to make tracks for the Blue Mountains this winter—with a tasty pitstop along the way.
On the menu at The Royal Richmond are pub classics—free-range chicken schnitzel, parmigiana, beef nachos, a BBQ beef burger, pizzas (with gluten-free bases available), and beer-battered fish and chips. For max wintery vibes, there's also a selection of hearty pastas, an eggplant, ricotta, and spinach lasagne, and a butcher's selection of dry-aged cuts with sides like buttery mash and fries. As well as the bistro, the reno also includes a brand new winter-ready cocktail bar, complete with timber-clad fireplaces, tartan carpet, a heritage wood-panelled bar, and window seating with a pretty view of Richmond Park.
The Lord Anson
Orange
Some country pubs in NSW need no introduction and The Lord Anson is absolutely one of these. The fact of the matter is that this pub actually boasts one of the best parmis in the country and if that's not worth the road trip, we don't know what is (it also only goes for $15). The menu here has been created by chef and owner Hugh Mawter and is all about sourcing local produce. If you're out this way during winter, Saturdays are dedicated to all things bangers and mash.
Silverton Hotel
Silverton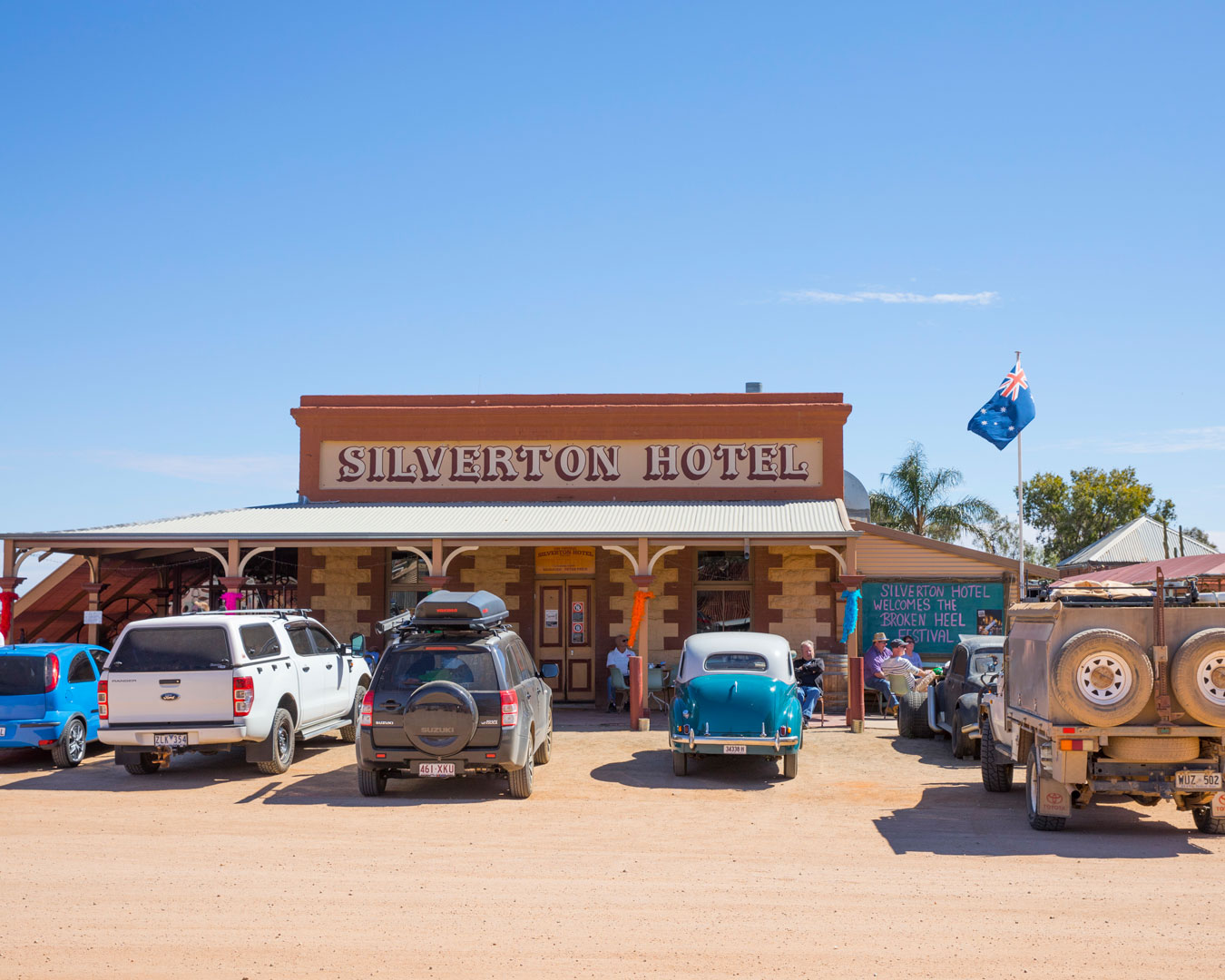 The Silverton Hotel is Australia's version of Hollywood. Marked by the pimped-up, black Volkswagen beetle parked out the front (a cheeky homage to Mad Max's V8 interceptor)—this bush watering hole will bring back big film memories for anyone who has seen Razorback, Wake In Fright, The Slim Dusty Movie, Mission Impossible II, The Adventures of Priscilla: Queen of the Desert and a whole heap more (movie buffs, you need to get here, stat). You'll be able to tab up a number of stomach-fillers here like chicken nuggets (a cruisey 60-cents each), chiko rolls, fish cocktails, Silverton's iconic hotdog and the oozing pie, chips and gravy combo.
The Palace Hotel
Broken Hill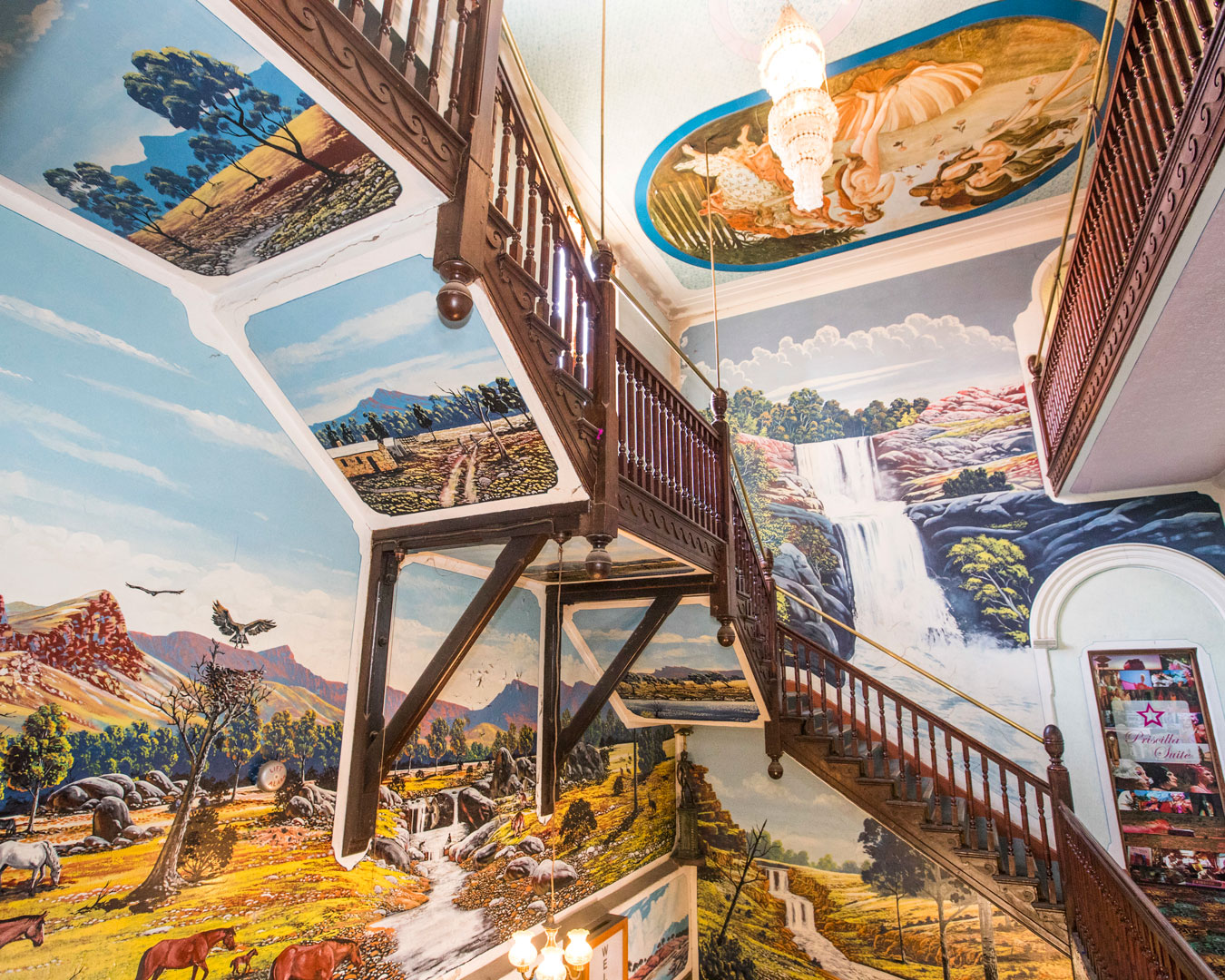 Before it became a holy site for sinking schooners, The Palace Hotel was actually a venue dedicated to all things coffee. This beautiful country pub (which you have no doubt already spotted in The Adventures of Priscilla: Queen of the Desert), is decked out in landscape murals, all of which include a body of water. Your heavy hitter feed here has to be the "Palace Burger", a glorious stack of marinated pulled pork beef brisket with jalapeno peppers, swiss cheese, caramelised onions, BBQ honey mustard sauce, and tomato sauce.
Jack Duggan's Irish Pub
Bathurst
Sure, you may remember Bathvegas for the time you went gold panning there in primary school, or potentially lost your morals in the halls of the uni bar, but we're pretty sure that once you visit Jack Duggan's Irish Pub—that's how you'll remember this town. These guys have won a tonne of awards, and for good reason. Traditional pub grub meets traditional Irish fare is the go here with one of the best pub steaks you'll ever have the privilege to order. Friday and Saturday nights are for live music, so pack your dancin' shoes.
Looking for something closer to home? These are our favourite pubs in Sydney.
Image credit: Destination NSW, Eltham Hotel, Destination NSW, Destination NSW, Packsaddle Roadhouse, Burrawang Village Hotel, The Friendly Inn, The Royal Richmond, Destination NSW, Destination NSW