Crowned the 11th best bar in the world and one of only three Aussie bars to make the list—Maybe Sammy has been making waves since they started pouring slick martinis in white dinner jackets back in 2018.
And today, the team is giving Sydney another coupe-full of Maybe Sammy goodness with the opening of Sammy Junior—a lavish pistachio-hued espresso bar meets cocktail spot in the heart of the CBD.
The new cafe-bar is co-owned by the Maybe Sammy crew (that's Vince Lombardo, Stefano Catino, and Andrea Gualdi) and Spiritual Coffee founder and 2017 World Coffee in Good Spirits Champion Martin Hudak. And with this team behind it, Sammy Junior is all set to bridge the divide between great coffee and great cocktails, and not just via an Espresso Martini.
Designed by George Livissianis (Chin Chin, The Apollo, Cho Cho San, The Dolphin Hotel), Sammy Junior's stunning custom-coloured jade terrazzo streams across floor and bar surfaces, backed up by hand-finished stucco walls and plush green leather booths (like a more stylish, subdued version of the Emerald City in the Wizard of Oz, yes).
Open from 7am Monday through Friday, in the AM Sammy Junior will be serving a bespoke Sammy Junior Spiritual Coffee blend crafted by Hudak. Poured into coffee cups fashioned in the bar's signature flamingo pink, you can grab yours to go from the York Street takeaway window, or escape the hustle and bustle for a blissful moment and get caffeinated inside the 50-seater venue.
Come lunchtime, the Maybe Sammy cocktail show kicks off. A menu of the bar's now-iconic 100ml mini cocktails will be served, with just six to choose from. At $13 each, take the edge off the workday with a Martini Australiano, a Cascara Fizz, or TI Punch Spritz, or get fired up for the afternoon with a coffee Negroni, a frappe-style Espresso Martini, or an Irish coffee.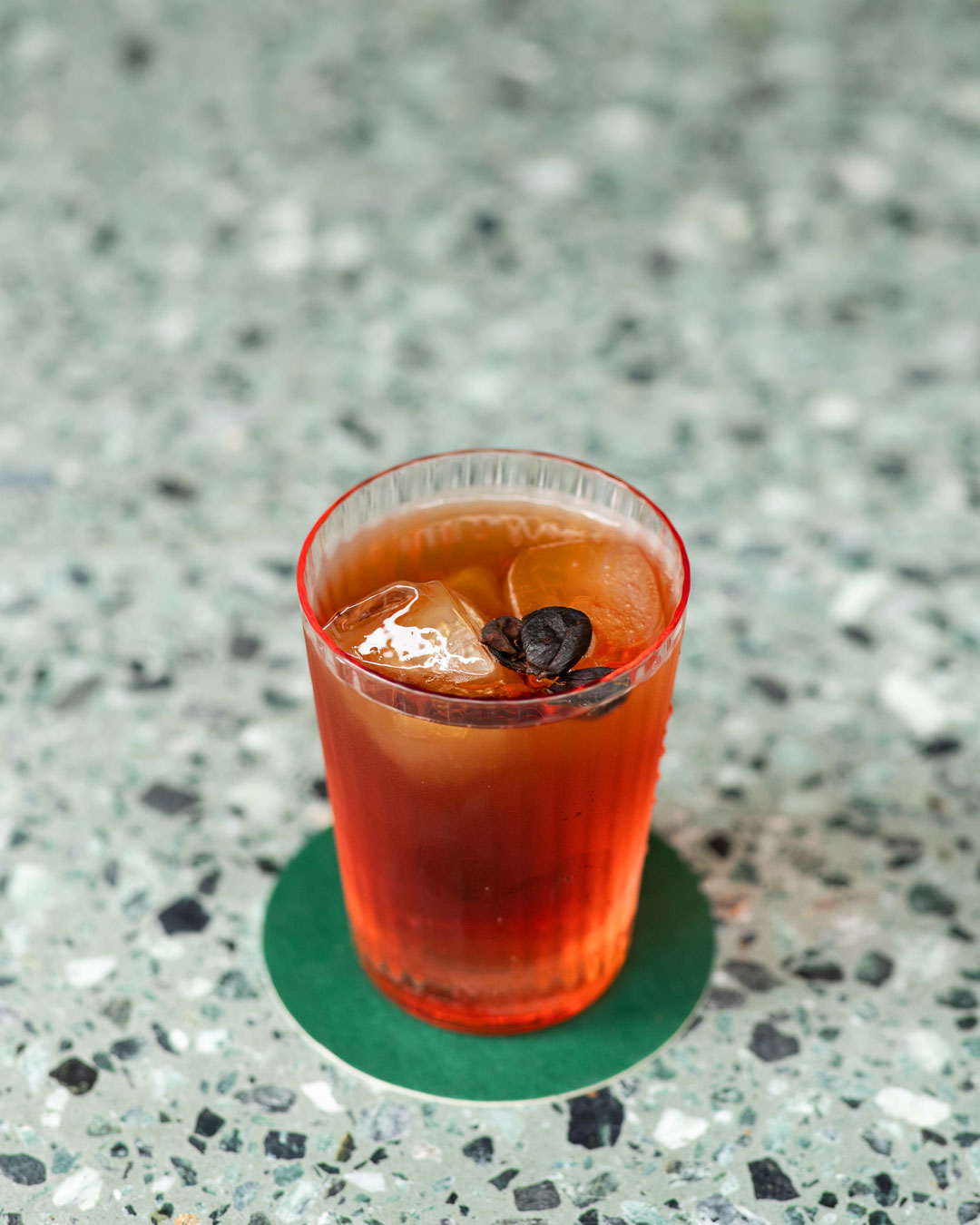 "Traditionally, a venue is either great at coffee or great at cocktails but there [are] not many venues that combine those two offerings successfully," says Hudak.
"We expect the space to be quite transient but at the same time, we welcome those who want to come in with their laptop and sip coffees for a few hours while they work. From mid-afternoon, the energy will pick up pace as we start serving our mini cocktails to those who want to duck out of work early for an aperitivo."
Four out of the six cocktails are on tap, as well as a bespoke Sammy Junior craft beer from Nomad Brewing and a rotating selection of wines. Created by ecoSPIRITS, the tap system is a sweet sustainable move, minimising packaging and reducing the carbon footprint of spirits by a pretty impressive 80%.
To eat, for breakfast you'll find a neat edit of pastries from Sonoma alongside simple morning time snacks like chia pudding and ricotta-laced banana bread created by chef-consultant Rob Lechowicz of Cronulla's legendary Blackwood Pantry.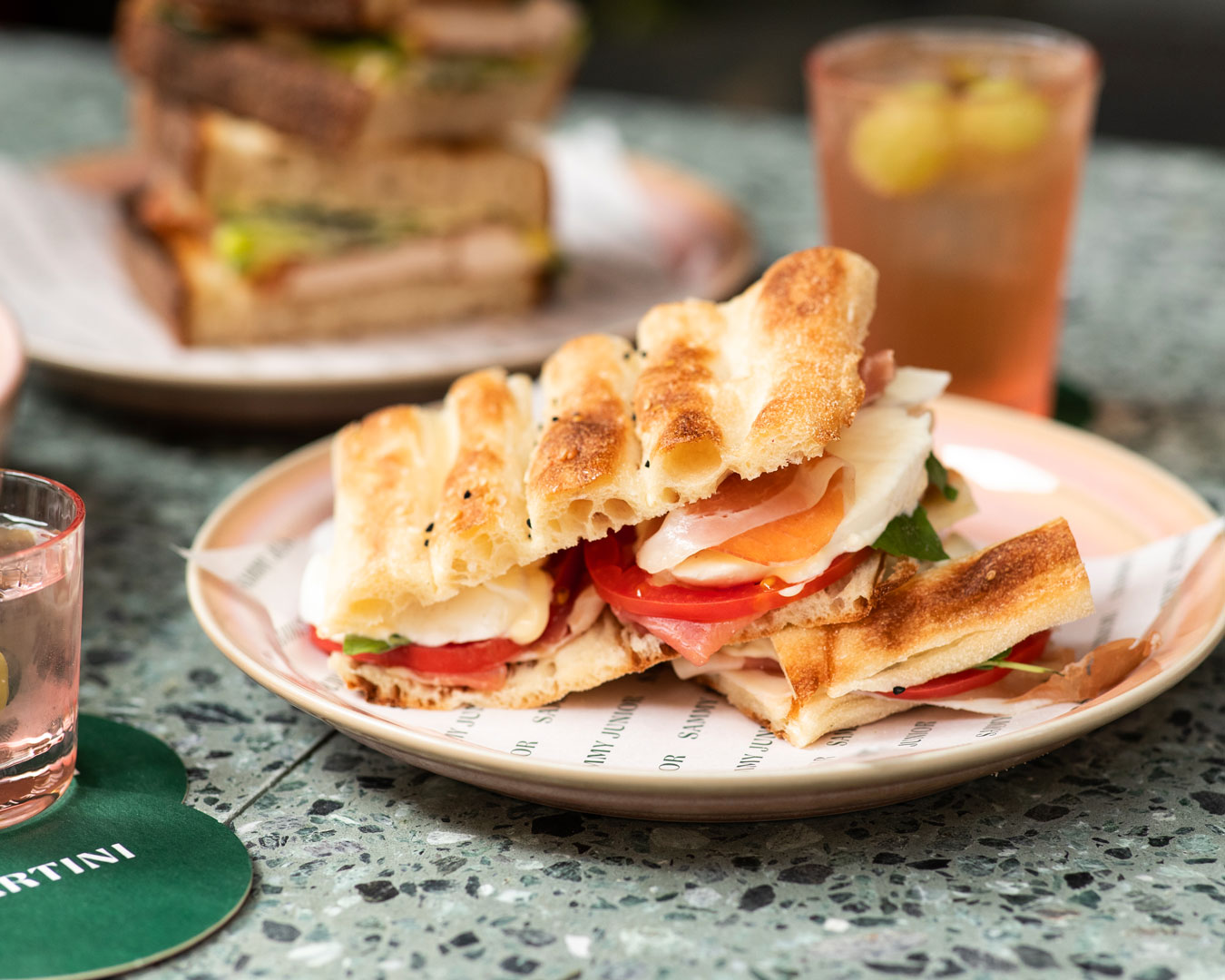 At lunch, Lechowicz has a selection of salads and sandwiches. Try the Chicken P.L.A.T, with grilled chicken, prosciutto, lettuce, avocado, tomato, and aioli on fresh sourdough ($16), or the Asian Chop Bowl, which is a mix-up of lettuce, cabbage, and carrot mixed with edamame, avocado, cucumber, mint, pumpkin seeds, and black sesame with an aioli and sesame dressing ($16). There's also a back-in-vogue panini packed with vine ripened tomatoes, prosciutto, mozzarella, fresh basil, and aioli ($15).
At 3pm, it's aperitivo plates of olives, salumi, and cheese until close, and on Thursday and Fridays, you'll also be able to slurp fresh Sydney Rock Oysters too.
For more info on Sammy Junior, including opening hours, jump over here.
Now, check out this new city wine bar serving hard-to-find Turkish, Greek, and Georgian wines.
Image credit: DS Oficina