Cheese shops, the unofficial house of worship in any city. If cheese is the glue to life, then cheese shops are the meaning. Sydney is thankfully filled with these delicious shrines. Some sell tasty blocks of pesto gouda and fudgy cheeses with sweet caramel, or fancy imported Bleu d'Auvergne, and even vegan-friendly cheddar. Stock your pantry, build up your pasta-topping arsenal, and have the goods on hand for all the sporadic cheeseboard creations.
Read on for the best cheese shops in Sydney.
Panetta Mercato
Various Locations
Panetta Mercato isn't solely a cheese shop—it's a grocer that specialises in fresh fruit, veggies, cold meats, fresh fish, and hard-to-find deli items. But as it turns out, this gem also stocks a mega range of local and imported cheese. Panetta Mercato's fridge is packed to the rafters with Paesanella's fresh ricotta (you can buy up to a kilo), sliced provolone, and Jarlsberg—all the makings of a perfect deli sando at home.
Panetta Mercato also sports an online shop. The order cut-off is 6pm for next-day pick-up and delivery (available Monday to Saturday only). The minimum order is $40.
Deli Fresco
Bondi Junction, Miranda, Hornsby, Chatswood
Deli Fresco started its life as a small delicatessen in Bondi Junction owned and operated by the Barbaro family. This award-winning foodie emporium bears a big reputation for housing continental smallgoods and the finest of fine cheeses. The shelves here keep a variety of more than 100 local and imported cheeses spanning all different styles, flavours, and textures. Whether you're putting together a Friday-night cheeseboard or want to top your staple pasta feast with some Italian parmesan, you'll be spoilt for choice. Cow, goat, sheep and buffalo milk cheeses here have been sourced from fromageries in France, Italy, Switzerland, England, Spain, Greece, Denmark, Sweden, and Austria.
For anyone with food intolerances, Deli Fresco is your one-way ticket to enjoying cheese too with a generous section dedicated to dairy intolerances, vegetarian alternatives, or reduced-fat substitutions.
Penny's Cheese Shop
Potts Point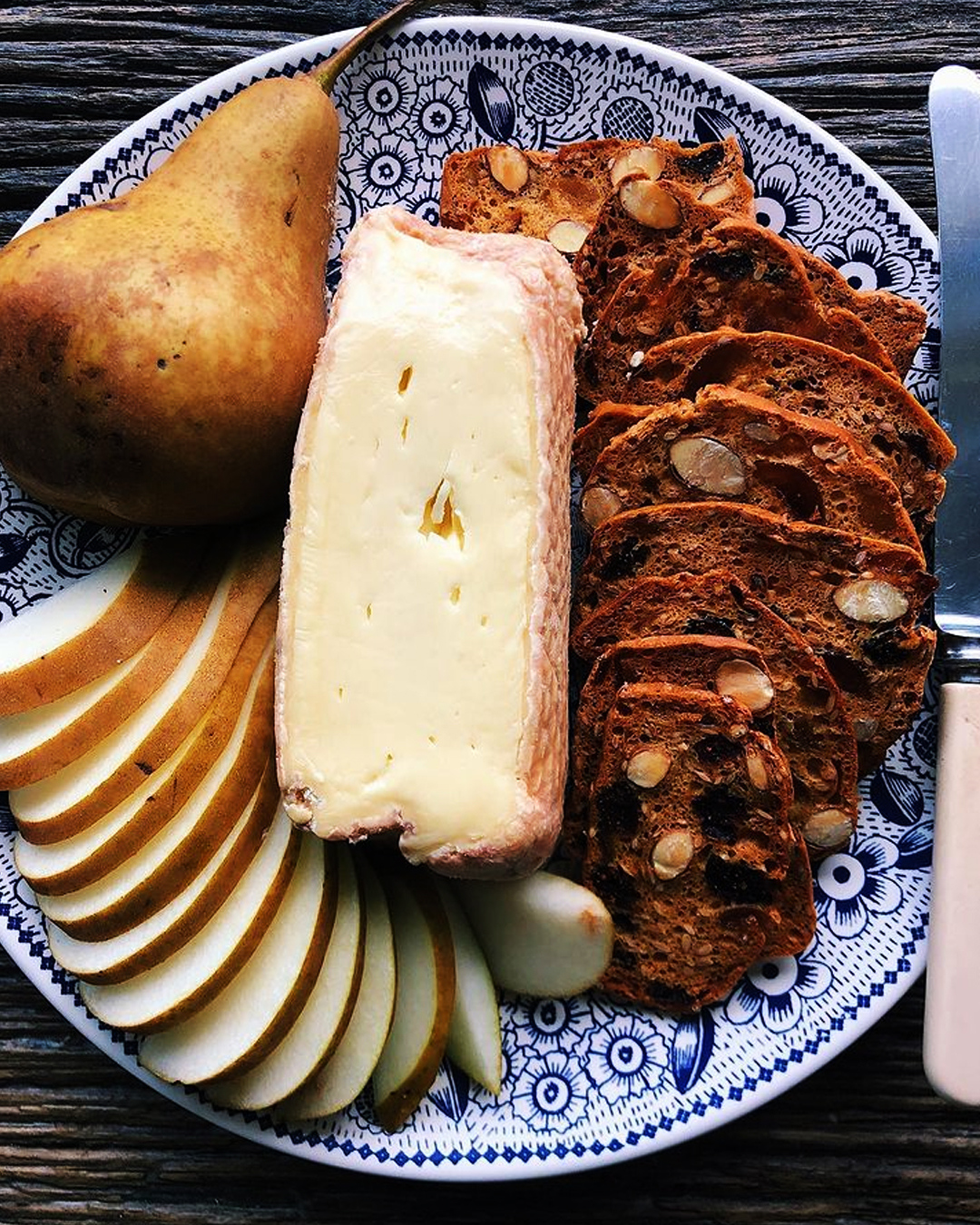 A one-stop cheese shop in the middle of Potts Point? Say no more. Penny's Cheese Shop is what Kel Knight is to meat, a purveyor of only the finest. While this Sydney cheese chop definitely stocks international slabs of the good stuff, it's the handmade and farmhouse cheeses from local makers where Penny really shines.
Penny Lawson herself just so happens to be a real curd-nerd too (self-diagnosed), with a sweet 20 years of wholesome experience in the food industry. A paradox within itself, this fancy cheese shop in one of Sydney's most affluent suburbs is anything but pretentious and it's been Penny's mission—nay' life purpose—to make all kinds of cheese super accessible to the masses.
There's a small-batch cheese toastie line-up that gets a good run most weekends, seasonal cheese selection filled with Penny's local and imported favourites and a dedicated cheese cabinet riddled with big blocks of Époisses, aged maffra cheddar, and Bluestone (ready for your next cheeseboard showdown). She's also been known to plate up medjool dates stuffed with Oak Blue from time to time and yes, you need them in your life.
Penny's Cheese Shop is offering pick-up and (very) local delivery. You can message Penny's on cheese@pennyscheeseshop.com.au or give them a call.
Gourmet Life
DARLING POINT
While not restricted to the wonder that is cheese, Gourmet Life sports a reputation as the boujee caviar, truffle, and cheese delicatessen every adult needs to visit at least once. This place is the ultimate cheese haven and there are three beauties we want you to take note of. The first is Rodolphe Le Meunier's Camembert, a mild French cheese that's easy to pair with pretty much anything. The second is Luigi Guffanti's mozzarella—a buffalo milk mozzarella made fresh in Italy and imported weekly. The third piece of excellence here is Armonie's Parmigiano-Reggiano (aged for two whole years). It's an absolute staple in your pantry—grate over freshly made pasta or really treat yourself and just eat this one alone (plus, it easily pairs with most red wines).
To make sure your pantry is stocked at all times, you can also order online from Gourmet Life with home deliveries taking around two to three business days.
La Boite A Fromages
Balgowlah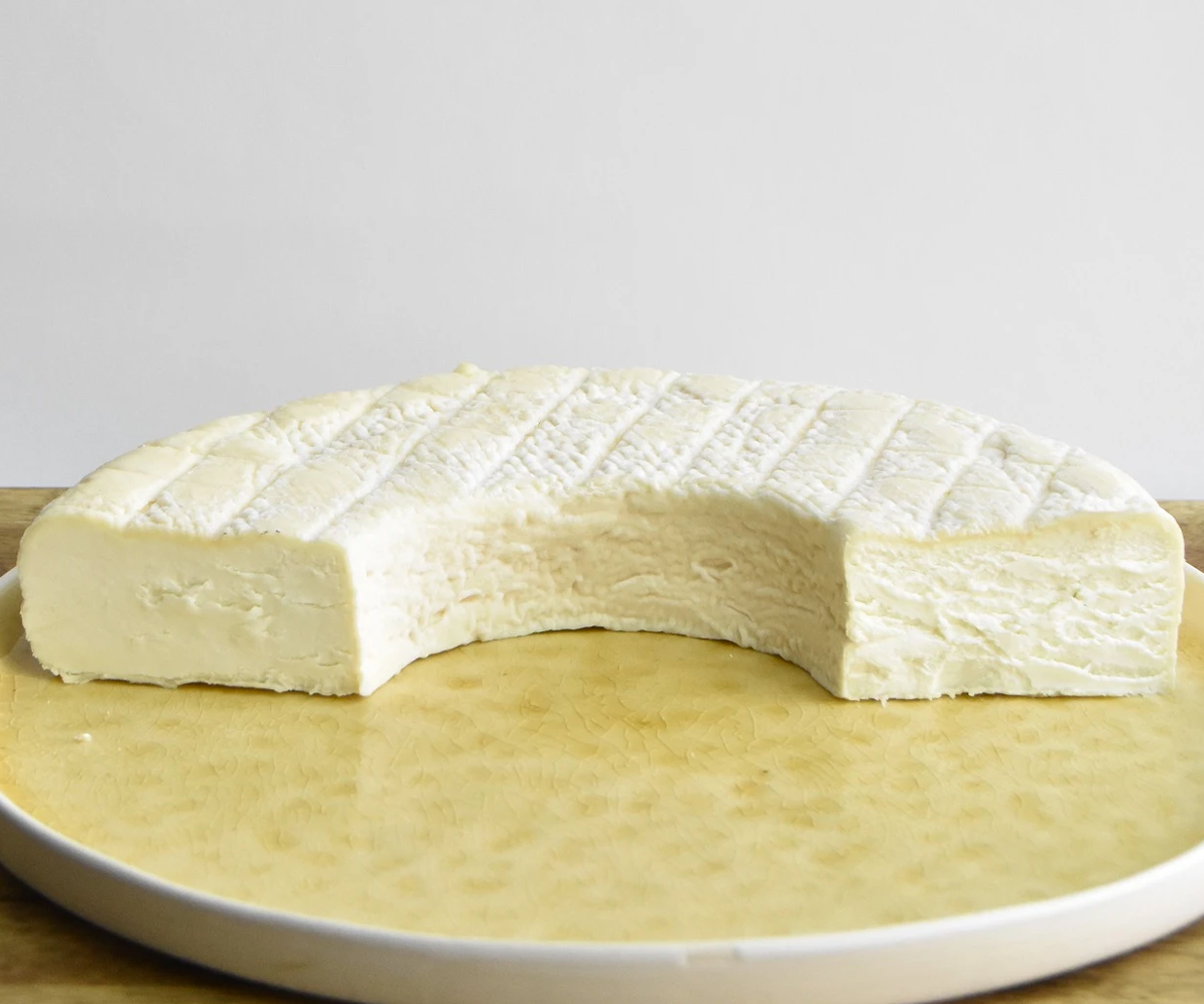 Longtime cheese fanatics across Sydney have known all about La Boite A Fromages since 2012 (especially if you paid a weekly visit to Frenchs Forest Organic Market). However, if you're a new passenger on the cheese enthusiast bandwagon (welcome) you need to draw your attention over to this palace of deliciousness. La Boite A Fromages sports a retail shop in Balgowlah but also rocks the famous "Cheese On Wheels" stall at various markets across Sydney.
Specialising in European handmade farmhouse cheese and the best around Australia, you'll find a pretty limited but ever-so eclectic range of cheesy classics and even limited-edition creations. For those looking for specific cuts, there's a suite of fresh and soft, hard and semi-hard, washed rind, blue, buffalo, cow, ewe, and goat cheese ready for the taking. If a diverse spread is what you're after, you can opt-in for a "Cheesemonger Selection", which comes loaded with four cheeses, crackers, and quince.
Not sure what to pick? The favourites here look like a French raclette set (where you can rent a raclette machine for free), the Bay of Fires cheddar, Brillat Savarin, and the Holy Goat La Luna Ring—pretty much one of Australia's creamiest cheeses.
La Boite A Fromages offers free local delivery of free pick-up in-store.
Field Blend Wine & Cheese Store
BALMAIN
We love Field Blend Wine & Cheese Store and not just because of its seriously sweet facade but because this gorgeous shop housing life's essentials is a no-frills approach to packing your mesh produce bag with a hand-selected variety of both international and local kinds of cheese. Since you really can't have one without the other, let owners Martina Brazdovicova and Aaron Taylor pick a wine (or two) and grazing box for you, they stock all varieties for every occasion, taste and budget. And not that you asked but yes, they also whip up some of the best coffee in Sydney thanks to a very handy La Marzocco machine.
The Stinking Bishops
Newtown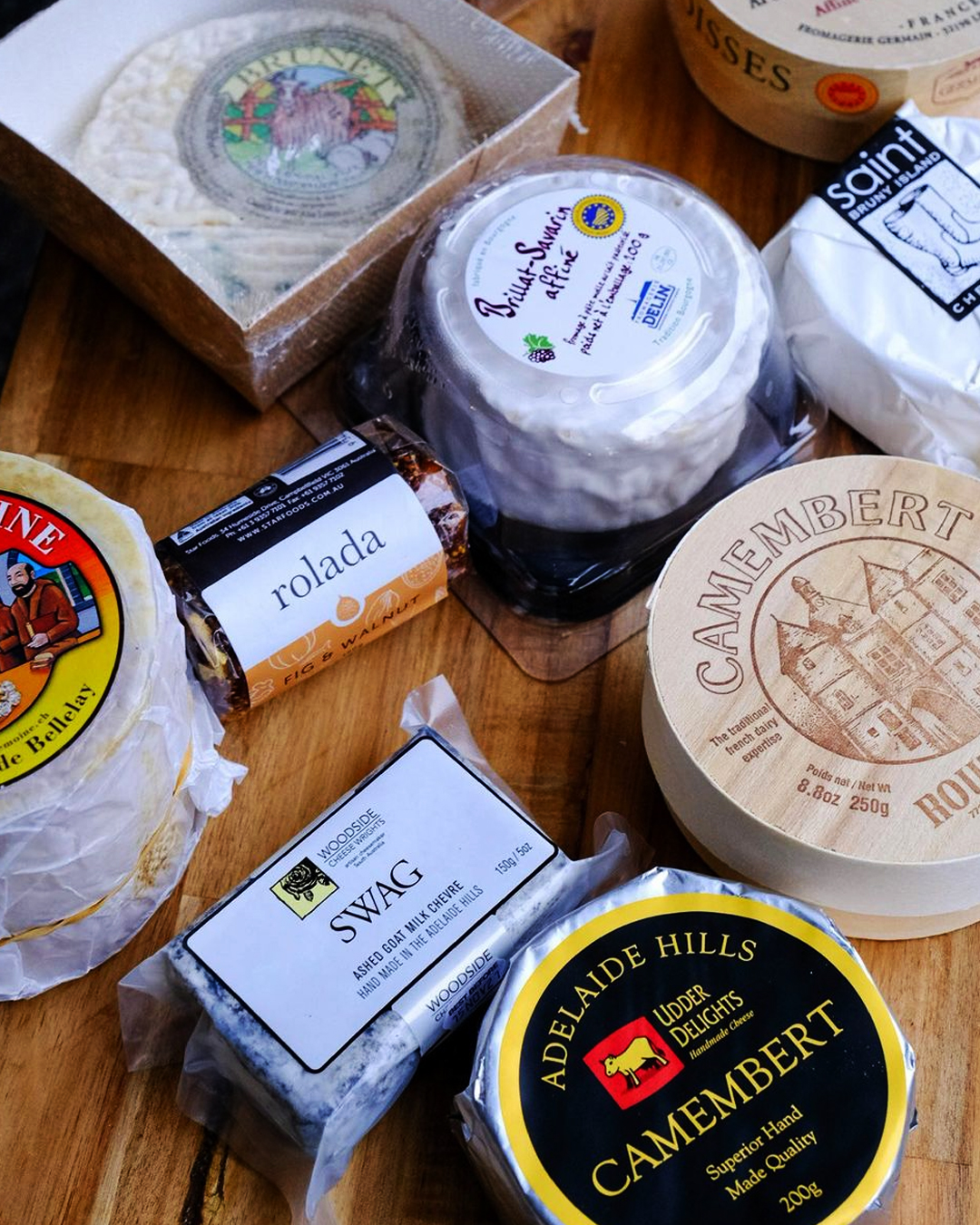 Arguably one of Sydney's most delectable cheese experiences—The Stinking Bishops on Enmore Road in Newtown has been wooing cheese lovers since way back in 2014. Whether you've dropped in to collect a hard-to-find washed rind to impress your mates for a home dinner party, or you've dined in and sipped Pinot while tucking into a five-cheese toastie or a decadent smoked mozzarella mac n' cheese—this cheesy place is nothing short of iconic.
The restaurant slash bar oozes cheese royalty, you can pretty much create your own DIY cheese board and choose from 40+ hand-selected artisanal cheeses. All come with quince paste, grapes, poached peach, a basket of bread, wholemeal crackers and olive oil crackers (optional GF crackers as well)—naturally. If you're not dining in, the dedicated cheese shrine is the way to go. You'll find a mega letterboard above the counter packed out with white mould, hard, semi-hard, and washed rind variables, plus a handful of meat selections down the bottom for good measure. Alongside individual cuts, The Stinking Bishops also whips up cheese hampers perfect for even the most indecisive.
The Stinking Bishops is currently open for pick-ups and deliveries.
Monte Fresco Cheese
Smithfield
While Monte Fresco Cheese is considered one of the newer kids on the chopping block (having started back in 2015), there's nothing new about the cheese craftsmanship here. Sam Montalto is the cheesemonger behind this one and his family bears generations of skilled cheese artisans who have been honing and perfecting their skills for half a century. Their ricotta is the star product, having one several gold medal awards at Sydney's Royal Easter Show however you'll still find an array of highly sought-after bites like caciotta, feta, and halloumi.
The Artisan Cheese Room
Manly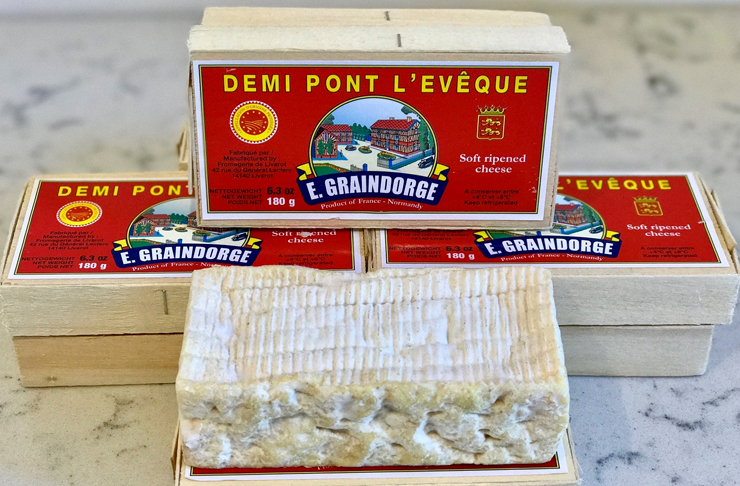 The Artisan Cheese Room is Sydney's answer to a world of cheesemaking that stems from the traditional ways of making cheese. The blocks here have been sourced from all around the world and get maintained within the temperature and humidity-controlled cheese room for maximum tastiness.
The line-up of cheeses here usually changes with the seasons but at any one time, the famous cheese room stocks around 60 types plus any cheese-related tools and utensils (raclette machines, fondue dishes). The cheese affair here looks like various cheese hampers, cheese boards, cheese gift boxes as well as cheese wedding and celebration cakes (you read that correctly). You can buy the likes of burrata here at $8 a pop or take your tastebuds on a tasting safari with the 11-strong cheese hampers.
The Artisan Cheese Room is offering free delivery to Manly and surrounding suburbs on all orders. Hampers are available for same-day pick-up and there is same-day delivery for Sydney Metro on orders sent through before 9am.
Le Petit Marché
NEWPORT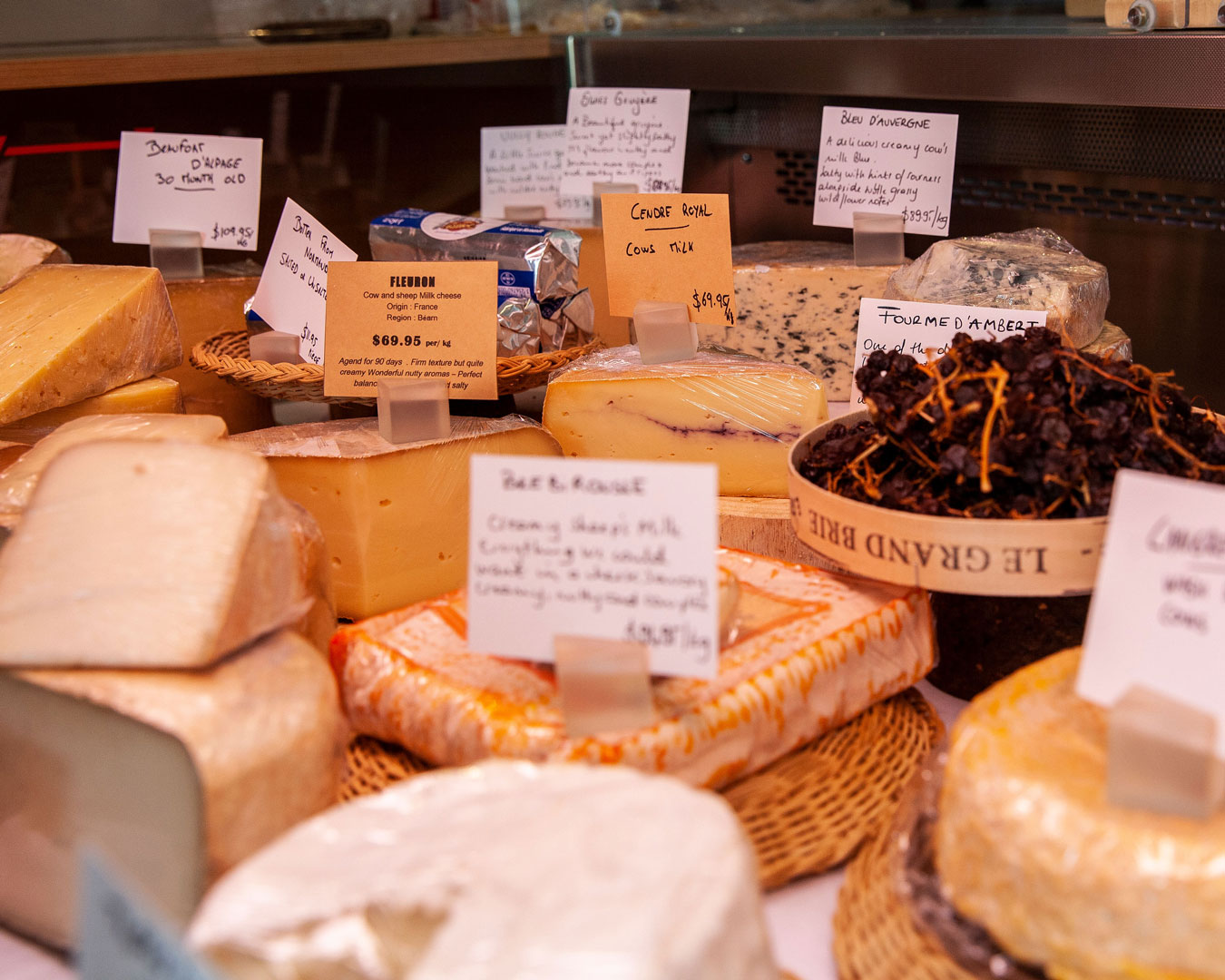 This heaven-on-earth delicatessen in sunny Newport on the Northern Beaches is well worth the journey (lucky you if you live nearby). Like a little trip to France without needing to whip out your passport, here you'll find an edit of hard-to-find French cheese and charcuterie and boutique French wines and Champagnes, alongside pantry stunners you won't find anywhere else like French jams, organic pasta, truffle oils, pâté, and so much more. Le Petit Marché is where you go when you want to prepare the most impressive cheeseboard—think creamy goats cheese from the Loire Valley, aged Comte, and more.
Le Petit Marché is open for takeaway and delivery.
The Grate Cheese Co.
WETHERILL PARK
You'll usually find this family-owned cheese business popping up in Cronulla markets and they whip up nothing but the tastiest cheese platters and cheese stacks around. Pretty much everything is good here but there are a few rare bits and bobs you should crack into. The Great Cheese Co. just so happens to stock "Ski Queen", a Norwegian full-fat whey cheese with fudge-like texture and a sweet caramel flavour. They also keep pesto gouda which gives off ​​smooth and buttery vibes with a mild basil aftertaste.
Formaggi Ocello
Surry Hills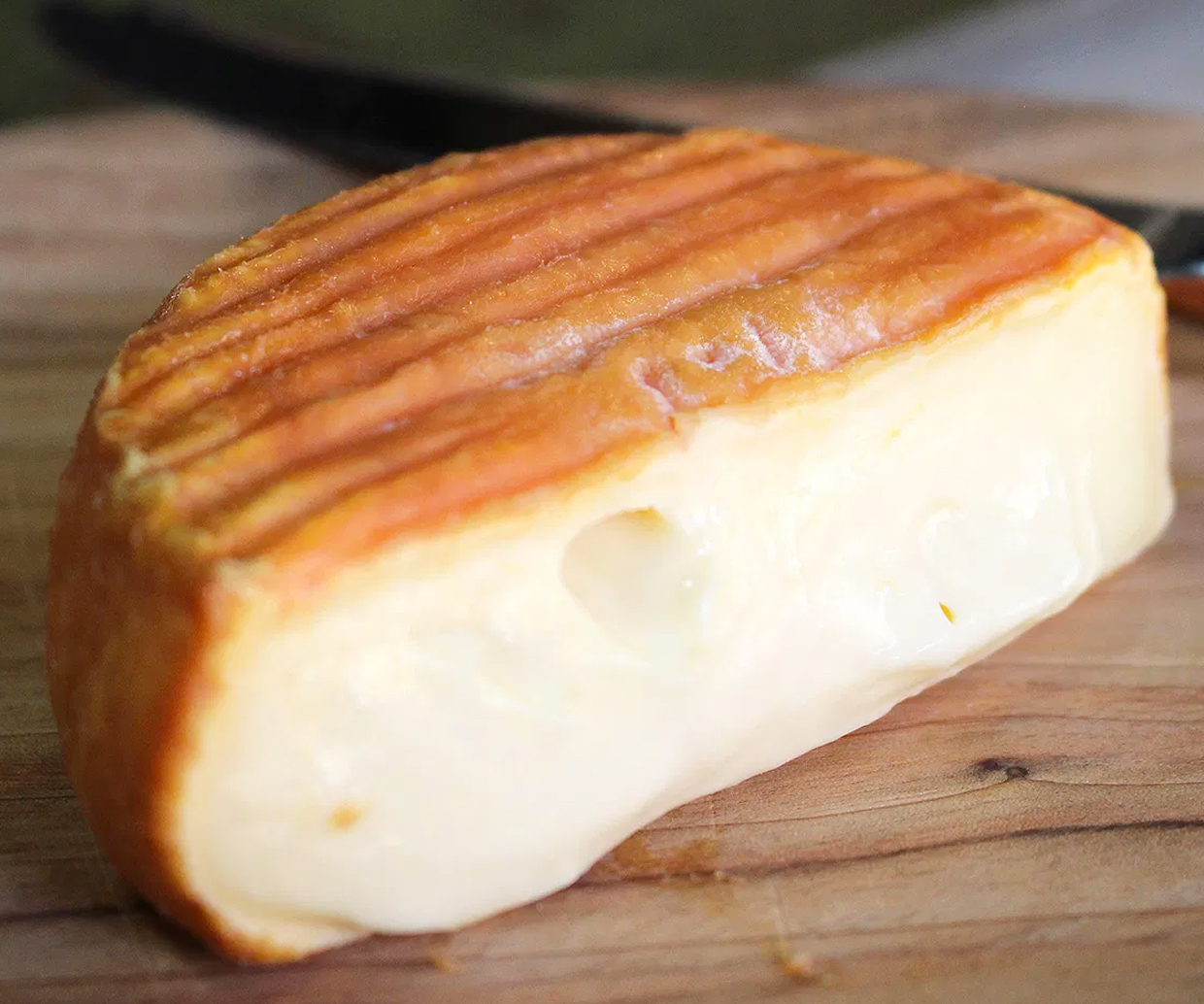 Formaggi Ocello is a rustic slice of cheese heaven stocking endless selections from Italian, French, Swiss, England, Ireland, Holland, Spain, America, and Australian farmhouses. The speciality here is a sling of rare cheeses that have been made in specific seasons and altitudes. If you're asking yourself how on earth Formaggi Ocello keeps these distinctive cheeses, we hear you. The team here basically air freight fresh cheeses from overseas, which then get packed into Formaggi Ocello's maturation room, allowing the cheese to age to perfection.
The library of cheese here caters to all tastes and budgets so if you thought you might be out-of-pocket to take home a special cut, you are sorely mistaken. Sampling before you buy is another big focus here and you'll find a big range of cheese accompaniments to go with your cheese stash. If you're not quite sure what tickles your tastebuds, Formaggi Ocello's houses a big list of dedicated cheese hampers worthy of your attention. There are a hamper dedicated to Aussie cheese, a beginners selection or a basket sporting big and bold flavours.
Formaggi Ocello is now offering free delivery for any purchases $120 or over to Greater Sydney. You can also place orders online and head in for click and collect.
Paesanella Food Emporium
Marrickville
If there could be a cheese capital of Sydney, Paesanella Food Emporium would easily be it. Started by the legendary Umberto Somma who arrived in Sydney all the back in the 60s, Paesanella Food Emporium was a way to introduce traditional, fresh Italian speciality cheeses to Australia. Today, you'll find this Marrickville institution led by Umberto's sons, Joseph and Max, and filled with all the bocconcini, mascarpone, stracchino, and malca you could ever imagine. Paesanella Food Emporium is also one of very few places in the country where you can throw your money at fresh warm ricotta manufactured daily and freshly made buffalo mozzarella. This one also sports a cafe and pizza bar should you have more time on your hands.
Fourth Village Providore
MOSMAN
The result of over 30 years of collective experience in fine food retail, husband-and-wife couple Peter and Annette Quattroville opened Fourth Village Providore in Mosman and here you'll find some of Australia's best cheeses (and produce, for that matter). On-site is a walk-in fromagerie, a delicatessen, fruit and vegetable market, and a pizzeria. The deli here is open from 8am every day of the week and stays open until 6pm every day (excluding Sunday where they shut at 5pm). On the cheese side of things, the walk-in fromagerie is any cheese lover's dream and features temperature-controlled cheeses so you can sample cheese from all around the world just as god intended.
Stocking your pantry? These are the best specialty delis in Sydney.
Image credit: Elisa Michelet, Penny's Cheese Shop, La Boîte A Fromages, Stinking Bishops, Formaggi Ocello