Top on our road-trip-worthy list at the moment? NSW's incredible Snowy Mountains region (or, "The Snowies").
Apart from all the skiing and snow-related activities you can obviously do in our state's high country in wintertime, The Snowies is also a super scenic place for horse-riding, camping, hiking, fishing and serious feasting (this burgeoning food and drink scene that should definitely be on your foodie bucket list).
It's approximately 5 hours drive from Sydney, with epic pit stops along the way like Canberra, Wagga Wagga, Gundagai, Batlow and Tumut. If you are driving, 2WD cars will need snow chains between June and October.
Hit the road, here's your complete guide to NSW's Snowy Mountains beyond the slopes.
First Things First
Alright people, if you're planning on having a jam-packed getaway, then hover your eyes over the Snowy Mountains. Here, it's all about the slopes of Perisher and Thredbo come wintertime—but we'd like to draw your attention to this region for all its other cultural, foodie and outdoorsy attributes: horse riding, fishing, mountain biking, road cycling, hiking and bushwalking in and around stellar lakes and waterways. Of course, your heavy-hitter here is Mount Kosciuszko herself, located within Kosciuszko National Park but there's also plenty of towns surrounding the park that are absolutely worth the exploration.
The Snowy Mountains region was also traditionally the home of two Indigenous clans, with the Walgal people occupying the north of the region (Kosciuszko National Park) and the Ngarigo people living more towards the highlands.
Things To Do (Other Than Skiing)
If you're seriously eyeing up the Snowy Mountains region for a weekend away, you're no doubt keen to get as much "adventuring" as you can into a couple of days. Inside Kosciuszko National Park, completing the Kosciuszko Walk is an absolute must. The hike to the top of the summit will span around 2228-metres and will only take you a couple of hours (plus it sits at around a Grade 3 trail, meaning it's relatively suitable for all fitness levels). Illawong Walk is another track to add to your list. It begins in the charming Guthega Village and follows along Snowy River Valley through alpine shrubbery, snow gums and Illawong Hut (it's a pretty cruisy 5km).
This is also a really major area for avid mountain bikers—if that's you, we recommend trying the Cascade Hut Trail, which is a 20km return track that packs out with glorious wildflowers in Spring and winds its way towards a (sort of spooky) historic alpine hut. This ride can also be extended into an overnight adventure if you keep cycling out to Barry Way.
If you sit more on the "easy does it" end of this spectrum, the Thredbo Valley Track should be your go-to (just note, there's no wheelchair access here). You can spend as little as 30 minutes rolling around on this trail or as long as four hours — it's really up to you. You'll be spoiled with bridges to ride over and what will feel like a never-ending greenscape of trees and creeks.
For kayaking, your best bet is to hit the crispy waters of Lake Jindabyne—the state's largest freshwater reservoir. If it's an insane drive you're after, Alpine Way is one of NSW's prettiest drives, packed with picturesque valleys.
You'll also want to make sure you stop by the Bundian Way Gallery, located halfway along the Bundian Way. This hub showcases local and regional art from First Nations people, exhibiting heritage elements of the Bundian Way and highlighting the ongoing connection to land and country for those belonging to the Snowy Mountains region. The Bundian Way is actually an ancient walking track (older than the Asian silk roads) and was used by First Nations people for trading, ceremonies, family gatherings and caring for Country for thousands of years. It's currently in development for the public (so you can't actually complete this trail yet) but you can always hit the Whale Dreaming Trail and the Story Trail, which will give you a bit of a taste of what's to come.
Get To Know An Up And Coming Foodie Paradise
For the foodies out there, we guarantee you'll really get to loosen your belt here with Australia's only schnapps distillery, Wildbrumby Distillery. Situated between Jindabyne and Thredbo, Wildbrumby is the highest distillery in Australia which gives it access to pristine Alpine water, organically grown fruit and native mountain botanicals which have all inspired its schnapps, gin and vodka creations. It also has a drive-thru bottle shop you can access Mondays through to Wednesdays 10am to 5pm.
You'll also be able to scoop up some cool climate wines from Courabyra Wines, pies, coffee and pastries from Sundance Bakehouse (there are three of these around the region), drops from the dog-friendly Snowy Vineyard Estate and Microbrewery and some of Australia's best pale ale from Kosciuszko Brewery—Australia's first mountain brewpub.
Get Some Mountain R&R
Alongside adrenaline-pumping bushwalks, hikes and food safaris, you can also head down this way for a bit of R&R. Lake Crackenback Resort & Spa should really be your first point of call when road-tripping is allowed again because this spot (which is also just 15 minutes from Thredbo and Perisher), is the ultimate sanctuary to reset. You can treat yourself to rejuvenating facials, an infinity-edge bath, and deep-tissue massages to relieve all those WFH aches and pains.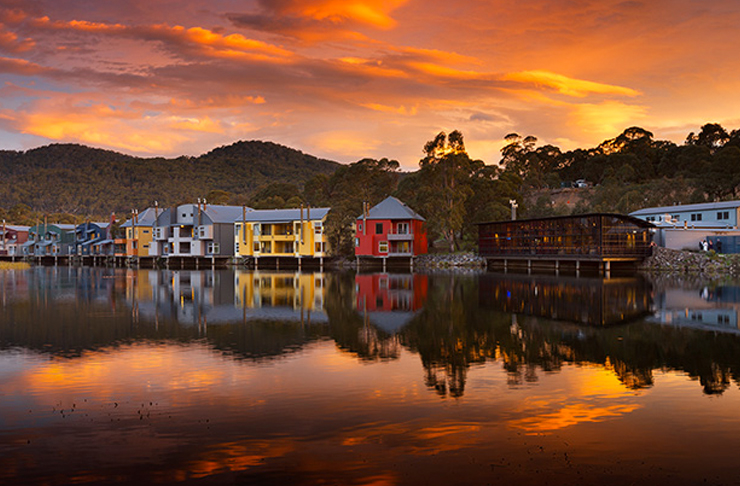 Camp Beside The Mountains
For times when you want to base yourself inside some nylon, the Snowy Mountains has some stellar camping spots to take advantage of as well. Tom Groggin campground is set on the banks of the upper Murray River just off Alpine Way and it's loaded with open camping spots set to the backdrop of mountains and rivers. You'll also be close to Scammels and Olsens lookouts.
Khancoban Lakeside Caravan Park is another camping goldie, spanning over six acres of land with epic lake and Snowy Mountain views. Here, you'll find a selection of powered and unpowered lake view campsites plus a brand new "camp kitchen" and amenities block. To make things even better, this gem is also pet-friendly.
Snowy Cabins And Tiny Homes
If camping under the stars is not your vibe, this off-grid tiny house situated on acres of bushland near Jindabyne could be just for you. This extra-charming riverside cabin has room for four, and this log cabin features a loft, front porch and a fire pit.
On the drive down, why not hit up this magical blue pools walk too.
Image credit: Destination NSW, Destination NSW, Destination NSW, Destination NSW, Destination NSW, Will Stewart, Dilyara Garifullina, Lake Krakenback Resort & Spa, Destination NSW