It goes without saying that Tim Tams are Australia's national treat. Perfect with tea, slammed in a hot choccy, crumbled over ice-cream, or even just as the gods intended it—straight from the packet and into your belly.
This is why it's big, fat, freaking amazing news that a Tim Tam hotel suite now exists in Sydney and, um, isn't it about time you booked it?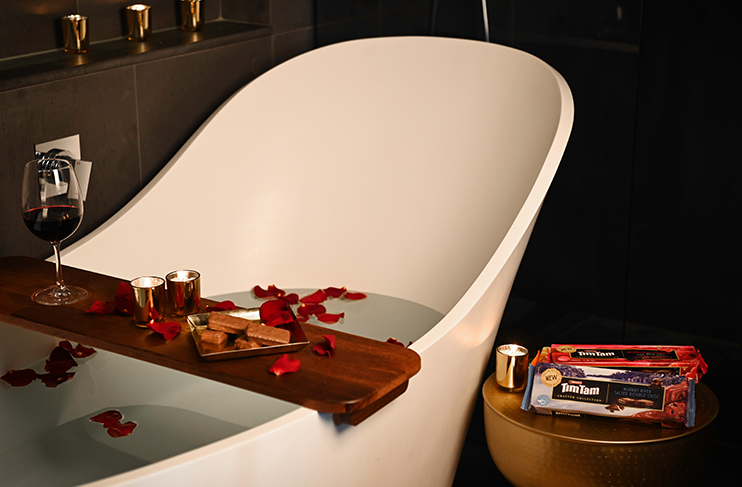 Having partnered with the deliciously beautiful QT Sydney, the two have created the most indulgent Tim Tam-themed hotel room for only the biggest chocolate lovers of all time. Lets just say if Willy Wonka had a staycation, it most definitely would be here.
The QT Sydney Tim Tam suite is basically decked out with all the trimmings that make it look like the inside of an actual Tim Tam, think dark wooden floors, cream rugs, and golden Tim Tam pillows.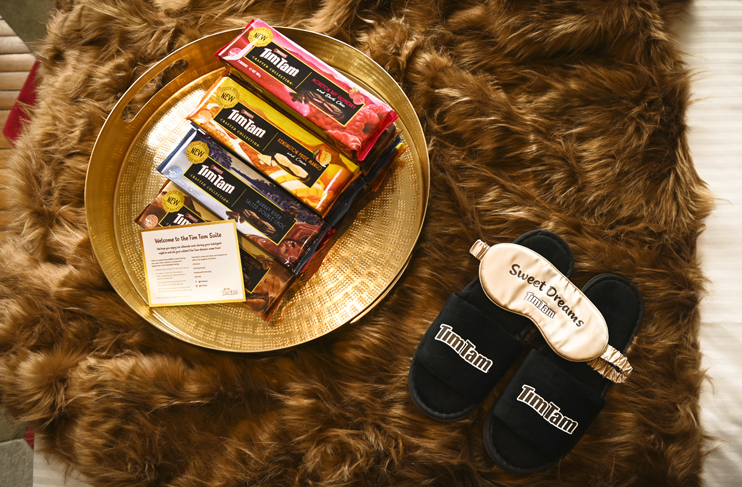 Alongside this, you'll also have a dedicated Tim Tam menu worthy of your deepest food coma. The menu takes inspiration from Arnott's new Crafted Collection flavours so you'll find the likes of Dimbulah Mountain Estate Coffee Crumpets with Coffee ice cream and crumble; Kensington Pride Mango Parfait with macadamia, white chocolate crumble, and passionfruit; a Kensington Pride Mango and Cream mango sabayon cheesecake and a Tim Tam Tira Misu packed with layers of coffee Tim Tam, Kahluha soaked savoiardi sponge, macerated strawberries and mascarpone cream, all topped with shards of 58% couverture chocolate.
And after you've downed your weight in Tim Tam goodness, you can get comfy in your Tim Tam plush robes, slippers, and mask and soak up a Tim Tam coffee wrap treatment from QT's award-winning spaQ day spa. That's the kind of life we could live every day.
The Tim Tam suite is available to be won via Arnott's or can be booked between February 16 through March 16 through QT Hotels & Resorts.
Now, check out where to find $1.50 oysters in Sydney all day, every day next week.
Image credit: QT Hotels