As the saying goes—if you didn't SUP, did you even do Sydney right? This water sport is a quintessential summer must-do in Sydney and although we may not have the flawless style of the ancient Hawaiians who paddled from island to island, we definitely have the humour to pull off a (not so) graceful stack. Or five.
We know you're well across the usual suspects being the informed legends you are. But we've added some extra gems so you can step up your SUP game this summer.
Here are the best places to stand up paddleboard in Sydney.
Nepean River
Penrith
While Sydney is an aquatic playground stocked with big beaches and harbour coves, there are plenty of waterways resting inland for avid paddleboarders. There's a smooth-sailing section from Penrith to the Nepean Gorge that spans about 5km and it's pretty much a goldmine for kayakers, jet-skiers and paddleboarders alike. This leg is non-tidal, which means, for the most part, it stays super-flat, making it an epic run for anyone who's never picked up an oar before. While you're cruising, you'll catch glimpses of the Blue Mountains and obviously a whole heap of surrounding bushland too.
Should you not have panic-bought a paddleboard in lockdown, Horizon Line is your go-to for renting all the gear, with one-hour, two-hour, half-day and full-day hires as your options.
Manly Wharf
Manly
One word: location. We don't need to tell you that Manly Wharf sports some of the best views in Sydney and it just so happens that one of the best ways to explore this summer haven is with an oar and paddleboard at your disposal. Paddling in and around moored yachts and hidden coves should pretty much speak for themselves. If you're going to rent, Manly Kayak Centre is one of Sydney's best spots to get your SUP. You can opt for SUP lessons or just straight out hire a board to explore the surrounds on your own. The crew here also host "supball", a combination of netball, water polo, lacrosse and rugby, a sunrise SUP club, and yoga on stand up paddleboards too.
Cabbage Tree Bay Aquatic Reserve
Manly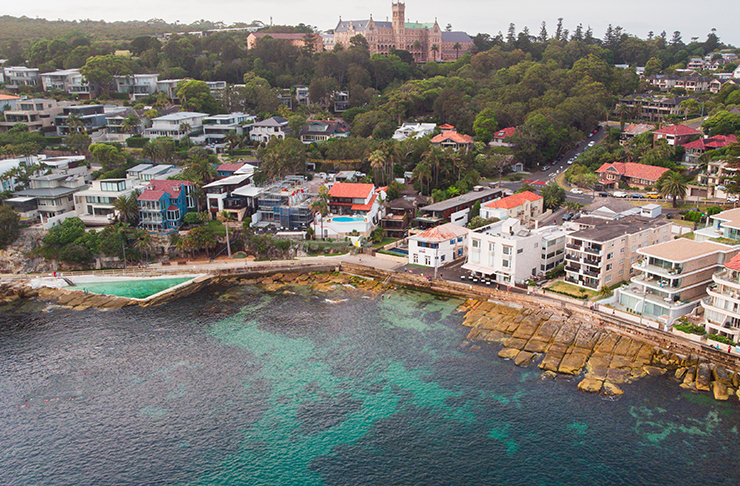 We mean, it's quite possibly the most picturesque bay in Sydney. Cabbage Tree Bay Aquatic Reserve (not to be confused with Cabbage Tree Bay which is located adjacent to Manly Wharf), is a 20-hectare expanse of glowing blue waters and rocky enclaves between the southern end of Manly Beach and the northern point of Shelly Beach. Naturally, this reserve is a little slice of heaven for any snorkellers and scuba divers out there on account of some 150 species that live in the marina including blue gropers, giant cuttlefish, wobbegongs and even a resident green turtle. Aside from this, paddleboarding is also hugely popular here and you can kick off from a multitude of points including Fairy Bower Beach or Shelly Beach.
Bellamy Beach
point piper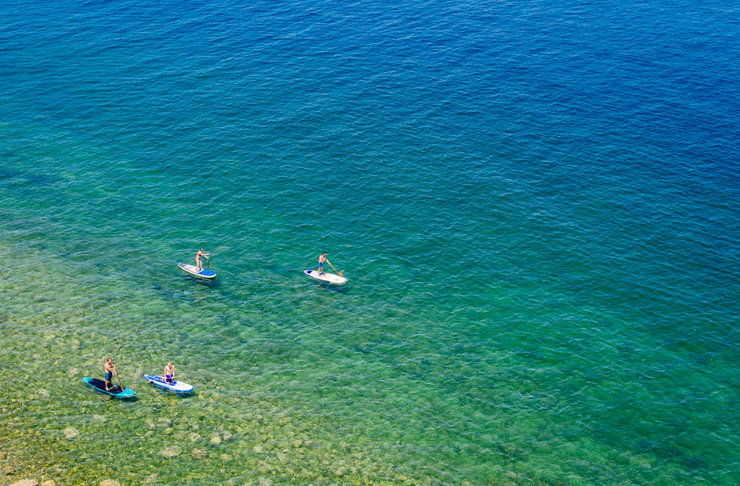 This secret little sanctuary is heaven for anyone keen to SUP in Sydney (or, bring their four-legged mates down for a swim). For the un-co and the speed demons, Point Piper Kayak Hire boasts all the boards (from foamies to the full-blown hard epoxy) and all the summery vacation vibes, which is really all anyone should be going for. Right on the shore and neighbouring Rose Bay Park, this little nook is protected from the wind so you can guarantee you'll have perf conditions all year 'round.
If you work up an appetite (and you will), Jewel On The Bay just very quietly whips up the yummiest Indian in Sydney.
Woronora River
Woronora
Located in the Sutherland Shire, the Woronora River is an absolute paradise no matter what mode of marine transport you pick. Kayak, canoe, tinnie—it's a 10/10. The pristine waterway traverses some pretty deep valleys and it offers up uber serene surroundings perfect to get your zen on.
If you're looking to make a day of it, the bright blue old school Boatshed at Woronora River is another one of Sydney's best places to hit up for a cheeky SUP session. This one is situated right on the river and is literally home to the most tranquil vibes ever.
Balmoral Beach
Balmoral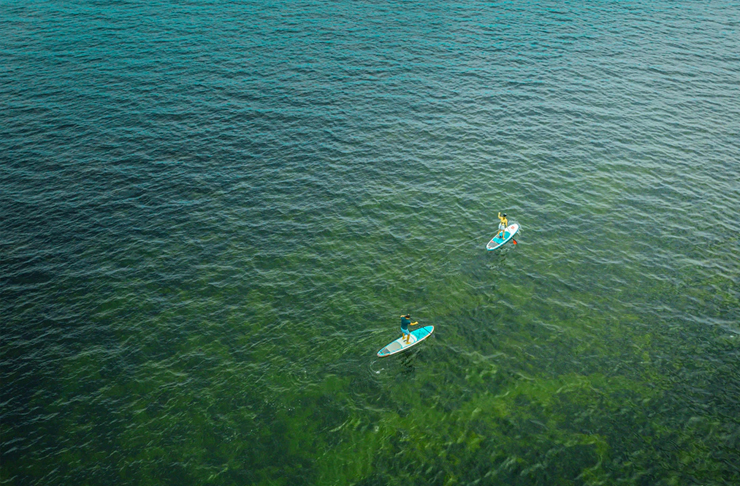 Balmoral Beach is an Aussie summer throwback straight from the 70s. It still oozes the quintessential vibe of summers bygone with sailing boats, pavilions, avid picnickers, and a U-shaped pier to sunbake on or jump off to cool yourself down in the water. This harbourside location is shielded from winds and big waves, making idyllic conditions for stand up paddleboarding.
Located on the esplanade in the always picturesque Middle Harbour area, Balmoral Boatshed allows you to rent boards by the hour, half-day or full-day. Pre-paddle, we recommend hitting the Boathouse Cafe. Post-paddle—you'll want to head straight for Bathers' Pavilion.
Pipeclay Point
Narrabeen lagoon
Narrabeen Lagoon is the holy trinity of water destinations in Sydney. It's a place where you can also go bushwalking (enter the new and improved multi-use trail around the entire lagoon) and take a dip almost anywhere. For paddleboarding, Pipeclay Point is your best bet and you'll find the humble Jamieson Park Paddle waiting to pass you an oar or two. You can free-paddle on the wide-open Narrabeen Lake, harness your inner-athlete (or lack thereof) and compete in their Sunday morning time trials, book lessons and even get your dose of SUP yoga.
The Basin Campground
Ku Ring Gai Chase National Park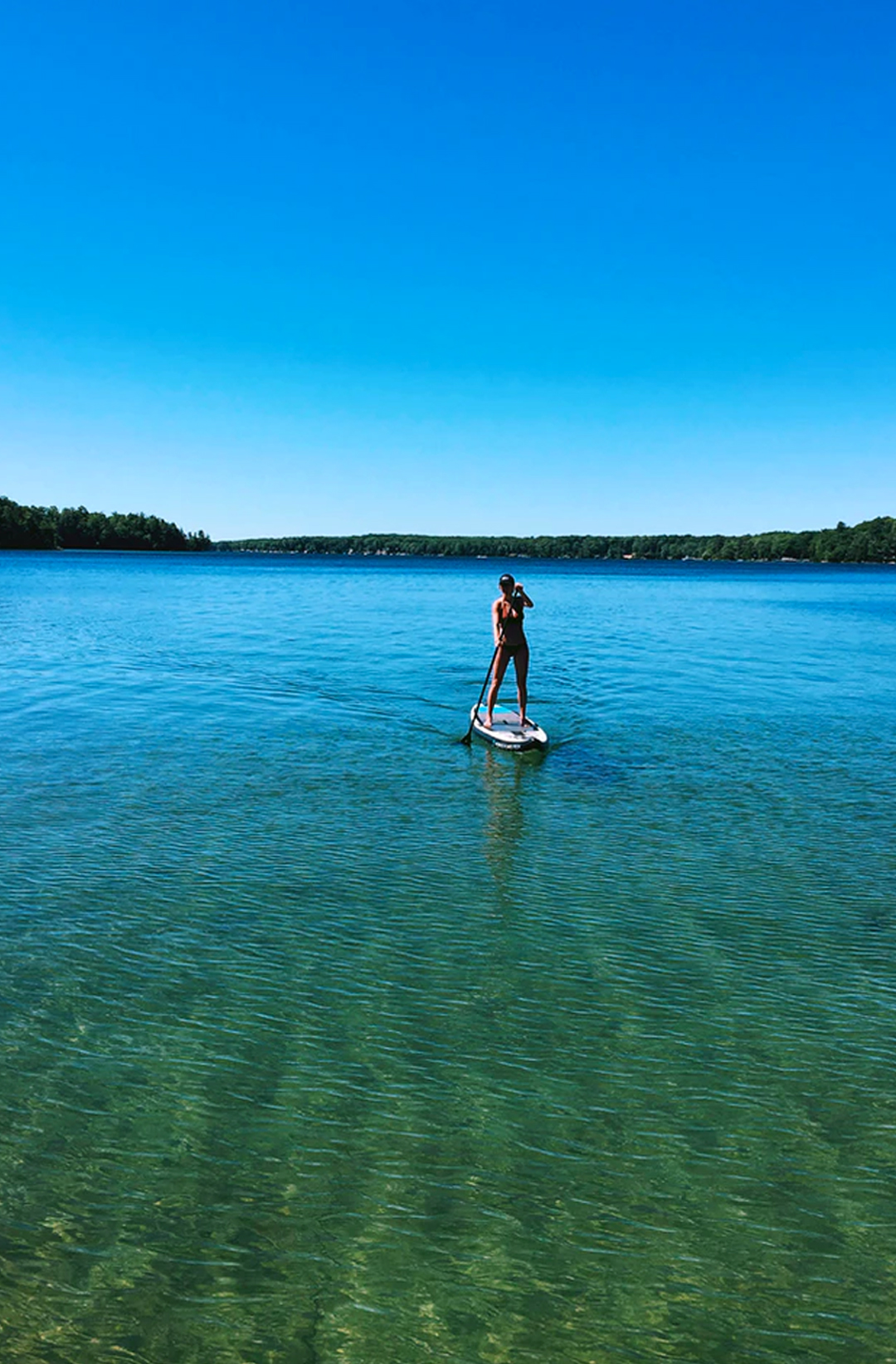 The Basin lagoon is rightfully famous for its turquoise waters and it is known for being one of the top areas for camping. This area overlooks Pittwater and the inland lagoon here makes for some perfect stand up paddleboarding conditions (and we suggest you pack a picnic to fuel yourself after). If you need to rent, the legendary crew at Ecotreasures will meet you there and bring all the gear for you.
They also boast some of the best SUP tours around—sheltered from wind, waves and boats, you'll have all the space to paddle around without an audience (because we all know multiple SUP stacks are inevitable).
Clairville Beach
Avalon
Tony Henry's Avalon SUP is placed in a prime location on the calm shoreline of Clareville Beach. You can book lessons, rent a board and go on your own mini-adventure, step up your fitness regime and join their daily paddle squad or do SUP yoga. But the real excitement lies with their twilight paddle tours. Think bright LED lights on the bottom of your board that light up the water as you paddle (we think now's a good time to invest in that GoPro).
Frenchman's Bay
La Perouse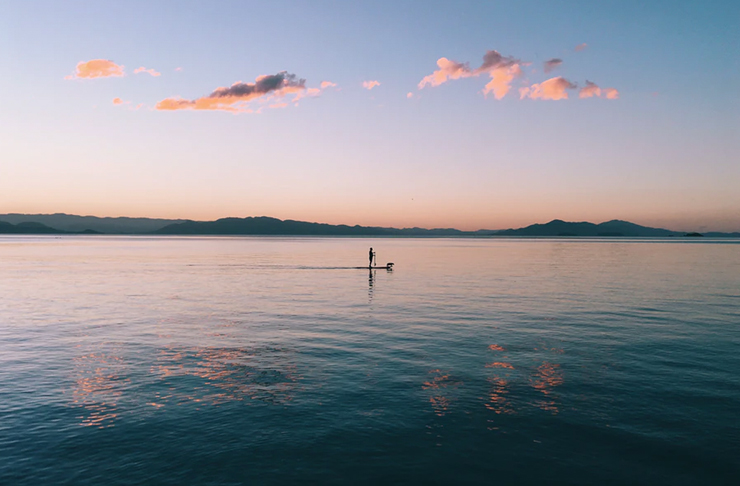 Frenchman's Bay is home to some of Sydney's calmest waters and this beautiful cove opens into Botany Bay at its eastern end. You'll score views to the of Botany to the west and Botany Bay National Park to the south—so needless to say bring a Go-Pro and make like a water-born Annie Leibovitz. If you don't have your own board, Lets Go SUP has you covered.
There are group lessons so you can reel in the laughs as all your mates capsize; private lessons in case you want to fine-tune your basic-board skills, and early morning fitness classes that are super easy to scrape in before work or uni. And yes, you'll probably be a pro by the end of it.
Gunnamatta Bay
Cronulla
You'll find this beauty adjacent to Gunnamatta Park, just a short walk from Cronulla train station. The beach is on the Port Hacking River and because of this, there are no waves in the enclosed swimming areas. The tidal baths sport a U-shaped deck worthy of your post-paddling drying session, and there's plenty of shade at your disposal if you're going to set up for an entire day (read: bring an eski).
Cronulla SUP is your go here with an 18ft paddle board capable of fitting eight adults on it at the one time. It's the perfect recipe for insanely good times and you know it. To top it off, there are flat water classes and these guys can even teach you how to stand up paddle surf.
Bonnie Vale Picnic Grounds
ROYAL NATIONAL PARK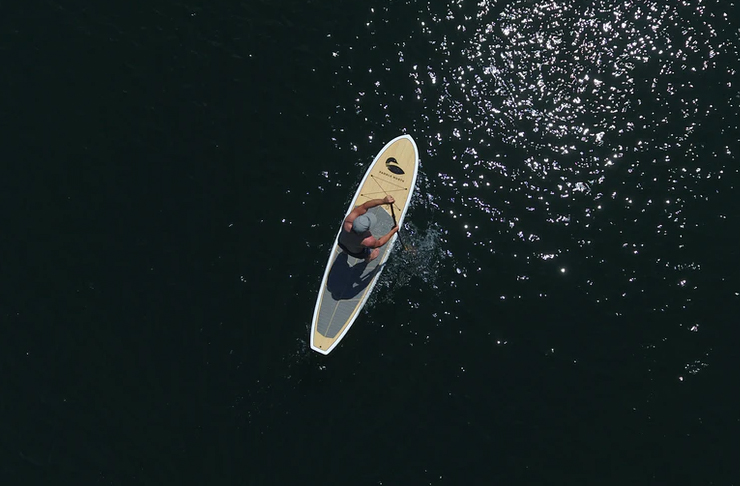 This water amphitheatre spills out onto the tranquil waters of Cabbage Tree Basin and it'll come as no news to you that Bundeena is home to pretty much all the water adventures ever (cue fishing, hiking, kayaking, swimming, camping etc.). It's been dubbed Sydney's "paddling paradise" and if you're keen to go with all-the-gear-and-no-idea, Bundeena Kayaks will be there to lend a hand (or oar).
Camp Cove Beach
Watsons Bay
This pristine cove is home to calm waters and some of the most spectacular views of any beach in Sydney. Just a short walk from Watsons Bay ferry wharf, the millionaire views are hard to miss plus, you'll have a slew of walking tracks at your doorstep too (the South Head Heritage Trail starts at the northern end of the beach).
We're also all about practicality and there's nothing more practical than SUP-ing right outside one of Sydney's best harbour bars and eateries—Watson's Bay Boutique Hotel. And let's be honest, you hang around here almost every weekend anyway so paddling by day and drinking Pimm's by night just makes sense, okay. If you need to rent a board, Watssup has your back.
And if you're up for a swim, check out our guide to Sydney's best secret beaches.
Image credit: Destination NSW, Destination NSW, Blue Collectors, George Bakos, Kaaaaaaate, Paddle North