6 Head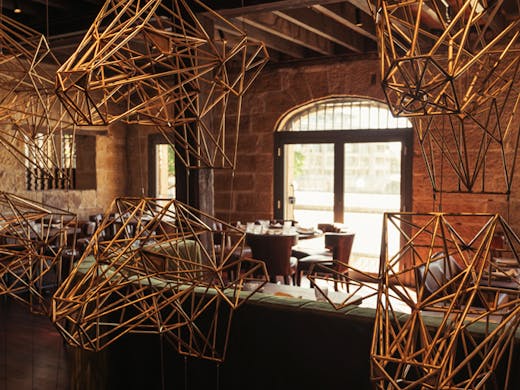 Inspired by the story of six head of cattle that landed in Botany Bay with the First Fleet, who then escaped and became a teetering herd of 100 somewhere in the bush near Camden—6 Head is one of Sydney's most impressive steak spots.
Housed within the historic sandstone walls of the recently refurbished Campbell's Stores in The Rocks, the restaurant has a sustainable bent, seriously special steaks, seafood on the menu and a spectacular view of the sparkly harbour.
Led by chef Sean Hall, the menu is, put simply, thoughtful and really, really impressive. Throw in a 250-strong wine list from sommelier Ben Preston and 6 Head is easily one of the most exciting new restaurant openings in Sydney this year.
Choose between six (sensing a theme here) cuts. There's rump, rib-eye, T-bone, eye fillet, scotch fillet and sirloin. 6 Head also dry ages its own meets in house, with a rotating selection of limited and unique cuts available day to day. Sauces cover the classics (mushroom, pepper) as well as some tasty upgrades (anchovy hollandaise, fermented chilli and truffle butter). Hall is super passionate about the meat and the process—he spent months aging beef to find the sweet spot, so if you're into your steak, expect to be wowed.
A "Something Else" page of the menu includes (just casually) a dry aged wagyu and bone marrow burger, there's a mushroom and leek pie with oven roasted butternut pumpkin, char-grilled quail and sides like beef dripping roasted potatoes and crispy spiced onion rings.
For dessert, you can't go past the 6 Head doughnut—a sticky bun with crème anglaise, macerated fig, black currant, raspberry and strawberry powder. It's very good.
Image credit: 6 Head.
---