Opening Soon: The Abercrombie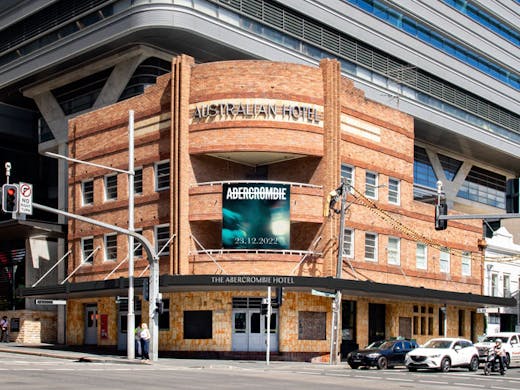 Broadway has changed a lot since the days of Purple Sneakers parties at the Abercrombie (cue monolithic university buildings, slick apartments, and futuristic shopping centres). But the beloved Chippendale boozer, closed almost a decade ago, will enter a new era before the year is out when the Solotel group reopens the pub next month.
She's undergone a mega renovation, now sporting three venues in one. On the ground floor, there's a performance and club space, a public bar, and a refresher of the original beer garden. With a 24-hour license (yes, you read that correctly), this will be a space to see Sydney's best record labels dial up the party vibes—Sweat It Out, Future Classic, Motorik, and of course—Purple Sneakers.
Upstairs, there's "Casa Rosa", a late-night Italo-disco cocktail lounge, and a rooftop terrace with DJs (after all, the year is 2022 and we are a sophisticated city now). Finally, the Abercrombie's footprint has been expanded into the surrounding terrace houses, and it's here you'll find an aperitivo wine bar and shop, "Lil Sis" (see again: sophisticated).
Even with its newer "grown-up" elements, the Abercrombie will stay true to its scuzzier past. There's a 5am license on weekends and a 24-hour license for special events. To mark the pub's reopening, there'll be a 36-hour party kicking off at 5pm on Friday 23 December, and running non-stop until 5am on Christmas Day.
"There's a strong sense of responsibility reopening the Abercrombie given that formative memories of generations of Sydney partiers, including myself, were forged here," Solotel CEO Elliot Solomon said in a statement. "We [are] very aware that there's a generation of kids who haven't been able to experience those heady clubbing days in Sydney, for various reasons."
"This new era for the Abercrombie is focused on helping to redefine the fabric of Sydney's nightlife as well as provide a platform for the next generation of party crews and clubbers to create their own culture-defining experiences."
All three venues at the Abercrombie will open on Friday 23 December.
Image credit: Solotel
---