Bacco Osteria e Espresso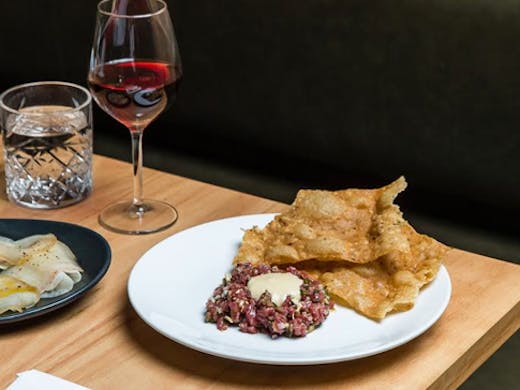 The Verdict
The brain behind a few of your favourite Sydney restaurants—think Vini, Berta, and the always perfect Ester—has opened a new trattoria in the CBD, and this 30-seat café and bar is set to impress. For starters, there is an adjoining restaurant on its way—so make sure you stay tuned for that.
Here, they're serving breakfast, lunch and dinner—so you'll never have to go without your Italian feasting fix. They've put their own Italian spin on brekkie classics, with a pancetta and egg panini and cornetti, and it's all served with Little Marionette coffee—which happens to be one of our personal favourites.
Lunch and dinner is a similar story, with salads, paninis, and pizza available by the slice (although you can order the whole pie if you want it). Our favourite nibble on the osteria menu is the tartare, which is bucking the beef, in favour of dry-aged lamb, topped with fried pasta and whipped anchovy.
The main event is definitely the pasta though, by MoVida's Scott Williams (also of Wilmer and Alfio's). Our top picks are the strozzapreti with goat and guanciale ragu, and a gnocchi dish that'll warm you through, even on the colder nights. This one is bathed in a pistachio and pecorino sauce—so yes, you should definitely order it.
On the drinks front, you'll be pleased to hear that your beloved spritz will be there. Enough said.
Trading Hours:
Espresso & Bar: Monday-Friday: 7.30 am to 8.30 pm
Restaurant: Monday- Friday: 12 am to 12 pm Saturday: 5:30 pm to 12 pm
Image Credit: Nikki To
---