Chez Sun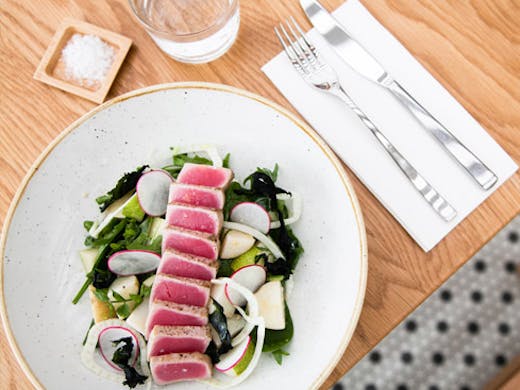 The verdict
This pretty little terrace cafe in Surry Hills is what beautiful brunch dreams are made of. Upstairs you'll find an airy, cosy retreat resembling the kind of living room you wish you actually had, with a summery balcony you'll want to linger around in. It's the only backdrop fitting of the brunch dishes that come out, where the syrup-kissed hotcakes appear alongside artfully placed local fruits (which change with the season) and of course, mascarpone.
When you're feeling less dainty, the poached eggs with pulled spicy pork and pressed eclair will set you straight. As you head into lunch territory, go for the calamari stuffed with black rice and chorizo, which is made nice and summery with a peppery tomato base. Or if you're heading in for the weekend, there's something limited edition to try as well.
Remember to save room for dessert, because Chez Sun is also home to a patisserie of delicate sweet treats, the kind of creations you'll definitely want to show off as much as you want to devour them. Ricky the pastry chef has had over ten years in the industry to perfect his craft, and it shows. Each season marks the start of a new creation, so make sure to hit up the mango and berry desserts while you can.
Oh, and word just in is that the guys at Chez Sun are adding some deeelicious menu items for Autumn which involves dishes that are perfect for the cooler weather. We're talking hearty steaks as well as a decadent Mont Blanc cake. Umm, yes please!
Image credit: Federica Portentoso and Chez Sun
---