Chuck Trailer's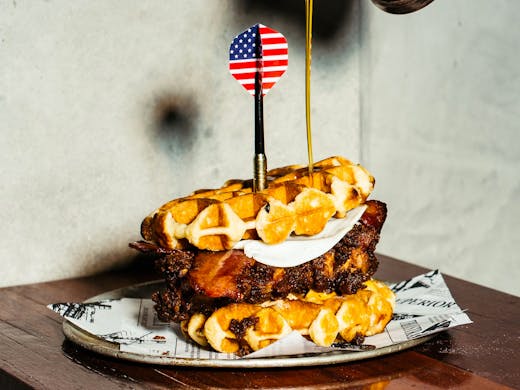 The Verdict
Just steps from Sydney's most famous beach is Chuck Trailer's, a grungy dive bar complete with a whole lot of debauchery.
There are skateboards pinned on the wall, rock 'n' roll posters, neon signs, taxidermy toads—it's a whole mood. The entire menu features twists on American classics with a bar heavily laden with The Boilermaker (whiskey mixed with beer), needless to say, Chuck is not for the faint of heart.
The joint is the brainchild of two very well-known hospo legends, Brendan Darcy and Ben Campbell, who just so happen to be the guys behind local favourite, Neighbourhood Bondi. Spoiler, it's also set to be a delicious bubble of fried chicken, bourbon, and raging noughties tunes where you can sink beers in boardies post-swim at Bondi Beach. Plus, if you're here for the theatrics (and you are), the top shelf bourbon gets delivered on a remote control pick-up truck which naturally, makes it taste all the more delicious.
The menu also bears double smash patty burgers, 'pho-king good' wings, buffalo cauliflower, and "trailer trash" fries so, you know, come hungry.
On that note, you should also be across the bottomless antics. When it comes to the all-you-can-eat stuff, the crew here plate up the "Limitless Chuck", a 90-minute sitting of all-you-can-eat wings, fries, goon, tap beer, and frozen cocktails. The best bit? No bookings are required.
Image credit: Chuck Trailer's
Want goon delivered? Check out Bagnum—Urban List's fancy new bagged wine.
---