Don Pedros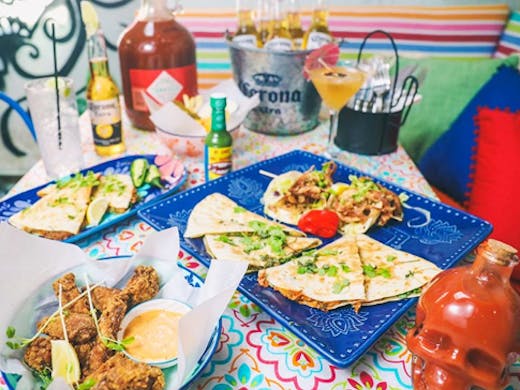 The Verdict
Paddington's Mexican offering has just stepped up a notch with the arrival of Don Pedros. This backstreet cantina and bar is home to all the no-frill vibes you could need for a mid-week feed with your mates, or a cheeky Thursday night loaded with well, you know, lots of tequila shots.
From the outside, this newbie is pretty unassuming except for the twinkling of colourful festoon lights from the inside. Upon entering, you'll be transported into bric-a-brac heaven with suspended plants dangling from the ceiling, hanging sombreros, multicoloured tables and chairs, SoCal-inspired PVC table protectors, basket lights, flamingoes painted on walls and a blackboard scribbled with specials.
The food line-up is short and sweet here but ever so wholesome. For entrees, you can't go past the cheese and bean dip where re-fried mashed beans reign supreme and get combined with melted cheese and jalapenos. There are also six different tacos to dig into, like crispy prawn, mushroom, fish (which rotates around the fish of the day), soft shell crab, pulled pork belly and lamb shoulder.
For the creatives (or the indecisive), you can also build your own taco platter, which includes eight tortillas, shredded iceberg lettuce, guacamole, mashed beans, pico de gallo and shredded cheese.
To wash down your Mexican feasting, there's a solid margarita list to work your way through with coconut, blood orange and even chilli-infused takes on the classic. For wine fiends, you'll find a shortlist primed for SoCal-style feasting, but it's the beer select that shines the brightest here. There's a rotating selection of the golden stuff on tap, a mix of local and Mexican beers by the bottle, buckets of Corona and a weekly mystery beer going around too.
As for the weekly goings-on, you better believe the crew here throws an epic Taco Tuesday where tacos and beers on tap sit at an easy $5. To close off the working week, there's also a "Family Friday", which means from 4pm until 6pm, tacos and beers will sink to as low as $4 pending what time you arrive (arrive at 4pm and pay $4, arrive at 4:30pm and pay $4.50, arrive at 5pm and pay $5).
And to really pop the pico de gallo on top, Don Pedros hosts a monthly "Taco And Fiesta". You'll find this one going off on the first Thursday of every month, with all you can eat tacos for just $25 per person.
Image credit: Don Pedros
---