Enoteca Ponti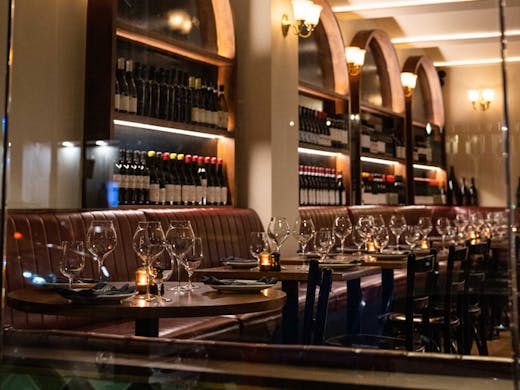 Potts Point is one of Sydney's most exciting restaurant districts—and Enoteca Ponti is the newest venue to open in the area. From the team behind Potts Point's beloved Parisian-inspired diner Bistro Rex, and just a few doors down on Macleay Street, Enoteca Ponti has taken over the former Monopole site.
Here, the team has picked another famous city as its muse: Rome. Described as a classic Italian restaurant, chef Aldo Farroni (ex Shell House) is plating up refined favourites like fluffy housemade focaccia, Italian-style charcuterie and cheese, and Appellation oysters alongside more intriguing items like lasagne spring rolls, caviar pizza, and veal tartare.
Out of the four famous pastas of Rome, you'll find a perfected Amatriciana with guanciale and pecorino Romano; there's a mushroom ravioli with dashi broth, a beetroot ravioli, and salt-baked whole John Dory too.
Kick-off with a Campari soda (because, when in Rome), or an agave mezcal Negroni if you're not here to mess around. The Ponti Corretto Martini features Campari and espresso. Meanwhile, the wine list goes deep on Italian varietals from Friuli Pinot Grigio through to Piedmonte Barbera.
The fit-out is the work of Ar Huis, who used the restaurant's namesake, prolific Italian architect Gio Ponti as inspiration. Think 50s-era Roman wine bar, complete with burgundy leather booths and geometric tiles in emerald green.
Enoteca Ponti is open for lunch on Fridays on Sundays.
Image credit: Jude Cohen
---
You May Also Like
Bakeries & Delis
Potts Point, NSW
Ken's Continental is a European-style deli, cafe, and sandwich shop by…
Cafes
Darlinghurst, NSW
Lenny Briskets is a food truck turned NYC-inspired deli cafe and diner serving some…