When the lockout laws were installed, Potts Point reinvented itself as the number one dining precinct in Sydney. And though the era of lockouts is over, Potts Point has retained its restaurant cred. The suburb itself is only a tiny handful of streets, bordered by blurry distinction between Kings Cross, Wooloomooloo, and Elizabeth bay, but it packs a real wallop in terms of quality.
The high density of restaurants in the area is largely due to its proximity with the city and the wealthy Eastern Suburbs while being tucked away from noisy transport routes. These conditions have given it an upper-class edge to dining, attracting some of the best minds of our times to ply their wares here. It's a hub for date night venues and slick after-work drinks as well as destination restaurants for special-occasion meals.
Potts Point has a tonne of options to choose from when it comes to sheer mastery of the craft of dining out. Here, we've whittled the list down to the absolute must-tries when planning your next trip to this historic part of town.
Here are the best restaurants in Potts Point right now.
Ezra
Opening up in the midst of a pandemic is a tall order for any hospitality team, but here at Ezra, they've got the might to back it up. Head Chef Ben Sears is a Paper Bird and Moon Park veteran while owners Nick and Kirk Bowden bring their experiences in London to bear on the restaurant. It's hearty Israeli food drawing on broad Mediterranean traditions that are punchy, flavourful, and perfect for sharing. Tuck into crispy potato latka dripping in sour cream, earthy hummus, or go all out with chickpea-marinated miso swordfish. Arrive hungry and leave wanting to return soon.
The Apollo
Under the imposing, castle-like structure of the DeVere Hotel sits one of Sydney's top Greek restaurants. Minimalist in design, and with large arch windows perfect for people watching, The Appollo is big on flavour and does traditional Greek specialities incredibly well. It's your traditional staples like charcoal chicken and oven-baked lamb with plenty of Greek yoghurt to go around but in a much more upmarket, moody setting. The focus here is on indulgent, authentic flavours that earned The Apollo a spot on our best Greek restaurants in Sydney hitlist.
Bistrot 916
The wanderlust crowd with itchy feet and a desire to walk the cobbles of Paris once again will find some comfort in Bistrot 916. It nails the French atmosphere, something hard to describe but impossible to miss (it could be the table cloths). The recently opened dive into French seafood is helmed by head chef Dan Pepperell of Restaurant Hubert and 10 William Street fame. It's heavy on the French specialities, not shying away from things like escargot and lambs brains while bold enough to tackle a range of frites dishes that leave very little room for error. The wine list is, as you would expect, replete with new offerings from the Burgundy, Champagne and Châteauneuf-du-Pape regions as well as some stellar homegrown drops.
Chester White Cured Diner
Carved out of an old terrace house, Chester White feels like a home kitchen. It doesn't really follow any style, with a menu packed with an eclectic assortment of dishes from across Europe, but it ties it all together with an emphasis on good times and non-stop country music. Who doesn't want every pasta dish they have to be served in a wheel of Sardinian cheese? It's the only way to live and it's very, very good. Their pasta is freshly prepped right in front of you (as is everything else in the open plan kitchen) and the tiny space sits only a handful so it's very intimate. As the name might suggest, it's very meat-forward here so grab yourself a platter of your choosing piled high with cheese, pickled veg, olives, and fruit—and get grazing.
Chaco Bar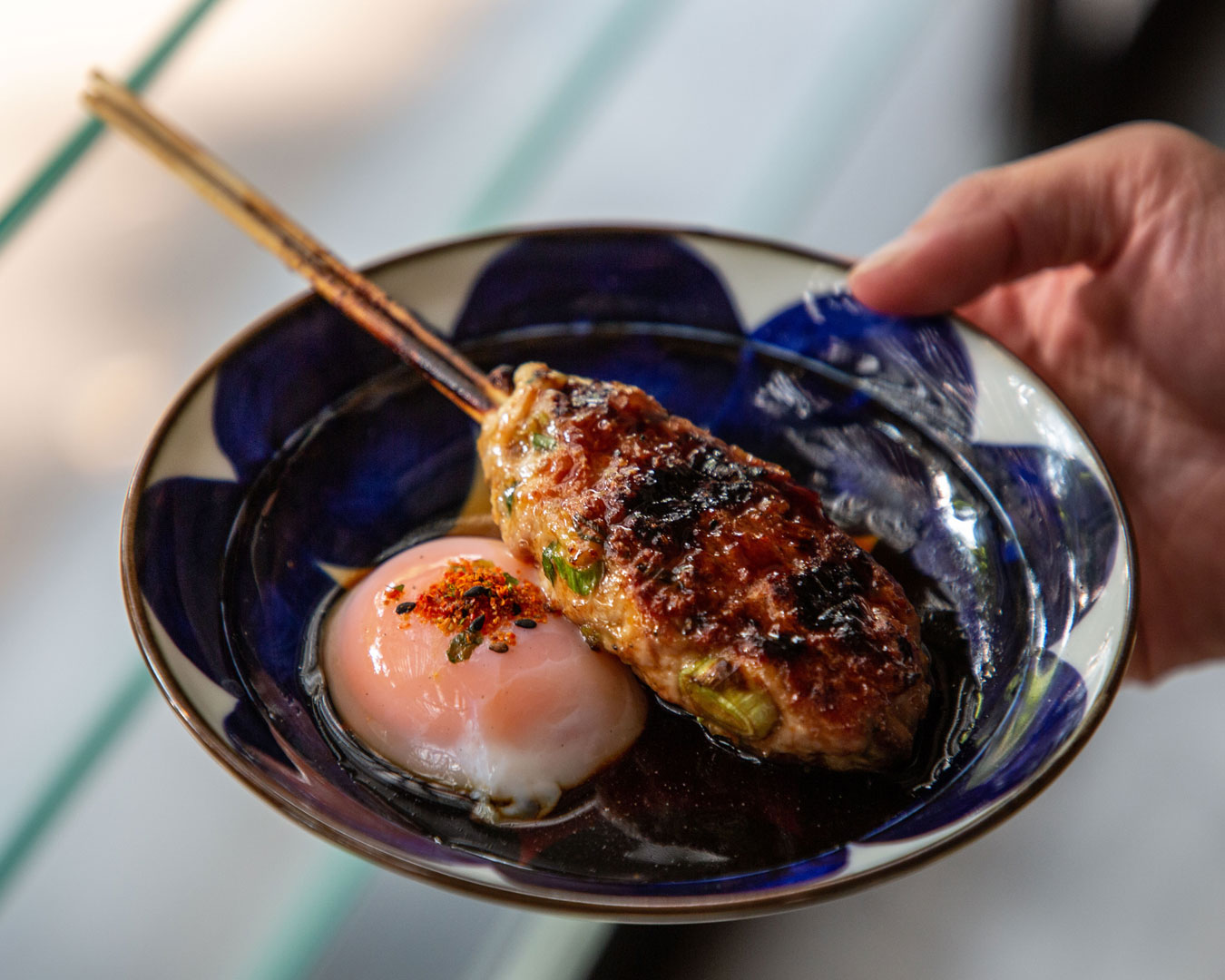 Chaco Bar Potts Point is the sister venue to the tiny ramen-ya in Darlinghurst—but you won't find bone broth here. Instead, the Potts Point outpost specialises in Yakitori dining meaning chargrilled skewers are the main event. On the sticks, you'll find everything from chicken, lamb, and pork, to ox tongue, hearts, and gizzards meaning nothing is wasted and everything put to good use. Dishes are cooked over cherry blossom charcoal and basted in Japanese seasonings giving them a rich, smoky flavour. The sake here is bought from an endless rotation of small, family-run makers in Japan, packing out their extensive drinks list of shochu and whisky. Excellent stuff.
Dear Sainte Eloise
If you're looking for a nightcap to end an evening or to finish a date night on a particularly high note, Dear Sainte Eloise is the place to do it. It's a chic wine bar tucked away in a quiet part of the otherwise bustling district catering to the end-of-the-shift crowd with literary flair. Food offerings are limited but punchy and styled around charcuterie dining. The 400-strong wine list is the real attraction and it's the type of place to linger and sample the best of the best from a team of experts made up of ex-Sean's Panorama, Love, Tilly Devine, and Mercado staff. Fair warning, prices can be a little on the high end but it's the seductive settings that you pay for.
Sonora
Mexican in Sydney has a bit of a reputation for novelty, which is what Sonora goes to great lengths to challenge. It's one of five Latin-American restaurants from the Milpa Collective that have been making waves across the Eastern Suburbs by bringing the actual flavours of the region to our city. Sonora transports the coastal cuisine of that region to your table with a focus on flour tortillas instead of the typical maize, served with big helpings of barbecue eggplant, grilled octopus, or Sinoloa chicken. The cool neon setting makes it a great spot for an after-work margarita—which are, just quietly, some of the best in Sydney. Enjoy yours with the excellent addition of a side of fresh guacamole and hand-fried tortillas.
Ms. G's
It may not look like it from the outside, but this black townhouse is a vast, four-story cavern of fun and flavour. Another Merivale outpost, Ms. G's serves pan-Asian fusion from the mind of Dan Hong—also of Mr Wong—with no rules and no holds barred. Everything is big and bold here and absolutely packed with zest. They've got off-the-wall cheeseburger spring rolls, fresh kingfish sashimi, and something called "stoner's delight", which is like throwing the results of a munchies-fuelled corner shop rampage into a single dish. The prawn toast will be the best you've ever tried. Tucking into a few of those, or some of the legendary boneless soy-glazed chicken wings, while gazing over at the sparkly city skyline is a real dream.
Métisse
Built into a beautiful oval-shaped dining room in the quirky Durbach Block Jaggers Barcelona building down a Potts Point laneway, Métisse is the sort of romantic, fishbowl-like place you might wander past and wonder what's happening inside. Here Chef Opel Khan, along with his daughter Lucinda as sous chef, plate up one of Sydney's best (and most theatrical) degustations. The menu changes seasonally, but typically there will be a meat and vegetarian tasting menu to choose from, with vegan and gluten-free substitutes readily available. Bangladeshi-born Opel has a passion for sustainable cooking and a zero-waste kitchen, which is precisely the sort of cooking and culinary creativity we should be celebrating right now.
Cho Cho San
The Japanese word izakaya means "stay-drink-place." This is the philosophy that owners Jonathan Barthelmess and Sam Christie wanted to recreate from the Tokyo bar scene right here in Sydney—and they do it with flair and precision. Since 2014, Cho Cho San has been one of Sydney's favourite spots to get a drink, settle in, and get comfortable. Its extensive Japanese whisky list and beautiful bespoke cocktails make it a perfect after-work spot but the food too is equally stand-out. Head Chef Max Smith has crafted a mouth-watering menu featuring prawns in kombu butter, crispy stuffed calamari, and sweet and flaky eggplant skewers. Make sure to save room for the refreshing green apple sorbet with honeydew.
Yellow
This iconic Potts Point spot is a firm favourite and a must for any special occasion dining in the area. Head Chef Brent Savage and the team behind Bentley, Monopole, and Cirrus boldly transformed the place into veggie-only in 2016 and haven't looked back since. Taking the challenge of hitting the same foodie high-notes without the meat seriously, they expertly turn all sorts of fresh, seasonal produce into unrecognisable and delicious forms. The menu changes regularly here and utilises familiar foods in innovative ways to create a culinary experience unlike anything else. There's a reason this place made our best of Sydney list.
Bistro Rex
Another titan of Macleay Street, Bistro Rex is exactly what you want when talking French bistro. Inspired by the European and New York wood-panelled eateries of old, the team at The Rex have made the place a local hang out spot, equally good for grabbing a quick drink and some nibbles to going all out for a special dining event. Exec Chef Jo Ward has been in the trade for years and specialises in butchery, meaning their steak frites gives any and all competitors a run for their money. Portion size is relatively small here but packed with the buttery richness you would expect from French dining, without the pomp and circumstance often associated. They pride themselves on their relationships with local suppliers to create old-world classics using some of the best ingredients Australia has to offer.
The Butler
Potts Point's high vantage point gives it excellent views of the city—that is if you can find them. The Butler capitalises on its direct access to the CBD skyline in a huge way. Come for the spiced orange espresso martinis, stay for the awe-inspiring sunsets. The spot itself is proudly local, with a bar named after a famous journalist who saved the joint, drawing its own name from a famous Italian restaurant that used to be there. Breaking from its heritage, it spotlights the Ibero-American immigrant cuisine of South America packing fresh, tortilla based bites sprinkled with zesty herbs and citrus. There's an extensive vegan and vegetarian menu here with a lot of dietary options covered so everyone will be pleased.
Heading to the Inner West? Check out 15 of the best restaurants on that side of the city here.
Image credit: Jude Cohen, Nikki To, Nikki To, Jude Cohen, Caitlin Hicks, Jude Cohen, Caitlin HIcks, Sonora, Métisse, Cho Cho San, The Butler