Teta's Deli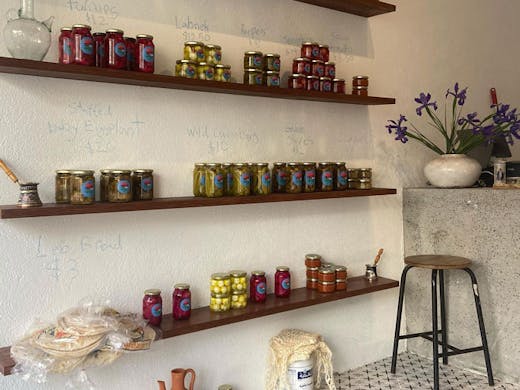 A far cry from its clubbing reputation in the old days, Potts Point has quickly become one of the top dining spots in Sydney. Among the legacy of late-night kebab shops in the Cross, you'll find Teta's—a tiny Lebanese deli in an old architect's office.
Run by owner Dina el-Kaddoumi, the deli is an ode to her late grandmother, Teta. Here, it's all about the beauty of slow food, honouring Lebanese culture, and celebrating family. Before opening her bricks-and-mortar "dream deli", el-Kaddoumi started her pickling business and online shop, Kabiis, selling everything from handmade beetroot-dyed turnips to fresh olives that are cured and washed for weeks before marinated and brined.
She kept her eye on the prime location along Roslyn Street and was quick to snap up the spot when the opportunity arose. Now, Teta's is the first Lebanese deli in Potts Point, bringing a beautifully personal food spot to the well-heeled area.
"An authentic cultural experience shouldn't be relegated to the 'burbs'," says el-Kaddoumi. "The thing is, it's not just food, it's a vibe, it's about being comfortable to share the way I have learnt about my own culture, which is through food, yes, but also community, family and intimate spaces that feel like home."
Lining the shelves of her pint-sized deli are staple pickles, preserves, and handmade za'atar mix, as well as seasonal items like pickled Jerusalem artichokes and wild baby cucumbers grown by el-Kaddoumi's uncle, Chafi. You can also pick up Teta's best-selling chilli sauce and beit en jen (el-Kaddoumi's pick), which is a stuffed, preserved baby eggplant filled with walnuts, garlic, parsley, capsicum, and chilli and submerged in Lebanese olive oil. Teta's hummus and punchy toum are also up for grabs. You'll also find a handful of Lebanese grocer staples among the handmade deli goods—think tahini, pomegranate syrup, carob molasses, and a black cumin oil that touts itself as a "remedy to all diseases except death".
If you feel like staying a while, order yourself a Lebanese coffee, a jallab (an icey pomegranate drink with pinenuts, raisins, and pistachios), or a lamb pliage made with fresh dough also by el-Kaddoumi's uncle, owner of Mt. Druitt institution, Maggie's Pizza. And be sure to keep an eye out for specials like the popular baklava and warak enab (vine leaves).
Image credit: Teta's and Eva Balog
---