Coming Soon: Lune Croissanterie Sydney
CONTACT
60 Oxford Street
Darlinghurst , 2010 NSW
Show on map
---
The Details
Serving
---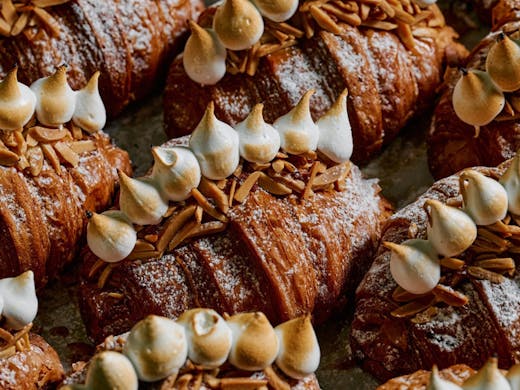 After years of rumours and speculation—Melbourne's ultra-famous croissanterie Lune has confirmed it will open a Sydney location in 2023.
It's set to be the star of the new Oxford & Foley dining precinct, taking up permanent residence when the new TOGA Group development opens next year.
On the news of the Sydney location, Lune founder Kate Reid said, "The prospect of Lune being in the neighbourhood of many heavyweight Sydney greats in Darlinghurst and Surry Hills is incredibly exciting for us, and we only hope to add to this with our specific brand of buttery deliciousness. We can't wait to show the world what we have in store for Lune Sydney!"
If you're not clued in the world of Lune, Reid's croissants have earned her international stardom, even the title of "world's best croissant" from New York Times food critic Olivier Strand.
Wielding her engineering background, Reid has magicked the aeronautics of the croissant, creating a heavenly butter-to-crunch ratio.
Alongside a classic French croissant, prepared over three days, the Lune team whips up specials like a pecan pie twice baked croissant, peanut butter and jelly croissants, and hot cross "cruffins" at Easter time. In short, we cannot wait to see Lune hit Sydney.
Lune is slated to open in Sydney in 2023. Stay tuned for an official opening date.
Image credit: Lune
---
You May Also Like
Bars & Pubs
Darlinghurst, NSW
An ode to the foundational ingredient of some of Japan's most loved exports…
Bars & Pubs
Surry Hills, NSW
Tucano's is a fun-filled bar and restaurant blending a modern take on Tiki with…