Meraki Arts Bar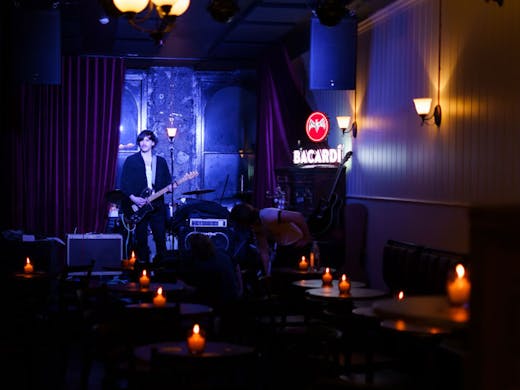 Oxford Street's quieter days are coming to an end. The once vibey nightlife strip in Darlinghurst is entering a new era with a burst of new openings, from small bars to mini nightclubs and late-night diners. And the latest is Meraki—a multi-storey arts hub, complete with two bars, an art gallery, and a mini-theatre.
Set over three floors, you can begin your Meraki experience at the ground-floor gallery and cocktail lounge. Here, you'll come across fortnightly exhibitions, with local artists exhibiting and selling their work, as well as a rotating menu of signature cocktails and tasty snacks. Pop in for the artist's happy hour, where you can score $8 beers and wines and $15 house cocktails (Tuesday - Saturday, 6.30 - 7.30pm).
Up on the first floor, you'll find a vaudeville-inspired gig space, with multiple acts performing each night. Think burlesque, comedy, classic rock n roll, jazz, drag, cabaret, and so much more—all queued up to entertain you in one buzzy night.
Finally, the top floor is Meraki Mainstage—a 50-seat independent theatre. There's also a speakeasy bar called The Green Room, where you can enjoy pre and post-show cocktails.
Dedicated to artists and to reviving Sydney's nightlife, Meraki is a special spot to experience something new and be entertained while supporting our local creative community.
Peep the full lineup of exhibitions, events, and gigs happening at Meraki here.
Image credit: Meraki
---