No. 92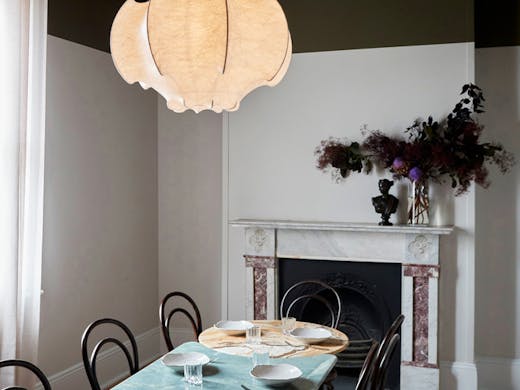 Just in time for balmy nights, Glebe Point Road has a new two-storey terrace bar, complete with a dreamy courtyard, a chef imported from Europe's Michelin-starred kitchens, private upstairs rooms and a stunning street-facing bar that's perfect for people-watching and (of course) sipping wine.
No. 92 is poised on a corner at the busier end of the street, not far from Glebe's famous Saturday markets. The terrace has been carefully restored by Sydney-based Pattern Studio (who you'll know from The Collectionist Hotel in Newtown, and the Sydney store for monogram kings, The Daily Edited).
It's elegant without being overwhelming—a quiet lace-inspired palette is the vibe for downstairs, accented by a big, beautiful jade green banquette, ash-coloured marble and—swirled into the walls of one room—a site-specific artwork created by Taiwanese-Australian artist, Angie Pai. Out the back, you'll find the courtyard. Peppered with vintage style furniture in shades of white, with leafy trees hanging overhead—you'll want to hang here on your next date night.
Upstairs, plush rugs, interlocking marble tables in white and jade and really (really) amazing lampshades and light fixtures (shaped like scallop shells, for example) carry on the pared-back, minimalist vintage look.
To drink, you're in for a wine list created by SUPER SUPER (an exciting and yet-to-be-revealed online natural wine hub, created by some local Sydney wine legends). The focus is on low-impact, sustainable, organic and biodynamic production, pulling in drops from Australian and European producers. Think summertime crowd-pleasers like Tuff Nutt Bianco Pet Nat from Riverland in South Australia and impressive internationals like a 2017 Claus Preisinger Pinot Blanc from Austria.
Cocktails are apero-style, and beers cover off local craft brew heroes (Grifter, Wayward, Young Henrys) and a few artisanal Italian bottles (a Birra Baladin 'Isaac' Amber Ale, for example).
Leading the kitchen is chef John Lyons, whose resume features lots of Michelin-starred hot spots (he was head chef at Rascasse in Leeds). On the menu are imaginative, refined share plates packed with flavour that won't leave you feeling hungry. From razor clams with black garlic aoili, to crisp eschalot with black garlic and stracciatella—No. 92 is upping the ante on wine bar fare. Our favourite has to be Lyons' Hasselback potato, but we highly recommend ordering the selection of Australian cheeses, which are served as generous wedges with quince and crispy housemade lavosh.
When No. 92 is open for breakfast on weekends, you can expect pastries, bacon and egg rolls, breakfast cocktails and Artificer coffee.
Glebe may have been quiet for new openings of late—so No. 92 is a total breath of fresh air, unlike its neighbours, and well-worth adding to your list for an upcoming date-night, special summer catch-ups or a pre-market coffee.
No. 92 is slated to open Wednesday 18 December, with a limited menu until the end of the year. No. 92 will reopen on January 3, 2020 with a full lunch and dinner menu.
Image credit: Traianos Pakioufakis
---