Oh My Days Vegan Patisserie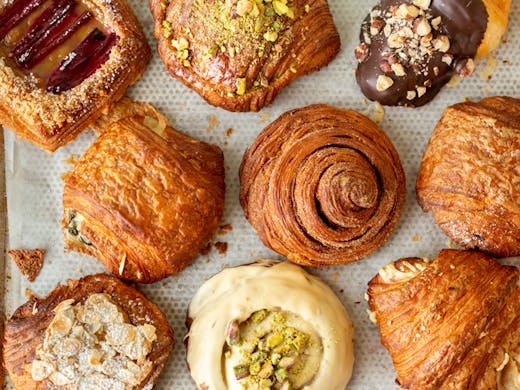 Being a full-time vegan in Sydney is becoming dreamier every day. As well as flavour-packed bowls of gnocchi, pho, tacos, and pub grub—thanks to Glebe's plant-based patisserie Oh My Days—we've also got vegan croissants, pain au chocolat, and almond croissants.
Croissant purists will scoff at a zero butter croissant, we're sure—but hear us out on this one. This plant-based pastry is the genius of Oh My Days head chef and owner David Rigby, whose CV includes time in the kitchen at fine diners like Bentley and est.
His vegan croissant is made with whole-wheat stone-ground flours, which are folded with organic butter sourced from Denmark. Baked in-house daily by Yosef Paulsen (Kitchen by Mike), the pastry's air-to-crunch density is as good as the real deal.
Ingredients are mostly organic and preservative-free too. "We wanted to create a menu that while being entirely plant-based, is also preservative and additive-free", Rigby says. "There are no mock meats or nasties, just a health-focused menu, where customers can tell that the food has been made with love".
John Lee (Devon Cafe) is in charge of all things coffee, and you can pair Oh My Days' house blend with a range of nut milk varieties picked especially for coffee drinking.
Image credit: Oh My Days
---