Pepita's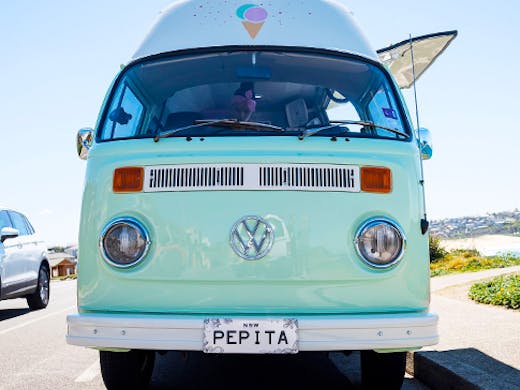 The Verdict

Cue the childhood nostalgia. Remember those summer days you spent chasing after the ice -cream truck barefoot on the hot pavement, rummaging for pocket change and licking and chomping your way through allllll the frozen treats? Of course you do, because, well, they were the best kind of days. Folks, cue the brain freezes because there is a kombi van cruising the northern beaches and we're screaming for ice cream.
Pepita's is a mega cute mint green vehicle serving up ice cream as sweet as those throwback feels. Oh, and the ice creams and sorbets being churned out by this baby are all 100% homemade, gluten free, dairy free, plant-based and vegan.
This dreambus is the brainchild of two ultra-talented pastry chefs who use cashew and coconut milk as the base of this creamy deliciousness. Flavour wise we're talking mocha, Earl Grey tea, hazelnut, raspberry and thyme and calamansi (a citrus that tastes kinda lemony). There are also warming hot choccies, homemade jams and spreads on offer, just in case you needed another reason to chase this baby down the street.
As for the ice-cream truck chasing, well praise the technology gods, there is now a GPS tracker on their Facebook page so you can conserve all that energy for the ice-cream consuming you'll be doing. You'll find Pepita's cruising around the Northern Beaches from Wednesday–Sunday.

Image credit: Caitlin Hicks
---