Pokéd Northpoint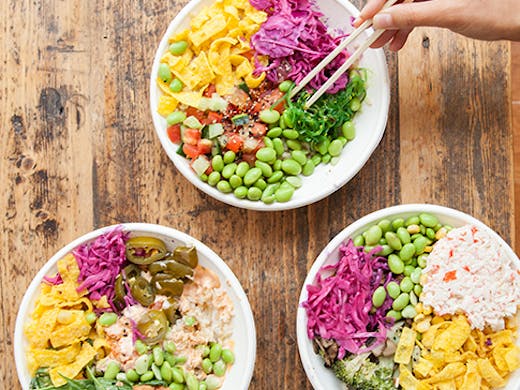 The Verdict
A new poke joint is heading to North Sydney and you know what that means team—no more sad desk lunches. This will be the second Sydney store for Pokéd and did we mention you can finally say CYA to sad desk lunches?
Your new lunch break favourite comes in a whole bunch of different styles to satisfy every single person, ever. Our top pick from the menu is the Hawaiian bowl with fresh sashimi salmon and tuna, brown rice, pineapple salsa, edamame beans, seaweed salad, cabbage and wonton crisps. That's right, alllll of that in one little poké bowl.
There's heaps more to pick from, including things like sous-vide chicken, tofu and steak so the options here a pretty much endless.
To celebrate the opening of their Northpoint location, the Pokéd team will be giving away 100 free poké bowls. Just to repeat that, FREE. For the rest of the day (on 10 April) all the bowls will be only $5, so rally the troops and head on down.
Image credit: Pokéd
---