SpeedFit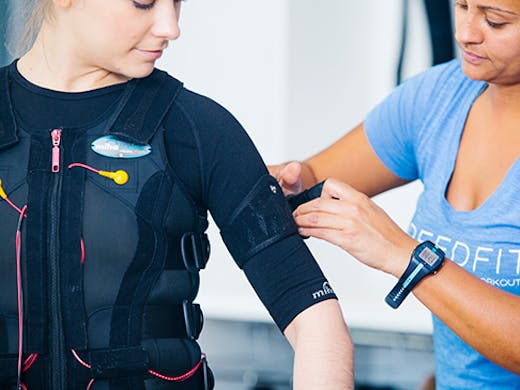 The Verdict
With all the food we love to eat, we're alllll about fitness (or have to be). So it'll come as no surprise that we're giddy with excitement to hear SpeedFit is finally coming to Sydney. Yes, we're serious, and yes, you should be giddy with excitement too.
Launching in North Sydney (and the CBD!) in a matter of weeks, SpeedFit is based on EMS training (electronic muscle stimulation), mimicking the natural action of your central nervous system and sending electrical impulses that contract your muscles with minimal impact on your joints. In other words, it's a slick machine that in as little as 20 minutes is said to give the same results as torturing yourself in the gym for hours on end #signusup.
The electrodes are applied to the skin directly above the muscle, and every session is tailored to whatever your little heart desires (or the amount of donuts you accidentally demolished during the week). You can strap yourself in and take it easy, or go super hard-core, but we should warn you that it works best if you are actually exercising as you're strapped in.
We admit, it almost sounds too good to be true, don't knock it until you try it. Scientifically proven (yes, we just went there) to develop strength and muscle, while dramatically reducing cellulite, improving posture, overall health and well-being, we're obvs big believers! If it works for Usain Bolt and Roger Federer, it works for us!
SpeedFit Sydney opens August 2017 and if you're officially convinced, then you'll be pleased to hear about this sweet little trial offer. If you sign up for the two-session trial (usually $90) here before 1 August, and use the discount code 'SmartSydney' then you'll receive $30 off. You're welcome.
Image credit: Louise Coghill
---