Suburbia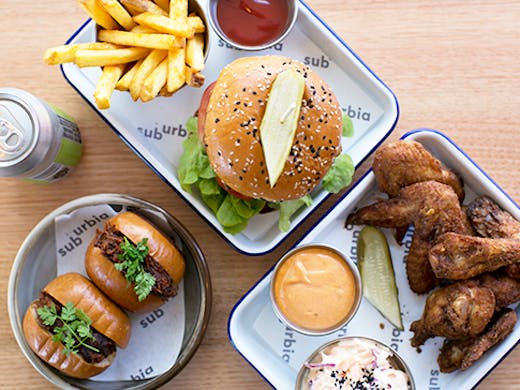 The Verdict
North siders, you can quit your crying—you no longer have to cross The Bridge to score some good ol' fried chicken. Suburbia is officially at your service. This place has that classic American burger joint feel mixed with the ultra cool vibes of Cali's Venice beach, so basically, it's like the OC with an edge.
The menu is chocked full of delish southern fried chicken classics that are so good it's like a chicken exploded in your mouth (we promise it's in a good way). Conveniently located on Sydney Road, Suburbia sits perfectly within the suburbs (pun intended) of Manly—with easy access from the Spit, Seaforth, Balgowlah or whatever direction you're coming from.
This is a special shout out to all those who're feeling a bit peckish (hungover) on their Sunday mornings: the wings and burgers are basically on tap. Suburbia delivers on all the goods utilising (pretty much) every part of a chicken to create that crispy AF explosion we mentioned earlier. Try their bucket of chicken or go for the American classic; chicken and waffles.
With the chicken devil on your shoulder, Suburbia delivers the salad angel on the other and we think you should listen to both and just order one of everything. Their Californian-inspired salads marry perfectly with the chicken and our top picks are the poached beets with goat's cheese and almonds or their baked eggplant with Korean miso, sesame seeds and buffalo mozzarella.
Want to know more about the chooks? You can be assured they are top quality, sourced from Haverick's Meats and coated in a super secret Suburbia spice mix that even has Colonel Sanders guessing how it got this good. Oh, and did you think we forgot the cocktails? Neverrr. Suburbia has a drinks menu that's just as good as their chicken—try the Gjelina with gin, elderflower, fresh mint and lime for a refreshing AF tipple.
Image credit: Suburbia
---