SUNDAY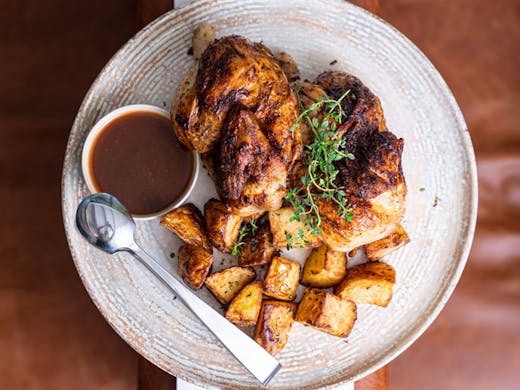 Sometimes, there's simply nothing more comforting than a Sunday roast. When the world's a bit mad and uncertain and shaky, rounding out your week with family or mates over a wholesome, hearty meal can really soothe the soul.
And it's this sacred Sunday pastime that is the inspiration for Morgan McGlone's Potts Point restaurant, SUNDAY.
Despite its name, SUNDAY is open every day of the week—bringing those homey, Sunday feels whenever you need. This time, McGlone, founder and head chef of Belle's Hot Chicken, isn't straying too far from the bird that started it all—the hero at SUNDAY will be that super comforting, never-fail roast chicken.
Of course, being McGlone, you can expect a slightly more playful and finessed take on this traditional staple. For the rotisserie, McGlone has buddied up with Chef Ryan Blagrove (Apera) and will be serving hormone and chemical-free Bannockburn chickens from Gippsland, expertly roasted on a Rotisol rotisserie that the team has imported from Chelles, France.
Elsewhere on the menu are all the other comforts of your grandma's Sunday dinner table—sides and hearty staples, each devised with a special McGlone twist. Try the fresh Sunday Waldorf, which is a spin on the classic salad with witlof, walnuts, apple, baby gem, and pickled grapes. There's a hefty fish burger, with Panko'd Ling fillet, iceberg lettuce, yoghurt, and dill and gherkin tartare, and, our personal favourite, the "Chip Butty"—which is a milk burger bun packed with hot chips, madras mayo, and fried curry leaves.
For dessert, it's a sundae, naturally—made exclusively with Rivareno's authentic Italian gelato.
To drink, SUNDAY has a neat list of pre-batched bottled cocktails from award-winning drinks legend Jenna Hemsworth (who's currently leading the cocktail program at Sydney's highest bar, Bar 83). Hemsworth has crafted a Cold Drip Martini from Room 10, a Sunday Margarita, an Aperol Spritz, and a perfected Negroni. Otherwise, it's local beers on tap (Running With Thieves XPA and lager) and, just like Belles, Aussie natural wines.
Finally, keeping things home-like on the interior side of things is Steel and Stitch, who also worked on the Duke of Clarence and Lobo Plantation. SUNDAY is sophisticated and comfortable—you'll see brass trimmings, wooden beams, turquoise subway tiles, and thoughtful, soft lighting.
Image credit: Leigh Griffiths
---