Sydney Float Centre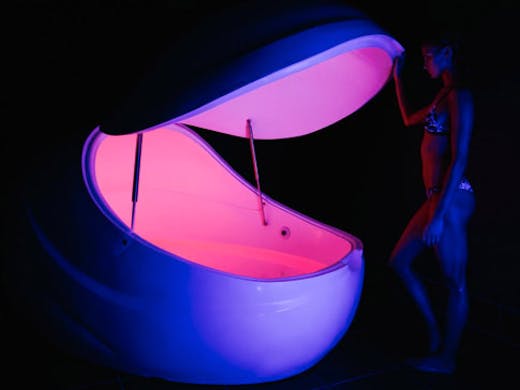 The Verdict
Floating is not your usual way to relax and "let go" of everything - but then, this isn't any old place to de-stress. Sydney Float Centre is home to one of the city's best kept wellness secrets - floatation therapy.
Housing a series of Sydney's most luxurious floating pods filled with epsom salted water, you essentially float anywhere between an hour to two hours (although it's best to start off with just one to ease yourself into it, because it's quite an experience!). The epsom salts not only help relax your muscles and restore magnesium levels, they also moisturise your skin (counter-intuitive we know).
Since this special water is kept at skin temperature, you don't just float, but eventually feel you're at one with the water, and totally weightless. As if that's not awesome enough, you can also adjust the glowing lights in your pod (or turn them all off for complete darkness and nothing-ness). The lid can be kept open, or closed for a totally shut-off experience from the world. For more seasoned floaters, you can even bring in your own music for a totally immersive experience (sorry, couldn't resist).
There are a tonne of benefits aside from being a relaxing (and unique) alternative to massage, from helping that pulled muscle relax, to getting better sleep and a clearer mind.
Book yourself in for longer than you'd think, because the hammocks and yoga mats in the post-float relaxation area will definitely call your name after your float!
Image credit: Daryl Kong
---