Terra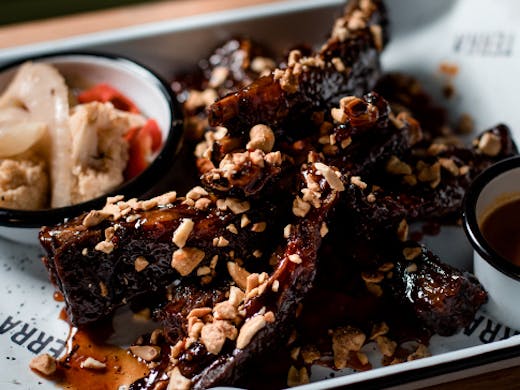 The Verdict
Terra, the canteen-style, produce-driven foodie destination should be on anyone's bucket list. Expect an ever-changing breakfast and lunch menu that features straight-off-the-spit smoked and charcoal meats, gourmet lunch roll, seasonal roasted veggies, fresh salads and juices. And don't get us started on the coffee here.
You'll find this one in the heart of No Name Lane in Canberra, churning out a bunch of epic proteins, all slow-cooked on the rotisserie and smoker so think 100-day grain fed Black Angus beef short rib smoked for six hours, charcoal chicken with house-made hot sauce, spit roasted 'Hilltops' pork belly with house-made sauerkraut and miso gravy, and smoked Cowra lamb ribs with sweet BBQ sauce.
The seasonal menu also means a seasonal cocktail list to complement all the feeds and we're thinking you'll want to pair something up with the signature 'smoke in the chimney', made using smoked brisket fat from meat cooked during the day.
Image credit: Supplied
---