The Thirsty Wolf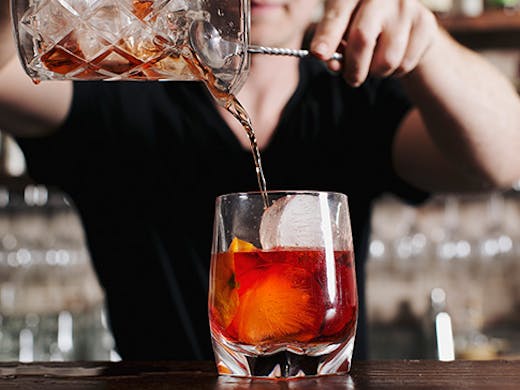 The Verdict
There's a lot to like about The Thirsty Wolf. The soft milk bun burgers. The short-but-sweet wine list of mostly Australian whites and reds. The upstairs balcony overlooking Glebe Point Road. Since moving from their OG Newtown digs in December 2017, Glebe locals have been falling for their small wine bar feels pretty hard.
But let's talk about the poutine. These guys are one of the few places in town who do the real-deal poutine, a happy mess of squeaky white cheese curds, proper peppery gravy, and twice-cooked crinkle-cut chips—the crinkles are better at holding the gravy, apparently. You can opt to top yours with extra cheese curds, or even crumbled bacon. Get it in you.
In true Canadian style, we suggest you pair your poutine with a Caesar cocktail. That's a Bloody Mary to you, done Canadian-style, i.e. spiked with caesar mix, i.e. clamato juice. Yes, clam and tomato juice. Don't knock it till you try it, and don't let any Canadians hear you compare it to a Bloody Mary (unless it's to say it trumps it by a mile).
If you're a wuss, never fear. Perhaps a Wolf Cola will do the trick (rum served in a cola float, by the glass or jug), or their popular Silver Bullet cocktail with lemonade, maraschino liqueur and tequila, or choose from their international selection of beers and ciders by the bottle. They'll go nicely alongside a rack of ribs and a side of deep-fried pickles.
Image credit: The Thirsty Wolf
---