Thievery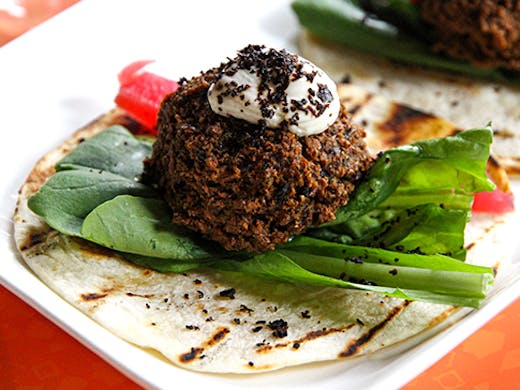 The Verdict
It's a new era for Thievery. The legendary team is kicking off the next decade by transforming its menu and drinks offering—but relax, the iconic burnt butter hummus remains.
After a few years experimenting and pushing boundaries, executive chef Julian Cincotta is re-imagining what he first set out to do: Middle Eastern street food and snacks. Inspired by the underground food scene in Beirut, Cincotta is still more committed than ever to change what people think about Lebanese food here in dear old S-Town.
"Street food is in our blood, but I wanted the new menu to feel more elevated and refined. Despite that, it has not lost it's fun and we are definitely still pushing the boundaries," he says.
So what can you expect on Thievery's new 2020 menu? While the focus here is still sharing and getting your hands messy, this time around Thievery's feeds are all about fire and charcoal.
A big part of the menu is Middle Eastern skewers. Known as Shish or Asyakh, the idea involves a variety of meat, vegetables and mushrooms, which are seasoned with a mushroom tare (a sake, mirin and soy seasoning inspired by Japanese Yakitori) and deglazed with Middle Eastern grape molasses. To finish the skewers are cooked on charcoal until smokey and caramelised then dusted with Thievery's in house secret kafta spice.
The stand out is a kafta inspired by a Japanese Tsukune meatball, which is made with a mix of lamb and chicken mince and served with a raw egg as the dipping sauce.
Cincotta is also taking a more sustainable spin on cooking by generating less wastage.
"Using the whole animal has always been a big part of Middle Eastern culture, both from necessity and as a more sustainable approach, exploring this has also allowed Thievery to be more sustainable and respect the meat we have on the table," he says.
You can also expect a delicious twist on the good old Aussie sausage sizzle. Thievery now churns out a Greenacre Bunnings Sujuk Sausage Sanga with house-made sujuk sausage, suman onions, pickles, parsley and spicy mayo.
And, in a big nod towards his Italian heritage, Cincotta has also created a tiramisu with Lebanese coffee and arak-soaked biscuits and fennel infused mascarpone cream.
As for the drinks on offer, the menu is short but oh-so-sweet. Thievery now features a whole lot of independent winemakers ready for you to work your way through, and an epic pick of cocktails including a za'atar infused gin and an Aleppo pepper-infused tequila.
Image credit: Thievery
---