Tilly May's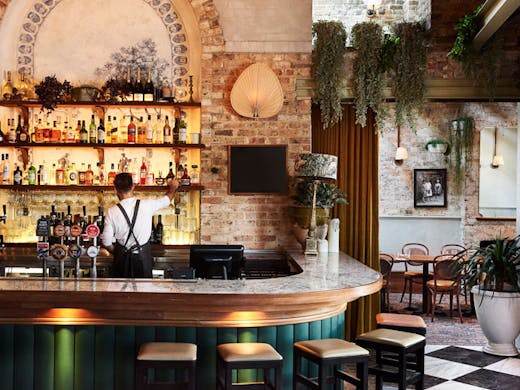 If it's been a while since you visited upstairs at Crown Street's charming Trinity Bar—you're missing out on one of Sydney's best secret rooftop bars. This charming bar may not actually be on a rooftop, but the giant retractable ceiling that lets in Sydney's fresh springtime air sure makes it feel that way. Tilly May's is one of our favourite date spots in Surry Hills, and we think you should make it one of yours.
Calligeros Hotel Group, who finished renovating The Trinity in 2019, has turned the old and dark upstairs function area into an open and inviting space where you might find yourself spending an entire Sunday. That could be because of the bar's calming and joyful feel, or perhaps because you're sticking around for a second round of their incredible Sunday roast and another $10 Bloody Mary.
Tilly May's strikes the perfect balance of an indoor-outdoor venue. Expect exposed brick wall faces, bare wooden beams, and hanging plants, which transforms into a cosy warmly lit feel at night.
The idea behind the refurb, explains Trinity's licensee Seonaid Arthur, was to create a more feminine space, separated from the traditional Irish pub and sports bar feel of The Trinity downstairs. "Tilly May's is a nod to the debaucherous era that once filled the inner-city streets. Our designers Alexander & Co., did amazingly, taking into account the rich history of Surry Hills."
As you walk up the stairs, you'll quickly realise the bar's dedication to the legendary Tilly Devine—nicknamed "May"—she was one of Sydney's most notorious underworld players and infamous brothel madams. "She's a symbol of the strong women of Surry Hills," explains Arthur. The walls of the bar and restaurant are decorated with framed vintage images of those very women.
As for what's to eat and drink, you can expect the usual hearty pub classics like schnitty, battered barramundi, and your choice of burgers. For us, the pick is probably the beef and Guinness pot pie in golden puff pastry, with mash, mushy peas and gravy, which you can grab with a pint of Guinness on Mondays for just $22.
But if you're after something a little bit fancier for your night out, Tilly May's rotates through seasonal and gourmet monthly specials to make you forget you're even in a pub in the first place. Previous specials have included Moroccan lamb backstrap, king trout fish cakes, and kingfish ceviche.
The extensive wine list features drops from Australia's and the world's best wine regions, focussing on nailing the classic varieties. You can also order a schooner of your favourite local craft beers poured from the tall, exposed taps.
And, of course, this bar wouldn't be complete if it wasn't shaking up and stirring a few outrageously good seasonal cocktails. With the sun shining through the open roof, you can order a spicy mezcal negroni, a plum soju spritz, or a "Bloody Oath Mate"—a seriously good blood orange and gin sour. Because no one ever said happy hour had to be in the arvo, you can pop in for "Tilly May's After Dark" and grab a selection of cocktails for just $12 Wednesday to Saturday 9 - 11 pm.
Image credit: Tilly May's
---