Toastiesmith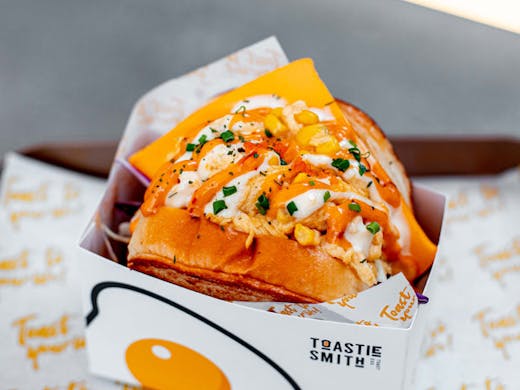 Sydney is home to some pretty outstanding toasties. From shops dedicated to the humble cheese melt to cafes plating up towering mi goreng toasties, a jumbo banoffee jaffle and a particularly iconic mortadella-laced pressed sandwich—we love a toasted sandwich in this city.
Adding to our grilled sandwich game is Toastiesmith. Modelled off the super-popular South Korean chain Isaac Toast, Toastiesmith is all about Korean street toast. If you're not familiar with this sort of sambo, and you might not be as it's pretty hard to come by in Aus, it's basically a toastie meets burger mashup made with sweet brioche bread that's stuffed with fluffy scrambled eggs, cheese and other fitting fillings. Sound good? Yeah well, it is—this place has queues down the street for good reason.
Toastiesmith takes their toasties pretty seriously—its chefs have trained at Le Cordon Bleu (just casually). Each egg sandwich is made fresh to order to ensure everything is warm, crisp and never soggy.
The menu is neat with just 10 loaded toastie varieties to choose from. The Signature Eggsmith is loaded up with scrambled eggs, cheese, roasted sesame flavoured slaw, spicy tomato relish, sweet corn, fish roe, chives and chipotle. For a major brekkie vibe, the Bacon My Heart features the same egg, cheese and sesame slaw combo, with added bacon and smoky BBQ sauce.
You can skip out on the scrambled egg bit if you like with the Chicken Barbie toastie, which features spiced chicken thigh fillet, cheese, slaw, pineapple, smashed avocado and shichimi. Feeling fishy? Go for the Delish Fish that's layered with breaded barramundi fish fillet, cheese, slaw, tartare sauce, pickled cucumbers and chipotle. There's also a taro toastie, a wagyu beef don toastie and a yakitori toastie, with actual skewers.
To drink, Toastiesmith does their own refreshing smoothies and sodas. We love the summery mango, pear, chia seed and pineapple smoothie, but if bubbles are your vibe, try the house blend lemonade or the rose lychee soda.
Call it comfort food, call it a hangover cure, call it your ultimate weekend feast. Whatever you call it, Toastiesmith is a vibe.
Image credit: Toastiesmith
---
You May Also Like
Bars & Pubs
Sydney, NSW
Found on level eight of Swissôtel Sydney in the heart of the city, Arches on…