Cheese, bread, and heat. Sometimes the simplest dish is the best. Now, put that heart and belly-warming recipe in the hands of Sydney's best cafes, restaurants and cheese shops, and you'll get one pretty bloody incredible roundup of diverse, delicious, and quirky toasties.
From eight-cheese blend creations to mi goreng jaffles, twists on the classic croque monsieur, and kimchi, curry or brisket-filled wonders—Sydney is certainly not short on options if you're looking to go to toastie heaven.
Here are the best toasties in Sydney and where to find them.
Lee Tran Toastie | Saga
Enmore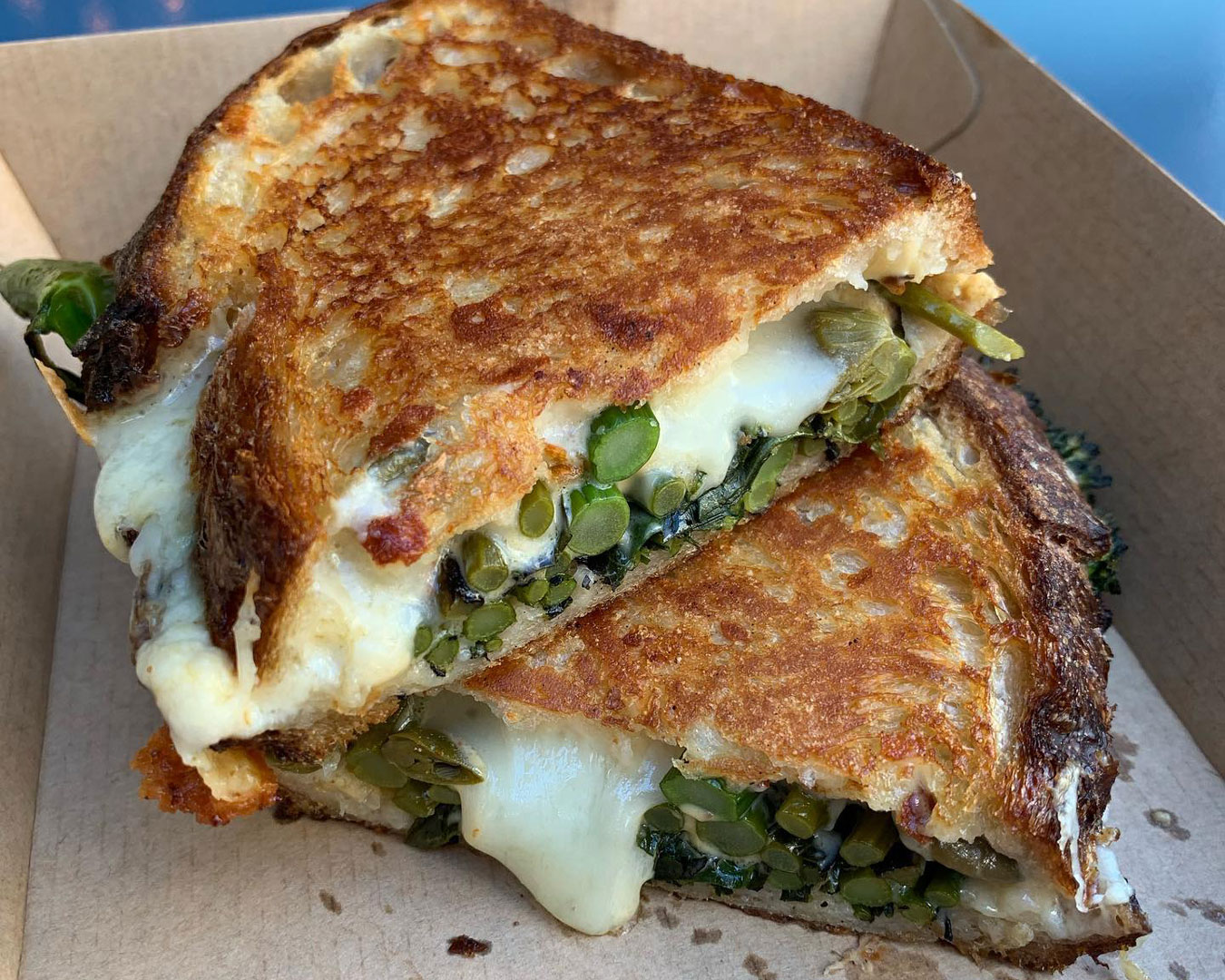 Named after food journalist and all-round food-loving human Lee Tran Lam, the Lee Tran at Saga is pretty unbeatable. Saga, owned by Sydney pastry king Andy Bowdy, is known for serving up inventive and mighty tasty treats—and this toastie is no exception. The celebrity sambo comes with spelt sourdough, charred broccolini, capers, lemon, fermented chilli mayo, and gooey caciocavallo cheese. Think of it like the toasty cousin to Brickfield's famed broccoli sandwich (IYKYK). If you're more of a meat and cheese toastie lover, then you'll want to order the Rocco—stuffed with hot sopressa, goat's cheese, roast capsicum, rosemary, and honey—instead.
Magic Mi Goreng Toastie | Dutch Smuggler
CBD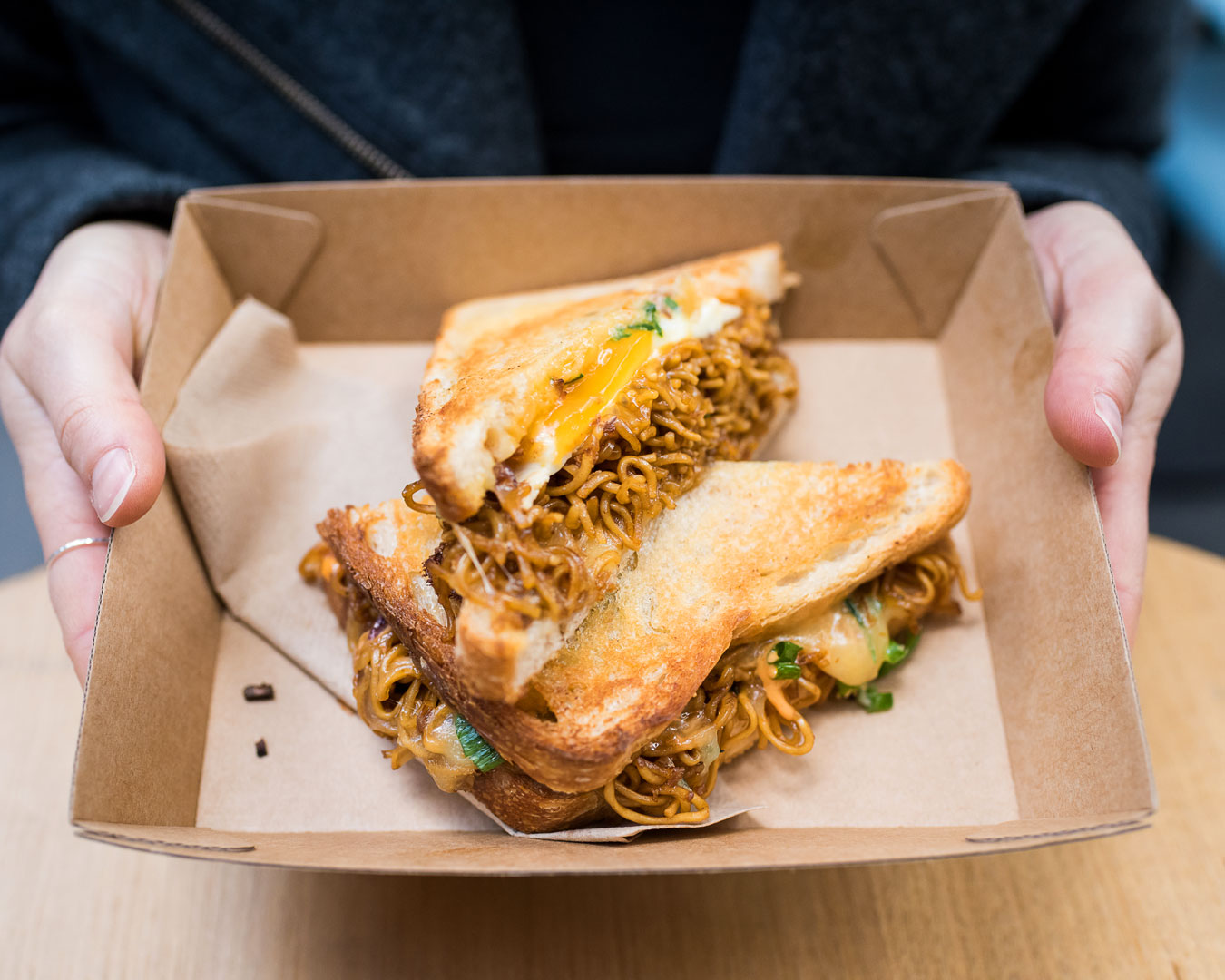 Since opening its doors in 2016, Dutch Smuggler has focused on nailing two things: coffee and toasties. If you're quickly popping through for a roasted house blend with an inch of space in your stomach, just try and resist the sights and smells of their toasted sandwiches. Forget tomato and cheese; this CBD shop's speciality item is the "Magic Mi Goreng" toastie–with Indo Mie Goreng and magic sauce, a runny egg, mozzarella, cheddar, and house-made aioli between semi-white sourdough.
"We were fortunate enough to have an awesome Indonesian chef who made epic Mi Goreng and inspired us with her family's secret magic sauce recipe," co-owner Chewie Stevenson told us. "We knew we had something special and wanted to put our own Aussie take on it by slamming it into a cheese toastie. We trialled it as a special for a week and were blown away by people's response."
The rest of the menu is nothing to shy away from either. There, you'll find toasties like the Reuben, mushroom truffle, "Slap Tha Cheesy", and the "Nacho Libre" Mexican toasted sando. Best part? All of these toasties cost $10 or under.
Toasty #2 | Sandy's
Avalon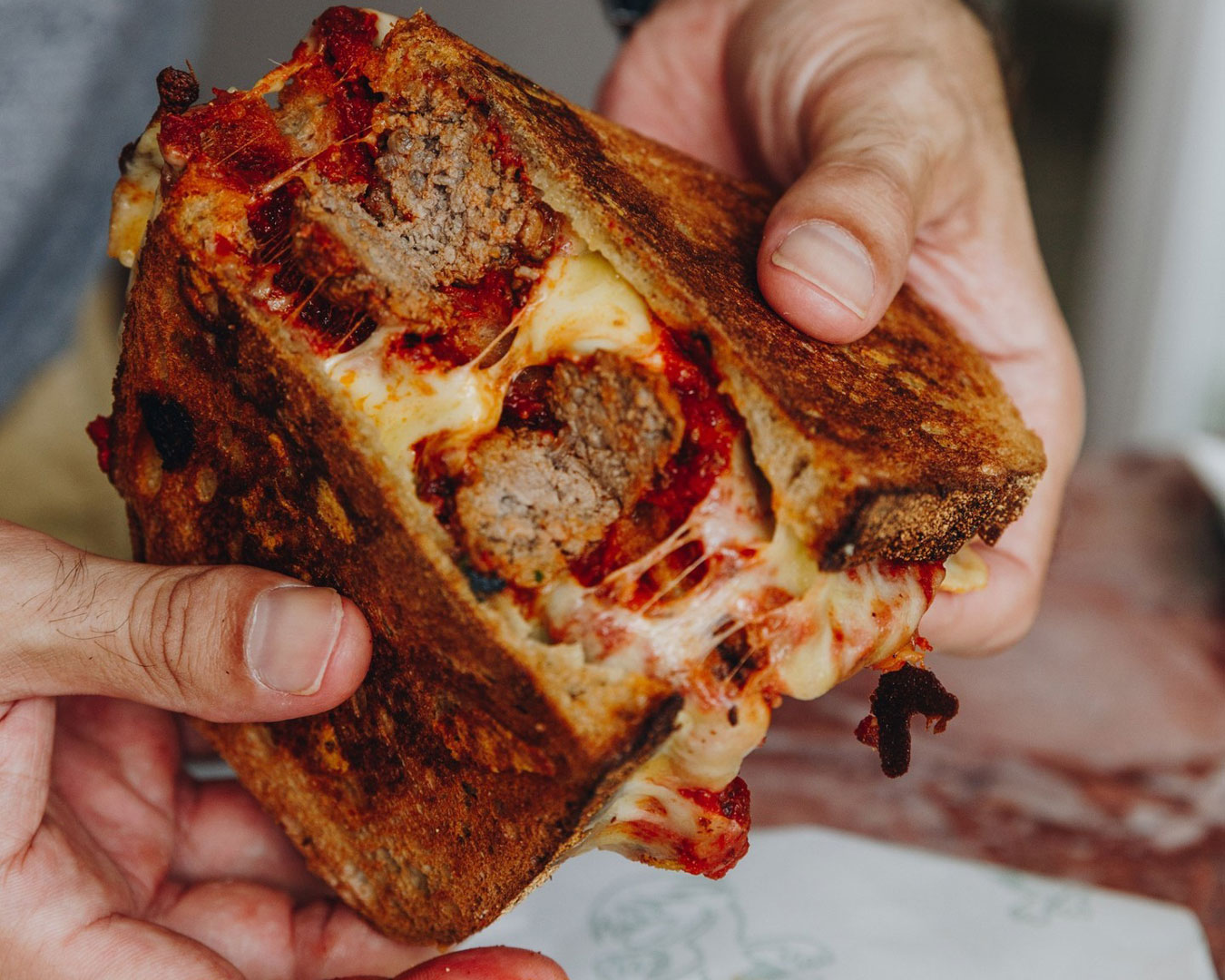 Sandy's is a bustling sandwich bar that's quickly become a favourite among locals—and after one visit here you'll know why. It isn't any old run-of-the-mill sandwich shop, so don't expect to see your regular servo-style ham and cheese sambo here. Instead, there are crowd favourites like the Prawn Dog, with prawns (obviously), cocktail sauce, and pickles, and the Pastrami Sandy made with wagyu pastrami, slaw, pineapple, smoked butter, and leaves. But when it comes to toasties, you can't go past Toasty #2, which is effectively a meatball and mozzarella sub—but toasted. For vegetarians, the mushroom, ricotta, and rocket pesto toastie—AKA Toasty #3—is a winner, too.
Eggsmith | Toastiesmith
Chatswood and Darling Square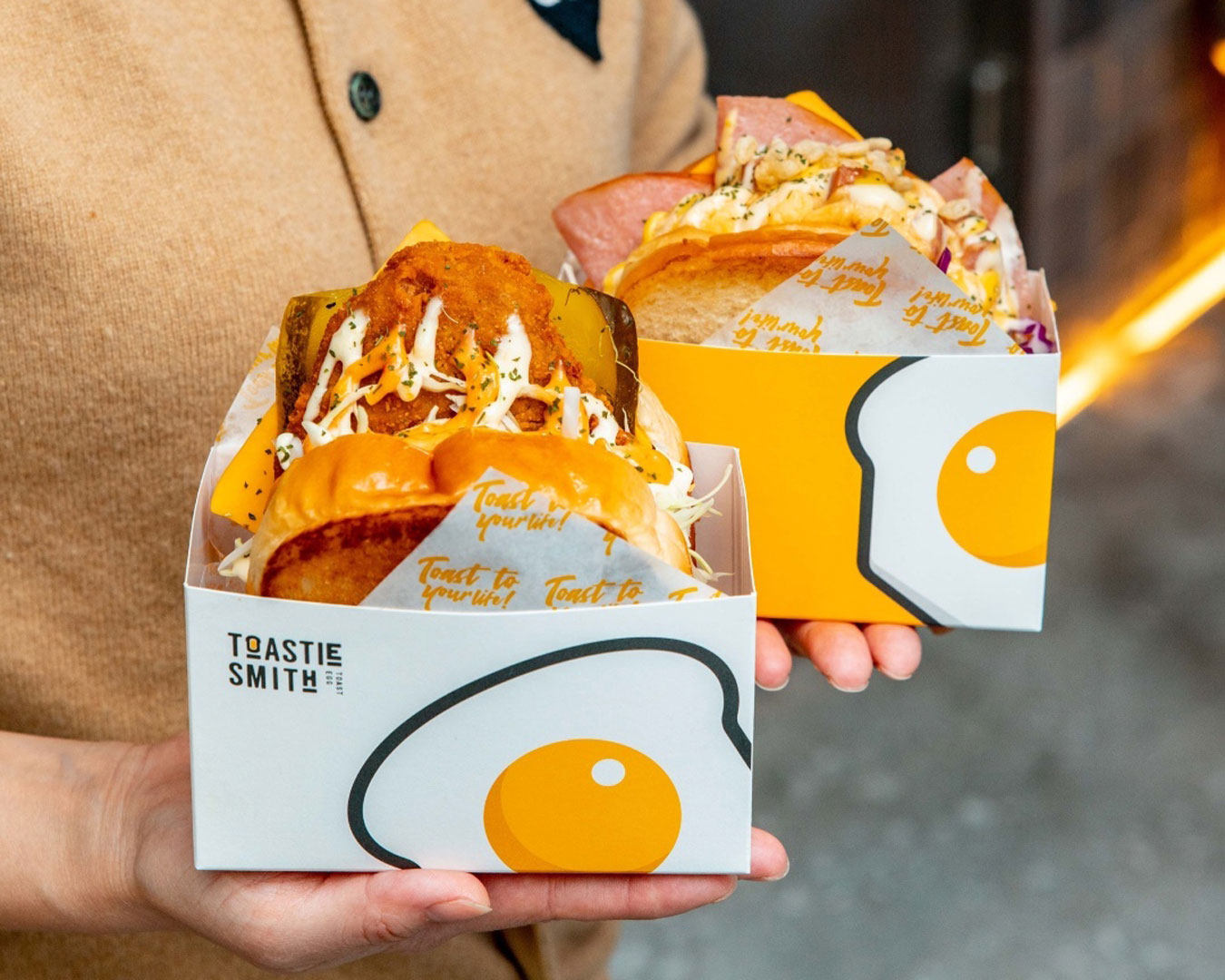 Everything Toastiesmith does is cartoonishly good. The bread they serve their fluffy scrambled egg creations in is jumbo-sized, super sweet, and unlike anything you've had before. It's Korean street food for comfort on the go. The menu is neat, with just 10 loaded toastie varieties to choose from. The signature Eggsmith is loaded up with scrambled eggs, cheese, roasted sesame flavoured slaw, spicy tomato relish, sweet corn, fish roe, chives, and chipotle. For a major brekkie vibe, the Bacon My Heart features the same egg, cheese, and sesame slaw combo, with added bacon and smoky BBQ sauce.
Truffle Croque Monsieur | The Mayflower
Darlinghurst and St Leonards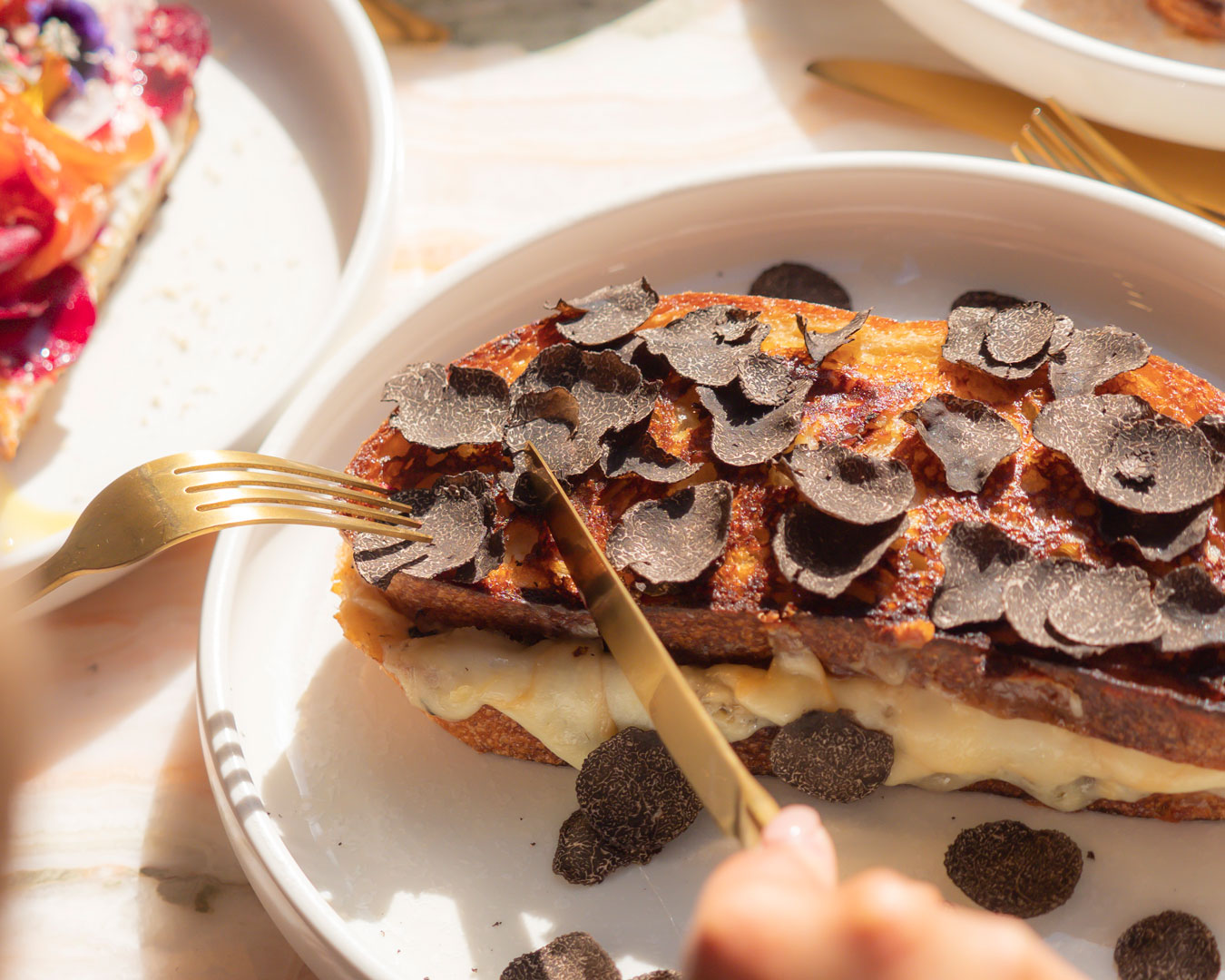 If The Mayflower's famous croque monsieur hasn't come across your social feeds in all its drool-worthiness, let us gladly inform you. Finding a fine balance between aesthetically pleasing but still deeply decadent dishes, the cafe's crowning achievement has to be the melted-cheesy goodness of its French-inspired toasted sandwich. The croque monsieur comes filled with jamon serrano ham, melted gruyere cheese, bechamel, smoked mozzarella, Dijon mustard, a generous lather of truffle paste, and a side of guindillas peppers. While this creation is great all year round, we definitely recommend it in winter with some added truffle shavings.
Cheese Toastie | Penny's Cheese Shop
Potts Point
As the name suggests, Penny's Cheese Shop is a fitting spot to get your hands on a proper cheese toastie. Owner and cheese expert Penny Lawson doesn't muck around with a big menu or mind-clouding options. With only one toastie on the board, it's a put-your-trust-in-me situation. And trust her, we do. Every week, the special changes, with a rotating blend of selected cheeses (generally between six and eight varieties) and a mix of meat and veg, like leg ham, salami, smoked wagyu, kimchi, or jalapenos. Choosing from what's available that week, you select what goes on your sandwich made fresh on the spot. But one thing is compulsory—"cheese is non-negotiable," says Lawson. "You have to have cheese."
The toasties are limited, too, so don't waltz in post-lunch with a hunger for oozy, melted cheese between bread, because these bad boys are usually snapped up by mid-morning. Keep your eye on the Instagram page each for updates on toastie numbers.
Mushroom Melt | Brickfields
Chippendale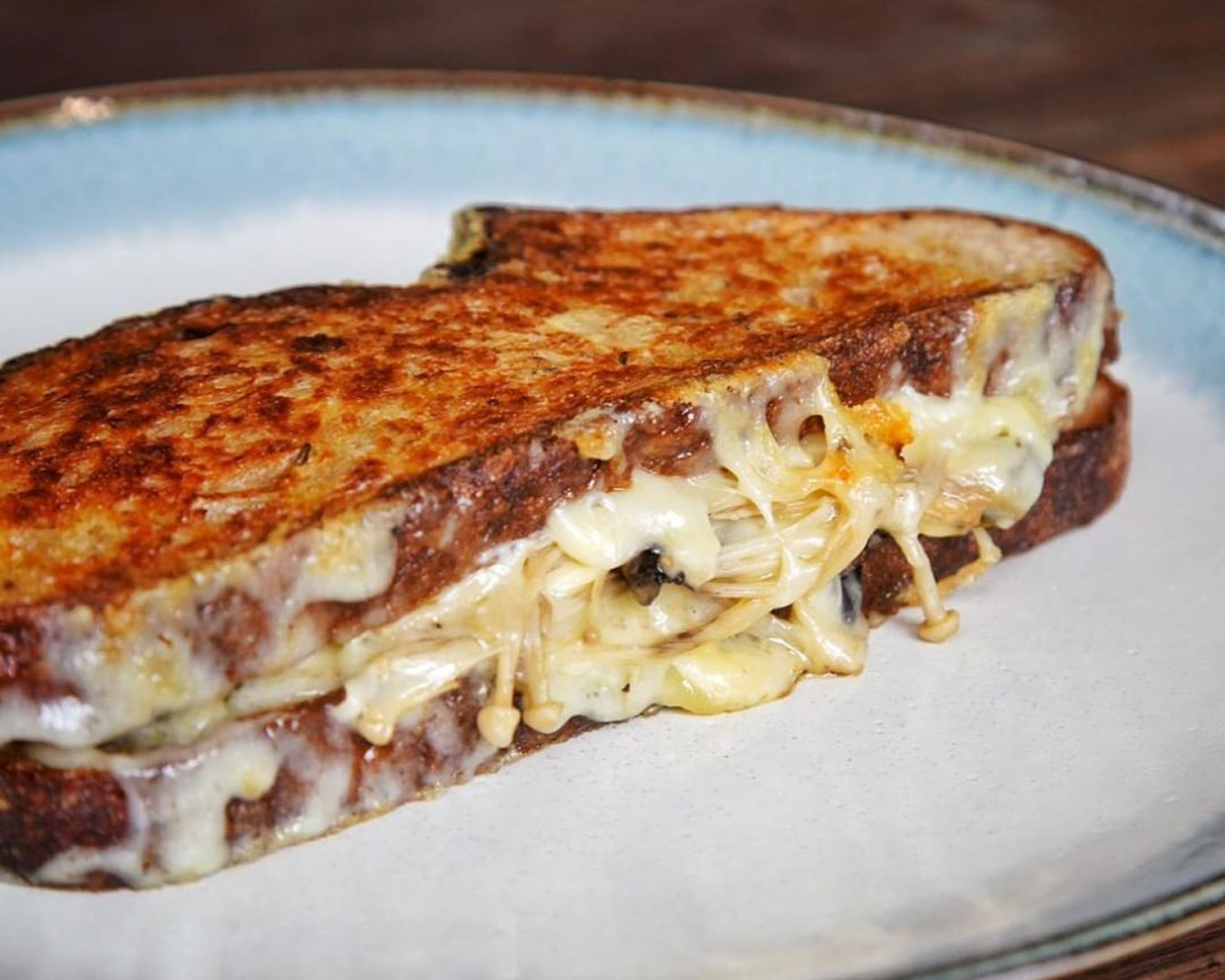 Since opening up shop in 2013, Brickfields has been serving fresh bread, pastries, and sandwiches to grateful locals and Sydney hospitality joints. If you work or live in the area, there's a very good chance you frequent the Chippendale bakery on a semi-regular basis for one of their limited menu items. Besides Brickfields' famed bacon sandwich, our go-to has to be the winter-warming mushroom melt. As you'd expect from a bakery-cafe, the toastie comes on bread made in-house, holding together mushrooms, melted gruyere cheese, truffle mayo, and pickled jalapenos.
Although the bakery likes to rotate its offerings, the mushroom melt is a tough one to take off the menu—even during the summer months. "People love it," says Brickfields bakery manager Susi Malyon. "I think it's the small details that make a big difference. For me, it's the unexpected heat of the jalapeno that makes this sandwich. It also helps that the light rye and caraway bread is very tasty."
Sourdough Grilled Cheese | Wingmill
Neutral Bay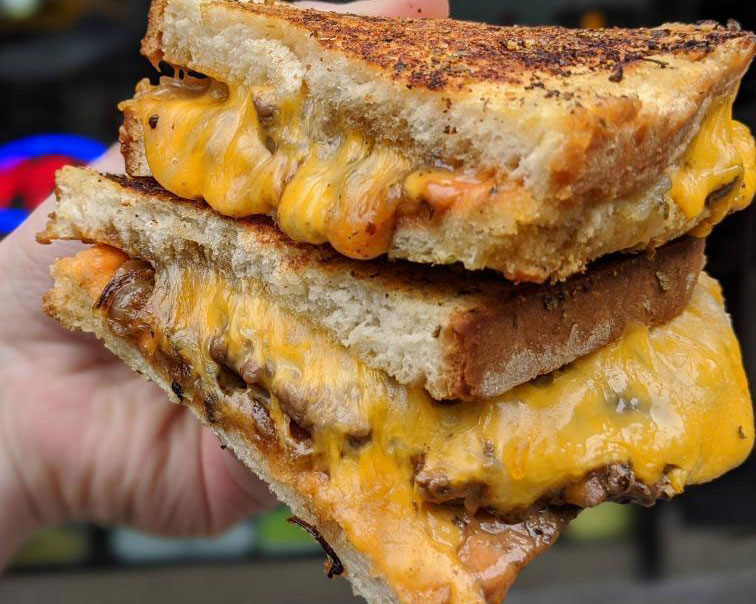 Wingmill specialises in cooking up authentic American wings of all flavours and spices, and it's also home to some of the best burgers in Sydney bound to make you forgo any current diet. But there's a lesser-known menu item we want to give some love to. Alongside the "American Smash Burger" and the slate of fried chicken options is the humble but carefully considered cheese toastie—made with sourdough, garlic and herb butter, and a melted American cheese blend. Not only is this a killer toastie that oozes cheese from all sides, but it's also wonderfully malleable. If you're so inclined, why not add poutine and dip it in house gravy? House chilli? Smashed beef patty and onions? Or, as has actually been done before, why not order two of them as decadent burger buns?
Lamington Toastie | Toastettes
Stanmore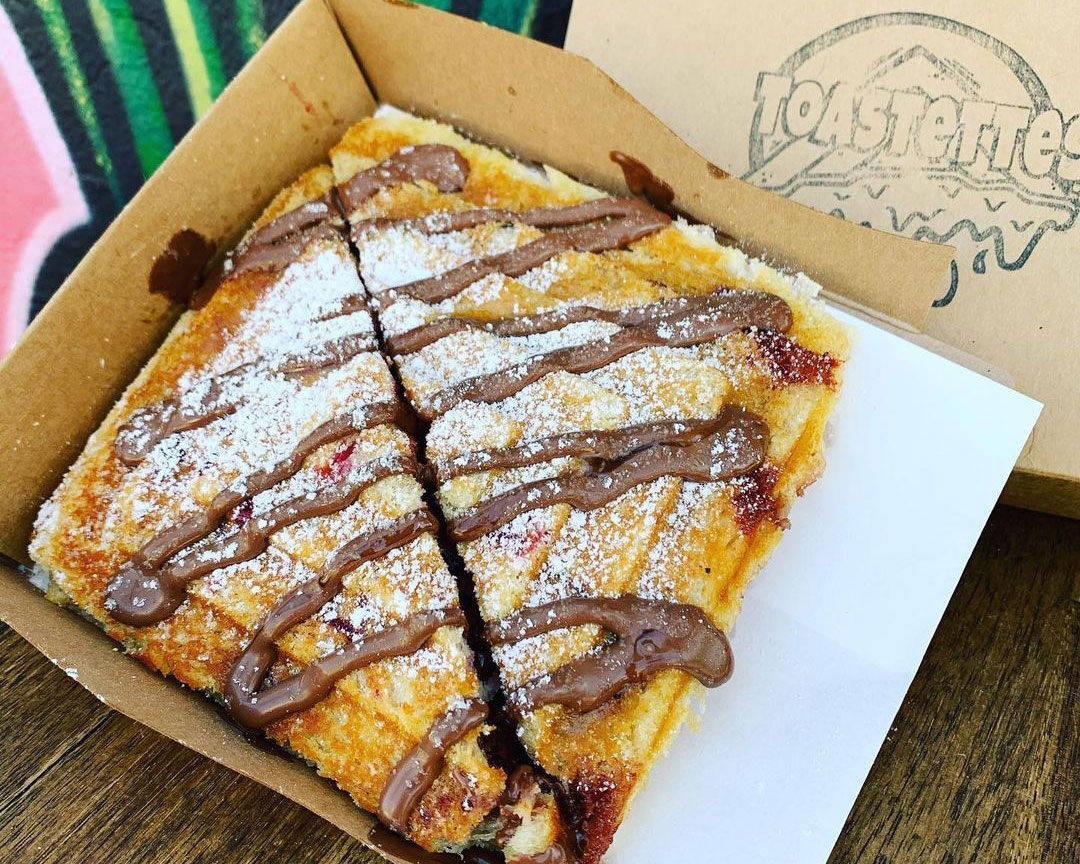 There's perhaps no Sydney shop more deserving of a spot on this list than one called "Toastettes". This Inner West eatery's menu is almost entirely dedicated to the beautiful art of making jaffles—and we love them for it. Putting your basic, at-home jaffle concoctions to shame, Toastettes is pressing together flavours like Mediterranean with garlic, mushroom, oregano, eggplant, roasted capsicum, olives and triple cheese, or Greek-style slow-cooked lamb with spinach and fresh herbs. If you're looking to reminisce on old times, opt for the pickles and cheese or the baked beans and relish. And if you're up for it, you can order toasties for both your main and dessert. A major highlights from the sweeter side of the menu has to be the lamington toastie, filled with Golden Rough, desiccated coconut, Nutella, and marshmallow.
The Nuggalo Three-Cheese | Cheat Day
Peakhurst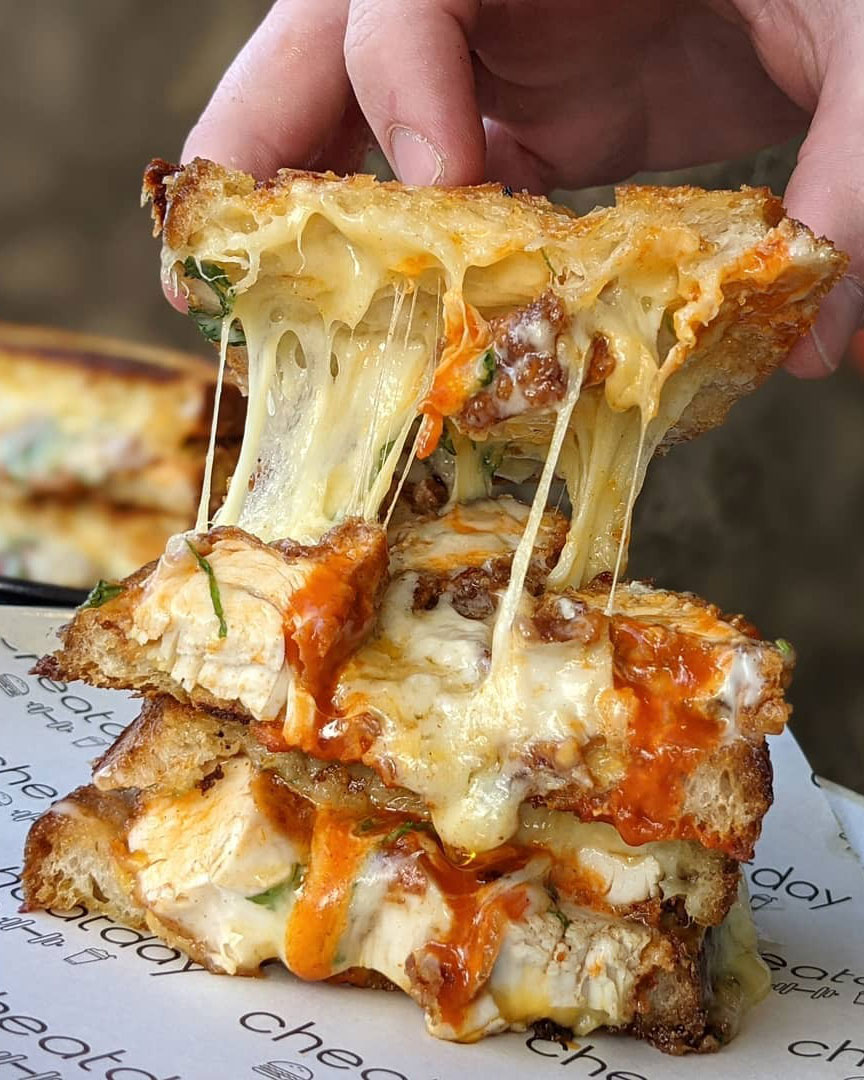 Let's keep the indulgence coming—enter, Cheatday. As the name suggests, this is your one-stop shop for a cheat day. And we mean Dwayne Johnson-level eating, with totally outrageous burgers, bulky brekky classics like butter chicken and waffles, and a Lotus Biscoff menu that includes the widely beloved Biscoff custard tarts. The ethos of this joint is pretty simple: if you're going to have a cheat day, do it right. Whether you're bulking up or you've never picked up a weight in your life, your attention should go straight to Cheatday's sourdough toastie menu. Start with something "light" like the classic three-cheese blend toastie. Or, go big with options like three-cheese buffalo chicken nugget toastie with ranch sauce, or the three-cheese smoked beef brisket monster. But if you need to pack in a few extra carbs, you can't go past the Mi Goreng three-cheese with a fried egg.
Curry Toastie | Lankan Filling Station
Darlinghurst
Lankan Filling Station is one of the best spots for Sri Lankan eats outside of Toongabbie (AKA little Sri Lanka). At the inner-city restaurant, you'll find plenty of curries, Sri Lankan desserts like thala guli (sesame rolls), and hoppers (bowl-shaped pancakes made from fermented rice and coconut milk). But it's on the brunch menu that you'll find Lankan Filling Station's Curry Toastie. Put together between white bread brushed with curry leaf butter, the jaffle fillings rotate each week with a different curry. Just imagine nursing that hangover with chicken curry, mozzarella, and cheddar sealed inside warm, toasted bread.
Cheese Toastie | La Boite A Fromages
Balgowlah
It would have been criminal of us to put together this list without including authentic French toastie makers. Well, we couldn't be happier to include knowers and lovers of all things cheese—La Boite A Fromages. Established in 2012 by cheesemongers Aurore Ghigo and Tom Ippolito, the Northern Beaches shop offers every type of Aussie and European cheese your stomach desires, with charcuterie boxes, French raclette, fondue kits, and pantry-fillers like pâté and foie gras. But if you ask the locals, there's a good chance they'll recommend the cheese toasties.
The toasted sangas come with a three-cheese blend (comté, Swiss gruyere and emmental), bay leaf- and nutmeg-infused bechamel, Dijon mustard and Pepe Saya butter on purposefully dryer/older sourdough from Brasserie Bread. From there, go wild with extra add-ons like ham, prosciutto, truffle paste, onion relish, tomato relish or fresh tomato. Otherwise, opt for the mushroom melt with mushroom, bechamel, taleggio, and truffle paste.
Reuben Sandwich | Bistro Clementine
Pyrmont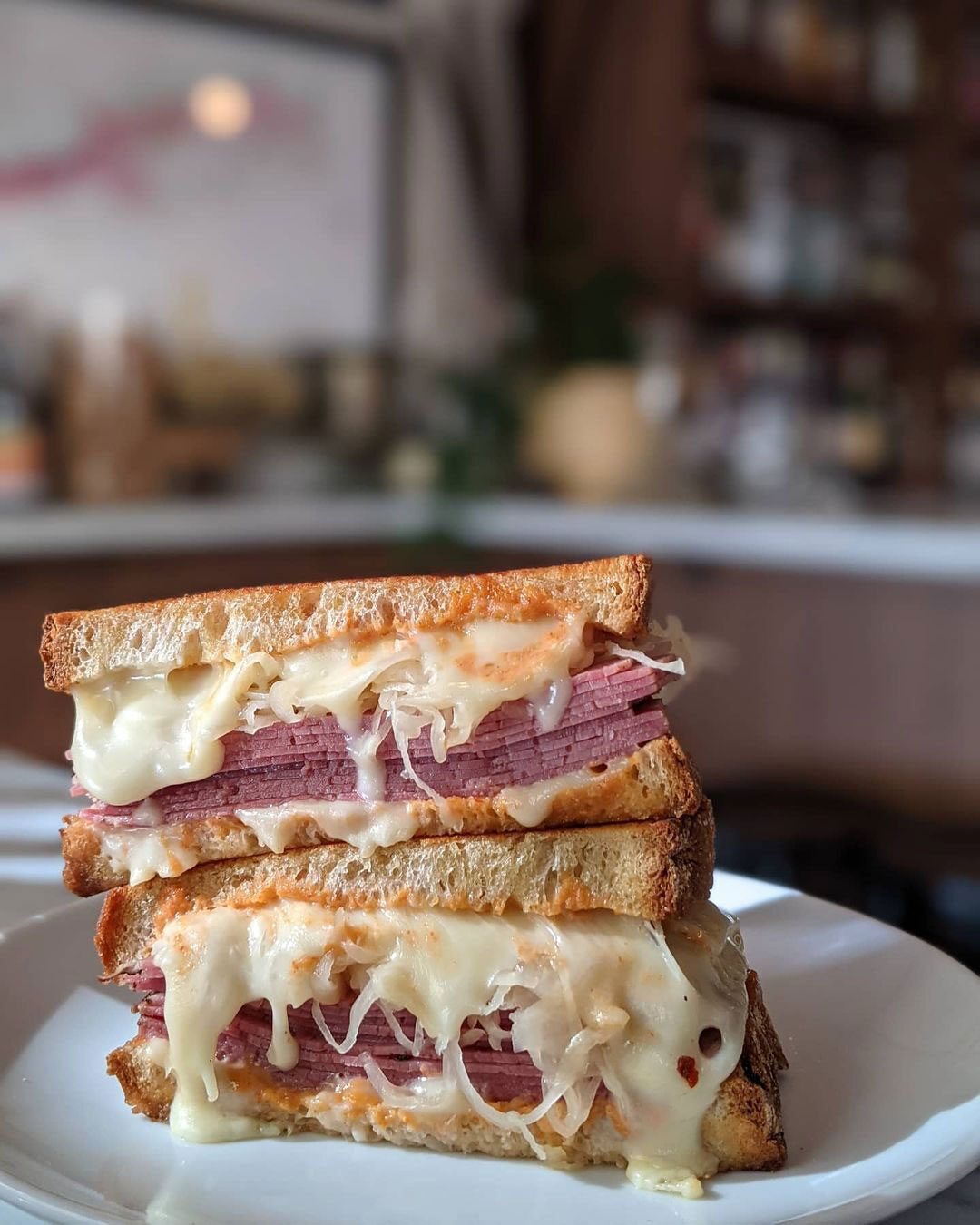 Located in the heart of Pyrmont is Bistro Clementine, a cosy restaurant offering simple but refined brekky, lunch, and dinner menus with twists on classic Aussie and European meals. However, for this list, our interest lies in their sandwich menu (available from 11.30am) and a couple of hot, cheese-filled options that reside on it. You can't go wrong with either of the two toasties on offer. There's the roasted broccoli, sriracha mayonnaise, and smoked provolone on toasted sourdough. Or the Reuben sandwich with Blackforest pastrami, sauerkraut, Swiss cheese and Russian dressing.
Sujuk And Egg Kaak | Nineteen43
Rockdale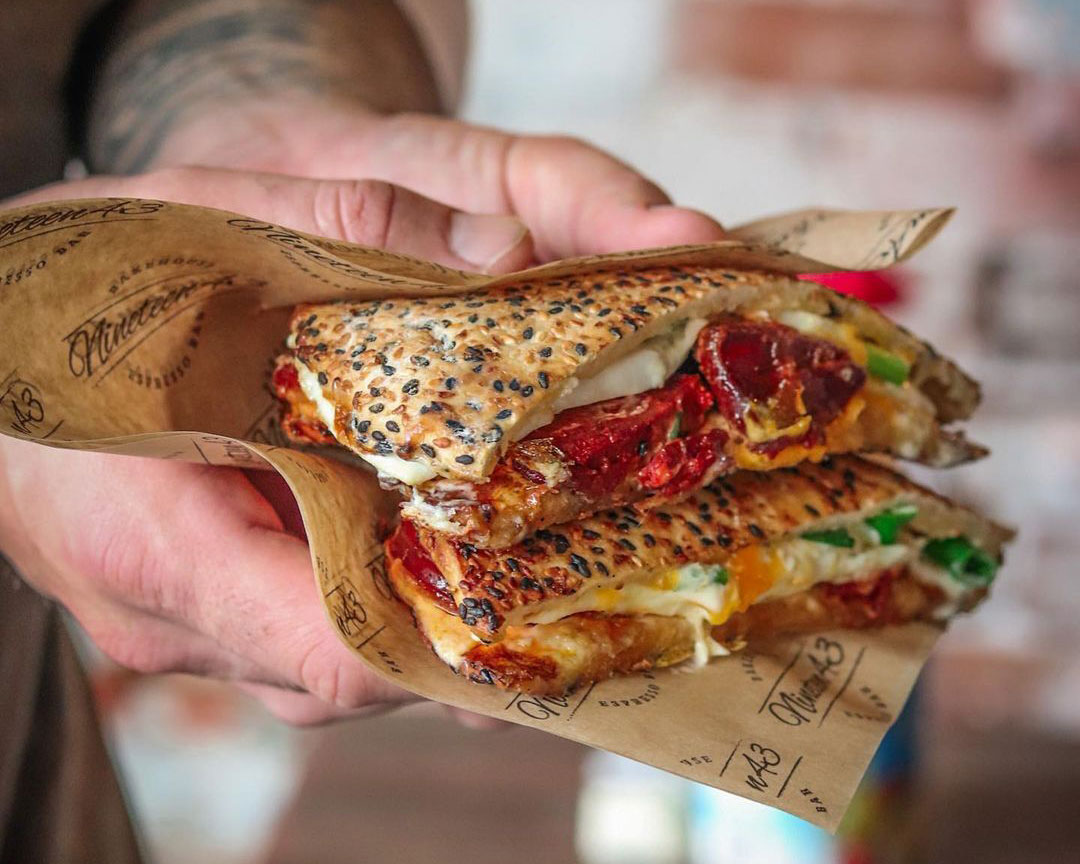 If you go looking for a classic toastie around the Rockdale area and you come across Nineteen43, you might just find something far more delicious. Named after the year Lebanon gained independence from French colonisers, the locally beloved eatery affectionately blends traditional Lebanese culture and all its incredible food with Sydney cafe culture. Nineteen43's in-house baked and toasted kaak (traditional Lebanese bagel) sandwiches should be top of your list if you're passing through. While usually eaten plain in Lebanon, the black and white sesame-filled kaak is wielded as the ideal sandwich bread here. Try the sujuk and egg variation packed with cream cheese, sujuk (dry spiced sausage), feta, shallots and two fried eggs.
Pulled Pork And Kimchi Cheese Sandwich | SOUL Deli
Surry Hills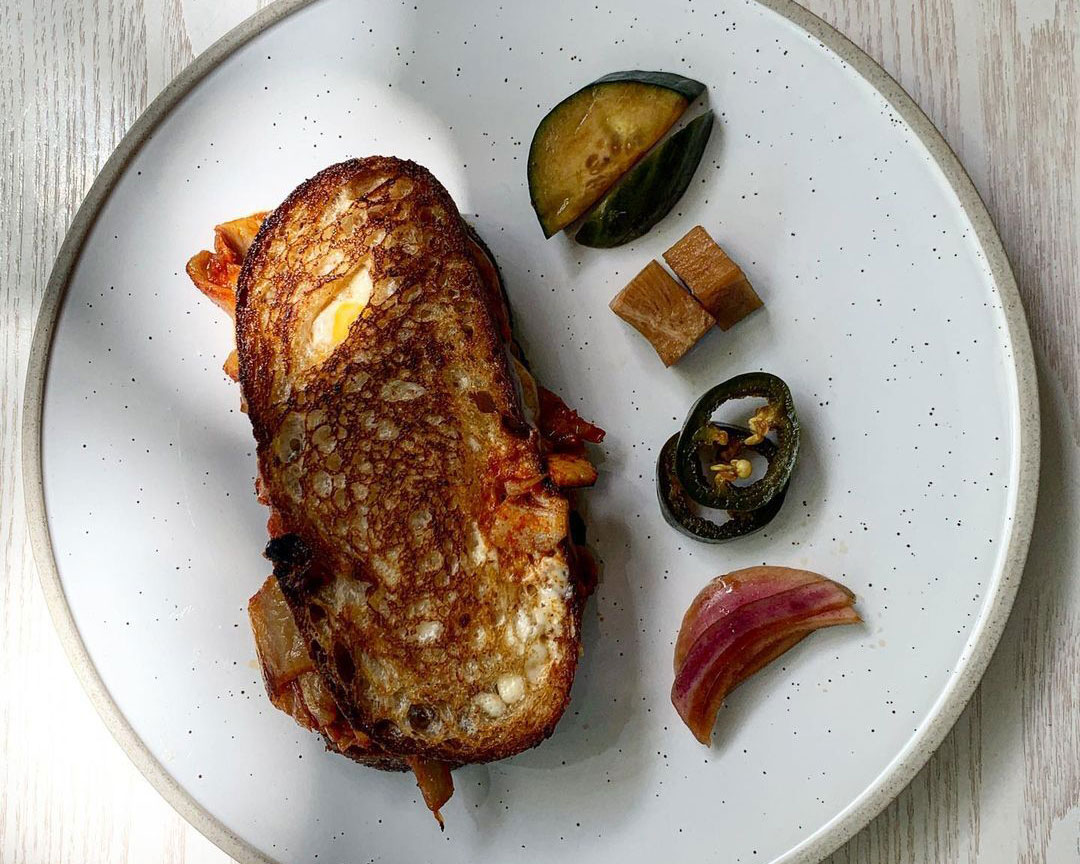 We could name a dozen reasons why you should venture into SOUL Deli, the younger sister venue to SOUL Dining. It could be for their Korean deli goods, KFC (Korean fried chicken) pancakes, or their winter truffle menu. But while we're talking all things toastie—it's got to be so you can get your hands around the toasted pork and kimchi cheese sandwich. Let's break it down: this is a pressed sandwich with provolone and American cheese, fried kimchi, and pulled pork served with some house pickles. Pro tip: make sure you add some extra chilli oil made in-house.
Ham Truffler Jaffle | LOAF
Cronulla
Not only does LOAF boast an enviable location, just a stone's throw from Cronulla's sparkly beachfront, but the cafe is also pumping out some of our favourite Southside jaffles as well. Opened in 2015 by locals Annaleigh Grace and Kirsty Lissa, LOAF has a couple of delicious jaffles you'll want to check out. And don't worry, these won't break the bank at $10 or less. Get nostalgic with the "Cheesymite" jaffle, which is as simple and great as it sounds, or the "Ham Truffler" with ham, cheese and truffle mayo. But make sure to keep an eye out for jaffle specials, which in the past have included the likes of eggplant, spinach and sweet onion, or ham, pineapple and mustard, and even house-made berry jam and brie.
While you're here, check out the best places in Sydney for banh mi.
Image credit: Caitlin Hicks, Saga, Caitlin Hicks, Sandy's, Toastiesmith, The Mayflower, Brickfields, Wingmill, Toastettes, Cheat Day, Bistro Clementine, Nineteen43, SOUL Deli