Uncanny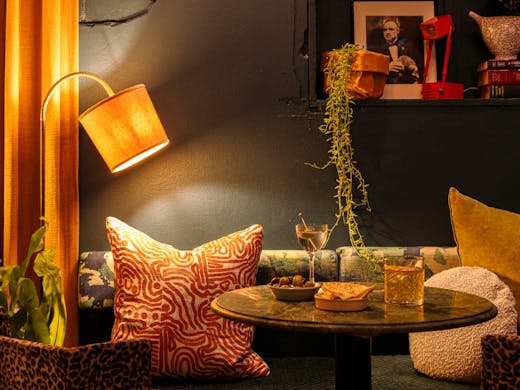 It's becoming an increasingly rare sight to find a small, family-run bar and restaurant in the heart of Sydney—but Uncanny is an exception to the rule. The self-described "small bar with big vibes" has quickly become a fave spot in the Inner West, complete with cracking food and delightful cocktails.
Owned and run by Michel Bouskila and his son Julien Bouskila, it's hard not to fall in love with the community vibes and the passion that drives Uncanny's operation. Beneath 70s-style chandeliers, hanging plants, and retro curtains, you'll find a jukebox, decorative pineapples, and a neat-sized menu of signature cocktails.
Dive into the mezcal margarita (the "Julio Richter") with a za'atar salted rim, or go for the more subtle "Rogue Gimlet" with lavendar-infused gin. The "Alpine Negroni" has been made with Alpine amero, and Uncanny's take on the sazerac has an apple twist. Uncanny also lets you build your own cocktail (with the help of the knowledgable bar staff, of course).
To eat, you're in for fuss-free tapas plates inspired by the family's French, Moroccan, and Australian heritage. The menu changes seasonally, but crowd favourites on rotation include their crispy za'atar bread, cauliflower bites with hummus and lamb mince, and sesame falafel with tahini lemon and pickled watermelon radish.
Three Tuesdays each month the bar also serves up a "Culture Night", featuring trivia as well as local comedy and live music.
Image credit: Uncanny
---
You May Also Like
Restaurants
Sydney, NSW
If you love flavour and sharing a spontaneous meal amongst fifteen of your favourite…