Vrai Health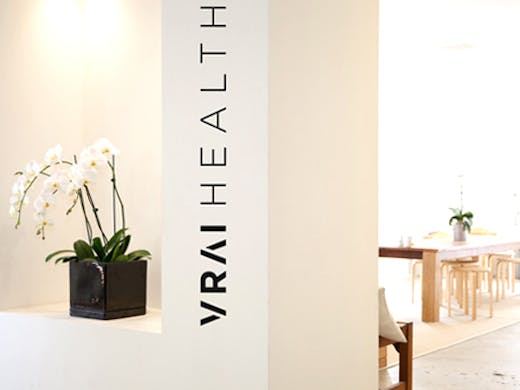 The verdict
There's so much more to #wellness than goodness bowls and green juices. Known for their ah-mazing yoga and Pilates classes, Body Mind Life has just opened Vrai Health, introducing Sydneysiders to the HCO approach to health—that's hot, cold, and oxygen—ICYMI (don't worry, we'll forgive you for that one). Always up for trying new things, that's just how we roll guys; we headed on down to Surry Hills to give Vrai Health a road test, all in the name of research.
Your treatment will start with hyperbaric oxygen therapy, and let us tell you, this is about as sci-fi as it gets. You'll lay yourself down in a hyperbaric chamber at otherworldly atmospheric pressure, like we said, sci-fi AF. The boost in oxygen is said to regenerate cells and help muscle recovery, so you'll be feeling fresh in no time and ready to take another hot yoga class. We should mention that there's no need to freak out should small spaces not be your idea of a good time (can't imagine why), with your friendly therapist only one quick walkie-talkie chat away. This means you can lay back, focus on your breathing and finally listen to that new podcast you keep meaning to make time for.
Next up is their infrared sauna (and not to play favourites, but we absolutely loved this one). Get ready to sweat out all those toxins (and the booze from last night) with radiant heat, which is kind of like sunbaking but with none of the nasty UV or sunburn. Choose one of their guided meditations or affirmation, then sit back and sweat it out. After 45 minutes in this bad boy you'll wave goodbye even the most hateful of hangovers.
Can't handle the heat? Then you're in luck because next up you'll be freezing your buns off. Introducing cryotherapy. This treatment technique sees you blasted with -130 degrees nitrogen mist (yes, it's a thing, and yes, it's damn cold). Take it from us when we say it feels bloody great, as is said to rejuvenate your body and general alertness levels. After one session in the tube we're pretty sure you'll be converted, at least we were.
Image credit: Vrai Health
---