Picture this: you're submerged in a perfectly warm tub with an icy drink in hand and a sweet smelling bath bomb fizzing around your legs as you take in the sights, sounds and smells of the outdoors. Sound like your idea of heaven? Well, then you're going to want to read on because we have 14 little slices of heaven to share with you today.
From bathtubs with incredible views or roaring fireplaces nearby, to those with four legged friends roaming rolling green pastures or pods of dolphins frollicking in the surf below, Australia is home to some killer accomodation with next level outdoor baths. All that's missing is a good book, some epsom salts and a little courage to nude up in the great outdoors.
Here are 14 of Australia's best outdoor baths to sink into.
Best Accomodation With Outdoors Baths In Queensland
Nightfall, Lamington National Park
There's glamping, and then there's glamping at Nightfall in Queensland's stunning Lamington National Park. Here you can bathe until your skin resembles a sultana in a vintage tub beside a rotating wood-burning fireplace overlooking the lush rainforest. Did we mention the tents have two tubs? So there's no need to wedge yourself into an awkward pretzel shape with your bathing buddy—although sometimes that can be fun. When it gets a bit bitey outside you can zip up the annex to stop those pesky mozzies from ruining the vibes.
Gilberton Outback Retreat, Etheridge Shire
If the outback isn't calling you yet, it will be after you scope out Gilberton Outback Retreat in far north Queensland's Etheridge Shire. Here you can sink into a luxurious tub perched on a verandah and overlooking the winding beauty that is the Gilbert River. Gilberton has the whole bathing situation down pat, with complimentary champers, top notch products, as well as robes and waffle slippers to pop on post tub time.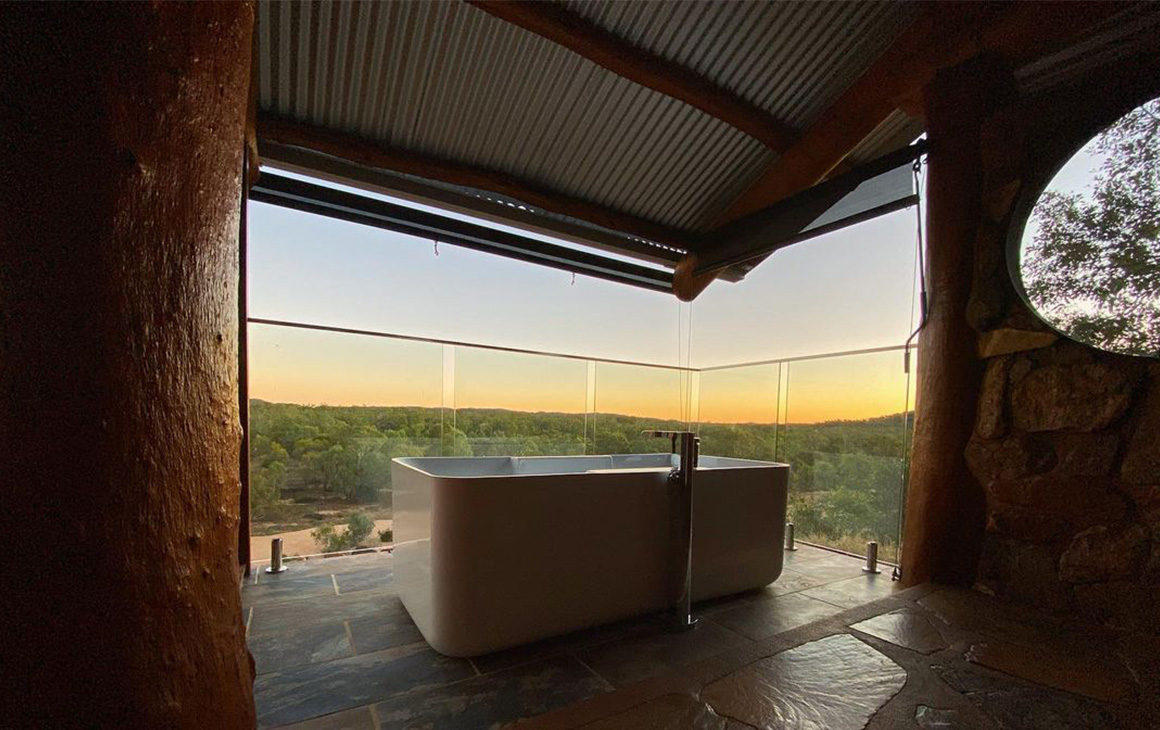 Best Accomodation With Outdoors Baths In New South Wales
Kookawood Farmhouse, Blue Mountains
Things can get pretty chilly in these parts, but not when you're steaming away in a clawfoot tub overlooking the heritage listed Blue Mountains. When it comes to bathtubs, the one at Kookawood is top notch, featuring a high back for the ultimate in comfort and soaking capacity. Bonus points if you can sync your trip up with a bit of fresh snow, the hot and cold combo is a real winner.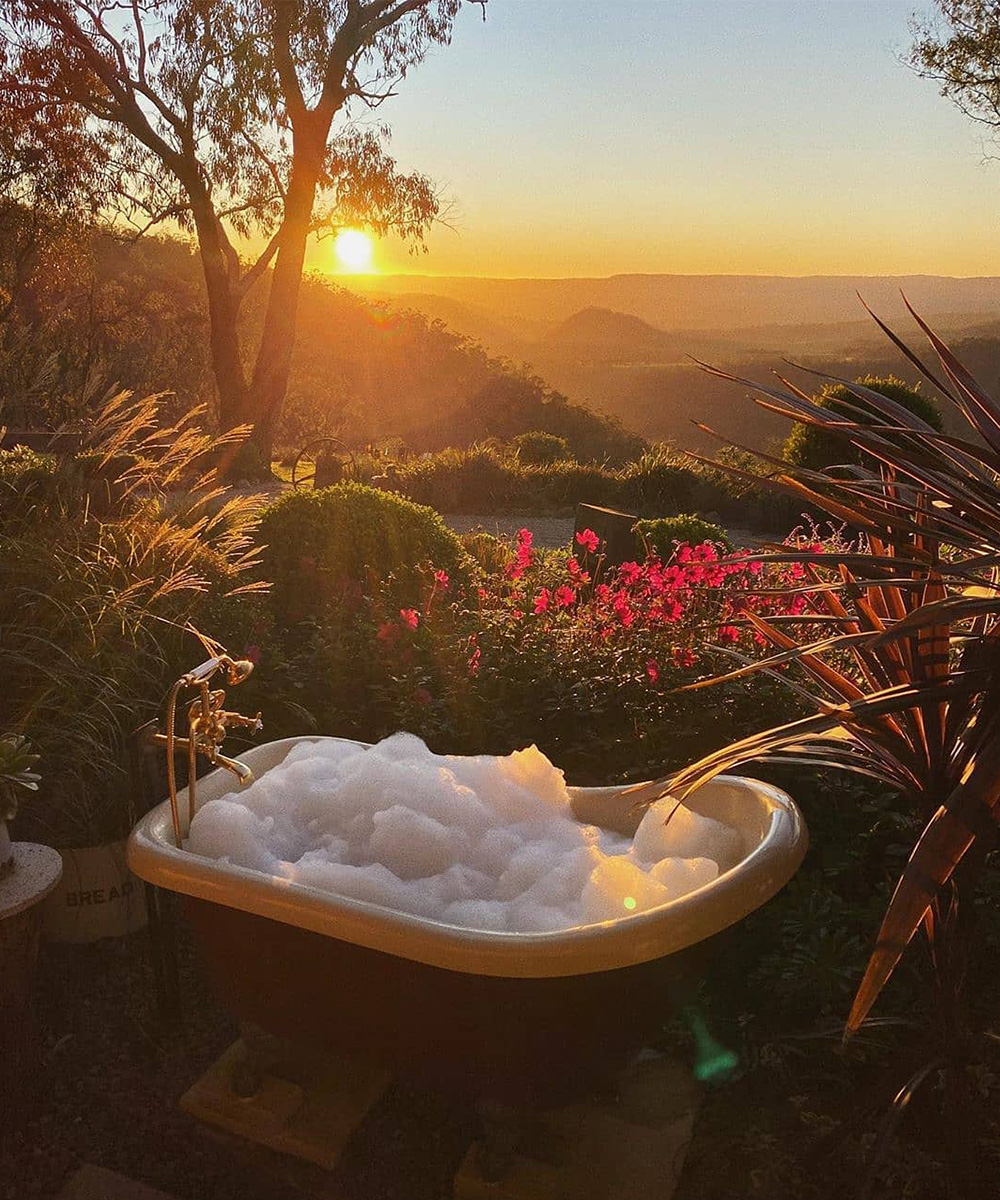 Sierra Escape, Mudgee
Book a room with an outdoor freestanding bathtub at Sierra Escape and you'll be singing your own praises. Overlooking the rolling hills of Mudgee, each glamping tent features a different, yet equally boujee outdoor bathtub. The ultimate evening at Sierra Escape includes a long soak under the stars, cooking marshmallows on the firepit and retreating to the inside fireplace before bed. Be sure to keep an eye out for the locals from the warmth of your tub… and by locals we mean kangaroos and deer.
Best Accomodation With Outdoors Baths In Victoria
Acre Of Roses, Trentham
If we could move into The Miner's Cottage at Acre of Roses, we would in a heartbeat, and it's largely due to the rustic cedar hot tub outside. Filled with natural rainwater that remains at an ambient 38 to 39 degrees, the hosts have even provided a hot tub workout, along with free refreshments to enjoy as the water bubbles up around you. Once you're all warm and toasty you can curl up by the fire in the open air theatre room.
The Wensley, Wensleydale
On 80 acres of rolling pasture, complete with cows, The Wensley has an indoor and outdoor bathtub so you can hop back and forth between the two as much as you please. During the day take a plunge indoors in the stunning egg-shaped stone bath and when the sun goes down slink into the rustic tin tub outside for a soak under the stars.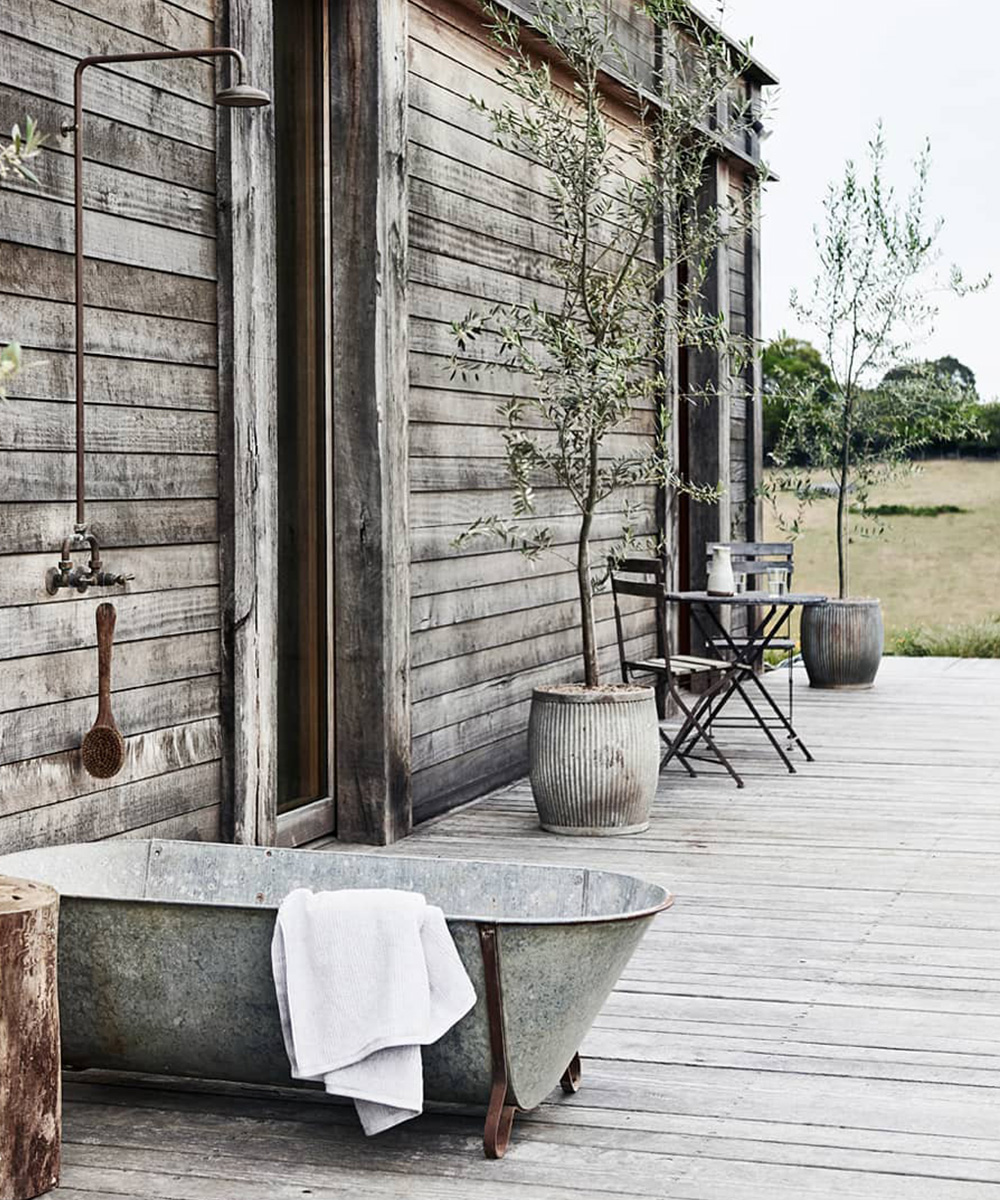 Best Accomodation With Outdoors Baths In Tasmania
The Keep, Goulds Country
Sitting high above the vast rolling hills of Goulds Country and surrounded by giant boulders, you'd be forgiven for thinking you've somehow ended up in Scotland at The Keep. This stunning square-shaped fortress holds the antidote to busy schedules and jam-packed social lives—a granite carved outdoor bathtub from where you can survey the stunning (human-free) landscape below. Pour yourself a Tasmanian whiskey and pop in a locally-made bath-bomb and you're away. You'll be feeling relaxed and renewed in no time.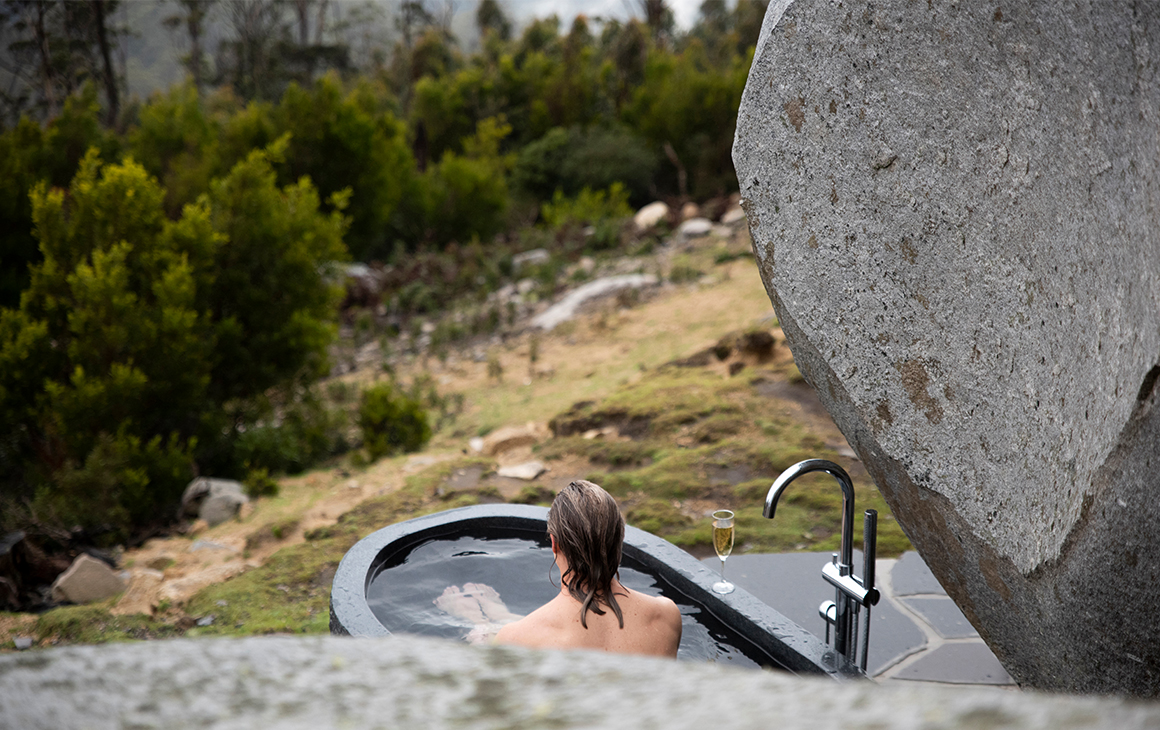 Waldheim Alpine Spa, Cradle Mountain
Looking out over King Billy Pines and the winding Pencil Pine River below, Waldheim Alpine Spa at Cradle Mountain Lodge is an outdoor bathing experience to slide right to the top of your bucket list. Go all out and book a 90-minute decadent sanctuary experience which includes loads of hot tub soaking time, a bottle of Tasmanian sparkling and chocolate dipped strawberries. If you can tear yourself away from the view there's also a dry heat sauna, steam room and chilly plunge pool to enjoy. And why not round out the experience with a relaxing hot stone massage?
Best Accomodation With Outdoors Baths In South Australia
Cliff House, Kangaroo Island
With the heated cliff-edge jacuzzi on offer at Cliff House you can throw any plans to explore Kangaroo Island out the window because we predict you won't want to leave the cosy confines of the bubbling-round tub. Overlooking the pristine waters and squeaky white sand of Snelling Beach, if you're lucky you might even spot a pod of dolphins while you bathe. As for the accommodation, it sleeps six and has a comfy sunken conversation pit where you can share stories around a fire.
TinyHome Private Escape, Adelaide Hills
Make friends with your mooing neighbours as you wash away your worries in the sunken bathtub at this adorable tiny home sitting on a private organic farm in the Adelaide Hills. Grab a complimentary tipple from the bar fridge stocked with local craft brews and vinos and when the bath water goes cold you can snuggle up in a cosy dressing gown around the fire-pit. You can even book a masseuse to come and tend to your aching muscles on the deck while the cows look on in confusion… or maybe jealousy?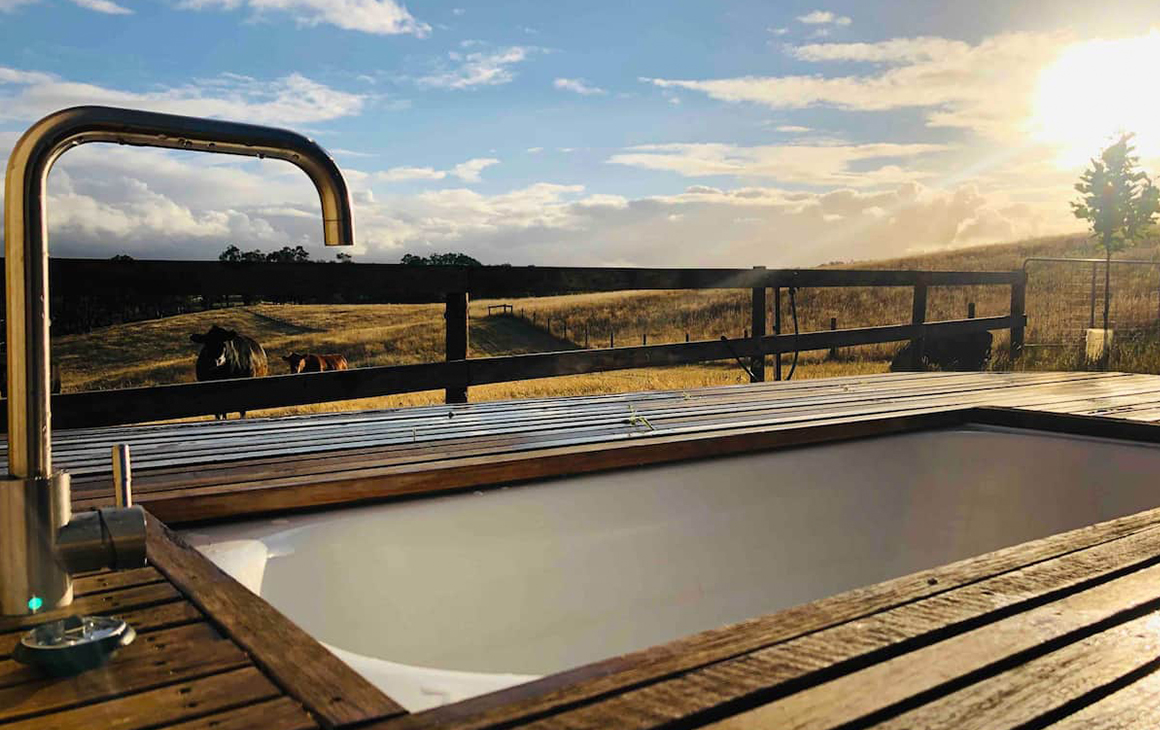 Best Accomodation With Outdoors Baths In Western Australia
The Homestead, El Questro
If you're afraid of heights, look away now, because El Questro offers another cliff top bathing experience, and this time the drop is a little more sheer. Each of the freestanding Cliff Side Retreats at The Homestead boast undisturbed views over the incredible Chamberlain Gorge, with a free-standing outdoor bath perched right on the verandah. The experience is exxy for a little scrub-a-dub-dub action so you'll want to save this one for those really special occasions.
Amaroo Retreat & Spa, Helena Valley
Set among the tranquil bushland of Helena Valley, Amaroo Retreat & Spa offers some of the best outdoor bathing experiences within a stone's throw from Perth's CBD. Each of the luxury chalets is fitted with a rain water filled spa set to a delightfully warm 32 degrees. We recommend night time dips at this spot, so you can feel extra secluded. You might even spot some eyes staring back at you from the woodlands, don't worry though, it's just kangaroos and possums.
Best Accomodation With Outdoors Baths In The Northern Territory
Longitude 131, Uluru
With undeniably the best view of the bunch, Uluru, Longitude 131's Dune Pavilion has the outdoor bathing experience to trump all. The outback-style tubs are sunken into a wooden deck and are plenty deep, so you don't have to worry about anyone seeing your private parts… that is if you choose to bathe in the nude. Plus the views alone make this one of the best outdoor bath experiences in Australia.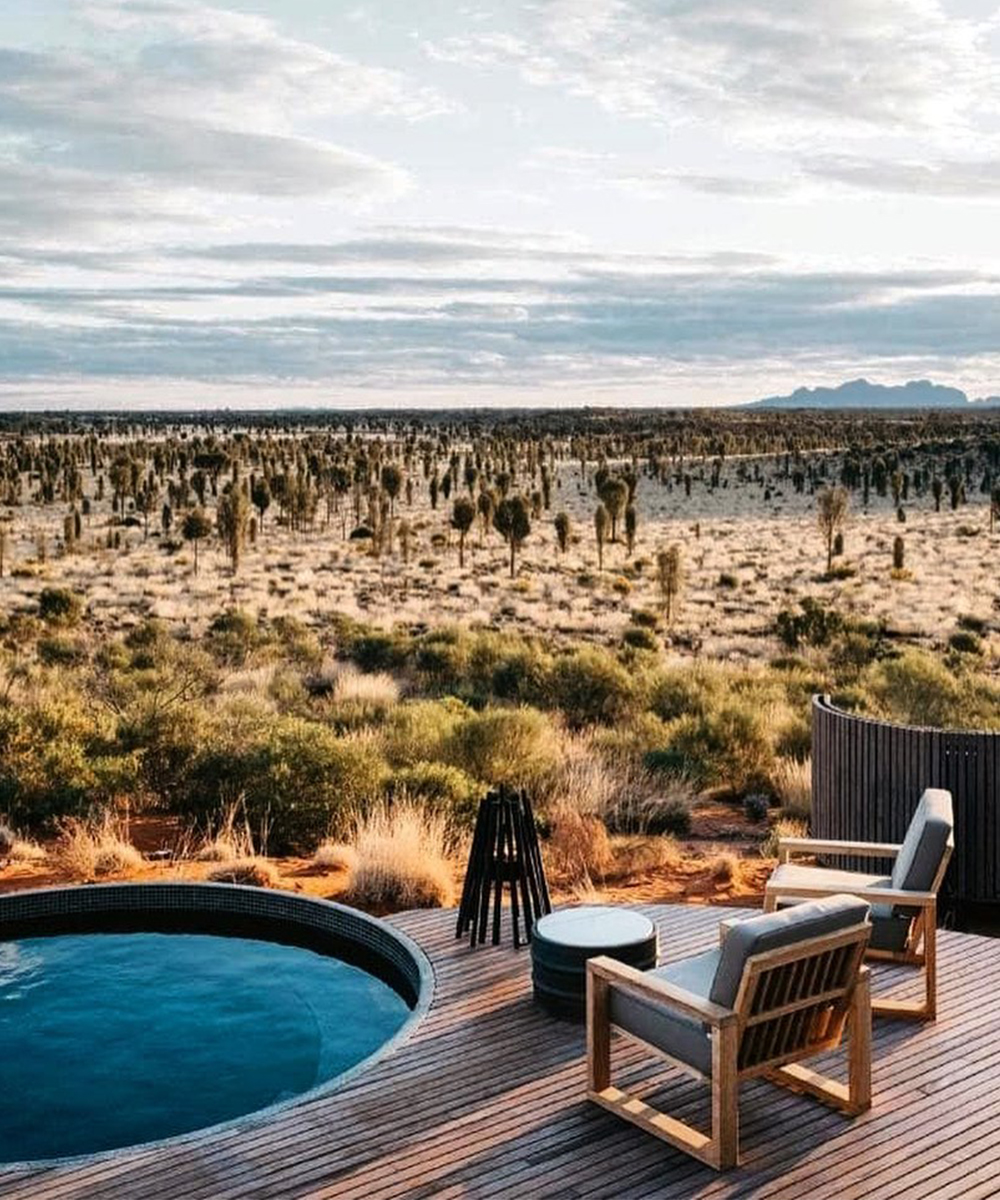 Kings Creek Station, Petermann
For a more rustic outback experience, book a Dreamtime Escarpment Package at Kings Creek Station. The al fresco ensuites are surrounded by trees, rocks and cleverly positioned partitions for added privacy and cosiness. Still a luxury experience with bathrobes, slippers and delightful products to lather yourself in, this is the place to stay for all Kings Canyon adventuring.
Next up, check out the best cosy cabins around Australia.
Image Credit: Matt Lennon, Lisa Cohen Photo, The Keep, Felix Forest
Editor's note: Urban List editors independently select and write about stuff we love and think you'll like too. Urban List has affiliate partnerships, so we get revenue from your purchase.