We don't care what anyone says, we can't get enough of the best Christmas movies on Netflix.
Fortunately, the streaming gods at Netflix have gifted us with yet another sleigh load of feel-good Christmas movies, from old-school classics to rom-com newbies, all you need to do is organise bulk snacks for a mammoth viewing marathon.
Popcorn and candy canes at the ready, these are the best Christmas movies on Netflix to watch this year.
Who Killed Santa? A Murderville Murder Mystery
Senior Detective Terry Seattle (Will Arnett) is back and this time, the case is critical. Along with his two celebrity guest stars, Jason Bateman and Maya Rudolph, he is on a mission to figure out...who killed Santa? But here's the catch: Jason Bateman and Maya Rudolph aren't being given the script. They have no idea what's about to happen to them. Together, with Terry Seattle (and many surprises), they will have to improvise their way through the case. Watch it here.
Scrooge: A Christmas Carol
On a cold Christmas Eve, selfish miser Ebenezer Scrooge has one night left to face his past—and change the future before time runs out. Obviously, a goodie to keep for any little ones you may have running around but hey, if you're feeling nostalgic on a festive Friday, this also works. Watch it here.
Delivery By Christmas
When a spiteful coworker sabotages her deliveries, a courier and a helpful customer race to return Christmas presents to their intended locations. It's Polish humour in all its deadpan glory. Watch it here.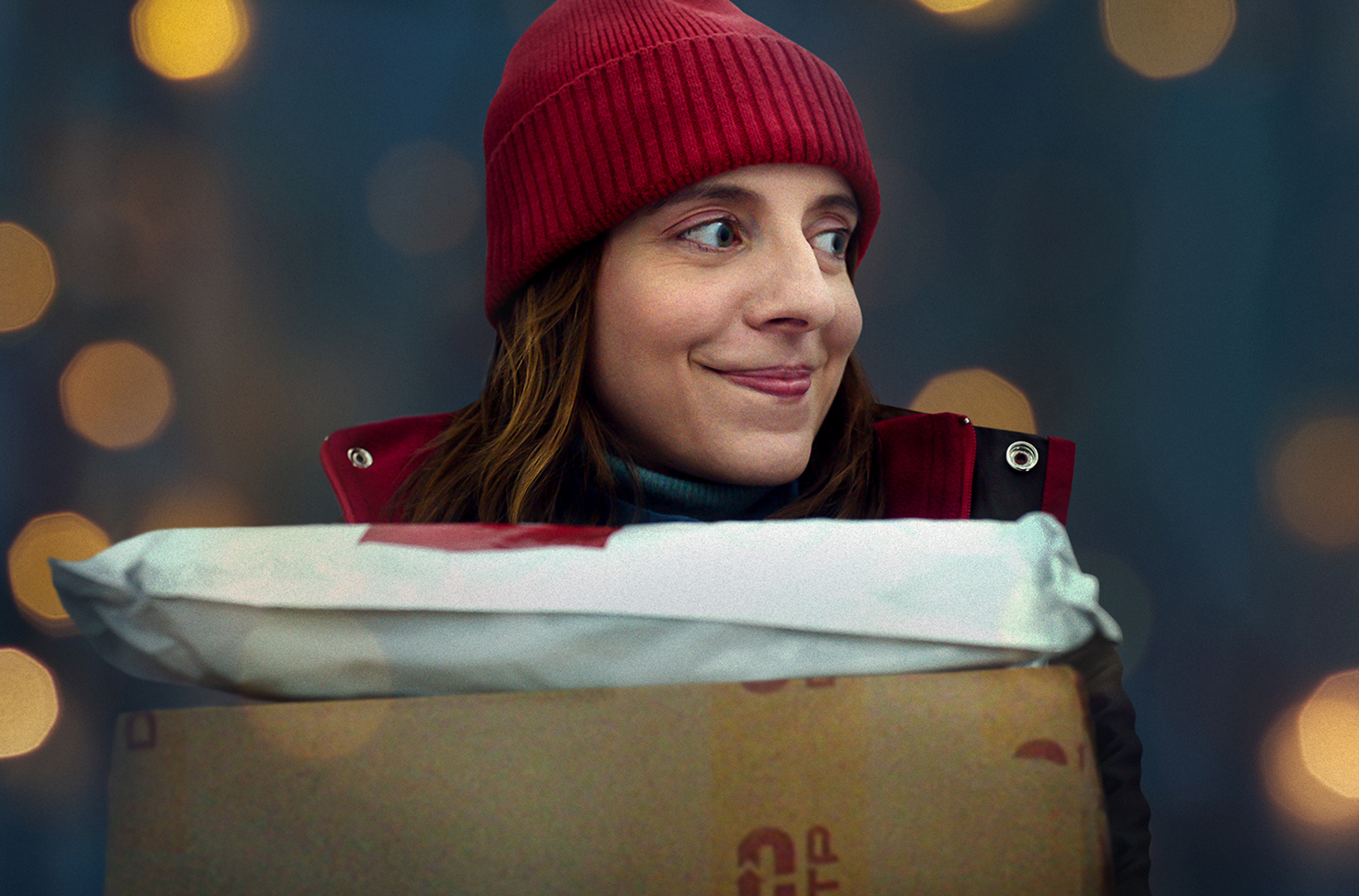 I Believe In Santa
After five happy months dating Tom, Lisa's horrified to learn he's obsessed with her least favourite holiday. It's got all the cheesy rom-com vibes and you can watch it here.
A Not So Merry Christmas
Cursed by a fairy, grinchy Chuy wakes up to discover he's lived a full year but is doomed to remember only Christmas Day. Every year, for the rest of his life. Watch it here.
Falling For Christmas
A newly engaged, hotel heiress (Lindsay Lohan) gets into a skiing accident, suffers from total amnesia and finds herself in the care of a handsome, blue-collar lodge owner (Chord Overstreet) and his precocious daughter in the days leading up to Christmas. Watch it here.
Christmas With You
Feeling career burnout, pop star Angelina escapes to grant a young fan's wish in small-town New York, where she not only finds the inspiration to revitalise her career but also her one shot *one opportunity* at true love. Watch it here.
The Noel Diary
When best-selling author Jake Turner (Justin Hartley) returns home at Christmas to settle his estranged mother's estate, he discovers a diary that may hold secrets to his own past and that of Rachel (Barrett Doss)—a young woman on a mission of her own. Watch it here.
Love Hard
Natalie Bauer (Nina Dobrev), an LA-based writer, is a self-confessed romantic. After one too many bad dates, she falls for an East Coast guy on a dating app called Tag. Deciding to risk it all for love, she flies across the country to surprise him at Christmas. But when she gets there, she finds she's been catfished and Tag is actually Josh. The silver lining? Tag actually does exist and Josh promises to make things right by helping Natalie woo him. This lighthearted romantic comedy is the perfect Christmas flick, complete with snow, LOLs and fuzzy moments.
The Princess Switch 3: Romancing The Star
Our favourite royals are back for The Princess Switch 3 and yes it's one of the best Christmas movies on Netflix. It goes like this: when a priceless relic is stolen, Queen Margaret and Princess Stacy enlist the help of Margaret's audacious look-alike cousin Fiona who teams with a dashing, mysterious man from her past to retrieve it... rekindling the sparks of a tantalizing Christmas romance and resulting in a very unexpected switch.
A Castle For Christmas
A Castle For Christmas has all the hallmarks of a classic Christmas rom-com—picturesque location and a genetically blessed cast. The plot goes like this: Famed author, Sophie Brown (Brooke Shields), travels to Scotland hoping to buy a small castle of her own, but the prickly owner, Duke Myles (Cary Elwes), is reluctant to sell to a foreigner. Working to find a compromise, the pair constantly butt heads, but they just may find something more than they were expecting.
Single All The Way
One of the most exciting Christmas movies dropping in 2021, Single All The Way is Netflix's very first gay festive flick—and yes it's amazing. It goes like this: Desperate to avoid his family's judgment about his perpetual single status, Peter (Ugly Betty's Michael Urie) convinces his best friend Nick (Philemon Chambers) to join him for the holidays and pretend that they're now in a relationship. But when Peter's mother (Kathy Najimy) sets him up on a blind date with her handsome trainer James (Luke Macfarlane)—the plan goes awry.
A California Christmas: City Lights
Last Christmas
Based on the 1984 song of the same name, and inspired by the music of George Michael, Last Christmas stars Game Of Thrones' Emilia Clarke as Katarina, a jaded, semi-alcoholic Christmas store worker who forms a relationship with a mysterious man called Tom (Crazy Rich Asian's Henry Golding) and begins to fall for him. With a new perspective on life, Katarina starts to believe that Christmas miracles might really exist.
​​The Night Before
If you like your Christmas flicks full of LOLs and big name celebrities, then, The Night Before is for you. It follows three best friends—played by Joseph Gordon-Levitt, Seth Rogen and Anthony Mackie—who decide to end their annual tradition of wild holiday partying, but not before one final debaucherous Christmas Eve in New York. It also stars Lizzy Caplan, Mindy Kaling and Miley Cyrus.
Holidate
Sloane (Emma Roberts) and Jackson (Australia's Luke Bracey) hate the holidays. They constantly find themselves single, sitting at the kids table, or stuck with awkward dates. But when these two strangers meet one Christmas, they make a pact to be each other's "holidate" for every festive occasion throughout the next year. With a mutual disdain for the holidays, and assuring themselves that they have no romantic interest in the other, they make the perfect team. However, as a year of absurd celebrations come to an end, Sloane and Jackson find that sharing everything they hate may just prove to be something they unexpectedly love. You can watch it here.
Operation Christmas Drop
Kat Graham is back for another Netflix Christmas movie and this one is filled with festive cheer and goodness. The plot goes like this: Erica Miller (Graham) loves her job as a congressional aide but is desperate for an overdue promotion. So when the opportunity to get ahead presents itself, Erica forgoes her traditional family Christmas and instead heads across the Pacific at her boss' request. Her mission is simple, to gather evidence to support closing a tropical U.S. Air Force base. The only problem? Not everyone is ok with the closure including her uber handsome guide Captain Andrew Jantz (Alexander Ludwig). Tensions rise and a potential romance ensues.
Jingle Jangle: A Christmas Journey
If you like your Christmas movies stacked with an all-star cast, then this flick is for you. Set in the gloriously vibrant town of Cobbleton, the film follows legendary toymaker Jeronicus Jangle (Academy Award winner Forest Whitaker) whose fanciful inventions burst with wonder. But when his trusted apprentice (Keegan-Michael Key) steals his most prized creation, it's up to his equally bright and inventive granddaughter—and a long-forgotten invention—to heal old wounds and reawaken the magic within. Featuring original songs by John Legend, this Christmas flick will make you feel warm and fuzzy.
The Christmas Chronicles: Part Two
We actually love a sequel, especially when it's Christmas related so we're buzzing about this beauty. It's been two years since siblings Kate and Teddy Pierce saved Christmas, and a lot has changed. Kate, now a cynical teenager, is reluctantly spending Christmas in Cancun with her mum's new boyfriend and his son Jack. Unwilling to accept this new version of her family, Kate decides to run away. But when a mysterious, magical troublemaker named Belsnickel threatens to destroy the North Pole and end Christmas for good, Kate and Jack are unexpectedly pulled into a new adventure with Santa Claus (Kurt Russell).
Christmas Inheritance
Ambitious heiress Ellen Langford has the world at her feet. She's engaged to a handsome, successful man and she's just days away from inheriting her father's multi-million dollar business. The only problem? Before he'll officially give her the keys to the empire, Ellen must first deliver a special Christmas card to her dad's former partner in Snow Falls, a tiny but adorable town in the middle of nowhere. But when a snowstorm strands her at the town inn, with no money or possessions she begins to realise what she once held dear isn't so important after all. This beauty is equal parts cheesy and loveable. Give it a go here.
Holiday in the Wild
Sex And The City fave Kristin Davis is back on our screens and once again she's playing a Manhattanite unlucky in love. In this festive flick, Davis stars as Kate Conrad who in an effort to reignite some romance in her marriage books an African safari. The only problem? Said husband leaves Kate before the holiday even begins. But this is a Christmas movie after all so Kate isn't going to let that stop her having an adventure. She embarks on her own Eat, Pray, Love experience volunteering at an elephant sanctuary in Zambia and embarking on a holiday romance.
A Christmas Prince: The Royal Baby
We've seen Amber find true love, get married and become a queen, so it's only right that come Christmas we get a front row seat to the next chapter of her life—motherhood. In A Christmas Prince: The Royal Baby we head back to Aldovia where Queen Amber and King Richard are getting ready to take some time off to prepare for their first child's arrival, but first they have to host King Tai and Queen Ming of Penglia to renew a 600-year-old sacred truce. But when the priceless treaty goes missing, peace is jeopardized and an ancient curse looms.
Let It Snow
A hot favourite of the Netflix Originals, Let It Snow follows a group of teens from small town America on Christmas Eve during a freak downpour of snow. With an ensemble cast packed with Hollywood's hottest new stars including Kiernan Shipka (Chilling Adventures Of Sabrina), Liv Hewson (Santa Clarita Diet), Isabela Merced (Instant Family) and Jacob Batalon (Spider-Man), this feel-good movie has all the hallmarks of a teen version of Love Actually with stories of unrequited love and fractured friendships.
Klaus
Before you cruise past this one because it's animated, trust us, this is one kid's flick that is just as much for the adults. When Jesper (Jason Schwartzman) finds himself as the postal academy's worst student, he is stationed on a frozen island above the Arctic Circle, where the feuding locals hardly exchange words let alone letters. Jesper is about to give up when he finds an ally in local teacher Alva (Rashida Jones), and Klaus (J.K. Simmons), a mysterious carpenter who lives alone in a cabin full of handmade toys.
The Knight Before Christmas
After delivering us the beauty that was The Princess Switch last year, Vanessa Hudgens is back with another festive flick. The story goes as this– after a magical sorceress transports medieval knight Sir Cole (Josh Whitehouse) to present-day Ohio during the holiday season, he befriends Brooke (Hudgens), a teacher who's been disillusioned by love. Brooke helps Sir Cole navigate the modern world and how to fulfil his mysterious one true quest—the only act that will return him home… that is if he still wants to return.
Holiday Rush
Popular New York radio DJ Rush Williams (Romany Malco) has been spoiling his four kids since they tragically lost their mum. Unfortunately, when Rush finds himself unceremoniously ousted from his job, he struggles to fulfil the children's pricey Christmas lists. In an effort to keep Rush on the air, his producer Roxy and his Aunt Jo plan to help him buy another station—that is if the Williams family can downsize and start living the simple life. Catch this heart-warmer here.
The Holiday Calendar
In The Holiday Calendar, Abby Sutton (Kat Graham) is a talented photographer stuck in a dead-end job in a small town with nothing much to look forward to. That is until she inherits an antique advent calendar from her late grandmother. The twist? The calendar appears to have magical abilities and start to predict her future… from job opportunities to chance meetings with a potential love interest.