In our opinion, it's always a good idea to book your next vacay. And nothing screams peak holiday vibes like a boujee hotel in a gram-worthy location where your uniform consists of a fluffy robe and your diet is made up of local eats and copious cocktails. Sounds dreamy right? Because we're blessed with so many incredible hotels in Australia, we've done the hard work for you and hand-picked the very best digs to check out this year.
Book in that annual leave, these are the best hotels in Australia.
The Best Hotels In Tasmania
SABI | Binalong Bay
Enter Tasmania's first 'wabi-sabi' inspired stay. This new designer cabin in the iconic Bay of Fires has set a whole new standard for boutique and luxury hotels in Australia. A refuge of calm, free from distraction, SABI is the kind of place people come to reset. The design features handmade, bespoke and reclaimed belongings, with conscientiousness valued over mass-production. Soak it all up in a Japanese-inspired 'onsen'—a wine-barrel bathtub repurposed from Willie Smith. Even the kitchenware is considered with custom ceramic dinnerware, hand-blown glassware, speciality Japanese knives and ceremonial tea-making equipment. Book your stay here.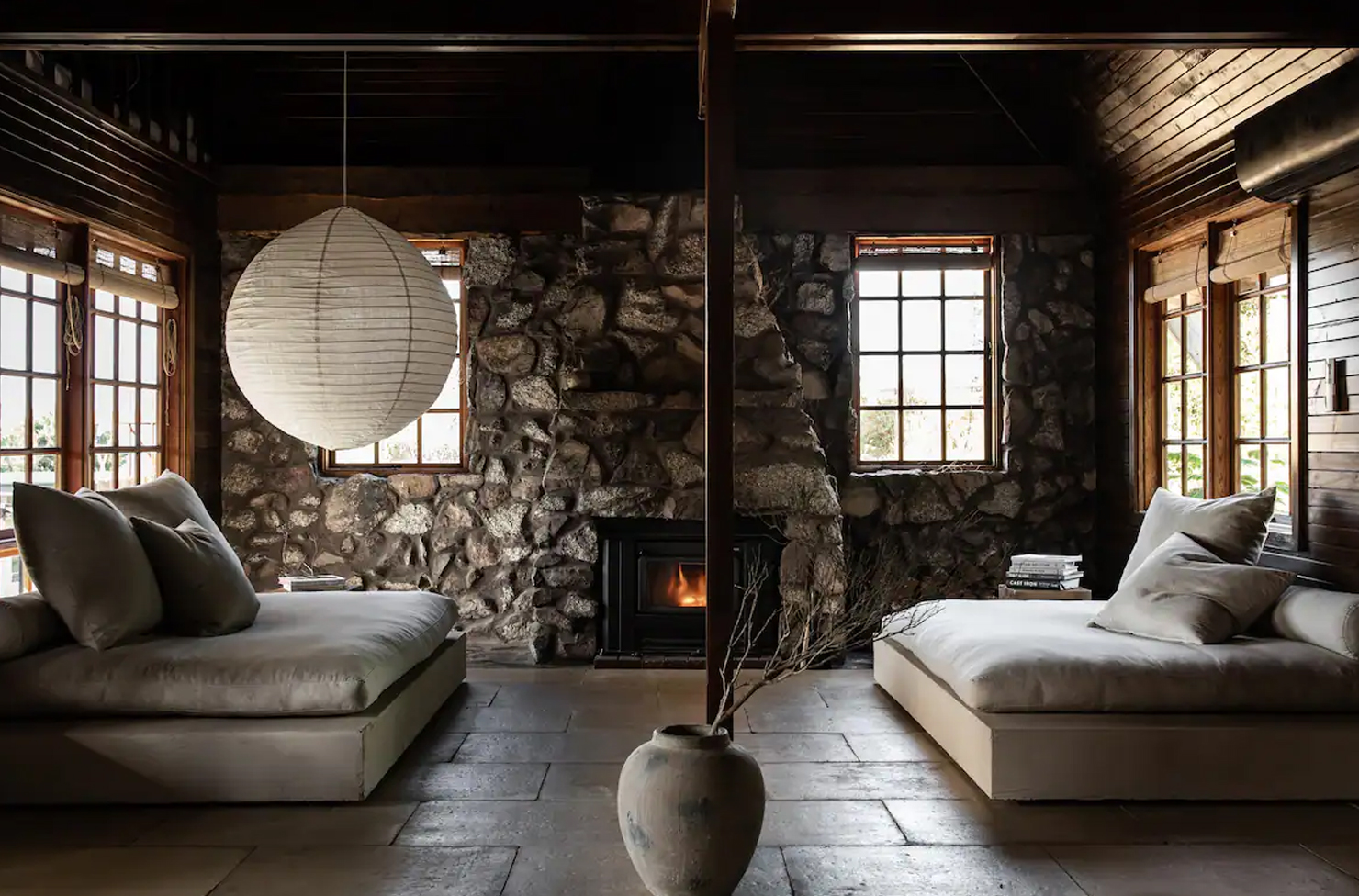 The Tasman | Hobart
Housed in a 1840s heritage building, The Tasman is the newest luxury hotel in Hobart. Celebrating the city's unique local character and pioneering past, these sweet digs will open in December 2021. Just steps from the famous Salamanca Markets, St David's Park and the vibrant waterfront of Sullivan's Cove, there are 152 unique rooms filled with original artworks from local artists, crackling fireplaces and island baths. Foodies will want to check out The Tasman's stunning restaurant Peppina led by renowned Tasmanian chef, Massimo Mele who gives Italian inspired cuisine a local Tasmanian twist. Book your stay here.
MACq 01 | Hobart
If you're looking for a premium stay in Hobart then look no further than MACq 01. This hotel is jam-packed full of character, so much so that each room is named after a Tasmanian character (from heroes, villains and explorers to inventors and convicts), including seven living Tasmanians. The MACq 01 is so rich in tales you can even take the hotel's 114 Doors tour. MACq 01 is located just across Hunter Street so has great access to the heart of Hobart—very important when it comes to eating and drinking your way around the city. Our tip? Opt for the superior waterfront room with epic views and lush furnishings. Book your stay here.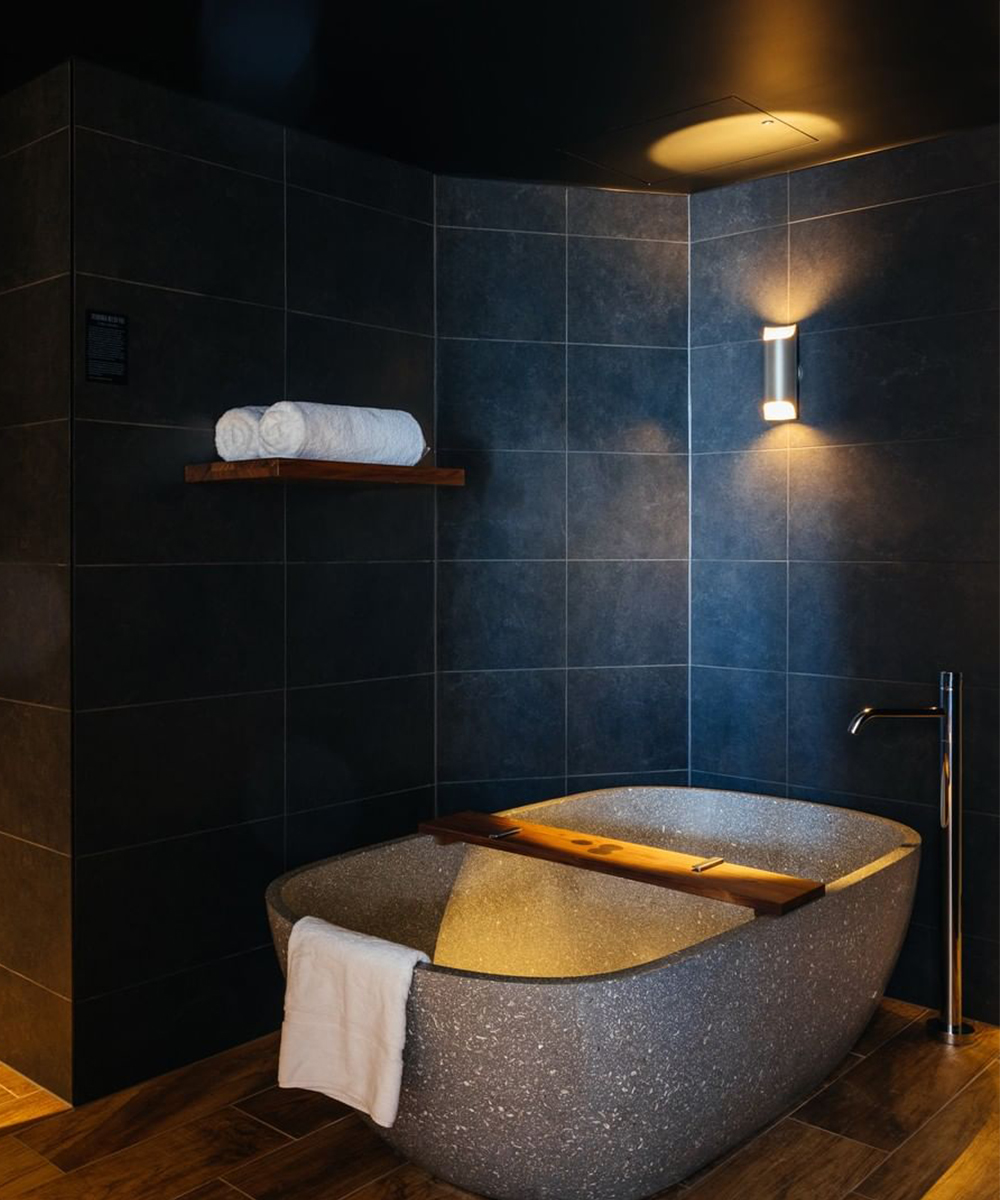 Saffire Freycinet | Coles Bay
Prepare to spend a lot of time picking your jaw up off the floor when staying at these incredible digs. Previously voted the World's Best Boutique Hotel and World's Best Luxury Hotel, this uniquely shaped building is all about celebrating it's stunning, natural surroundings with floor to ceiling windows. Featuring 20 private suites, a luxury day spa, and an unforgettable culinary offering, Saffire Freycinet, will create (free) personalised itineraries for its guests ensuring you're exploring all the beauty this part of the world has to offer. Think: hiking Wineglass Bay, tasting fresh oysters at their marine oyster farm, a bush tucker workshop with indigenous guide Mick Quilliam, cocktail masterclasses, or stand up paddling boarding and taking in Great Oyster Bay and the Hazards mountain range. Book your dreamy escape here.
The Best Hotels In NSW
Ace Hotel | Sydney
It's one of the most hotly-anticipated hotel openings of the year. Ace Hotel is a 257-room hotel, marking Ace's very first home in the Southern Hemisphere. Sporting a Lobby, lounge, ground-floor restaurant, cafe and bar, this behemoth venue will also be home to a stellar arts, culture, music and culinary program. Having been designed in partnership with Flack Studio, Ace Hotel is a reimagining of one of Australia's kiln discoveries. The interior and building itself draws inspo from architect Robin Boyd's book, The Australian Ugliness and paintings of Indigenous Australian artist Albert Namatjira which means you'll find the likes of an ochre-red marble staircase, a burnt orange and tan sunken lounge on the ground floor and all the greenery. You'll also find an artist-in-residence program curated by Nina Fitzgerald of The Impact Lab, a team of social change makers who have partnered with Ace to champion First Nations artists and stories. Book your holiday here.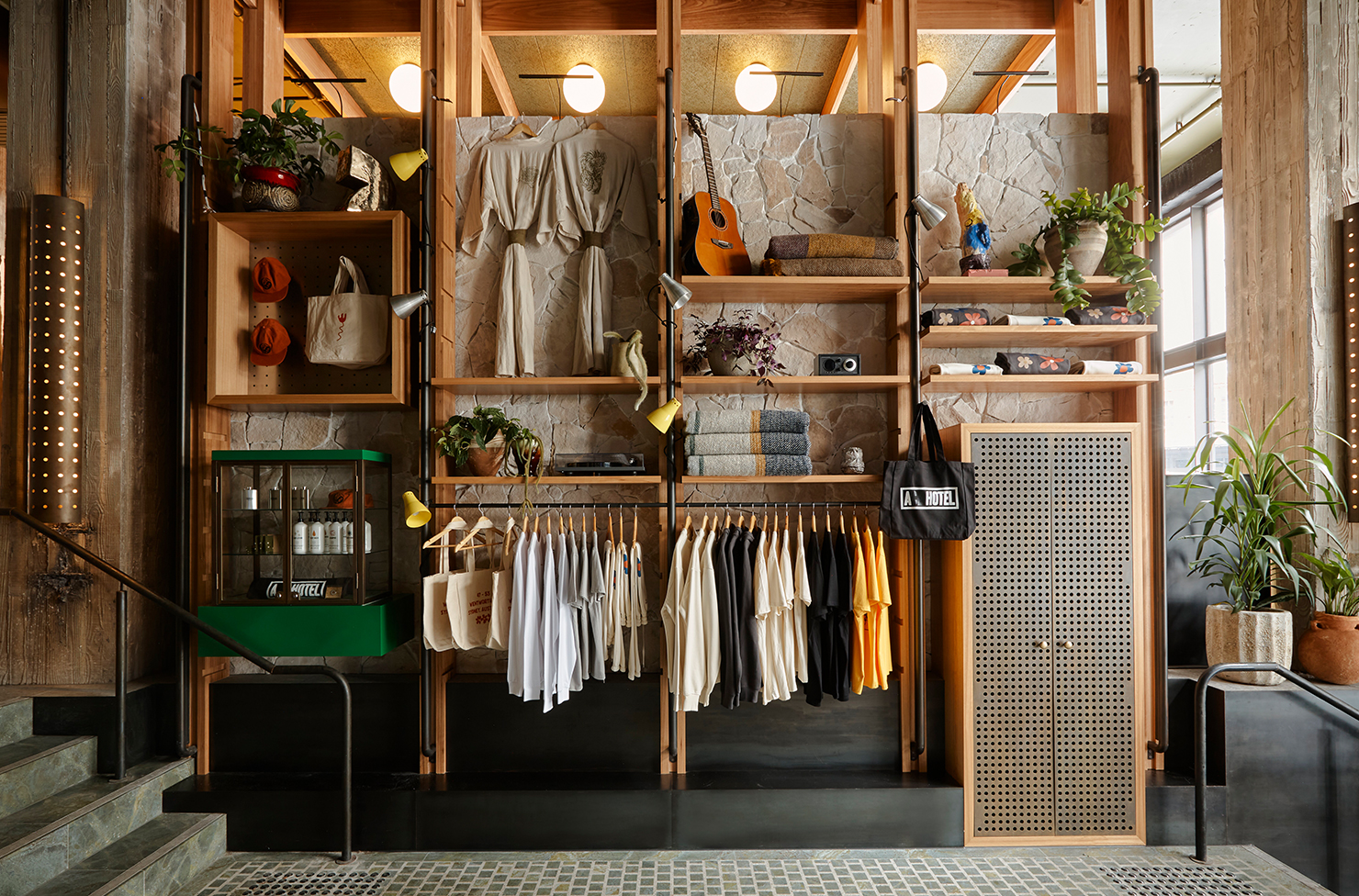 Sofitel Darling Harbour | Sydney
If you're after high roller status, check yourself into the Sofitel Darling Harbour—the area's tallest building at 35 floors high. From the grandeur of the lobby alone you know you're in for a treat. While all the rooms are great, you're going to want to push the boat out and opt for a corner suite with floor to ceiling windows that will make soaking in that giant free-standing tub all the sweeter. With French touches throughout, be sure to spend some time chilling by the outdoor infinity pool with panoramic views of Darling Harbour and the city skyline and hitting the state-of-the-art gym (if you're into exercising on your holiday), then cap the whole blissful experience off in the award-winning Champagne Bar. Book your holiday here.
Bannisters | Port Stephens
Escape the hustle and bustle of city life at Bannisters Port Stephens. The 78-room hotel is nestled on the edge of Salamander Shores and is straight up stunning. Celebrating the building's 70s vibes, the hotel has a chic coastal feel with crisp white walls and luxe furnishings throughout. For us, a true holiday is all about the food and at Bannisters, it's seriously on point. Rick Stein at Bannisters is famous for the freshly caught seafood and an extensive wine list that you'll rave to your mates about. For something more casual, pull up a chair on the Terrace Bar overlooking the infinity pool. A crisp cocktail in hand and drool-worthy eats—it doesn't get much better than that. Book your stay here.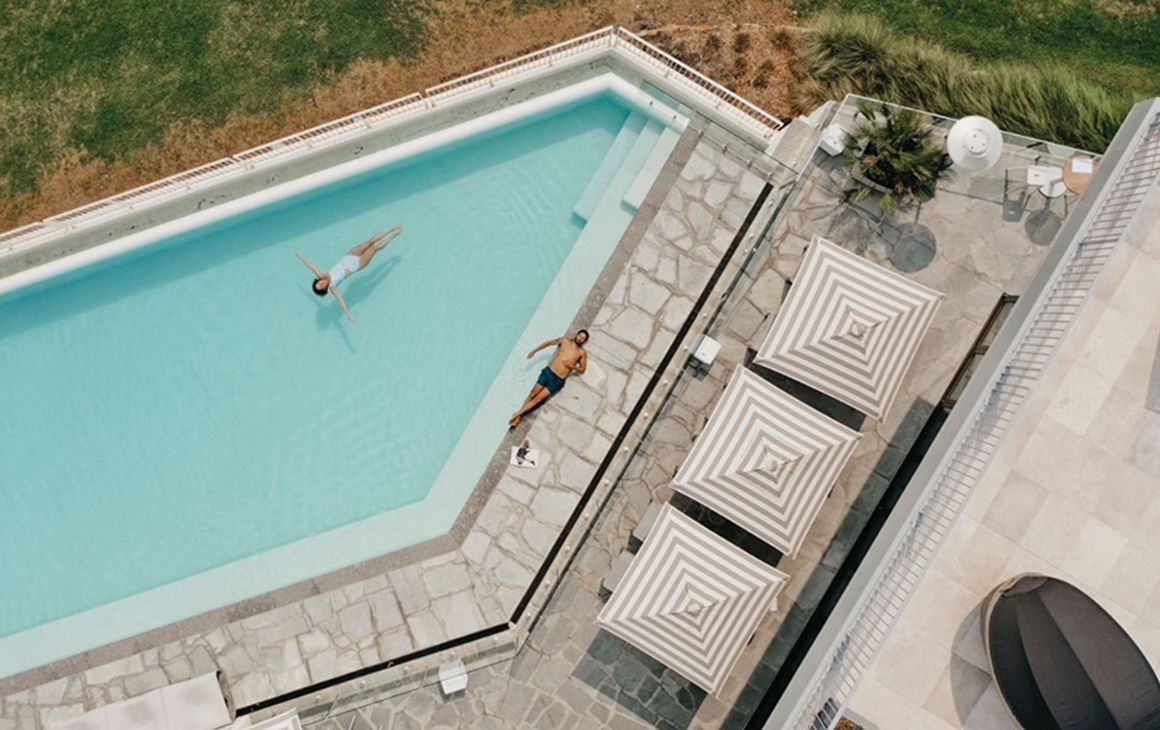 The Best Hotels In Queensland
Miss Midgley's | New Farm
For a hotel experience like not other, draw your attention to Miss Midgley's. Here, you'll find five groovy rooms, all of which have been designed for maximum living potential ie. long-term stays encouraged. The building itself is a restored school house and lands itself the title of being one of Brisbane's oldest locations. Each room is self-contained with air conditioning, functional kitchens and a private outdoor space. There's also a common pool area with a sun deck and the bottom two rooms are pet friendly. Book your stay here.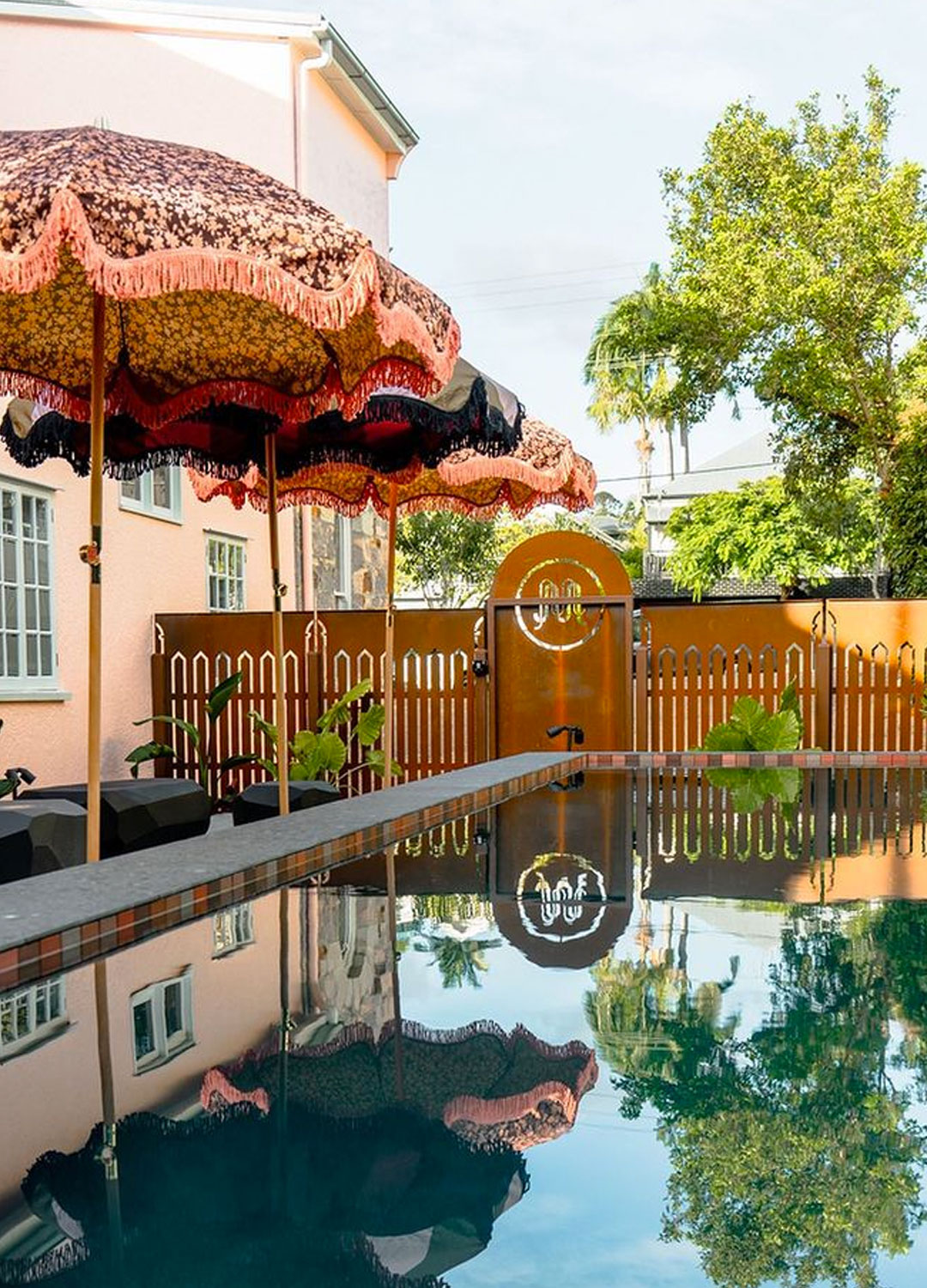 The Calile | Brisbane
Since this beauty opened in 2018, every influencer worth their salt has posted snaps at the hotel's stunning pool. We're pleased to say The Calile is absolutely worth the hype, and then some. If you've been longing for a Euro getaway, then book a weekend here stat. From the uber-friendly staff, to the rooms styled in marble and shades of mint and pale pink, this hotel is seriously dreamy. But the best part? The vibing pool, complete with sun lounges, private cabanas and a bar slinging tasty tipples and eats from greek restaurant Hellenika. Once you're done sunning yourself, you can shop up a storm at The Calile's chic boutiques, grab a drink from the Lobby Bar and settle in for a feast at their amazing restaurant, SK Steak & Oyster. Book it here.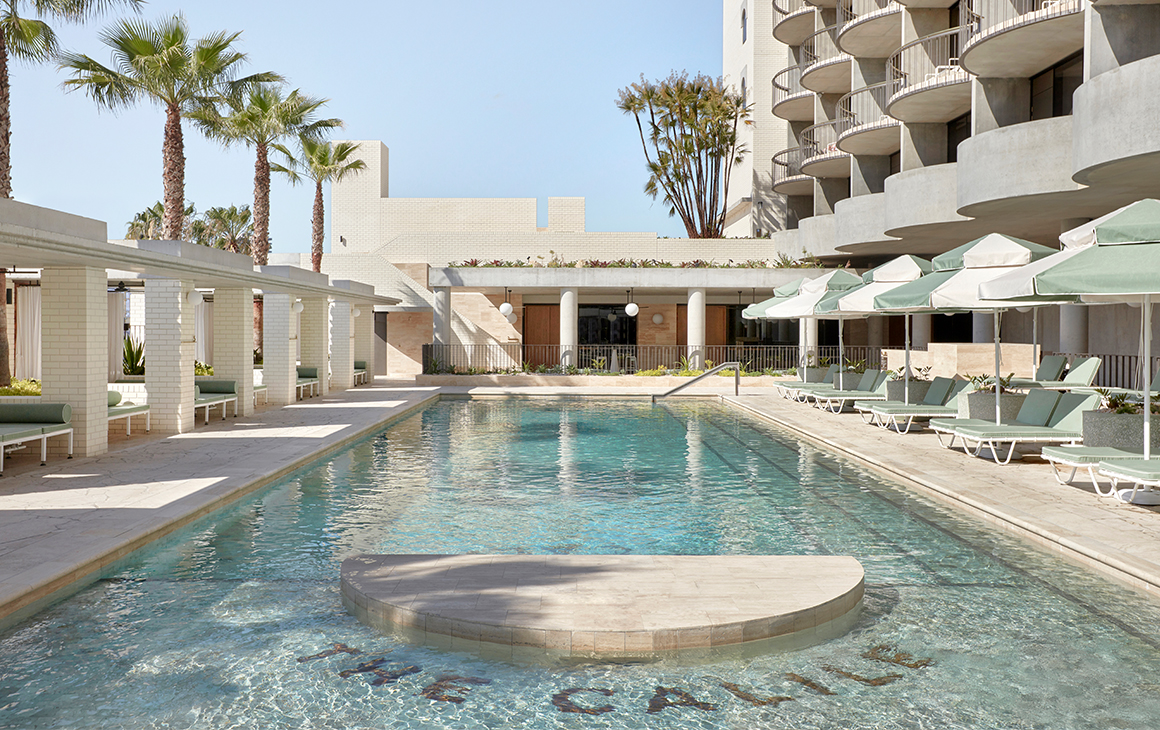 Crystalbrook Riley | Cairns
Nothing beats the winter blues like tropical far north Queensland and when it comes to finding the best hotel up there, look no further than Crystalbrook Riley. While the hotel is seriously stunning, the jewel in its crown has to be the hotel's sand-fringed, turquoise lagoon. The 1000 square metre swimming pool overlooks the Coral Sea, making it the perfect spot to soak up some sun during winter. Located on the northern end of Cairn's waterfront boardwalk, most rooms at Riley offer a spacious balcony with gram-worthy views. Come sunset, make your way up to Rocco, perched 42 metres above sea level with Mediterranean inspired share plates and an abundance of stellar champagne. If you're after something a little more tropical, head to the theatrical Paper Crane for locally caught seafood. Book your next holiday here.
The Best Hotels In Victoria
InterContinental Sorrento | Mornington Peninsula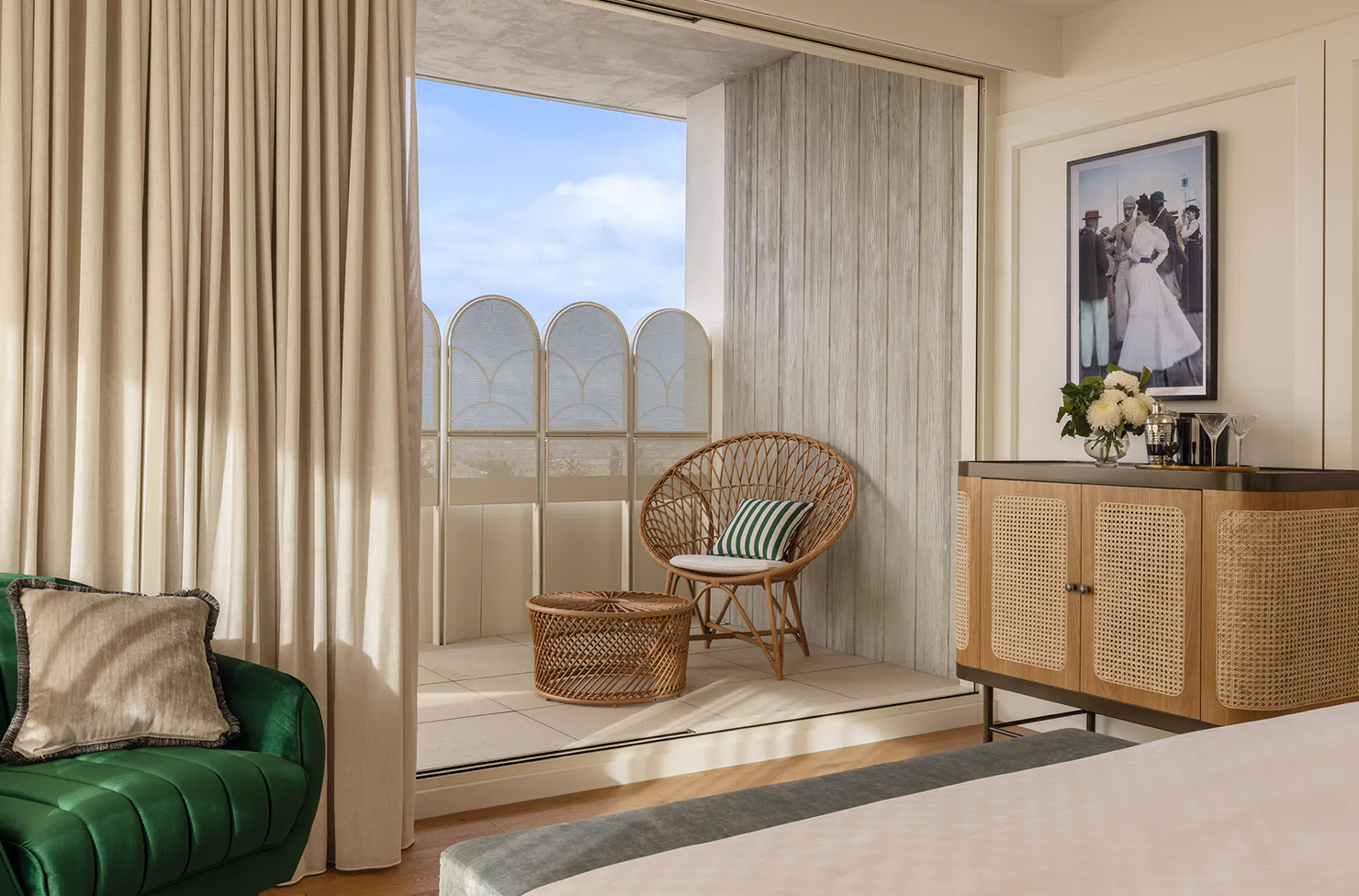 If the Mediterranean and Mornington Peninsula had a baby, this lavish hotel would be it. Somewhat of a seaside village, which can only be likened to somewhere a James Bond movie would be filmed, Victoria's freshest hotel brings whole new level of luxury. The InterContinental Sorrento is nothing less than elegant rooms and uber private suites to funnel your holidaying, not to mention a tranquil wellness centre to recharge your soul and a rooftop pool deck and bar (naturally). Headling all your feasting is Audrey's, brought to you by Melbourne chef Scott Pickett, who is indeed, the award-winning legend that gifted the world Longrain. Audrey's leaves nothing to be desired by way of ocean-inspired feeds, with a seasonal tasting menu and a three-course choice menu on weekdays.
Shock horror, the amenities do not stop there. You'll also be able to soak up the Euro bistro that is The Atrium, a beer garden and even a speakeasy for breakfast, high tea, lunch, dinner and late-night entertainment. Keep your eyes peeled, the Aurora Spa and Bathhouse will anchor here in late 2022. Book your stay here.
Holiday Inn Express Little Collins | Melbourne
The Holiday Inn Express Melbourne Little Collins, has officially opened its doors on one of Melbourne's most iconic laneways. This brand new, design-led hotel provides the perfect base for savvy travellers who can experience more for less in the heart of the city's best shopping, dining and cultural attractions. Featuring 312 modern guest rooms that have been designed to offer a seamless and comfortable stay, guests can expect special touches such as a study nook, walk-in power shower and an 'Express Recharge' zone. Book your stay here.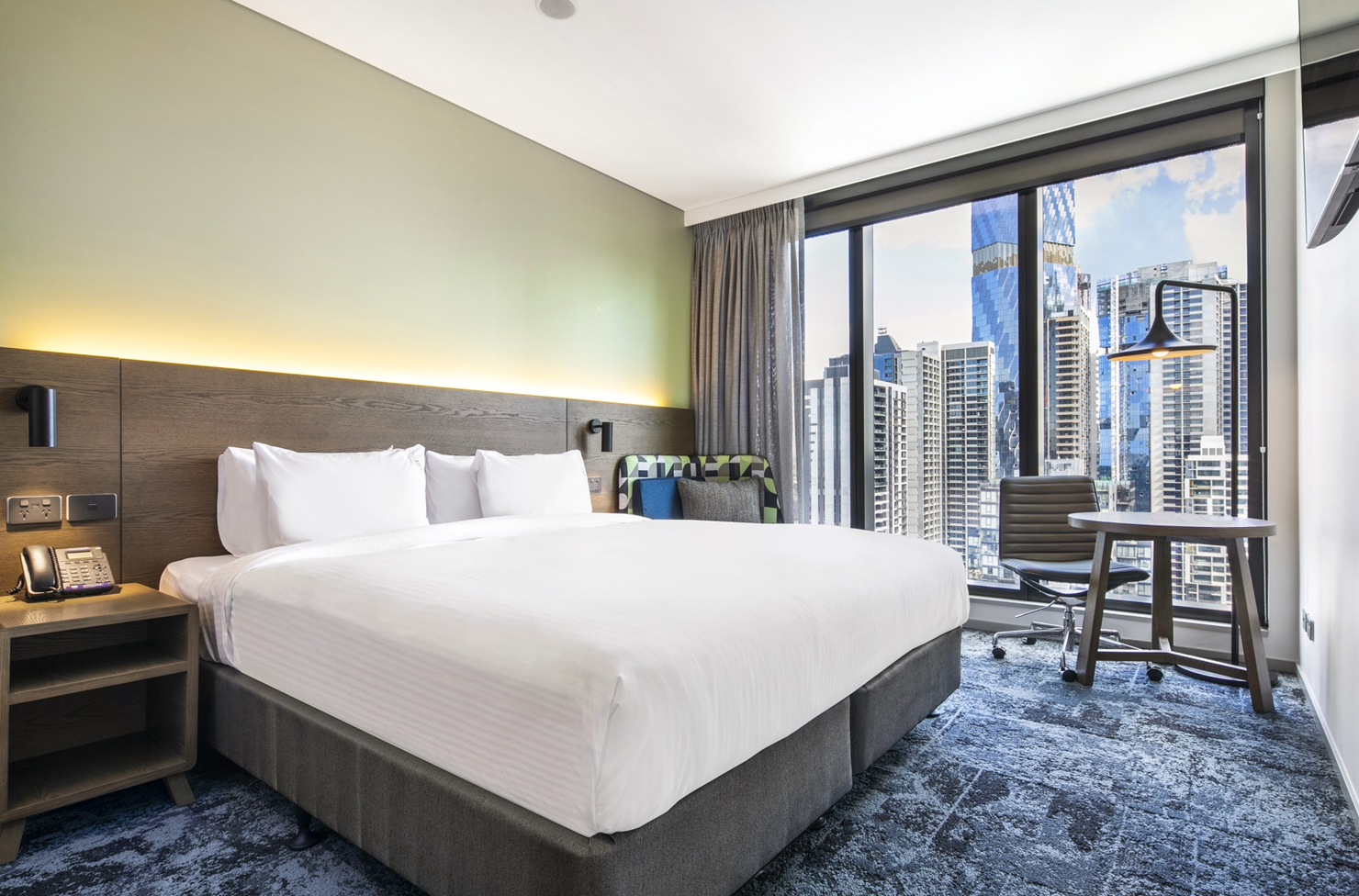 Ovolo South Yarra | Melbourne
Spend a weekend in the heart of Australia's foodie capital in these swanky new digs. Even though it's only recently opened, Ovolo South Yarra is already one of our favourite hotels in Australia. Located next to the famed intersection of Toorak Road and Chapel Street in Melbourne's cultural precinct, Ovolo is a place where retro-chic and pop art meet. Boasting works from Mr Brainwash, Punk Me Tender, Ben Tankardand and the renowned Jisbar, the hotel has one of the largest private art collections in any Australian Hotel. Taking design cues from the days of disco, rock gods and glamour, the hotel's 123 rooms infuse retro-plush, with accents of chrome and colour. Each has a musical moniker, aptly named in honour of the era's most iconic lyrical lovers, 'John', 'Yoko', 'Sonny' and 'Cher'. Book your next stay here.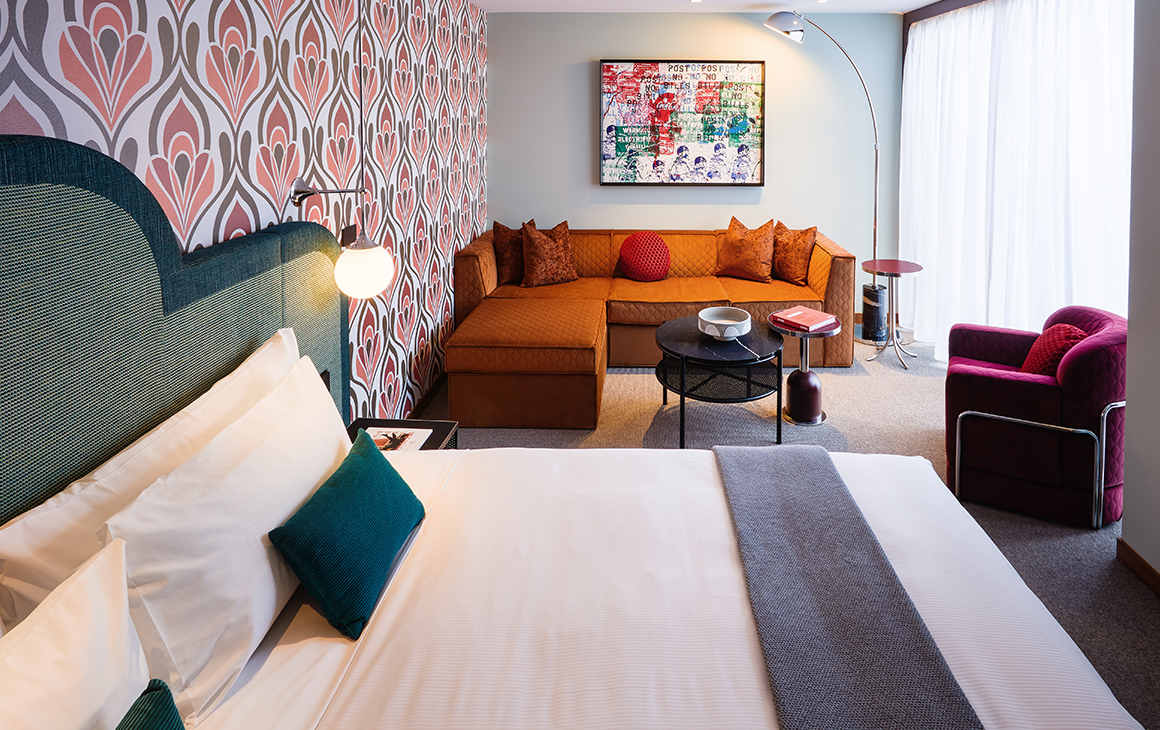 Jackalope | Mornington Peninsula
Overlooking a picturesque vineyard that will transport you straight to Tuscany, it's not hard to understand why Jackalope has bagged a slew of awards. With a sleek palette of charcoal, dark timber and ornate lighting, this hotel is packed with a seriously impressive art collection. Our fave? A seven-metre tall Jackalope sculpture at the entrance. During the day, soak up the sunshine by the infinity pool overlooking the attached winery and then indulge in a decadent dinner at their fine dining restaurant Doot Doot Doot. Once you've wined and dined until your pants are uncomfortably tight you can retire to your room for a movie marathon complete with complimentary popcorn delivered to your door. Now that's service. Book your next holiday here.
The Best Hotels In South Australia
Hotel Indigo | Adelaide
Look, the plastic is barely off the mattresses at Adelaide's Hotel Indigo ( which is Australia's first and yes every other capital city should be jealous) but we had to include it as one of the best hotels to visit in 2021. Let's start with the colourful rooms with copper fixtures that are seriously stunning. You'll want to do a full photo shoot inside them. Another win? The hotel is conveniently located right in the heart of the city (and nearby Adelaide Markets, might we add). On the ground floor, you'll find the perfectly pink Market & Meander Bar and Eatery, while up on the roof is the vibrant Merrymaker, a raw food and cocktail bar boasting sweeping views of the city. Oh, and we can't not mention the heated rooftop pool for when you're not busy exploring the city. Book the ultimate holiday here.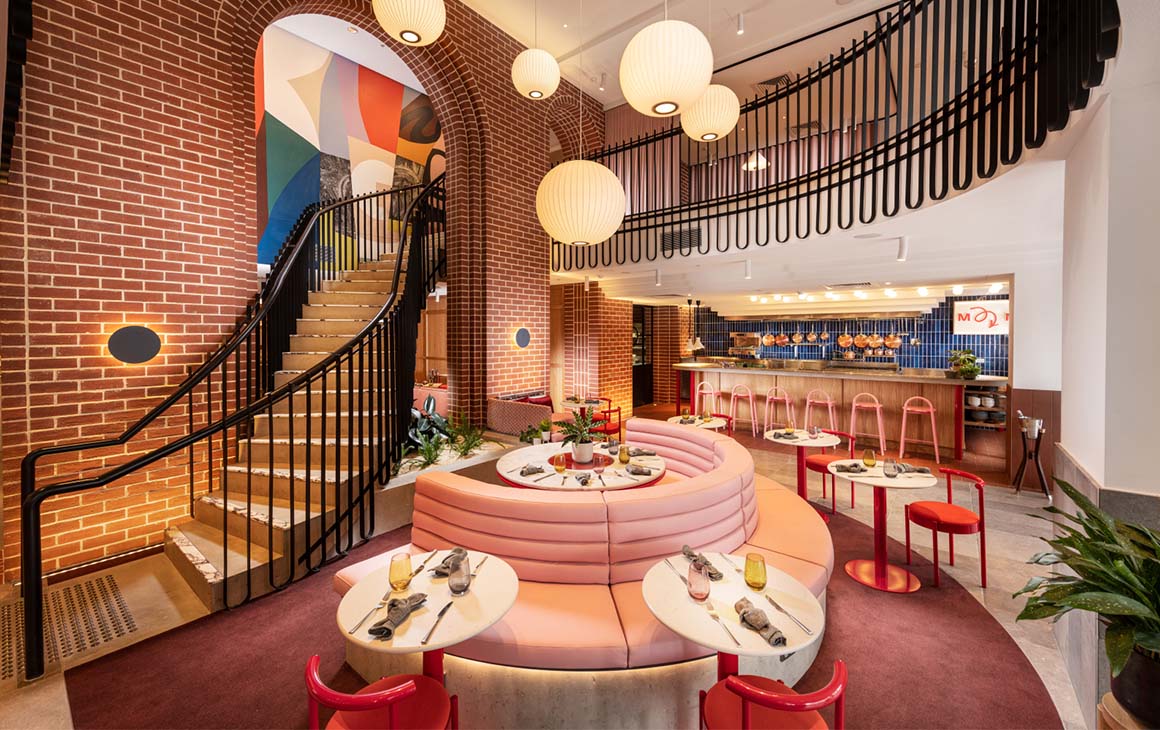 Eos By Skycity | Adelaide
It's not often you get to kick back and enjoy the finer things in life. We're talking room service, rooftop bar and restaurant, on-call cocktail mixologist and personal trainer. No, we're not dreaming, this is the reality at the brand new five-star Eos by SkyCity. Discover a destination where subtle gestures underpin indulgent experiences and your every need is considered (yes, you can even choose your own pillow from their premium pillow menu). This is one for the pleasure seekers—each of the spacious rooms is tastefully styled, offers city views and is situated an easy 200 metres from the Adelaide Convention Centre. Picture this: floating in the rooftop swimming pool, drink in hand, before wining and dining at one of the world-class restaurants and finishing up at the in-hotel casino. A top pick for one of the best hotels in Adelaide. Book your next stay here.
The Best Hotels In Western Australia
COMO The Treasury | Perth
This beautiful hotel, located within the 140-year-old State Buildings will make you never want to return home. Not only does COMO The Treasury feature a spa, gym, pool, library and the most elegant rooms you'll ever lay eyes on; it's also home to some amazing dining options. Rooftop restaurant Wildflower serves up contemporary cuisine championing local produce; Post offers elegant dining with modern Italian cuisine; Petition is a more relaxed dining offering delicious modern Australian eats, while the Wine Merchant is the perfect spot to kick back with a wine in the Postal Hall. So many activities, and we haven't even mentioned Pooles Temple, the underground jazz bar. We could go on, but honestly, just book yourself a stay here.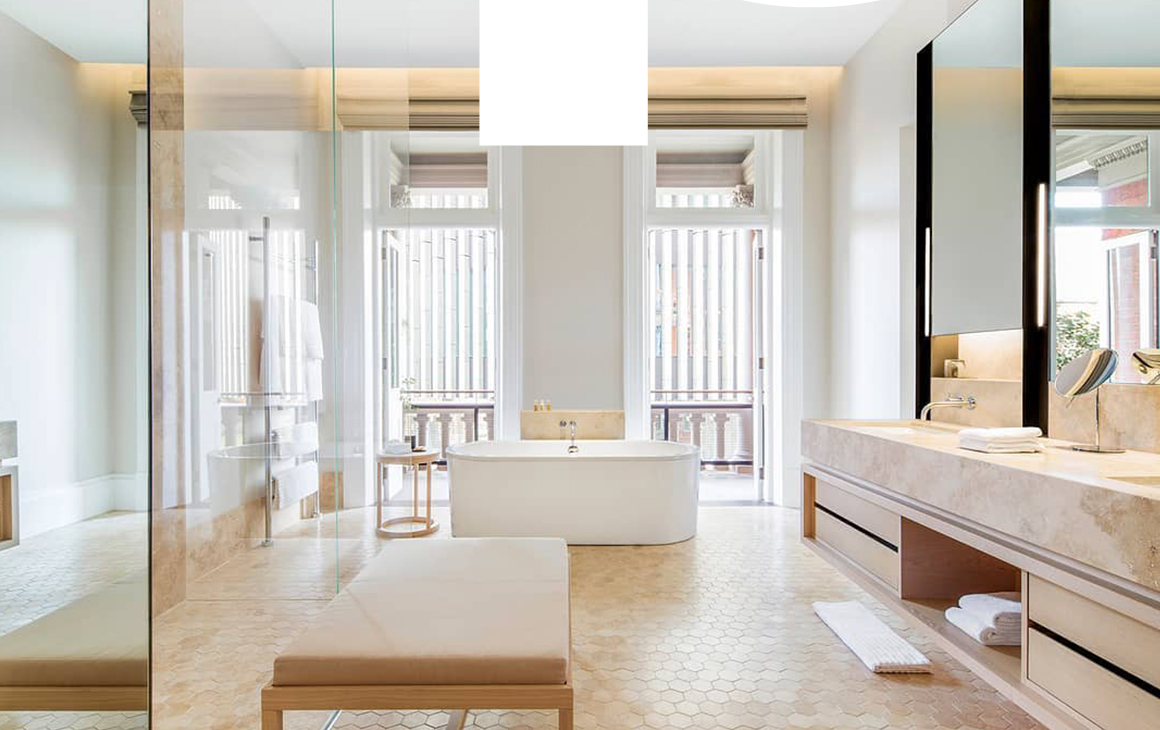 Mangrove Hotel | Broome
Broome is a primo slice of the country that has to be seen IRL to be believed because the beauty there is out of this world—so you want equally amazing digs to crash at on your trip. So where to stay? Two words: bayside escape. We've been drooling over photos of the Mangrove Hotel and we have a word of advice. Splurge on the Ocean View Suites and wake up feeling all sorts of fresh as you look out over that turquoise bay. Book yourself a trip here.
The Best Hotels In Northern Territory
Mindil Beach Casino Resort | Darwin
Don't let the name fool you, these digs are perfect for those looking to soak up all the good vibes Darwin has to offer. And if an ideal holiday for you involves sipping cocktails poolside then you'll want to check into Mindil Beach Casino Resort. Nestled on the city's sparkling azzure waterfront, you'll enjoy stunning views of Darwin from their huge pool—which given the tropical heat up north, you'll be using a lot. There's of course a casino on site and a bunch of tasty restaurants so you bring on all of the holiday vibes in lush surroundings. Book your stay in the Top End here.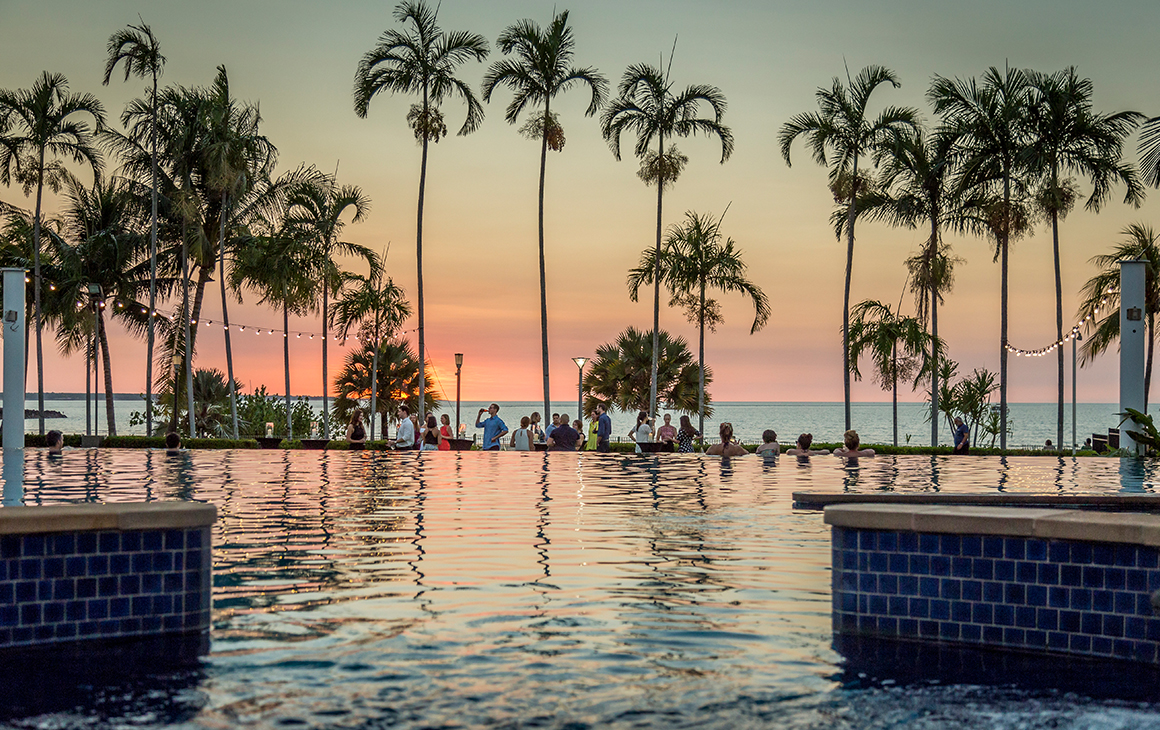 Sails In The Desert | Uluru
Tick off a bucket list trip to the Red Centre and check into Sails In The Desert. The five-star hotel, which is located just a short drive from Uluru, boasts spacious rooms with dreamy marble bathrooms. There's also a tasty restaurant and swanky bar on site slinging cocktails and bites that hero native ingredients. Best of all, there's a luxury spa on site and a large pool perfect for a dip after a long day of exploring which you'll absolutely be doing. Book in your stay here.
Next, check out these dreamy winter road trips.
Image Credit: Nick Pincott/Tourism NT, Calile, Holiday Inn Express Melbourne, Bannisters, Tourism SA, Como
Editor's note: Urban List editors independently select and write about stuff we love and think you'll like too. Urban List has affiliate partnerships, so we get revenue from your purchases.