We know Australia is packed with plenty of jaw-dropping, beautiful beaches but this summer, we're throwing a towel down at the country's hidden gems—natural swimming pools.
Tucked away in some of the most gram-worthy spots we've ever laid our eyes on, consider this your hit list for the ultimate summer day well spent. Just BYO cracking playlist and a good book and let mother nature do the rest.
These are Australia's most beautiful natural pools.
Buley Rockhole | Northern Territory
Litchfield National Park has long been hailed as Australia's very own natural aquatic park. Close to Darwin, this beautiful oasis is home to the Cascades, Florence Falls, Surprise Creek Falls, Tjaynera Falls, Walker Creek, Wangi Falls and our personal favourite—Buley Rockhole. Now, this gem is filled with several small, rapid flowing streams and you'll find an array of deep plunge pools and shallow rock pools.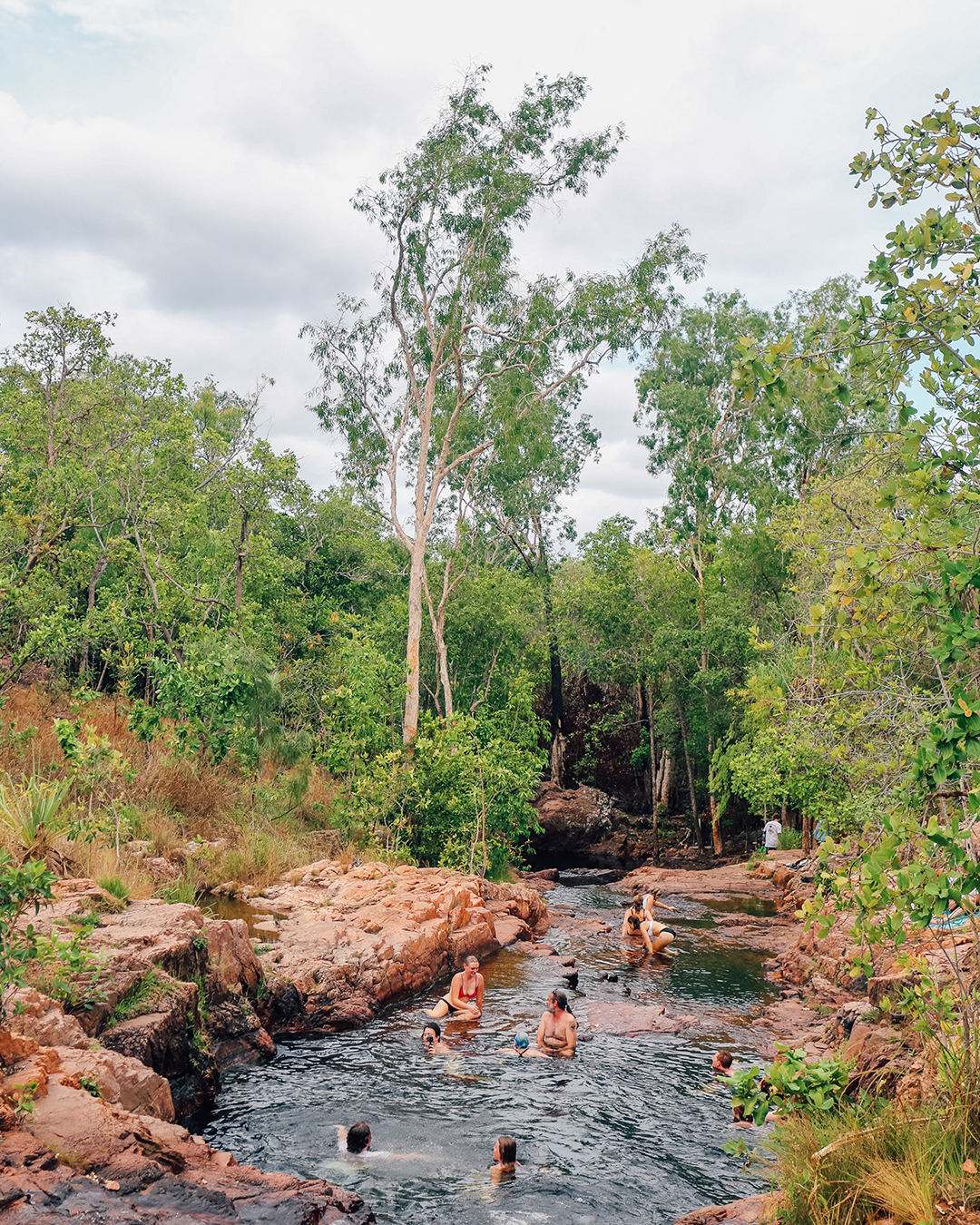 Kermits Pool | Western Australia
Mother Nature was just showing off when she created rust-red rock layers and deep blue waters of Kermits Pool. Found in Karijini National Park, about 1000km north of Perth, it's not the easiest of pools to get to, but it's totally worth the effort. Nestled at the base of Hancock Gorge (around a three-hour return walk), you'll need to climb down a ladder and make your way down to the magical pools. Make sure you take your camera with you because this is a scene you're going to want to brag about. To ensure you get the most of our time, book a stay at Karijini Eco Retreat.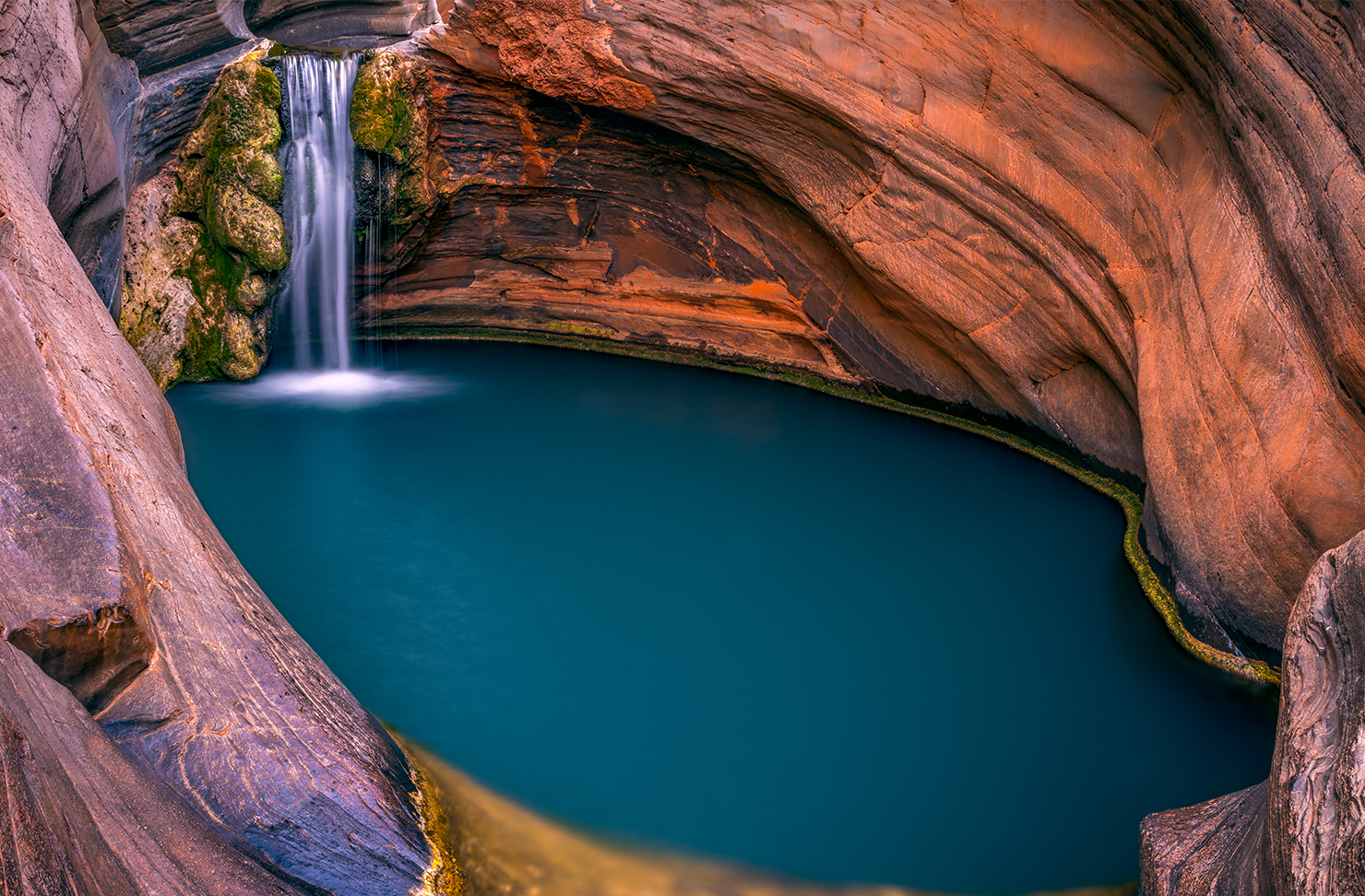 Bitter Springs | Northern Territory
Steeped in culture and history, Bitter Springs, nestled amongst cabbage palms and tropical woodlands in Elsey National Park, is a sight to behold. The stunning 500-metre long thermal pool is fed by an underground spring that provides the perfect temperature for a dip. BYO pool noodles for the ultimate in relaxation. Just 500m from the springs lies Bitter Springs Cabins and Camping so you can go for a dip first thing in the morning. Best of all, it's pet friendly so your pup can join the adventure too.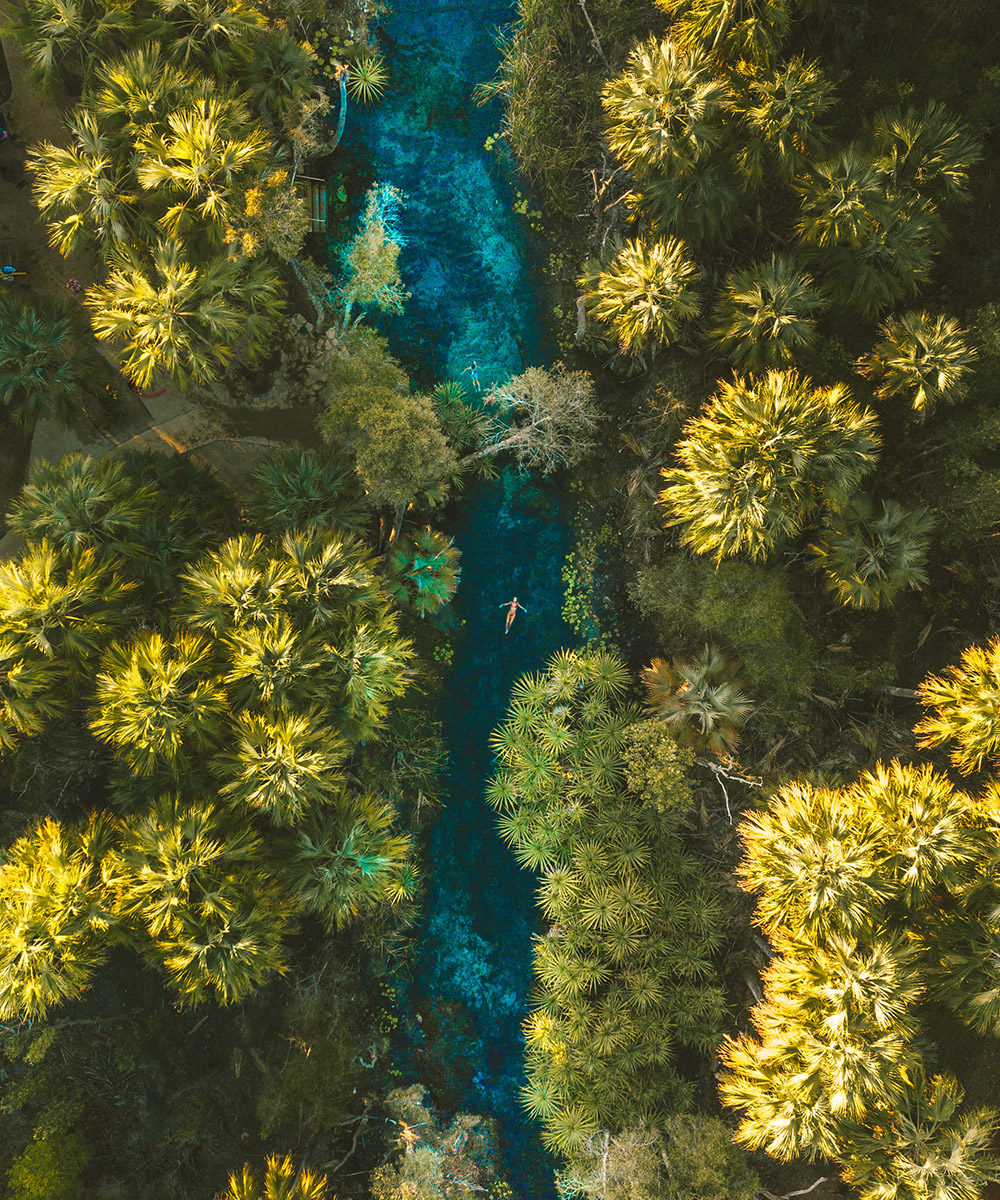 Killen Falls | New South Wales
While Byron Bay is known for its stunning beaches, if you want to ditch crowds and have a more secluded swim, jump in the car and make the 20-minute drive south to Killen Falls. The crashing waterfall and swimming basin are surrounded by a big scrub rainforest that offer the perfect shade for those hot summer days. There's also a hidden cave behind the waterfall that is serving up serious fairytale vibes. Just a 10 minute drive away, you can rest your head at Paul's Farmhouse at Newrybar. The renovated farmhouse is also close to epic swimming spots at Lennox Head and Ballina.
Butterfly Gorge | Northern Territory
We mean, if there's one place that looks like heaven on earth—it's the Northern Territory's Butterfly Gorge. This tranquil paradise, which you'll find in Butterfly Gorge Nature Park, is located at the very base of a low sandstone plateau and as its name suggests, is home to large numbers of butterflies (crow butterflies, to be exact). Hot tip, make a short swim to the top pool—it's well worth the effort.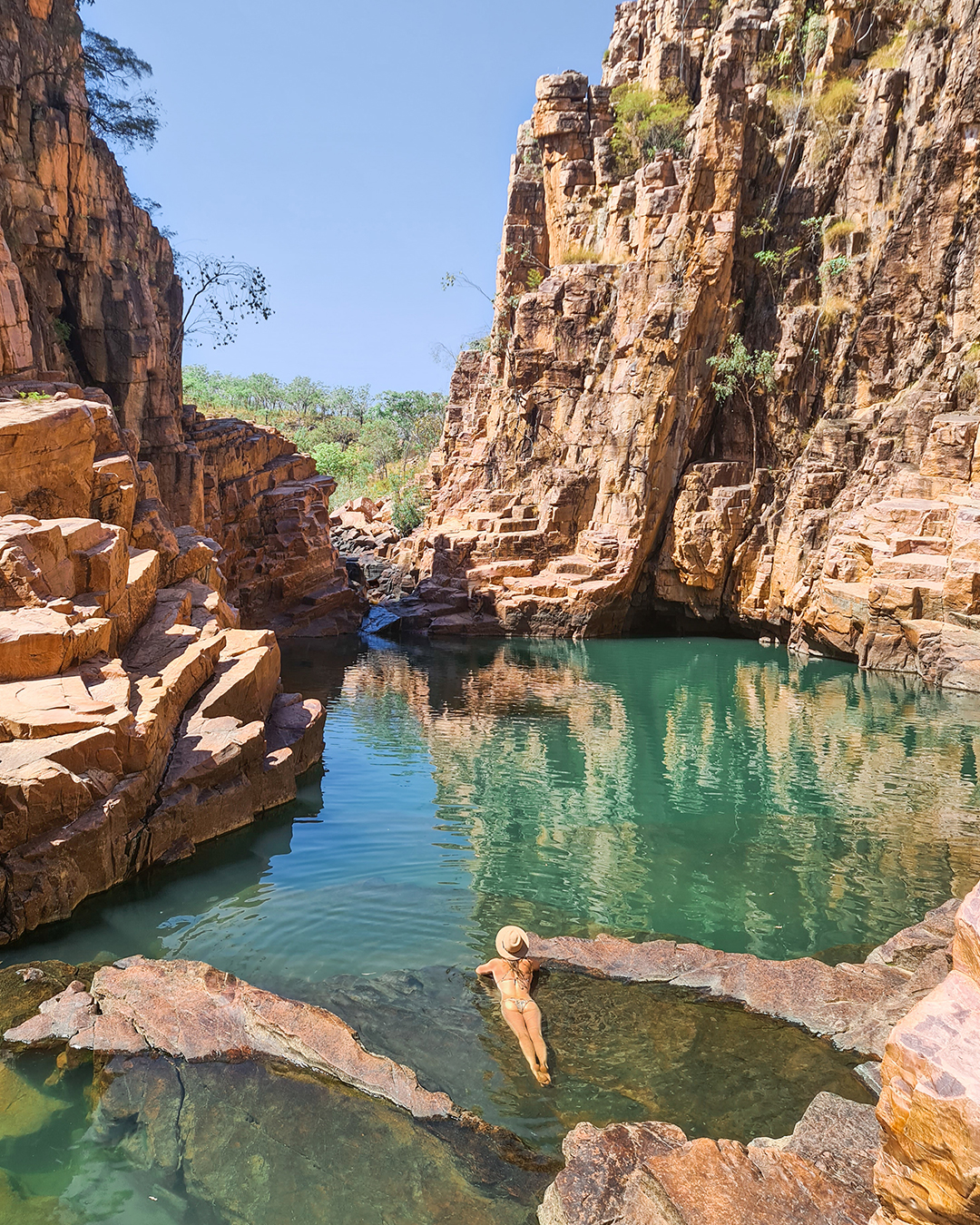 Cedar Creek Falls | Queensland
Nestled in South-East Queensland's gorgeous Tamborine National Park lies the rock pools of Cedar Creek Falls. To get there you'll have to do a 30-minute round walk inclusive of quite a few steps but trust us when we say it's worth it. Set in a natural rock amphitheatre, you'll enjoy a solid soaking from the waterfall before floating in the cool, clear waters of the rock pool with fish, turtles and maybe a few other humans. To really soak up the beautiful surrounds, check into nearby Witches Falls Cottages.
Turpins Falls | Victoria
Giving the beach a run for its money, this summer Victorians should make tracks to Turpins Falls in Langley. Tucked away along the Campaspe River the swimming hole is the result of a naturally formed basalt column cathedral creating a huge billabong for locals and travellers to enjoy—seriously it's bigger than an Olympic swimming pool. Set yourself up at the uber cute Harpsichord House and thank us later.
Zoe Falls | Queensland
The World Heritage-listed Hinchinbrook Island is absolutely breathtaking and a trip that needs to be on your bucket list. This stunning patch of far north Queensland only allows 40 people on the island at a time so you'll need to do some prep for this swimming trip. Our tip: set up camp at South Zoe Bay and Banksia Bay sites and walk around 600metres to Zoe Falls for a dip in it's crisp, fresh running waters. The blue-green natural pool is one of the best—and most secluded—in Australia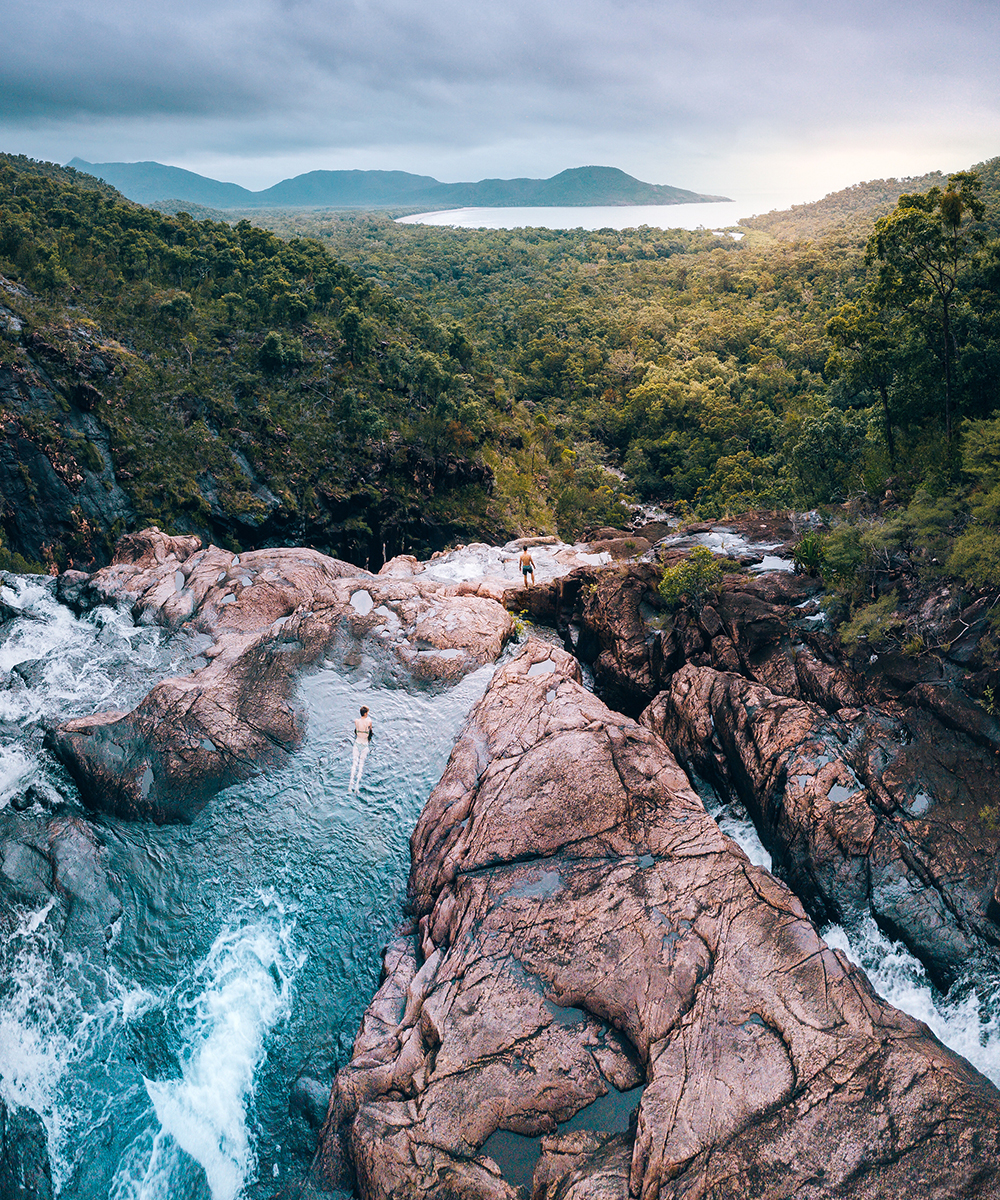 Zebedee Springs | Western Australia
Found in the one-million-acre wilderness of El Questro in WA, Zebedee Springs is the epitome of a natural wonder. Think clusters of pandanus palms around thermal pools and waterfalls that will melt away any aches, pains or stresses the second you dip your toe in. The springs are accessible by a two-kilometre walk from the nearest car park so it's a nice and easy visit for anyone. Nearby Emma Gorge Resort at El Questro is the best spot to base yourself during your trip.
Dalhousie Springs | South Australia
Jump in a 4WD, head to Witjira National Park on the edge of the Simpson Desert and lap up the outback oasis that is Dalhousie Springs. Being a natural spring the temps can get a little warm—up to 43 degrees—so you might want to plan an early morning or afternoon dip. Post swim, check into the BIG4 Stuart Range Outback Resort which sits on the western edge of the Simpson Desert amid endless sand dunes and stark gibber plains.
Next up, start planning your next road trip with the best summer adventures right here.
Image Credit: Tourism NT/All About Adventure, Tourism NT/Lucy Ewing, Tourism and Events Queensland, Tourism NT/All About Adventure, Tourism Western Australia
Editor's note: Urban List editors independently select and write about stuff we love and think you'll like too. Urban List has affiliate partnerships, so we get revenue from your purchases.