With the festive break fast approaching, there's no better time to start planning your next Aussie adventure. And what better way to check out its natural beauty than by road?
Get some red dirt on your tyres and some bugs on your windscreen, sing-along to sweet tunes and let beautiful landscapes unfurl in front of you.
Here are some crackin' Australian summer road trips that are all about the journey and not the destination.
The Best Summer Road Trips In NSW
Alpine Way
Mountains upon mountains upon mountains. Yep, the Alpine Way is beauty incarnated and it will set you up to witness picturesque valleys plus there is a heap of walking trails, fishing stops and even mountain biking areas for you to take advantage of. This drive joins Jindabyne in the southern region of Kosciuszko National Park and takes you through the forests of the Snowy Mountains region. At the end of your trip, rest your head and lap up the stars at Mitchell Townhouse in Jindabyne.
Moss Vale Road
This road trip is an oldie but a goodie. Put this one in your GPS for when you're strapped for time, but you're seriously craving a little road trip. Moss Vale Road will see you winding your way through the Southern Highlands' rainforests and valleys. This road trip will no doubt be studded with a number of hairpin turns but you'll bypass Nowra, Bowral, Fitzroy Falls and, of course, Kangaroo Valley. If you've got more time, why not make a day of it and take the long way around—down through the Royal National Park and out to the coast to Stanwell Tops, and across the iconic Seacliff Bridge, before turning back in and up towards Moss Vale (and Yarrunga House has you covered for the night).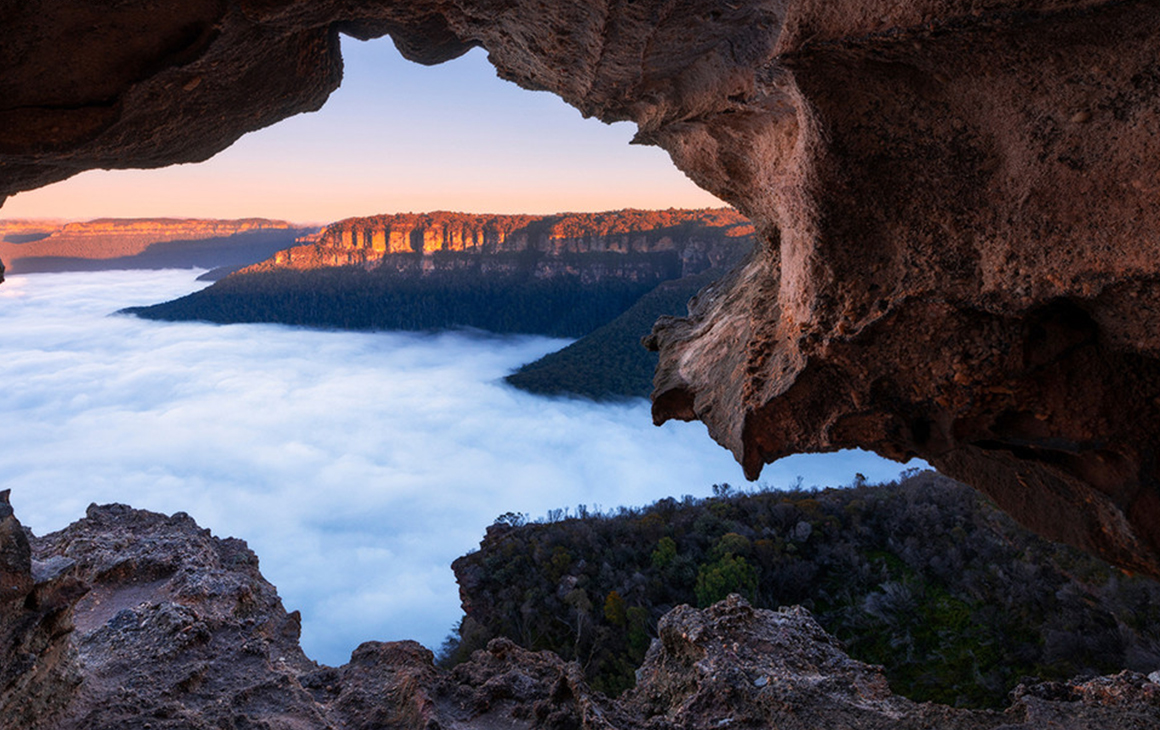 Greater Blue Mountains Drive
This loop around the World Heritage-Listed area kicks off from Sydney then ticks off Leura, Katoomba, Blackheath, Hartley Vale, Mount Tomah, Kurrajong before hitting back to Sydney. As the pinnacle of summer adventures, you'll get to do everything from scoping waterfalls, exploring local heritage buildings and antique stores and treating your eyes to mega lookouts. Our favourite place to stay here is this pet-friendly mountain cottage in Blackheath.
The Best Summer Road Trips In Victoria
Great Ocean Road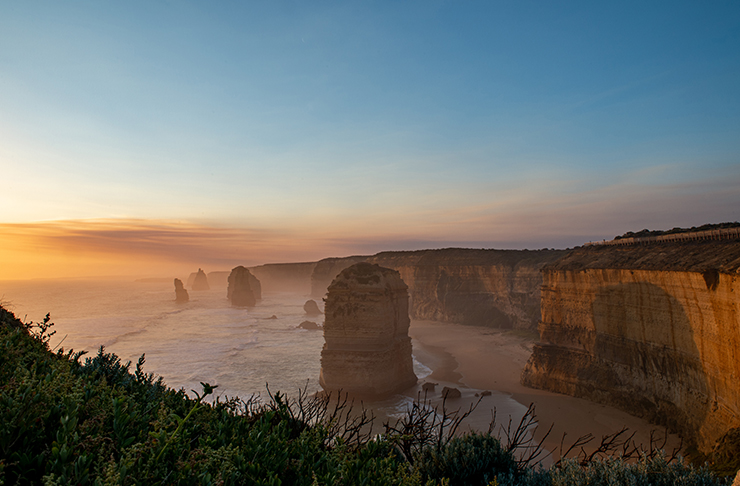 Running along one of Australia's most stunning coastlines, a drive along the Great Ocean Road is three days of road-trip porn. Stop at Great Otway National Park to spot wildlife from the Treetop Walk—or watch it fly by as you zipline your way through the treetops. Get snap-happy at the iconic Twelve Apostles, spot dolphins, top up your energy levels at the Chocolaterie and Ice Creamery, grab a bevvy at the Great Ocean Road Brewhouse and finish it all up at the charming coastal town of Port Fairy. For your overnight pitstop, check out this five bedroom home close to the beach.
Dandenong Ranges
Often described as the 'green lungs' of Melbourne, this stunning road trip in Victoria is an absolute must every summer. While you're driving through these ancient forests, make sure you cross off the villages of Olinda and Sassafras and if you've got time—the Puffing Billy Railway is an iconic way of sailing through Belgrave to Gembrook. Around that, you'll want to lock your eyes on the towering mount, fern gullies and farm gates. Wild Orchid Olinda in the Dandenong Ranges should absolutely be your go-to if you're keen to split this epic road trip into two days.
Best Summer Road Trips Queensland
Adventure Way
Leave the coast, and the bright lights of the city behind as you head deep into the heart of Queensland for an old-school outback adventure that turns it up every summer. As you retrace the path of the old Cobb & Co coach trips, there's plenty of nature and history to explore. Walk amongst the towering trees in the electric green Bunya Mountains, cast your line in at St. George and reflect at the historically significant Burke and Wills Dig Tree. After your drive, rest your head at The Bunyas.
The Best Summer Road Trips Western Australia
The Great South West Edge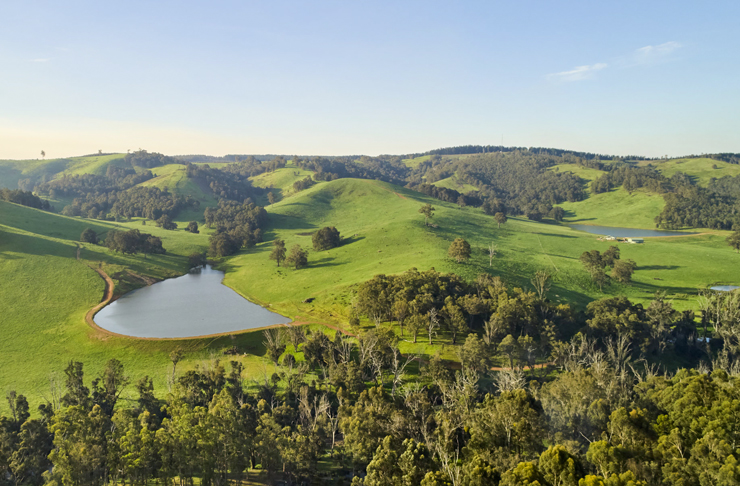 Drive from Perth to Esperance along the west coast and watch as stunning rivers, towering Karri forests, mountains, beaches and vineyards whiz past your window. Start in Perth and stop by the creepy/amazing Gnomesville in Ferguson Valley, spot dolphins and whales before heading through Margaret River wine country, explore the dramatic ocean cliffs of Albany, take a treetop walk in the Valley of the Giants and do your best Ace Ventura impression amongst the fauna of Donnelly River before landing on the rugged coastline of Esperance. This road trip is the tits and if you're going to stay overnight at the very end of this drive, we recommend Jasmine House in Pink Lake.
Margaret River
A trip to Margaret River is all about loading up on red wine (unashamedly), loading up on cheese and warming your soul around a campfire. The region calls for endless vineyards (so staying overnight somewhere would be optimal for all the wine) and breweries so keep your eyes out for Eagle Bay Brewing Co, Rustico and the Brewhouse Margaret River. Should you stop over anywhere, make sure you stay at the luxe Ogana B.
The Best Summer Road Trips Tasmania
Queenstown To Cradle Mountain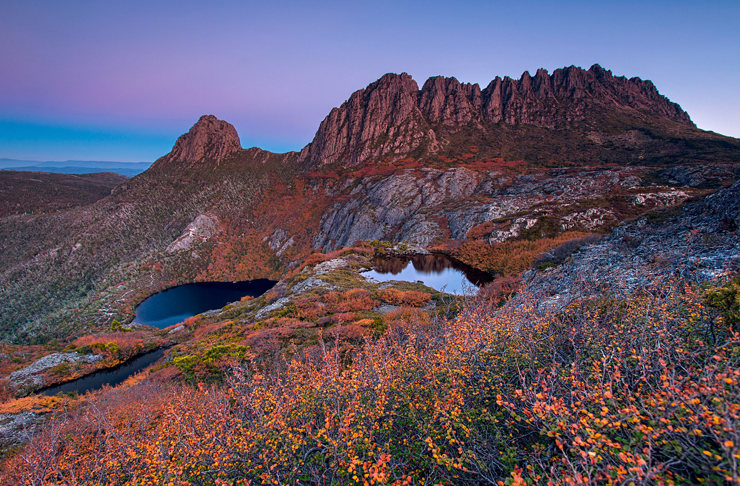 This one hour drive gets you right into the heart of nature with mammoth mountain ranges, rivers and a whole lot of wilderness to explore. While there's no actual town to visit at Cradle Mountain, you can continue your drive into the World Heritage Wilderness Area to witness rolling grasslands, ancient plants, the famous King Billy pines and hey, if you really want to level your overnight pitstop, check out Lemonthyme Wilderness Retreat.
Tamar River
Following the picturesque Tamar River from Launceston to Bass Strait, this road trip takes you straight through the heart of wine country—passing spectacular forests, orchards and farmland along the way. With more than 30 wineries nearby, you won't have trouble figuring out where your next food or wine break is coming from—so Rock, Paper, Scissors that shizz and get yourself a skipper for the day. Take in the views at Mount George Lookout, link in with the North East Arts Trail, have a dip at Lagoon Bay and go penguin spotting in the evening at Low Head Coastal Reserve. As for where you're going to stay—look no further than these stunning apartments.
The Best Summer Road Trips In South Australia
Barossa Scenic Heritage Drive
This itty bitty road trip packs a punch, much like a full-bodied Shiraz (mmmm). Cruise through quaint little towns and linger at the tasting counter and in the gardens of some of Australia's best wineries. Take in the view from Menglers Hill and pay homage to the conserve queen at Maggie Beer's Farm Shop. Treat yourself to max cosy vibes and stay for a night in these glorious chalets.
Next up, check out these pet-friendly camping sites.
Image credit: Destination NSW, Destination NSW, Visit Victoria, Tourism Queensland, The South West Edge, Tasmania Parks And Wildlife Service
Editor's note: Urban List editors independently select and write about stuff we love and think you'll like too. Urban List has affiliate partnerships, so we get revenue from your purchases.