Sure, the idea of pitching a tent and foraging for firewood to cook your own dinner as you reconnect with nature sounds great in theory, but to be honest camping's one helluva tough gig. There's the sweltering 40-degree heat, blowing up your air mattress to the point of exhaustion, going days without a proper shower and waking up swollen from a mosquito's overnight feast. The realities of it all are enough to have you trading your swaggie for a hotel room in no time at all, and we almost wouldn't blame you.
That was until glamping entered the holiday planning picture. Equal parts glam and camping, the modern-day variation bridges the hotel room-tent similarity gap with its best-of-both-worlds charm featuring a ridic proximity to nature minus the sacrifice of your favourite creature comforts i.e. actual beds. Enough of the DYO (Digging Your Own) dunny, and the PYO (Pitching Your Own) Tent. Why put yourself through the hassle, when it can already be done for you? And with that, here's where to go glamping around Brisbane in South East Queensland.
The Hideaway
CABARITA BEACH
At The Hideaway, boho canvas tents are scattered around to create a gorgeous village, just moments away from some of Queensland's best beach. You can sleep in stunning bell tents complete with plush beds, featuring pillowy soft Koala mattresses, floor rugs, bedside tables and lamps, charging sockets and tripod fans for those hot summer nights. The luxury versions even have their own air-conditioning unit, bar fridge, king-sized bed and lounge chair—it's practically a hotel room. As well as the stunning tents, the compact resort features shipping containers upcycled to create a chill out zone, communal kitchen and cooking area, complete with BBQs and inviting picnic tables, designed with mingling in mind. Basically, a stay here will ruin your reality of everyday camping for life.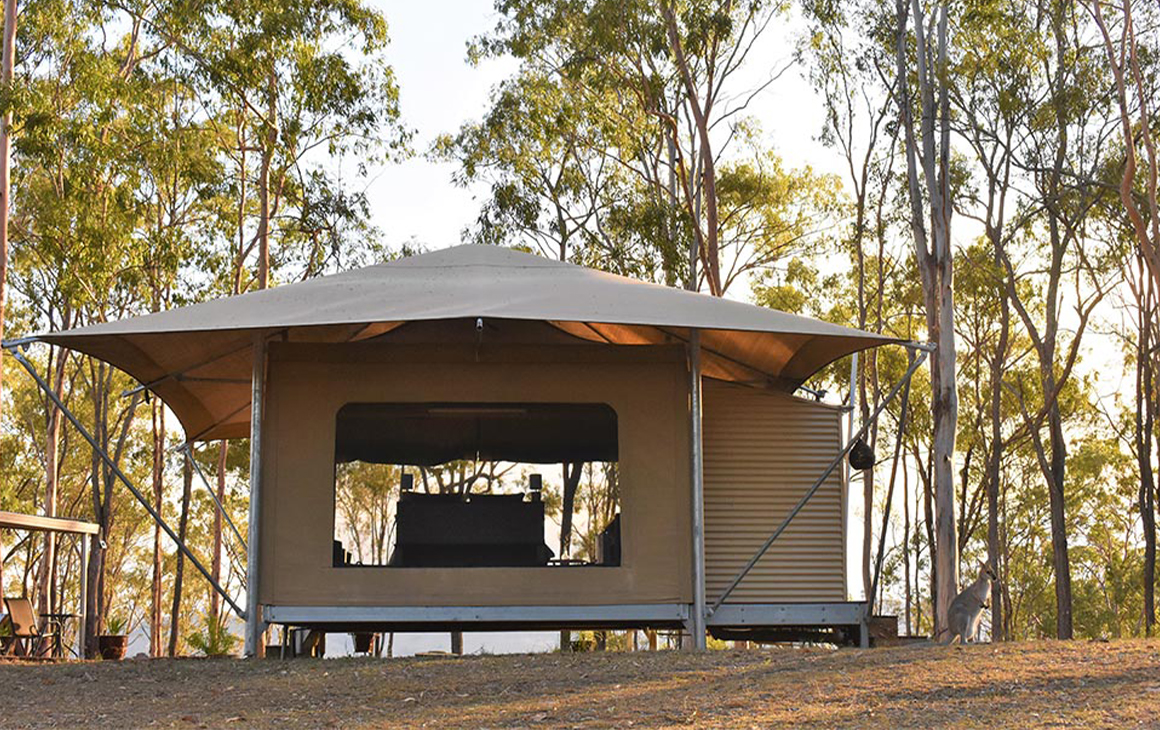 Ketchup's Bank Glamping
Boonah
Ketchup's Bank Glamping is the Scenic Rim's best kept secret—and it's barely over an hour from the centre of Brisbane. One of just two fully kitted out luxury eco tents awaits you, complete with a plush bed, en suite bathroom, fridge, gas BBQ, fire pit and everything else you could possibly need for a luxe weekend stay. Heck, there's even a hammock and a yoga mat. You'll be given goodies for an epic BBQ dinner, marshmallows and toasting prongs (no twigs here) for roasting on the fire and a tasty breakfast basket, plus feed for the local wallabies. We could go on and on—but we'll let you discover the rest for yourself. Ok, one more treat—there's a CAMPFIRE JAFFLE MAKER. Now we're done.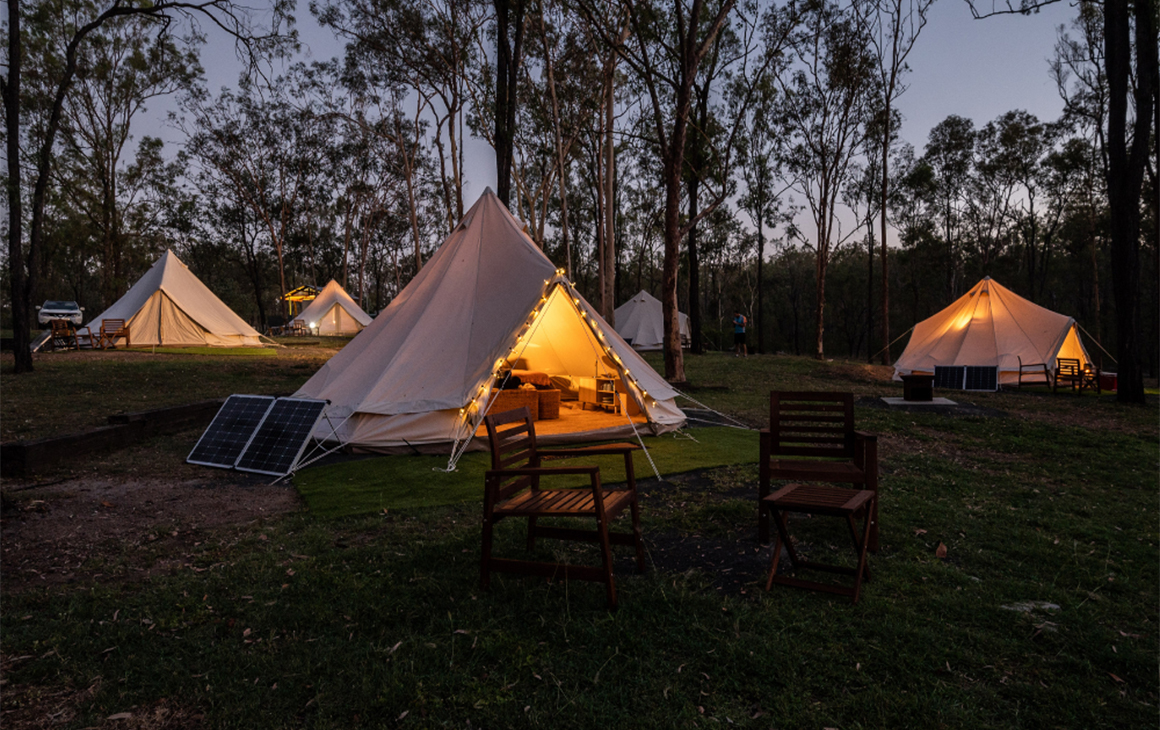 Pure Glamping
Lake Wivenhoe
If you never thought you'd be marrying bliss and caravan park in the same sentence, you'd be right. Up until now, that is. Just a 1.5-hour drive south west of the big smoke you'll stumble across Lake Wivenhoe caravan park, and its latest addition–Pure Glamping. Perfectly nestled on the shores of the lake, you'll fall in total love with the luxe bell tents boasting every hotel luxury. Think an opulent queen bed, high thread-count sheets, and an impeccably decorated space. You'll be pleased to know your climate needs are catered for, with fans to cool you down in the summer, and an indoor wood fire you can snuggle up to on those chilly winter eves. Ahh, bliss.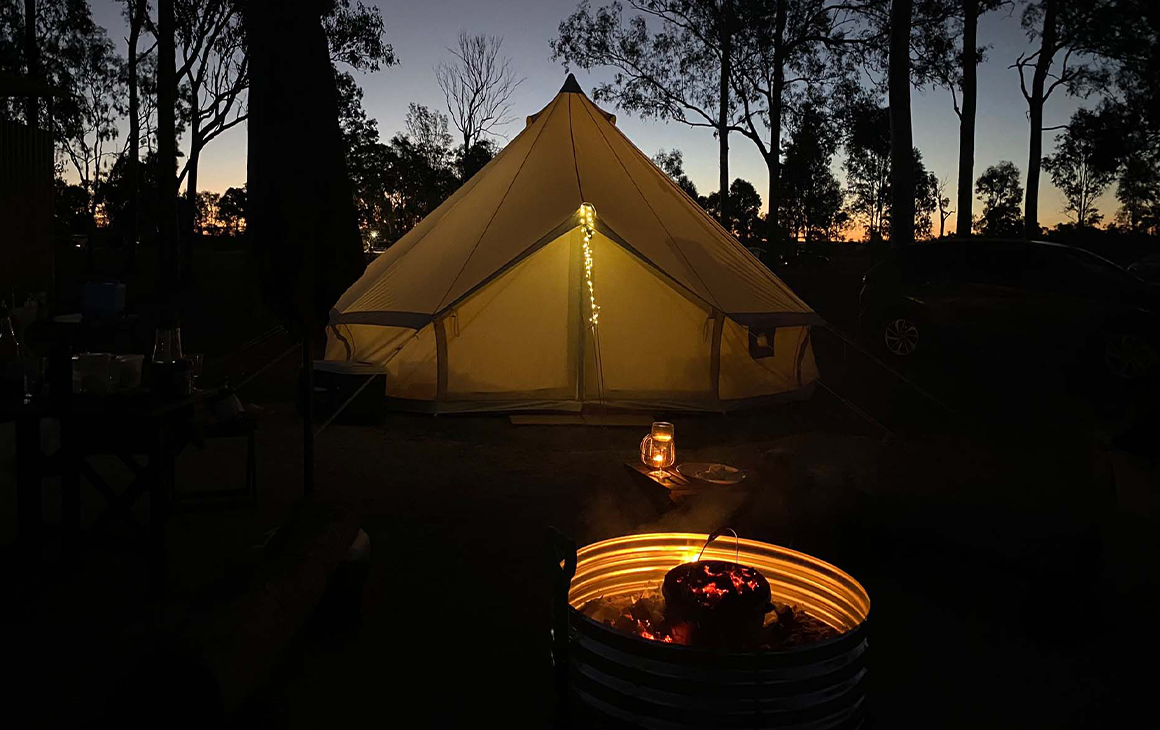 Keira Farm
Scenic Rim
If you've always wanted to get a taste of the farm life without any of the hard work, then Keira Farm might just fulfil your dreams. You'll feel like you're completely off-grid when you enter the grounds of this 500-acre working cattle farm, yet in reality, you'll only be a short 45-minute drive west of Brisbane. If bird-watching is your thing, you'll be in paradise, as the family-run farm attracts native birds like black swans and magpie geese, as well as being home to native wildlife and farm animals, obviously. When it comes to accommodation, glampers will be at home in The Lodge—somewhat of an ode to the modern farmer's cottage, well, tent, with a comfy queen bed, lux linens and plush towels. Furnishings also extend the comfy theme, with armchairs to curl up in, and floor rugs to keep those toes nice and toasty.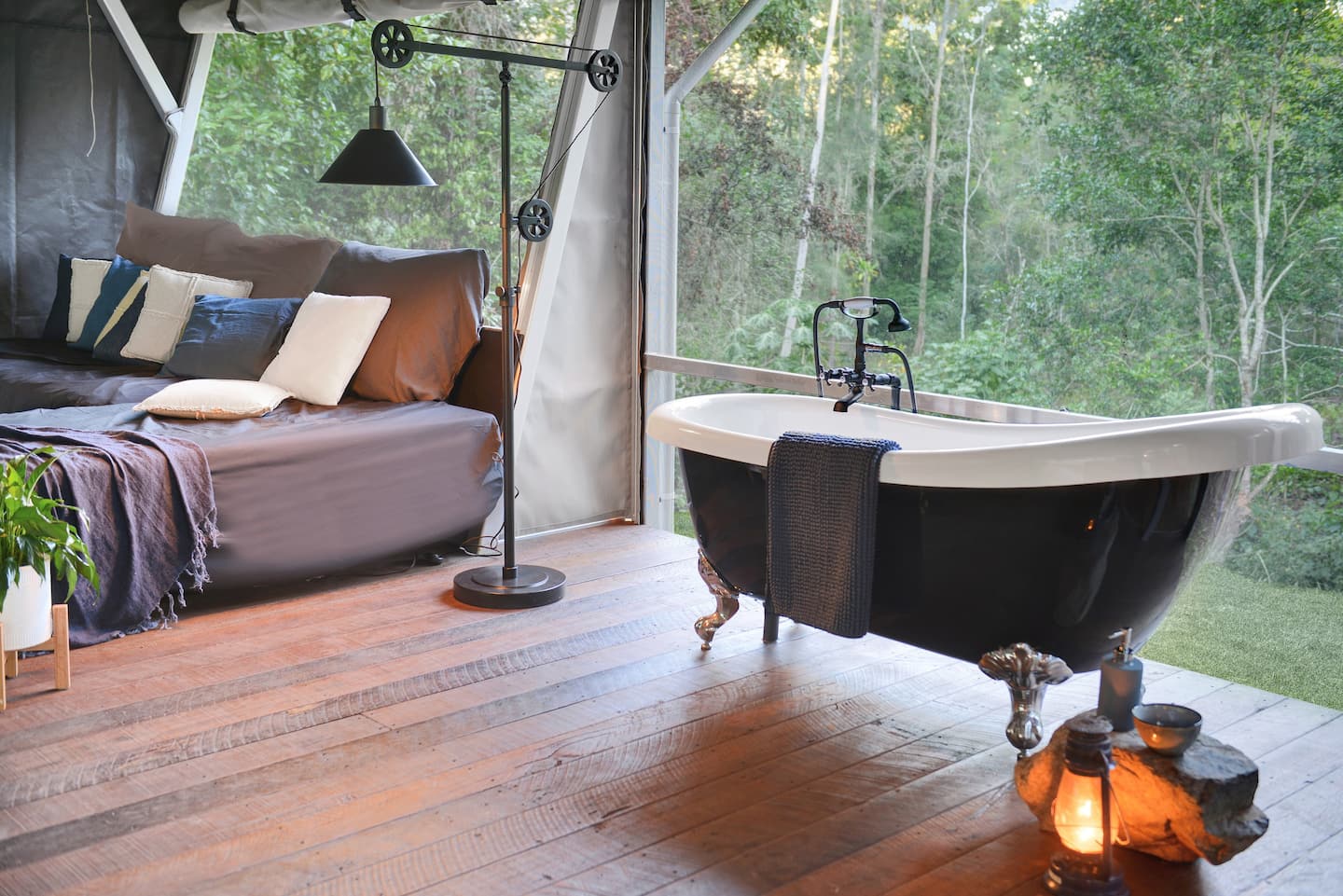 Starry Nights Luxury Camping
West Woombye
If you're to get away from it all without actually going too far from civilization, Starry Nights in West Woombye is for you. Perched in and amongst the hinterland of the Sunshine Coast you'll have complete privacy in the midst of a tranquil forest. Take a bath, lie in the large king-sized bed or laze around on the couch next to the food fire as you take in the peaceful serenity of Woombye. Being just 10 minutes from Montville and 20 from Mooloolaba Beach, it's the perfect place to unwind and relax while still being close to everything else you want in a weekend break.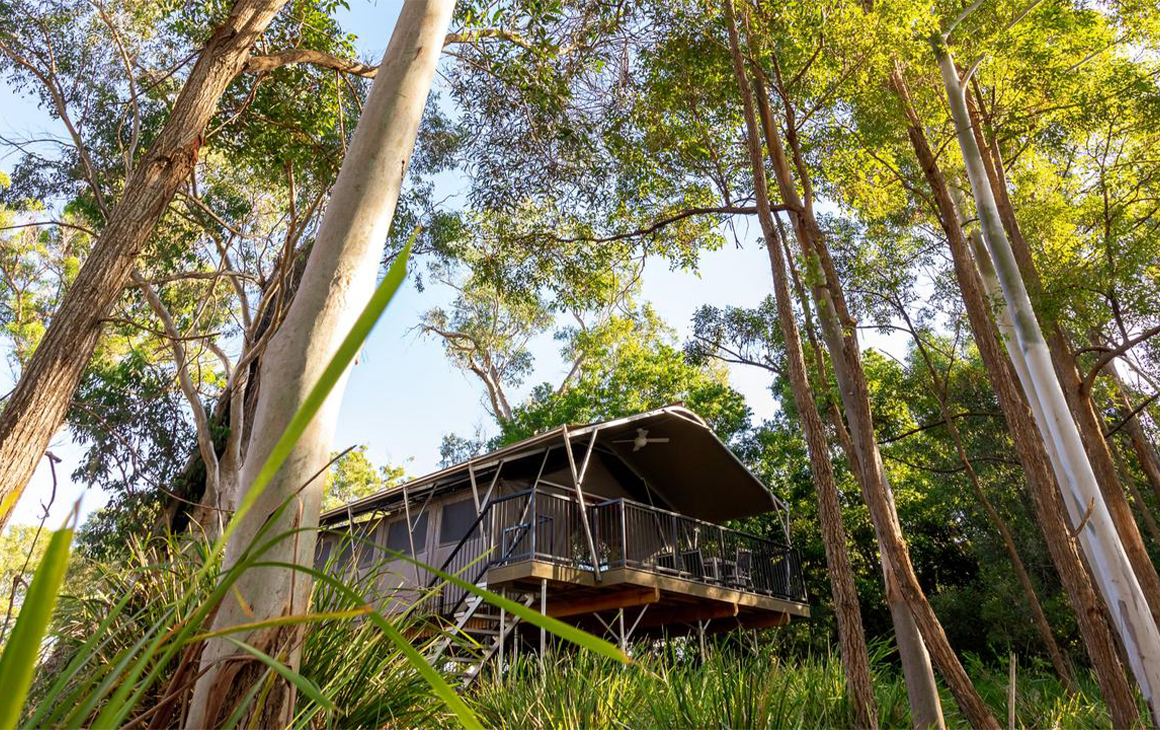 Sanctuary by Sirromet
Mt Cotton
A glamping ground is the latest feather in Sirromet Winery's plumage, consisting of 18 safari-style tents pitched on the hillside and kitted out with all mod cons including hairdryers and wifi. Because you haven't had it all until you've gone bush and brought the modern world with you. The tents are pitched amongst paperbark trees and scribble gums, putting glampers right in the thick of nature and the company of local wildlife. Each tent boasts king-sized beds, air conditioning, and en suite bathrooms as well as a balcony for guests to watch the sunset. During their stay, guests have access to all three of Sirromet's on-site dining venues, as well as all the drop they can drink.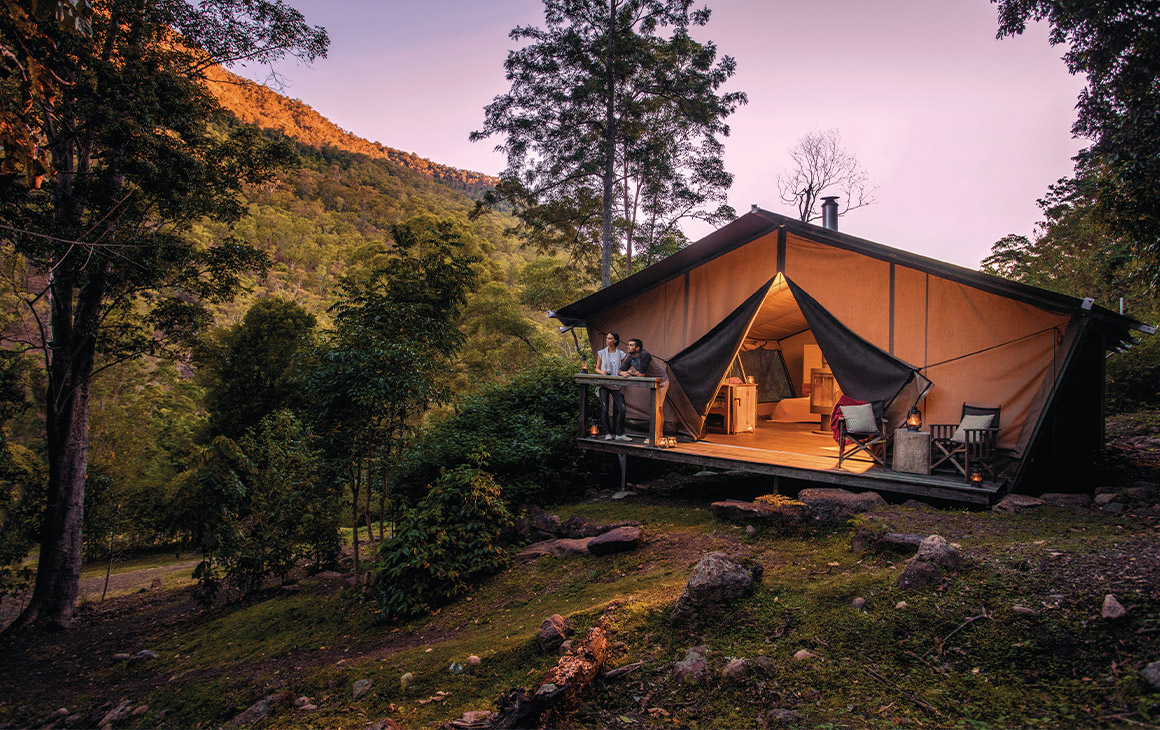 Nightfall
LAMINGTON NATIONAL PARK
Nightfall Wilderness Camp has nailed glamping with the perfect combination of secluded wilderness and wholesome luxuries. In summer, you can open your canvas walls (don't worry, there's still mesh for the bugs) to relish in the surrounding rainforests. While in winter you can keep it intimately closed, spending your eves relaxing in the free-standing bath or curling up around the fireplace. Pretty awesome, right? Next there's the finer details of each tent… elements like hand-carved stone basins, smooth wire-brushed timber floors, and lush organic bedding. If you want to go next-level luxury glamping, you can even opt for complete organic catering which basically means more time to enjoy the private natural spa-pools, lazy hammocks, explorations into the tangled forest, or—wait for it—an outdoor massage by the creek. Pure bliss.

Adder Rock Camping Ground
North Stradbroke Island
Straddie understands your need for mod-cons and a touch of luxe (even when you're trying out island life for size), so you can now glamp on Queensland's North Stradbroke Island. Adder Rock Camping Ground are the legends who've set up a glamping quarter, complete with teepee-esque tents and potted plants. There are 10 glamping tents in total all nestled amongst a gorgeous tea tree grove, consisting of fully made-up beds (either twin or double), a bamboo table and deck chairs—even wi-fi—and all the perks of luxury—without the price tag. Oh and don't forget you can always step outside your front door to enjoy the calming splash of the ocean during the day and all the stars you forgot existed at night-time. Sound like the best night's sleep ever, right? We think so.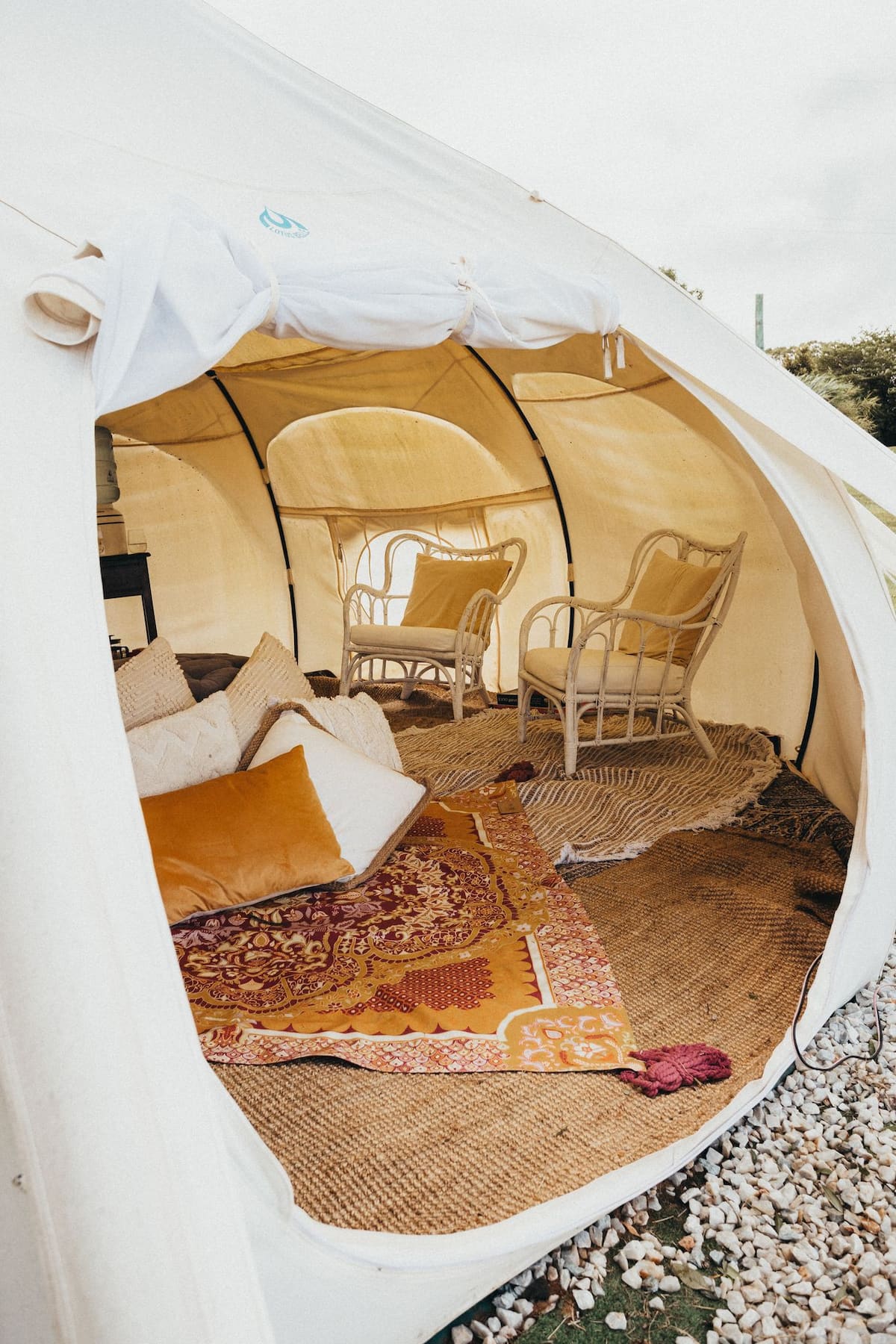 Oceanview Farm Stay
Tweed Heads
If you thought that you needed five-star extravagance to get a million-dollar view, you'd only be partly wrong. You can get the ocean views of your dreams from this perfect farm stay campsite. When we say campsite, we know what you're thinking, but this farm stay in the QLD/NSW border range is more than your typical campground. Spend the weekend in a luxury dome tent fit with all of the trimmings. We're talking double bed, couches, hot shower and a full kitchen—what more could you need¿ If that's just not quite enough, the tents are located just fifteen minutes from Coolangatta so if the isolation is getting to you, you can pop down for a shop or to grab a bite.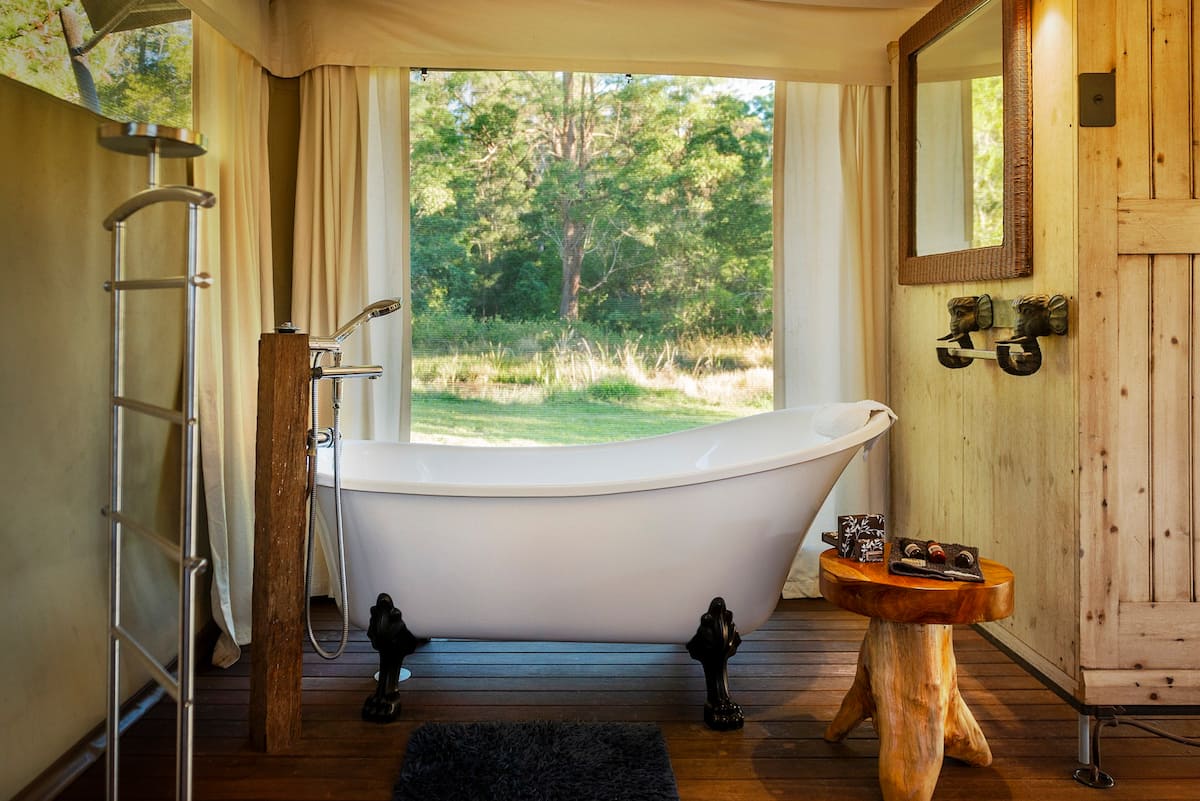 Kanimbia Luxury Glamping
Sunshine Coast Hinterland
Looking for luxury? Look no further than Kanimbia Luxury Glamping. This idyllic campsite has everything that you can expect from your favourite getaway spots and dare we say, even more. Located on a fifty-acre homestead in the Sunshine Coast hinterlands, the tents are the perfect place for a much-needed getaway. The massive tents sleep two guests in a queen size bed, and you can take a soak in the claw-foot bath while admiring the scenery that the area has to offer. If you're not sold yet, the tent also comes with a fireplace to keep warm after you spend the day exploring the Harry Potter Forest and the creek on the property.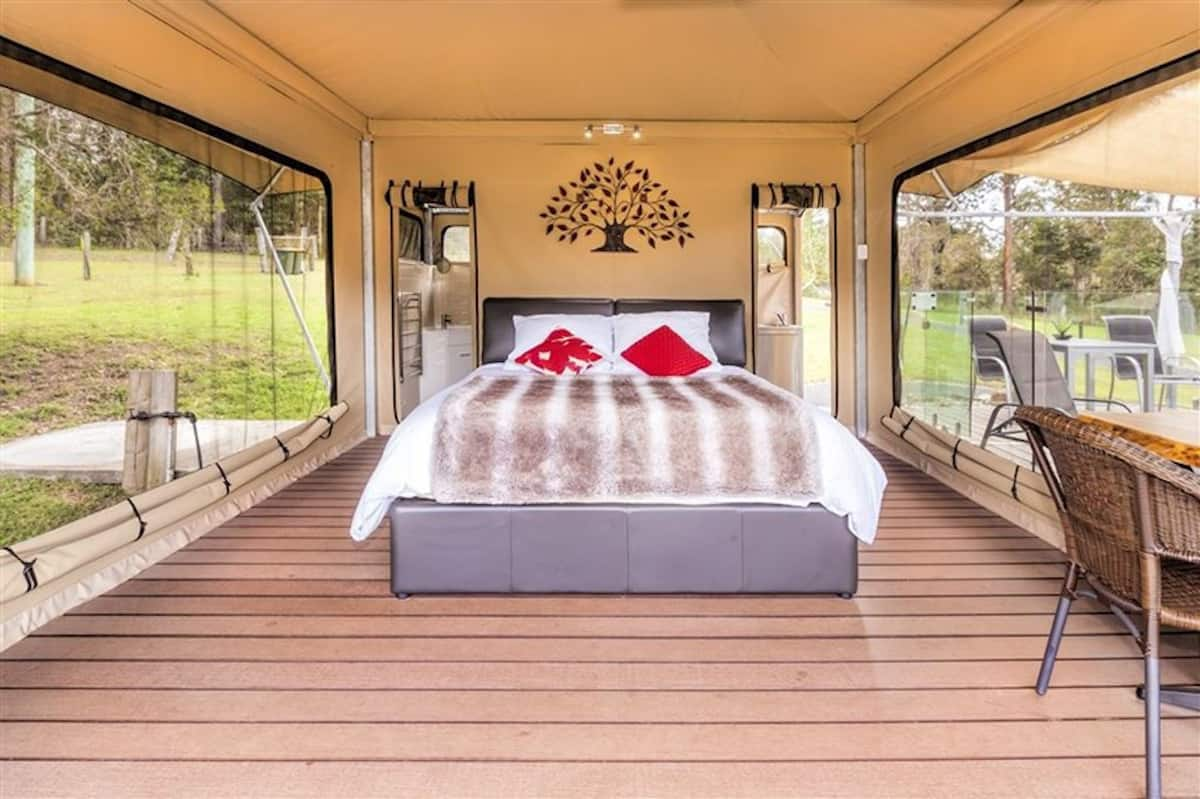 Tuckers Retreat Eco Luxury Glamping
Scenic Rim
Tuckers Retreat is the perfect spot to spend a weekend enjoying nature without having to slum it. Nestled in the Scenic Rim you can enjoy the tranquillity of nature with all the necessities (and much more). From the King Sized bed you'll have views of the surrounding rainforest before making your way for a soak in the outdoor hot tub. Tents of course are equipped with full kitchen and bathroom facilities and they even have a TV if you're wanting to just lounge out and relax.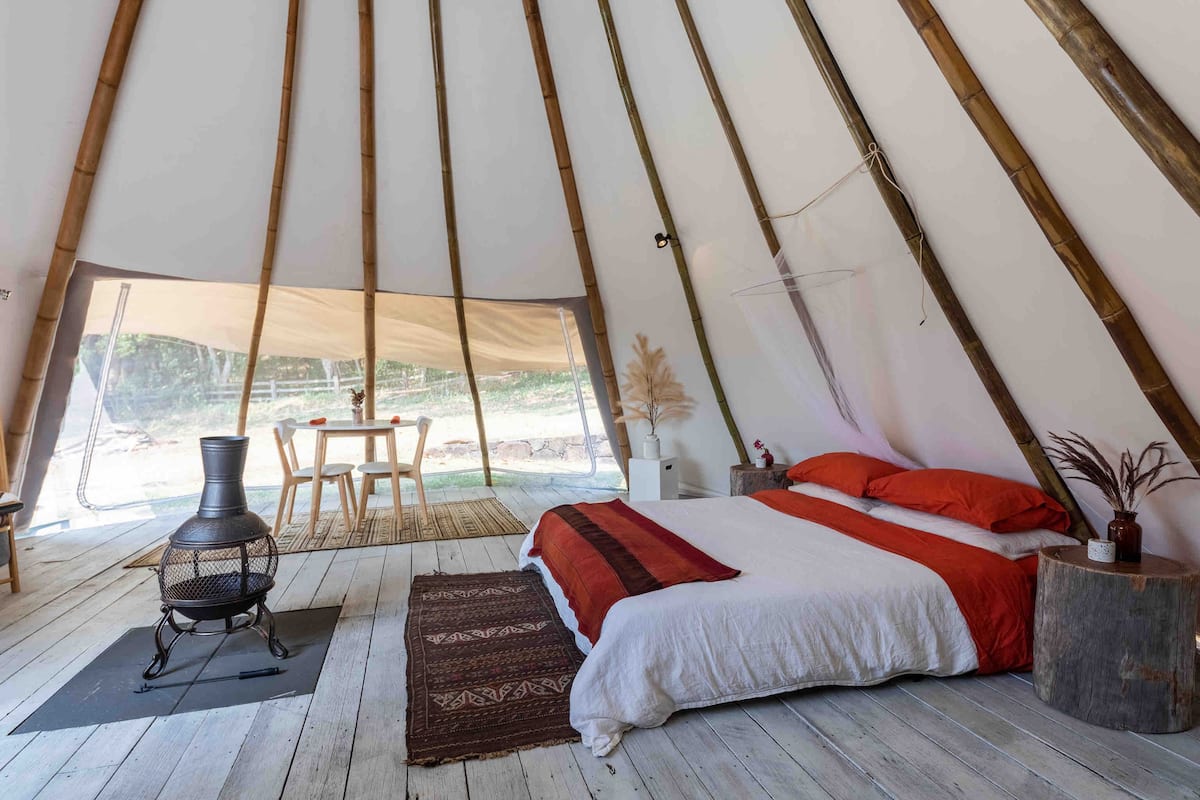 Brunswick Sioux Tipi
Byron Bay
Just fifteen minutes from Byron Bay is the serene five-acre property that is more than adequate for a quick escape. At the Brunswick Sioux Tipi's you'll find the rustic tipi settled on the acreage minutes from Brunswick Heads. The tipi comes fitted with a large plush bed, a kitchen and a fully equipped bathroom so while you may be camping, you won't be without anything. A fireplace is set up in the middle of the tipi to keep it cozy and there is also an outdoor firepit if you want to perfect your s'more making abilities. Brunswick Sioux Tipi's real catch however is that the property is run on solar power, so you'll be able to enjoy the weekend while keeping your carbon footprint low.
Glamping at the Castle
Somerset
Aptly named, Glamping at the Castle, this glamping dome tent has recently opened on the lush property of the Castle Retreat just minutes out of the town of Fernvale. Equipped with a large king-sized bed, Glamping at the Castle makes the perfect weekend spot to escape from the city and spend some time undergoing some much-needed relaxation. Local birds, swans and donkeys overrun the property, bringing you even closer to nature, but it is also surrounded by many country towns if you need a small taste of civilization again.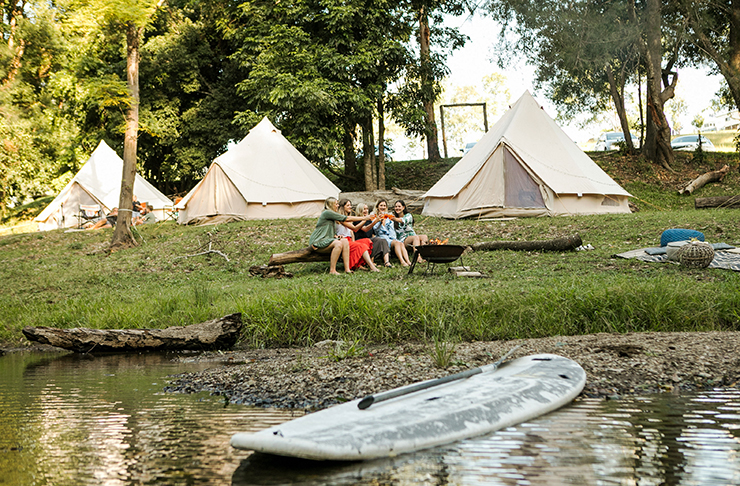 Habitat Noosa
Elanda Point
If it's absolute wilderness you're chasing, halt your search now because Elanda Point is the place for you. Located three hours from Brisbane and surrounded by 65 acres of natural bushland, don't be surprised when a mob of kangaroos rocks up for a morning cuppa Joe at your glampsite. Take a break in one of the modest Wilderness tents with shared restroom facilities, or hold out till April when the Paperbark tents are due to launch. Ensuite bathroom, private deck, continental breakfast—need we say more? Sometimes we all need a little temptation, by means of luxury, to enjoy the great outdoors, and when there's a complimentary shuttle to main-hub Noosa in the works, you know you gotta add Habitat to your weekender bucket list.
Rivershore Retreat
Diddillibah
Lock in a trip to Rivershore Retreat and you'll be livin' it up on the banks of the Maroochy River in a safari tent fit-out with a king-size bed, kitchenette, bathroom, and TV for all the #netflixandchill you can handle (when you need a break from nature, that is). Throw a few snags on the Weber Q of the outdoor deck that's sizably on par with the tent, just the way we like it. For all your onsite fun times take a dip in one of several pools, swing your way through the mini golf circuit or unleash your inner child on the giant 20m x 9m trampoline as you brace for the tsunami sized onslaught of childhood memories that'll come flooding in.
Really just prefer camping to Queensland's best glamping? We don't believe you, but here are the best places to do it in Queensland.
Image credit: Booking.com, Airbnb, supplied
Editor's note: Urban List editors independently select and write about stuff we love and think you'll like too. Urban List has affiliate partnerships, so we get revenue from your purchase.