After recently being named one of Lonely Planet's top 10 travel destinations for 2022, all eyes are on the Scenic Rim as we prepare for the upcoming summer holidays. Barely over an hour from Brisbane City, and even closer to the Gold Coast, this rich and fertile landscape is home to countless wineries, tranquil walking trails and foodie hot spots, making it the perfect place to cool off as the weather starts to warm up over Chrissy. The only question left is: where to stay?
Get those tabs open—it's time to do some serious bookmarking. These are our top picks for the best Scenic Rim accommodation.
Verandah House Country Estate
Tamborine Mountain
If the first word out of your lips when you see the incredible views visible from Verandah House Country Estate's hot tub isn't 'wow,' you need to get your eyes checked. This brand new boutique accommodation in Tamborine Mountain features just nine luxe suites, all designed with a country aesthetic in mind to match the wide open surrounds. Each suite has its own balcony or verandah where you can take in those views, as well as a fireplace, kitchenette, lounge area and ensuite. There's also a pool, outdoor fire pit, community kitchen and day spa on the property, and a continental breakfast spread is supplied each morning for you to eat wherever you please—we'll be taking ours back to bed.
The Granary
Biddaddaba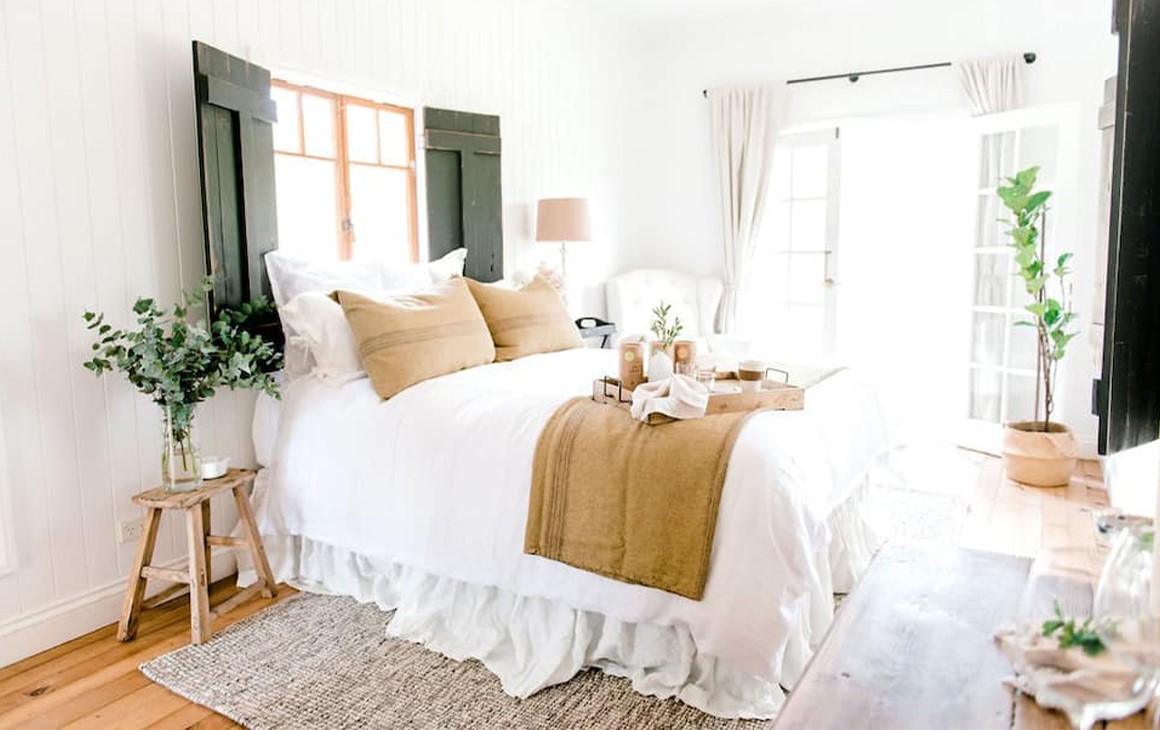 Nestled on a working olive grove in the foothills of Mount Tamborine, The Granary is our go-to Scenic Rim accommodation for the distinguished traveller. Premium French linens and plenty of natural light set the scene, drawing guests in for a taste of the luxe life. Out back, explore the bounds of the olive grove, being sure to say hello to the local highland cattle, sheep and chickens. We recommend donning the set of courtesy gumboots and traipsing down to the dam for an outdoor picnic by the waterfront.
Ketchup's Bank Glamping
Cannon Creek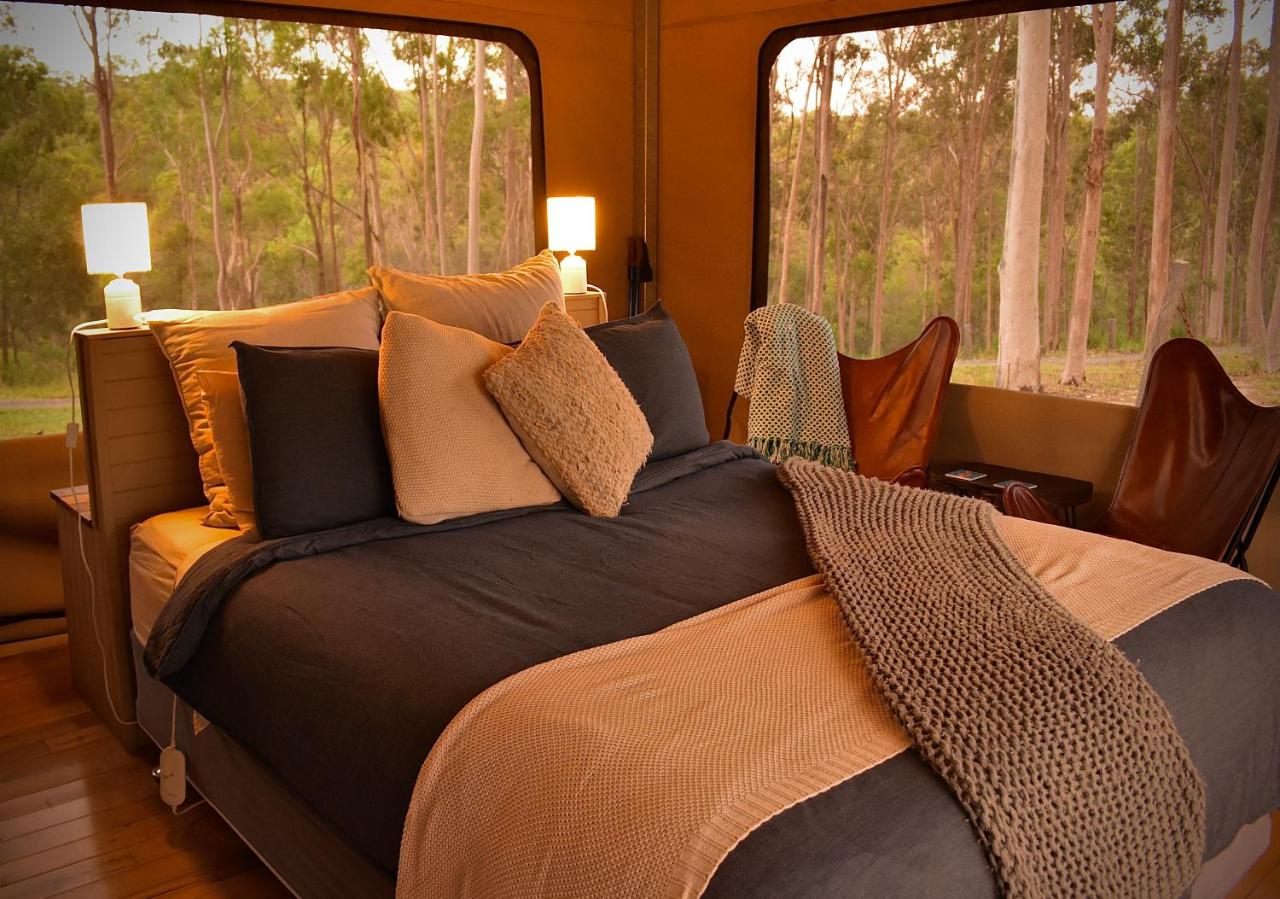 Topping our list is a luxe little number set amongst the bush of Cannon Creek. Ketchup's Bank Glamping is a glamorous retreat featuring just two eco tents complete with ensuite bathrooms, pillow top beds and, on request, delicious food hampers just waiting to be cooked up in your own camp kitchen. Better still, the glampsite is just 15 minutes from the Scenic Rim National Park, meaning there's plenty to see and do without straying too far from home base.
Canungra Cottages
Canungra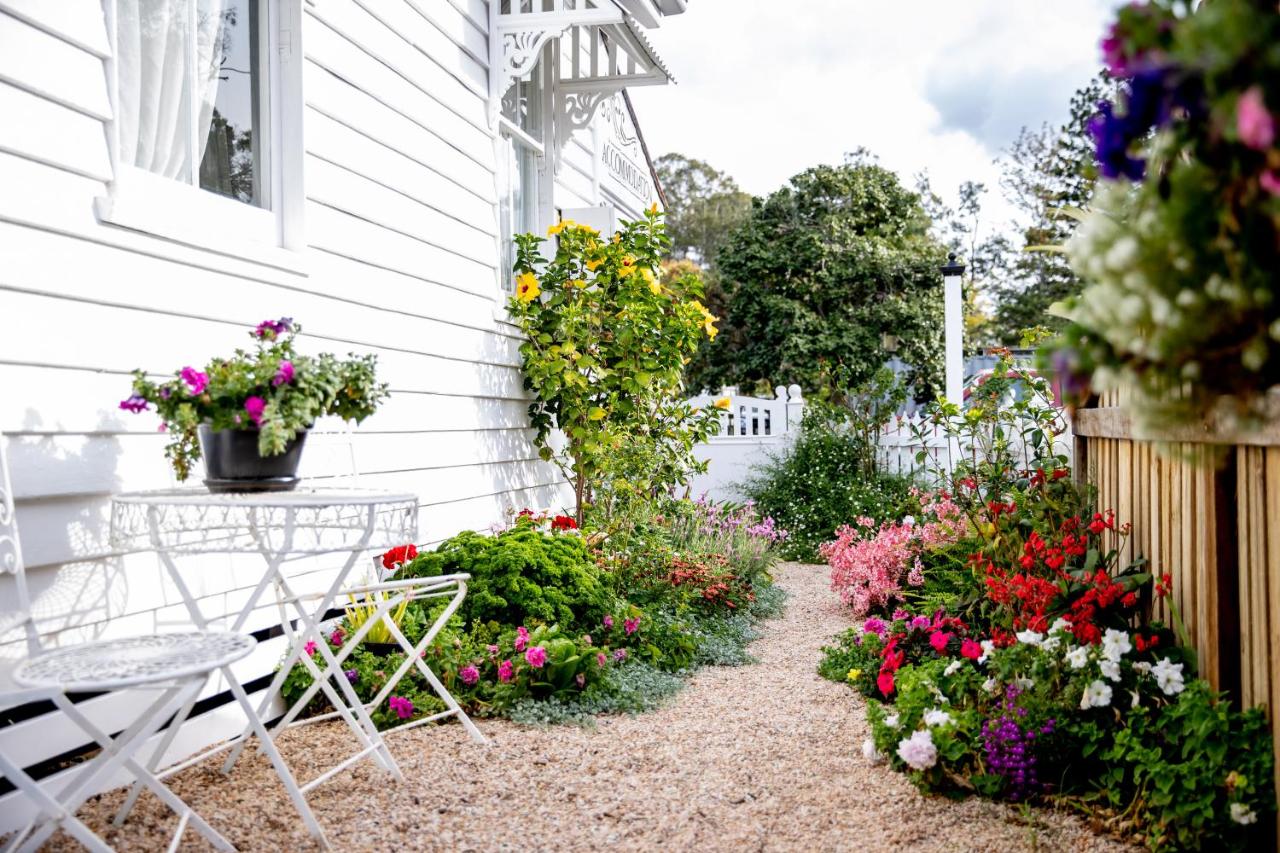 Any Bridgerton fans in the house? Canungra Cottages promises a trip back to simpler times, where promenades in the flower gardens led to late-night scandals revealed by none other than Lady Whistledown herself. A stay at the bed and breakfast will see guests take a dip in a claw foot bathtub, indulge in a daily continental spread, and sip afternoon tea out in the gardens. Book for two and enjoy a romantic trip you won't soon forget.
Beechmont Estate
Beechmont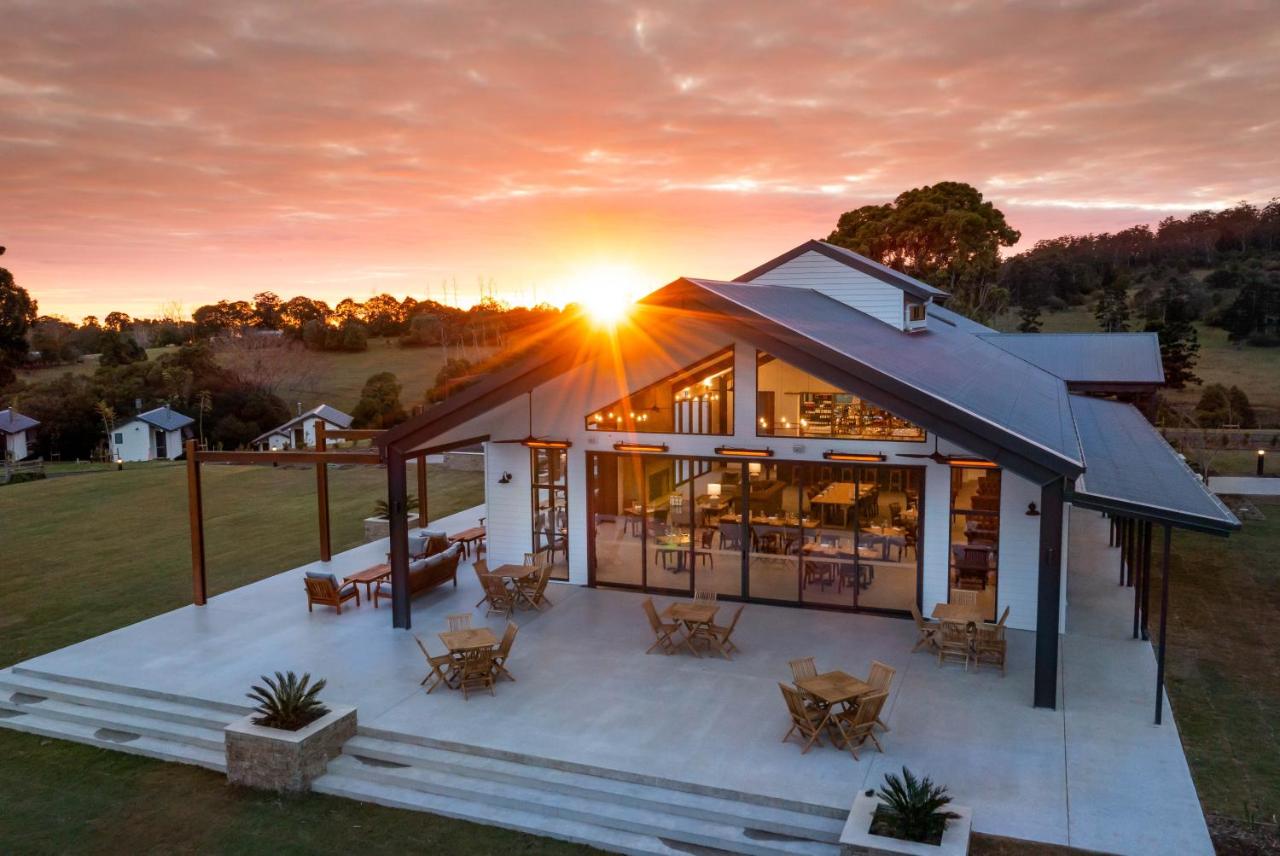 A sprawling estate nestled amongst the rolling hills of Beechmont, this adults-only accommodation is the stuff of fairytales. Wake up to the slow and gentle sunrise bathing the countryside in a warm yellow glow, before enjoying an à la carte breakfast featuring only the freshest local produce. From there, treat yourself to a walk amongst the grounds, or tackle a local hike and be rewarded with sweeping views of the surrounding mountain ranges. As if it wasn't clear already, let us lay it out for you—Beechmont Estate is an absolute must-stay.
Pethers Rainforest Retreat
Mount Tamborine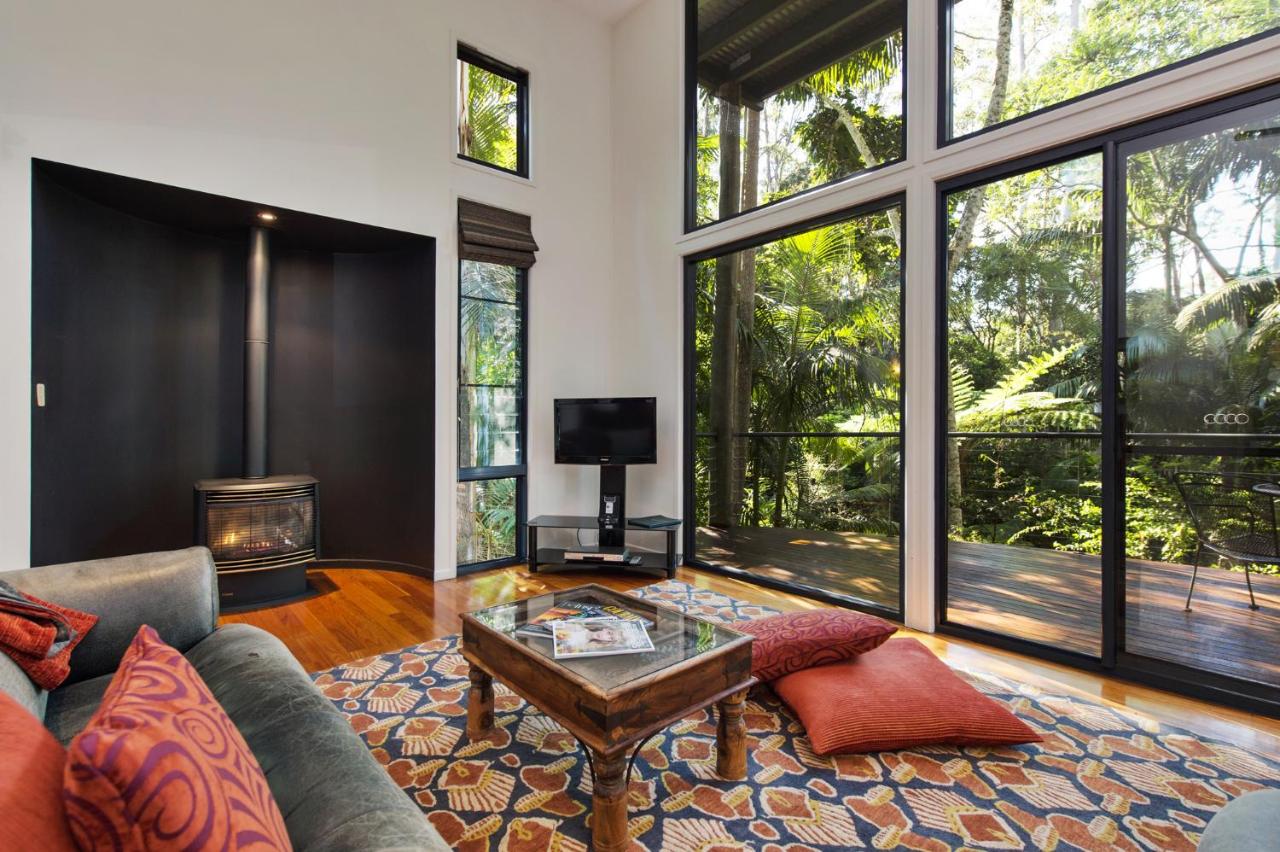 Trade in a night at O'Reilly's for a picturesque stay amongst the treetops at Pethers Rainforest Retreat. With floor to ceiling windows offering unobstructed views of the surrounding rainforest and its nightlife, the Scenic Rim accomodation promises an immersive vacay that will leave your worries at the door. After all, it's hard to focus on deadlines and emails when you wake up to the sound of birdsong, and wind down with a warm bath filled with bubbles and rose petals.
Witches Falls Cottages
Mount Tamborine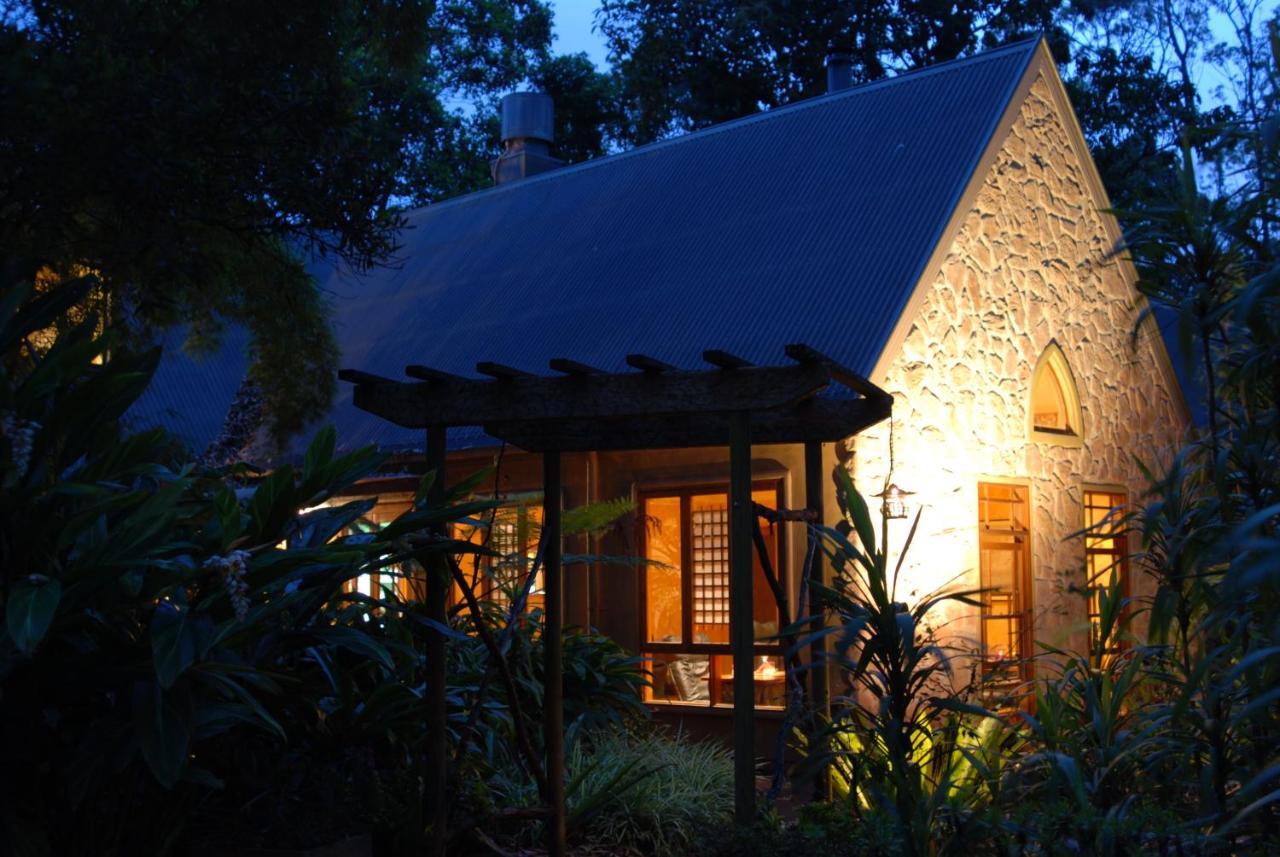 A cosy set of cottages tucked behind native trees and flower gardens, Witches Falls Cottages is the perfect base for exploring everything Mount Tamborine has to offer. Start your day snacking on a seasonal breakfast hamper delivered to your door every morning, before embarking on a 15-minute walk down to the local shops. From there, pick up some fresh local produce, and scope out Witches Falls Winery—the cab sav is to die for. Once you've sampled everything at the Cellar Door, head back to the cottages to unwind with a bath, complete with a crystal clear glass roof so you can watch the stars twinkling up above. Sounds like paradise? We thought so, too.
Gully Station
Canungra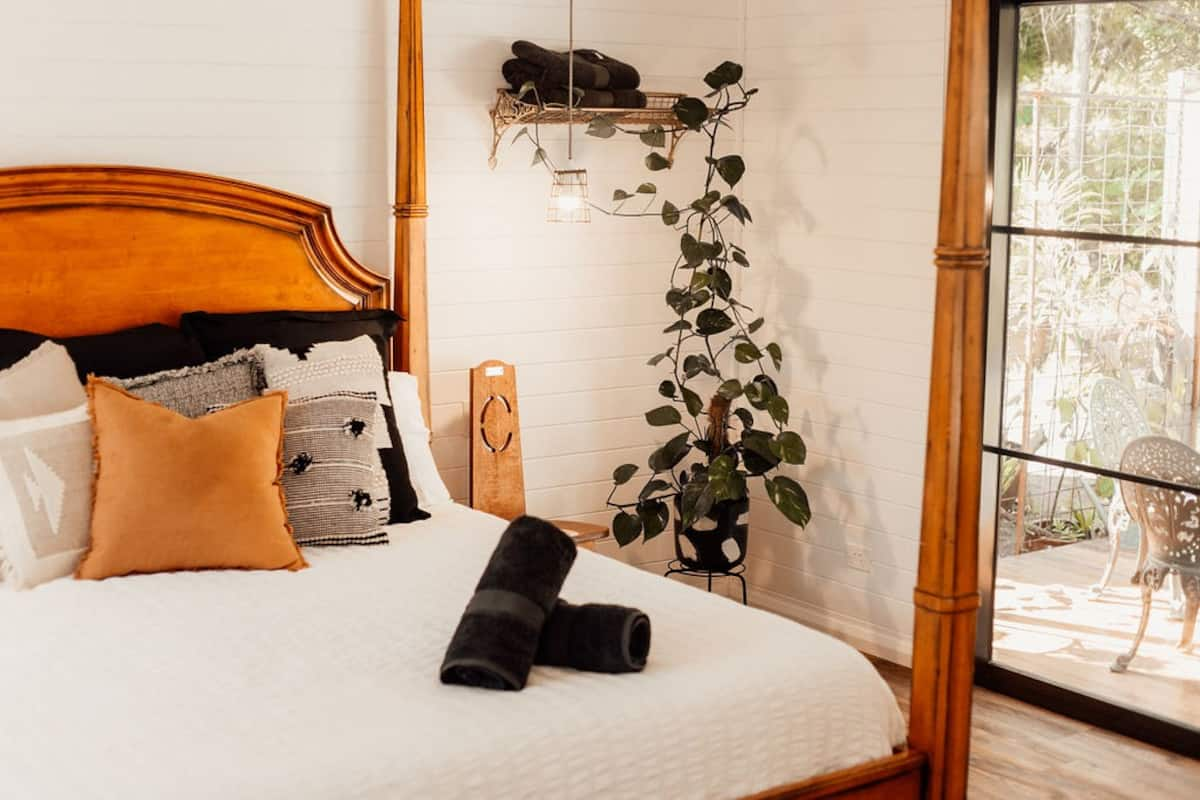 Get a taste of station living with this exclusive boutique residence in the heart of Canungra's bushland. Surrounded by mountains on all sides, Gully Station is an inviting introduction to the countryside, with regular visits from the local wildlife to add to the appeal. Enjoy a cold one on the back verandah as you take in the scenery, set alight by the late afternoon sun. In terms of interiors, expect modern decor and thoughtful touches that give off a rustic feel without compromising on luxury.
Enchanted Cottage
Mount Tamborine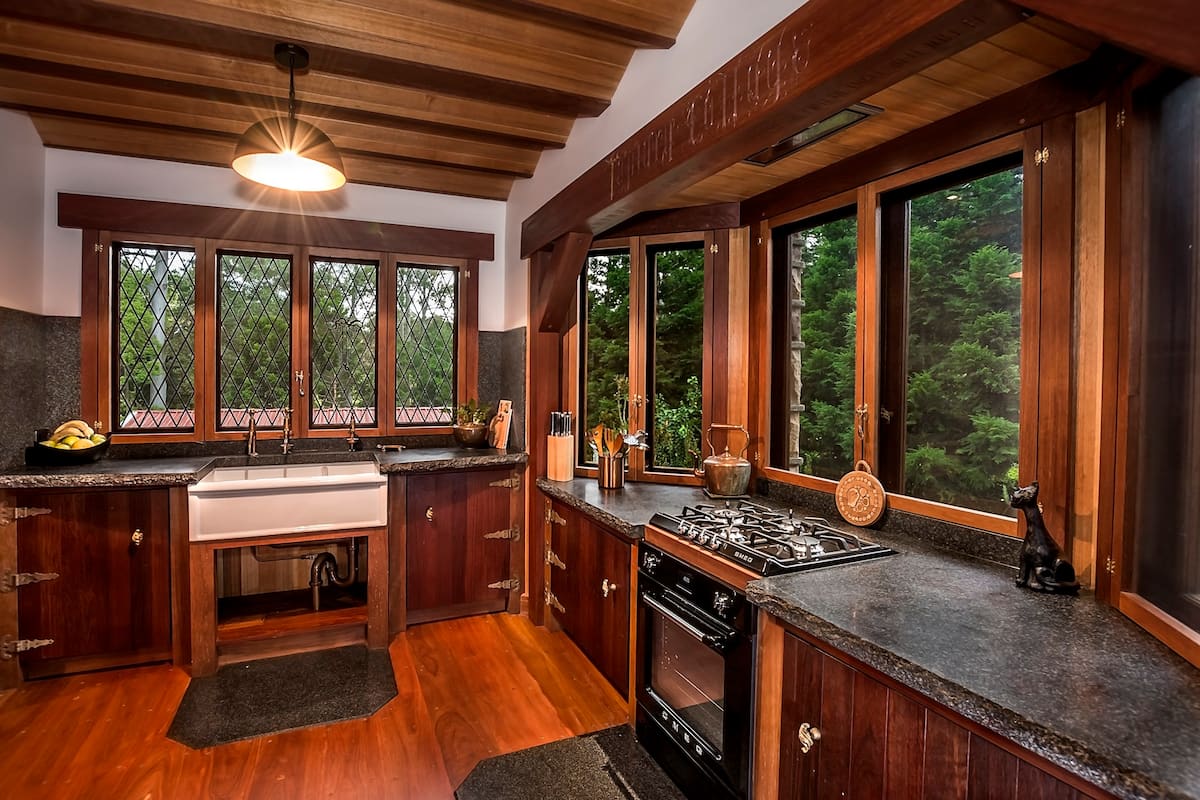 If you prefer your vacays with a healthy dollop of charm and character, book yourself a stay at Mount Tamborine's Enchanted Cottage. The residence is straight out of an English romance novel, featuring handmade windows, elaborate stonework and intricate etchings that will whisk you away to the days of yore. From the cottage, it's only a short drive to the local cheese factory, the famous Gallery Walk, plus the countless natural attractions Mount Tamborine is known for. See how many you can tick off on your trip.
The Overflow Estate 1985
Wyaralong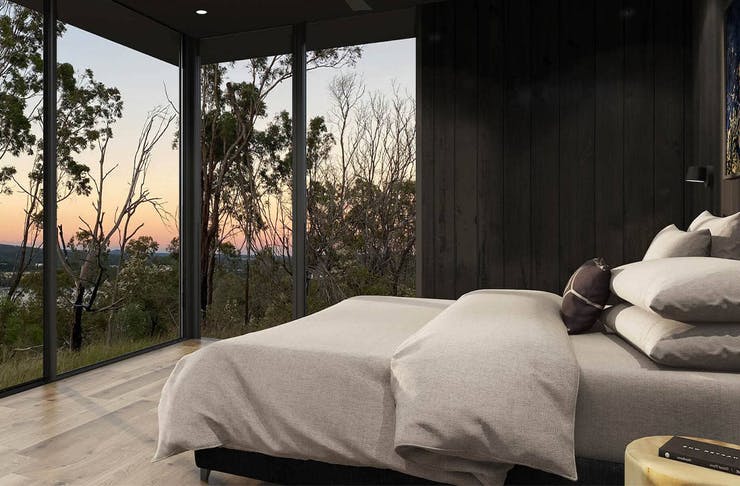 Got a bit of cash to splash? Look no further than The Overflow Estate 1985, whose WanderPods are now open and ready for business. These luxe eco-friendly cabins offer picturesque views of the Wyaralong waterfront, and are just minutes away from the estate's Cellar Door, making them an ideal base for exploring everything the winery has to offer. We're talking floor-to-ceiling windows, luxurious bedding, and a complimentary bottle of wine to get you started on the perfect weekend away. Sounds like our dream vacay...
Barney Creek Vineyard Cottages
Mount Barney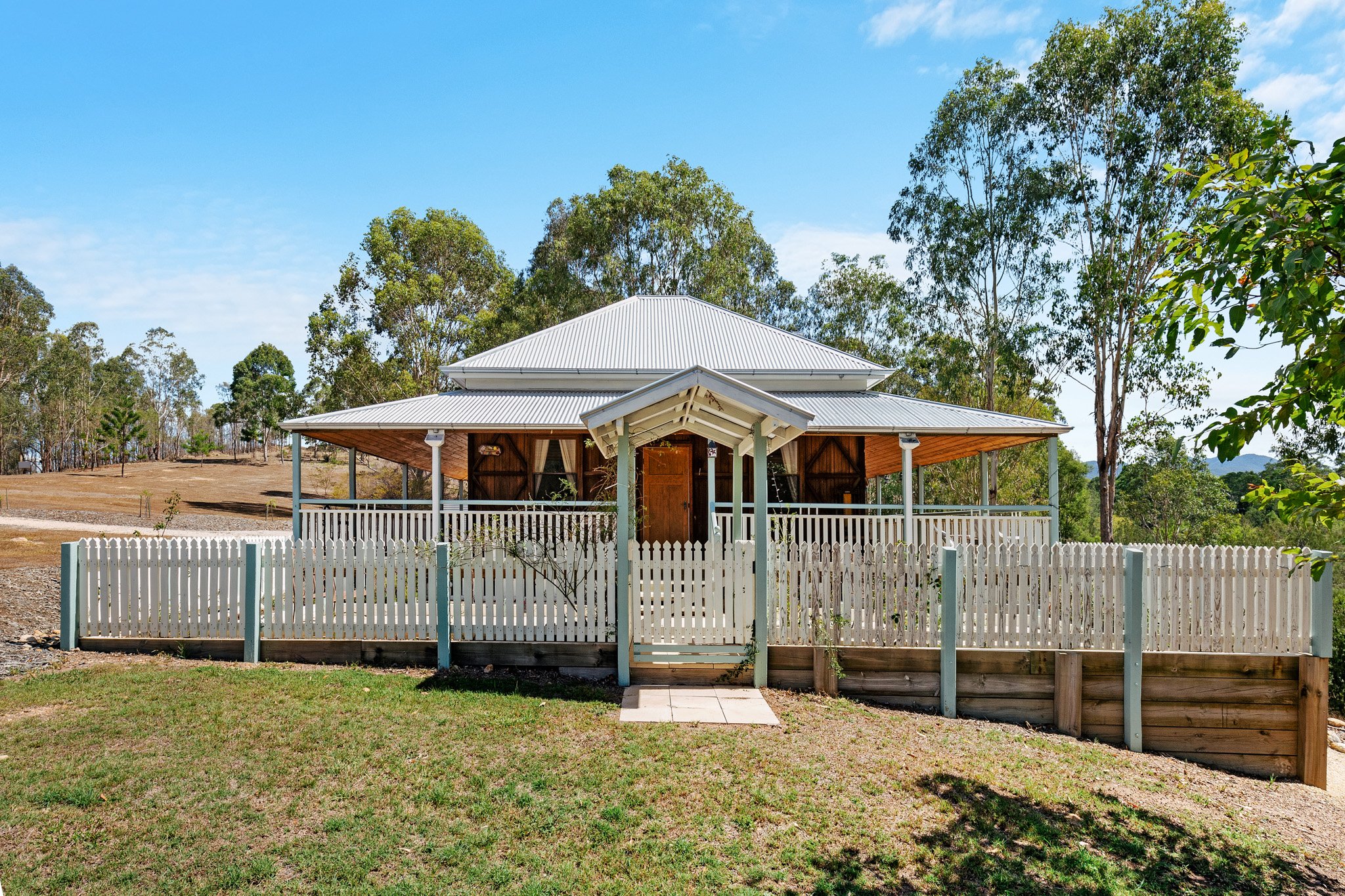 If you're after options, Barney Creek Vineyard Cottages have you covered. They have five cottages to choose from, ranging from an eight-person garden cottage to a two-person lakeside bungalow and a four-person unpowered camping cabin. Good news is, no matter which cottage you choose, your pets are more than welcome to stay and enjoy the peace and quiet with you. All cottages are nestled at the base of Mount Barney, and all will provide you with the peace and quiet you're looking for.
Alcheringa Numinbah House

This incredibly designed holiday house overlooking the Numinbah Valley is the perfect place for a double date getaway. The two bedroom house has three decks, two to admire the valley views and one specifically for bird-watching, so make sure to bring those binoculars. It has easy access to 147kms of walking tracks through Lamington National Park, but if you're after a chill weekend, just fire up the floating fire place and crack open a bottle of wine. There's also a similar three-bedroom house available next door, which you can check out here.
Rabbit Hill Country Cabins
Coulson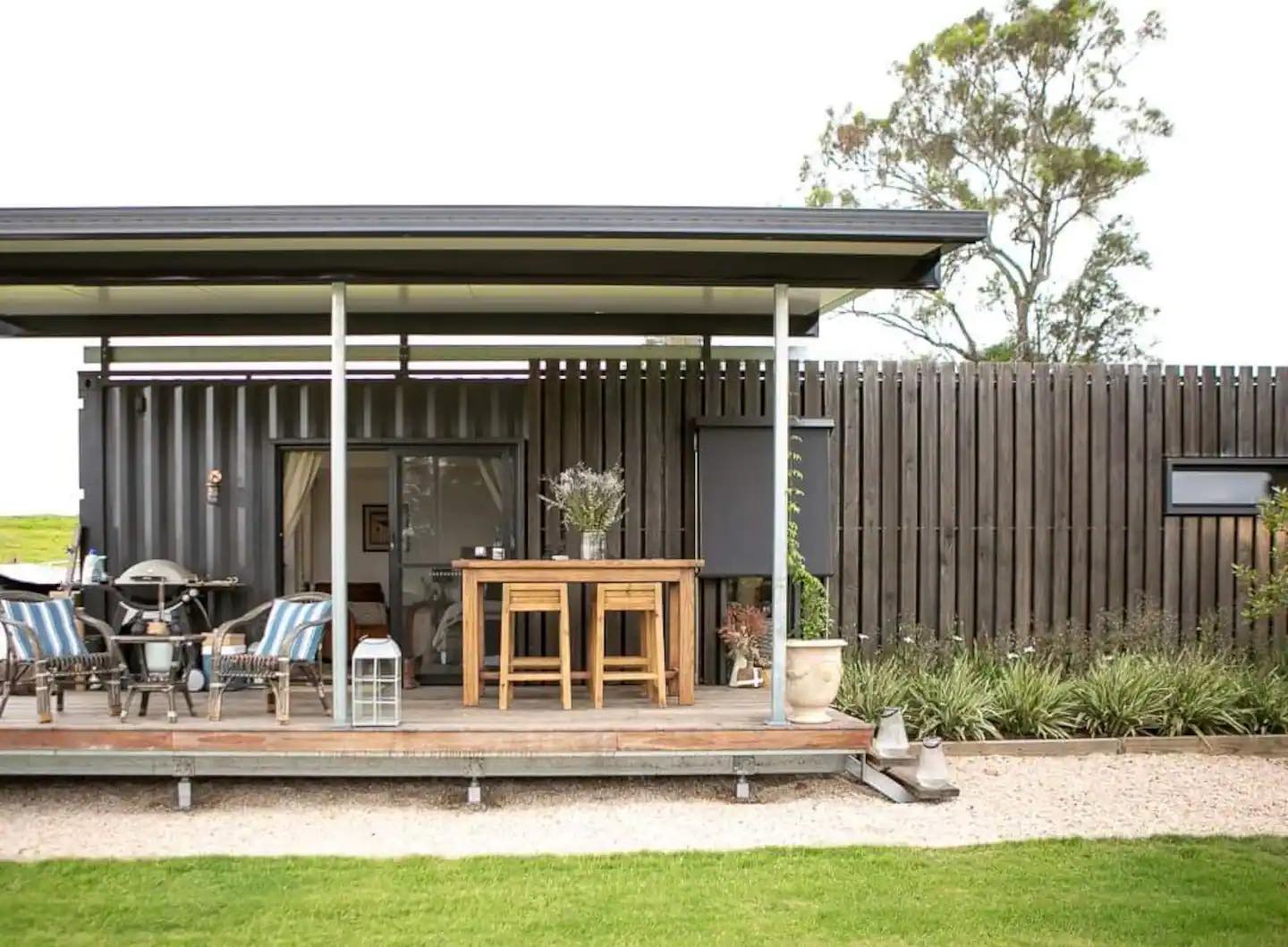 Pack up the furry friends, pack up the fam, and head on over to Rabbit Hill for a farm stay everyone will enjoy. The fully fenced, dog-friendly property includes two stylish cabins overlooking ponies, kangaroos and—no surprise here—rabbits, all grazing peacefully in the countryside. It's a quick five-minute drive into Boonah, which has a range of wineries and cafes, but if eating out isn't your top priority, the outdoor firepit and BBQ at the property will suit you just fine. Book your stay here.
Charming c1890 Cottage
Kalbar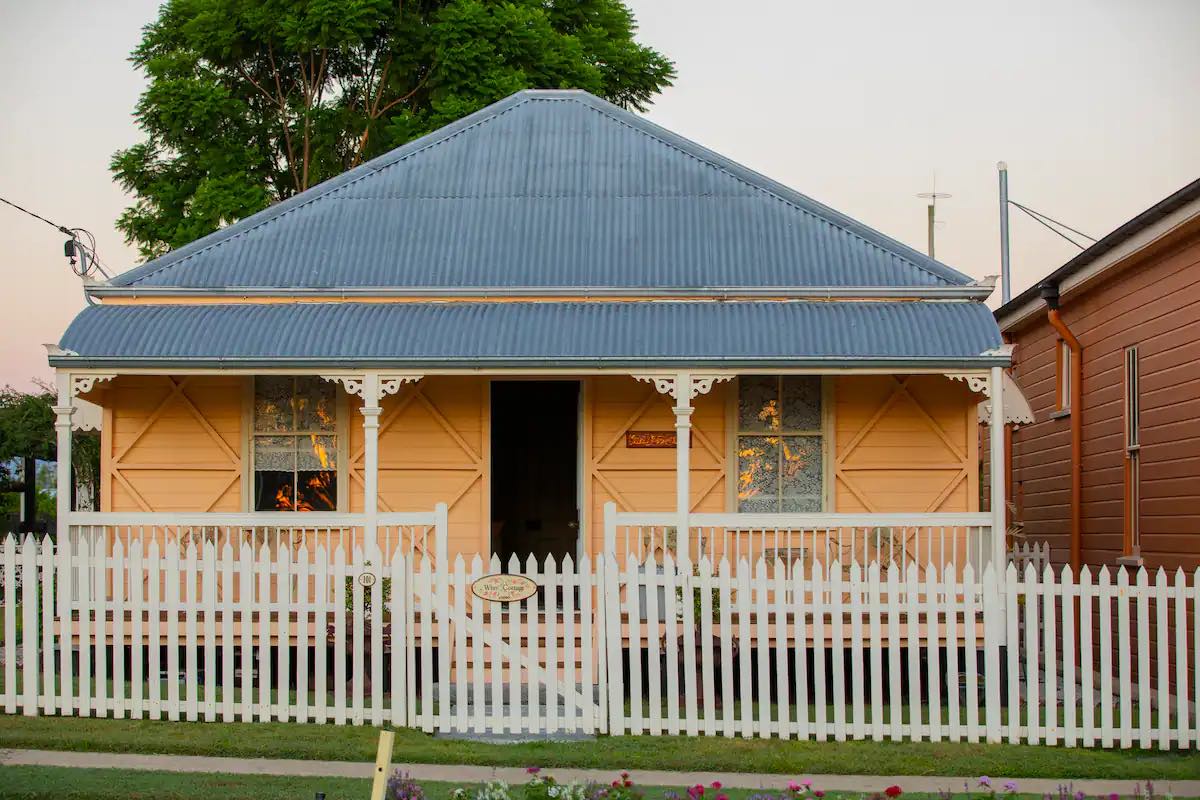 Travel back in time in this cosy 2 bedroom cottage from the 1890s. The cute grandma-core house provides the perfect reprieve from busy city life, right in the depths of the Scenic Rim. Bring a book and unplug for a while, taking in the unique decor and gorgeous surroundings. Located on the main street of Kalbar, this cottage is the ideal base for exploring all the nooks and crannies of the Scenic Rim. Book it here.
The Stargazer
Beechmont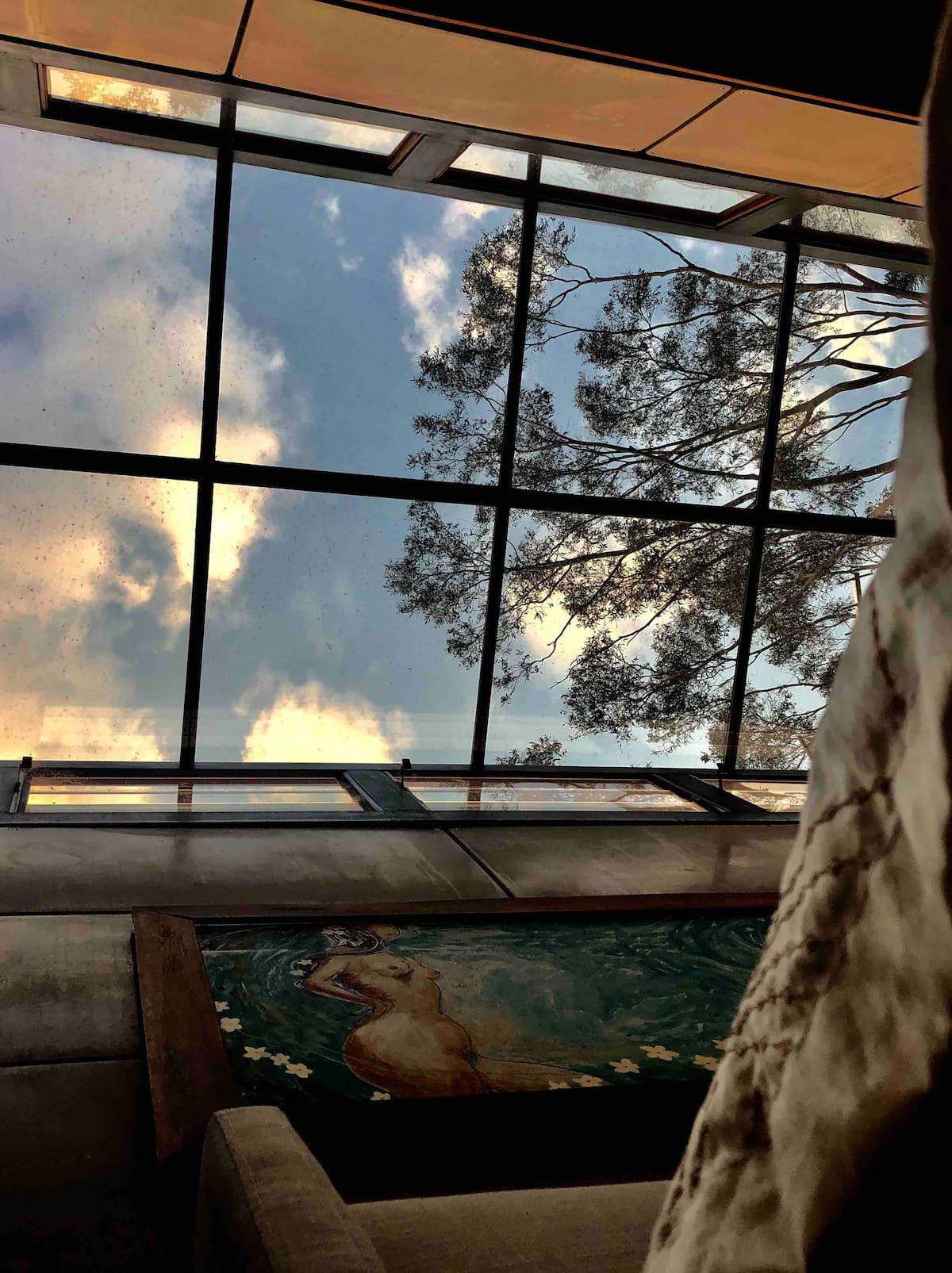 Always wanted to fall asleep under the stars, but don't want to trade in the comfort of your bed? Feast your eyes on Stargazer, a stunning property hidden amongst the hills of Beechmont that promises a chance to get back to nature without sacrificing those creature comforts. The house's glass ceilings make stargazing a breeze, and set the property aglow every morning at sunrise. Of course, the highlight has to be the bathroom, thanks to doors that open out to lush green fields and an endless sky of twinkling stars.
Cedar Creek Lodge Glamping Tents
Mount Tamorborine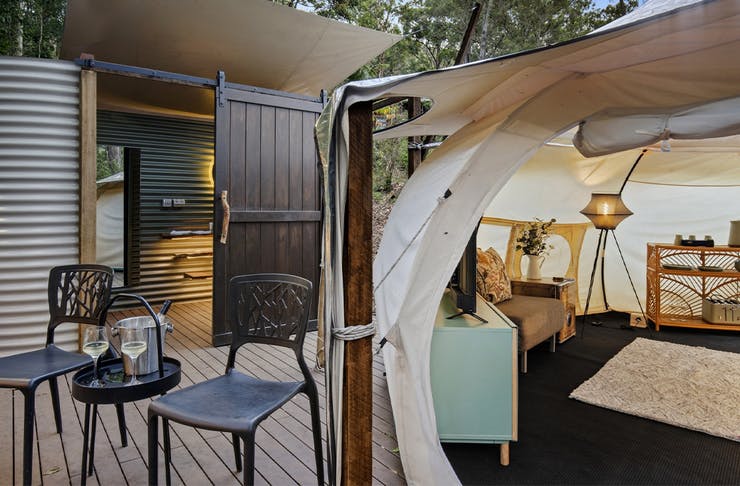 Rounding out our list are the Cedar Creek Lodge glamping tents, aka the ultimate hack for going camping without putting in the hard yards. Roll on up to a luxe lotus-shaped tent fitted with a king-sized bed, outdoor fire pit and even a TV (because who wants to go fully off grid?). Topping it all off is an open outdoor shower, so you can enjoy scrubbing up with unbeatable views of the night sky above. Trust us—one night in these tents, and you'll never be the same.
Looking for more luxe local getaways? Scope out Queensland's most luxury resorts here.
Image credit: Verandah House Contry Estate, Airbnb, Booking.com, Cedar Creek Lodge, Wanderpods
Editor's note: Urban List editors independently select and write about stuff we love and think you'll like too. Urban List has affiliate partnerships, so we get revenue from your purchase.