Whether you're new to the River City or you've long called Brisbane home, Airbnb is showing holidaymakers a whole new side to life in south-east Queensland. With homes to suit every style, from old-timey charm to inner city luxury, we've got you covered with the trendiest stays in town. Check out Brisbane's best Airbnbs below.
Hillside Chalet
Mount Cotton | Sleeps 2
Experience life among the gumtrees at this luxury hillside chalet putting Mount Cotton on the map. With a cozy balcony skirting the property, indulge in panoramic views out over Stradbroke and Moreton Island, set alight by the afternoon sun gently filtering through the tree leaves. Say hello to the ducks at the garden pond, and make friends with alpacas as you set out on a bushwalk. There's nothing beating this outdoor adventure in Brisbane's very own backyard. Book here.
Inner City Haven
Spring hill | Sleeps 4
For the eco-friendly traveller, Spring Hill's eco-pod is the perfect urban retreat. But don't be fooled—just because this home is green, doesn't mean it skimps out when it comes to luxury. This striking architectural feat comes with its own plunge pool, as well as a library packed with games, novels and even travel books to inspire your next international adventure. While the space caters for up to four guests, it's the perfect place for a romantic getaway; guests rave about its open-plan design, which filters natural light so you wake up bathed in the gorgeous glow of the morning sun. Adding to the appeal, the bathroom is stocked with products from Appelles Apothecary, so prepare to get your pamper on. Book here.
Million Dollar Views
FORTITUDE VALLEY | Sleeps 6
If you're the type that thinks a holiday just isn't complete without breathtaking city views, a rooftop pool, and a deluxe cinema, book yourself in for a stay at Brisbane's Flatiron building. This Airbnb puts you right in the middle of it all, just steps away from Chinatown, the city's most popular nightclubs and the trendiest brunch joints in town. The pool comes equipped with sunken lounges, and a heated rooftop spa, so there's a good chance that once you arrive, you'll never want to leave. Book here.
Vintage Urban Loft
SPRING HILL | Sleeps 6
For vintage-vibes that will no doubt fill your insta-feed, check out this urban loft located in Spring Hill. Exposed brickwork, natural light and spacious, airy rooms will transport you to the streets of Brooklyn, so be prepared to embrace your inner hipster. Aspiring photographers will be sure to find inspiration under the gorgeous arched windows and exposed trusses, which is why the loft is a popular choice for photoshoots and wedding-day prep. The loft sleeps up to six guests, so get your gal pals together and make a reservation ASAP. Book here.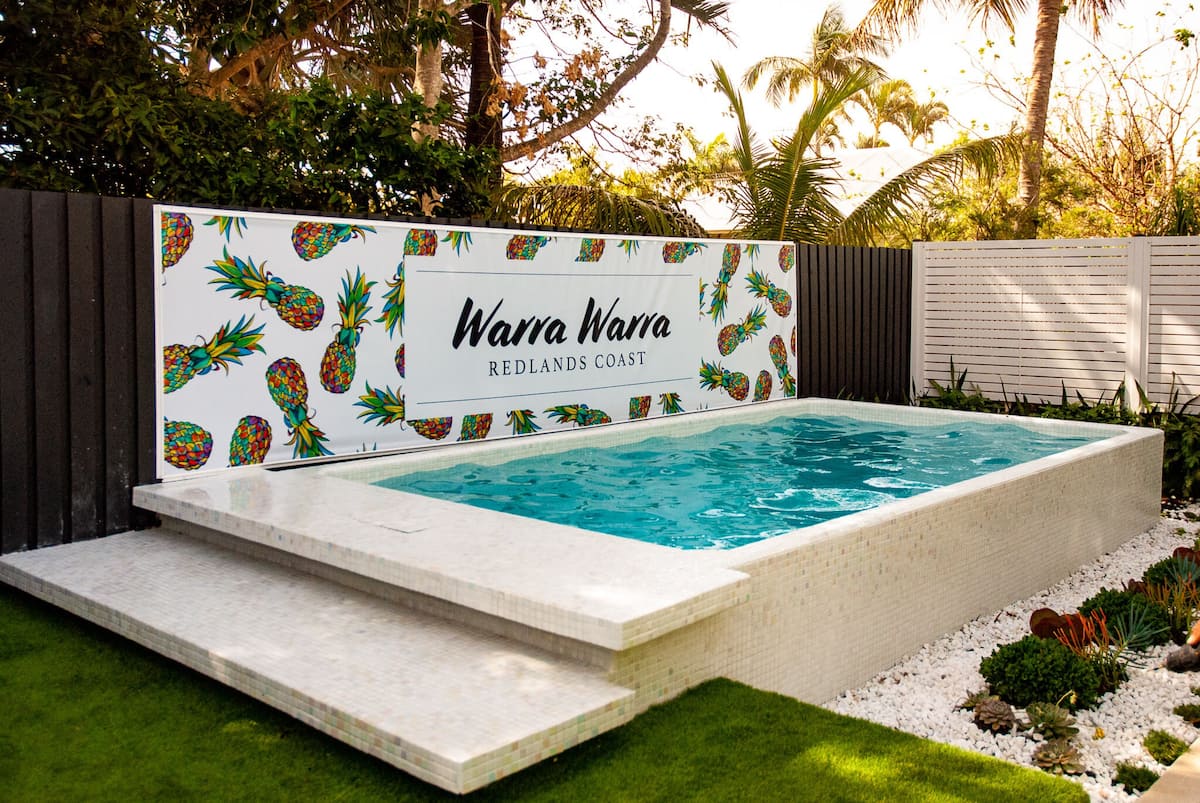 Warra Warra
Victoria Point | Sleeps 5
Romantic fairy cottage meets modern luxury at this five-star stay on the Redlands Coast. Just 20 metres from the Wilson Esplanade, the home comes complete with a magnesium plunge pool, not to mention a four-poster king bed decked out with a luxurious white boho canopy. Ride one of cottage's vintage bikes down to the waterfront and soak up the sun as your feet sink into the sand of Wilson's Bay. Trust us—a stay at Warra Warra is just like living in paradise. Book here.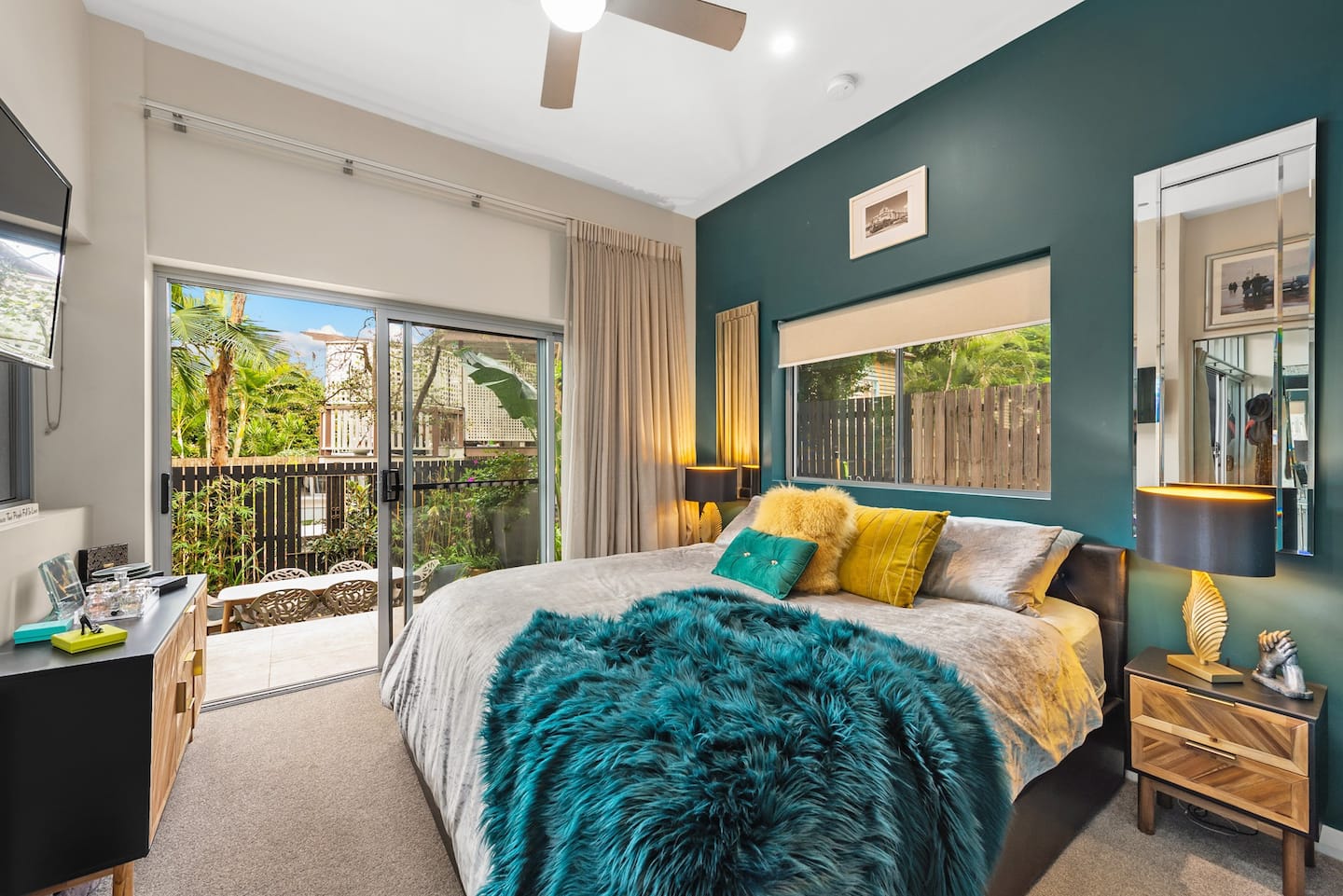 Stylish Leafy Pad
Ascot | Sleeps 4
Get a taste of the high life at this stylish pad in Brisbane's north-east. The home's spacious design features a sprawling undercover balcony ringed by eucalypts, with pops of blue velvet as an added splash of colour. Just five minutes' walk from Doomben Racecourse, it's the perfect place to get the girls together for a drink or two without having to splash out on an Uber. Top it all off with a rain shower in the master ensuite and you've scored yourself one heck of a weekend away. Book here.
Maison Deane
Samford Valley | Sleeps 7
If staying in the middle of Brisbane city just isn't your cup of tea, Samford Valley's Maison Deane is a beautiful alternative. Set on a serene five-acre land parcel, the cottage is surrounded by native bushland, offering complete privacy with no neighbours in sight. With breezy wrap-around verandahs and an outdoor firepit, Maison Deane provides the ultimate space for total relaxation, seclusion, and entertainment on an epic scale. Book here.
Boutique Queenslander
New Farm | Sleeps 6
Can't get enough colour in your life? Enter through the red door and be greeted with this beautifully restored Queenslander in the heart of New Farm. Originally built in the 1890s, the home features plenty of old-school charm—think high ceilings, arched doorways, and a grand 1800s fireplace. But that's about where the old school ends, with most of the interior replaced with modern finishings for added touch of luxe. Located just off the famous James Street precinct, this home is ideal for shoppers needing a place to stash their haul after a late night out. Book here.
Cultural Retreat
South Bank | Sleeps 5
Enjoy gentle summer breezes and warm afternoon sun at this stunning staycay in Brisbane's inner-city. The heritage home offers uninterrupted inside-outside living thanks to wide bi-fold doors, newly renovated hardwood floors, and plenty of ambient light. Just minutes from Southbank, West End, and the CBD, it serves as a great base to explore the city, before winding down in the comfort of the patio garden. Book here.
River House
Norman Park | Sleeps 12
Ever been on the CityCat and stared enviously at those luxury homes dotting the side of the Brisbane River? Here's your chance to stay in one. Boasting incredible city views and stunning sunsets, the River House is a spacious, open home with plenty of windows to make the most of its idyllic location. We recommend coming prepared with a bottle or two to knock back on the riverfront patio, against the backdrop of the twinkling city skyline. Book here.
Waterfront Penthouse
West End | Sleeps 8
Had a hard work week and looking to splurge? Say no more—we have the perfect home for you. Hidden in the heart of West End, this stunning waterfront penthouse oozes luxury on every level. Just close your eyes and picture it—three bedrooms, a massive bathroom, and a sprawling outdoor patio overlooking the Brisbane River. Oh, and that's not to mention the gym, cinema room and library located downstairs. It doesn't get much better than this. Book here.
Luxe Inner-City Suite
Brisbane City | Sleeps 2
Calling all interior designers (or anyone who appreciates a touch of style)—this luxe inner-city apartment suite is your next must-stay. The unit combines scandi-style minimalism with a touch of '60s influence, resulting in an eye-catching getaway right in the middle of Brisbane City. Just a few minutes walk from Roma Street Parkland, the best of Brissy is at your fingertips, making it perfect for travellers seeking a central home base. But the best part is, this bad-boy is wallet friendly, clocking in at just under $90 a night if you're travelling in twos. Book here.
Kite Shed
Brighton | Sleeps 2
Okay, okay—we know the words 'kite shed' don't exactly sound appealing, but trust us—this is one stay worth adding to your bucket list. Nestled up north on the Brighton coast, the Kite Shed is a beautiful boutique escape, boasting stunning waterfront views and a premier beachside location. The open plan studio has been carefully designed for those who appreciate recycled style and simplicity, without having to sacrifice those creature comforts. Enjoy a dip by the bay before drying off with a book in the stunning outdoor courtyard—complete with exposed wooden beams and winding vines well and truly worthy of a feature on your Insta feed. Book here.
Looking for a getaway a little further from home than the best Airbns in Brisbane? Check out our top picks for Airbnbs on the Gold Coast.
Image credit: Airbnb