Sometimes, the hustle and bustle of modern living can all be a bit...much. You need a getaway, somewhere laid-back, relaxed, yet totally on trend. Somewhere that's completely off-grid, but still gives you all the vibes of a luxury vacay.
What you're looking for is a tiny house.
It's exactly what you need to escape from big city life. Everything is in one (small) space, so you can kick back, relax, and enjoy some me-time. And just to make life easy for you, we've rounded up nine of the tiniest houses South East Queensland has to offer. Get that bookmarks bar ready—you'll want to save these.
Blackwattle Farm
Beerwah
Do miniature pigs set you squealing? Always wanted to hug an alpaca? Then book yourself in for a farm stay at Blackwattle Farm. Set against the picturesque backdrop of the Glasshouse Mountains, this tiny house is the perfect base to explore all the Sunshine Coast has to offer. The home is just five minutes from Australia Zoo, but comes with its own menagerie of animals, including miniature goats, Dexter cows, and plenty of pooches. Whilst some tiny houses take the minimalist approach, Blackwattle comes with everything you could possibly need, including a TV, washing machine, and a microwave. The hosts even provide homemade honey and jams, so you know you're in for a treat.
The Bower
Maleny
Just 10 minutes' drive from Maleny, The Bower is a beautiful rustic rainforest retreat. Nestled between the trees, the pavilion is one of three in the area, spaced out around the crystal clear pool. The trees provide plenty of privacy, so you can relax undisturbed on your own private deck, or sit outside by the fire. Despite its size, the house is roomy and modern, and acts as a sanctuary to submerge yourself in the natural world around you. Be sure to pay a visit to Maleny Dairies while you're there, for the best darn yoghurt in town.
Tabitha the Tiny House
Laidley South
Looking for something off the grid? Say hello to Tabitha, the tiny house on wheels! Located on a 60 acre hobby farm in the scenic Lockyer Valley, the home is full of personal touches that show just how much love has gone into its construction. The array of pot plants out front breathe life into the space, transforming it from a cute little house to a cozy little home. At night, the fairy lights work their magic, making for a truly enchanting stay. Toast marshmallows over an open fire and fall asleep in the comfort of a king size bed. When you awake, breakfast will be waiting. Excuse us while we make a reservation...
Norah
TOOWOOMBA
Hidden on a property in the Toowoomba region lies Norah, a tiny haven named after a character brought to life by acclaimed Aussie author Mary Grant Bruce. The trip to Norah will take you through plenty of small towns with fresh and flavoursome produce, so be sure to stock up for a major feast when you arrive. This tiny house has all the comforts of home, including air-con for those sweltering Queensland summers, but if you're heading there in the cooler months, don't forget to bring some s'mores to toast over the firepit. The house runs on gas and solar power, so pack your portable charger, or better yet, ditch the tech for the ultimate weekend getaway.
Waternest
Noosaville
If you've never stayed on a houseboat before, then Waternest is the perfect introduction. With stunning views of the Noosa River, this refurbished houseboat is like a floating five-star hotel. Enjoy drinks on the terrace, fishing, or even paddling along the river at sunset. The boat comes equipped with a kitchen, if cooking is your kind of thing, but it's hard to pass up Noosaville's finest restaurants and cafes, just steps away from where you'll be staying. Even better, grab some takeaway and dine in style on the boat's top deck. This floating paradise is not to be missed if you're looking for a luxury getaway on the water.
The Surf Shack
SUFFOLK PARK
If it just isn't a vacay without the wind in your hair and sand between your toes, you can't go wrong with a stay at The Surf Shack. Located just south of Byron Bay, you're guaranteed all the chilled out vibes of the surfer town, minus the crowds. The shack is just five minutes' walk to the beach, bakery, restaurants and cafes, so there's no need to stress about getting sand in the car. The space sleeps up to four guests, and comes with all the essentials so you can zone out and make the most of your holiday. Kick back at the shack and treat yourself to some laid back living by the sea.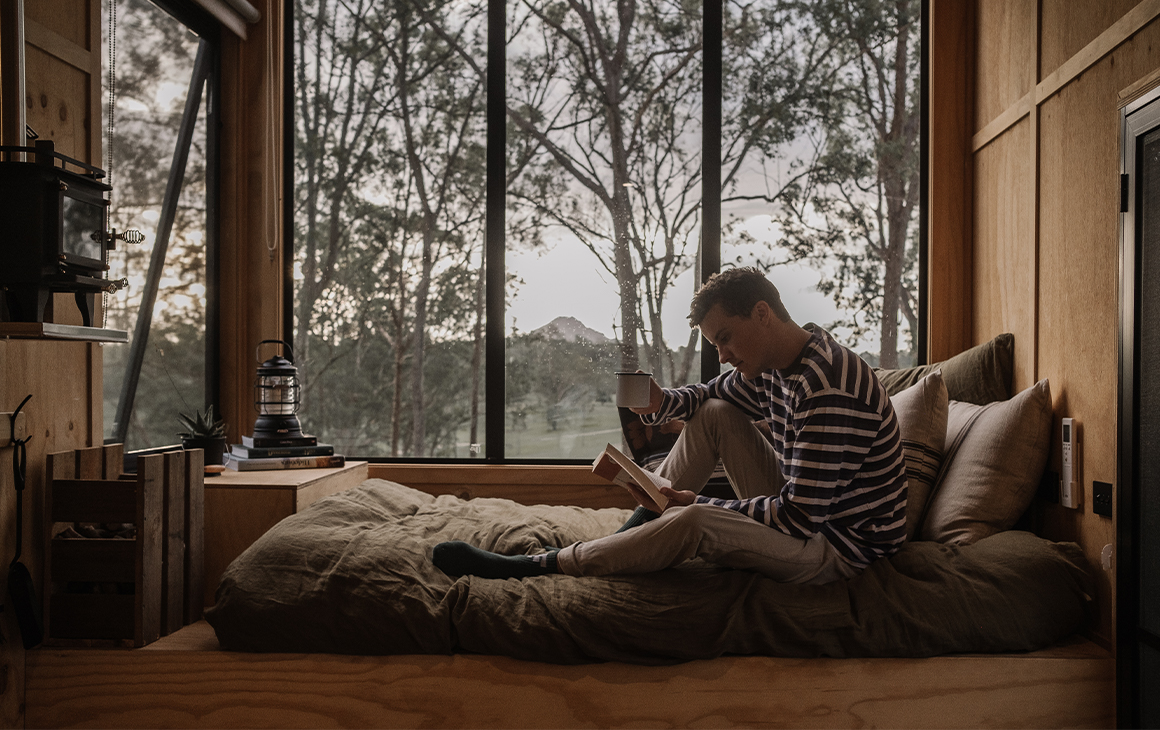 Unyoked
Kagaru
After taking New South Wales and Victoria by storm, Unyoked has set its sights on the Sunshine State; and we couldn't be happier. Although the exact location of the cabin is being kept on the DL (guests are sent coordinates just days before their stay), we know it's just over an hour's drive south of Brisbane. And judging by the photos on their Insta page, it's well worth the trip. We're talking cabin-porn style glamping in the middle of Queensland's bushland. Regain your sense of adventure and disconnect from the daily grind; Unyoked provides everything you need to relax and unwind. But be sure book soon—these cabins are in high demand, and you don't want to miss out.
The Stable
Ma Ma Creek
For a tiny house with big views, set your GPS to Ma Ma Creek. The rural town lies in the Lockyer Valley Region, and is home to a 50 acre property housing The Stable. This tiny home promises an escape from the stresses of everyday life, surrounding guests with bushland, native wildlife, and a sense of tranquility. The house sleeps two, and while you're welcome to use the solar lights, the hosts provide candles to transform your stay into a romantic getaway. If you can bear to tear yourself away from bed in the early hours of the morning, you'll be treated to a sunrise that is sure to take your breath away.
Hale Douglas
Sunshine Beach
If you're looking for an island getaway on a budget, set your sights on Hale Douglas, an adorable little home in Noosa that has truly embraced its retro Hawaiian surf theme. Inspired by the hosts' trip to the soulful surfer town of Hanalei Bay, this tiny house features a skylight, floor-to-ceiling louvred windows and a deck that opens onto a tropical garden. You'll be sleeping upstairs (or should we say, upladder) in a queen-size bed that screams comfort, so you can catch some z's before hitting the beach. Even better, the home was built using reclaimed and repurposed materials, so you can rest assured knowing your Airbnb is doing its part for the environment.
Looking for something a bit more down-to-earth? Check out 10 of the most beautiful free camping spots in Queensland.
Image credit: Hale Douglas