It's always a good idea to organise a romantic getaway. And, with Valentine's Day just around the corner, we're sure you are dreaming of a chance to skip town, stoke the fire, and get cosy with your significant other.
You don't have to fly too far away to find an incredible romantic getaway. Queensland is dotted with some truly dreamy romantic escapes featuring outdoor hot tubs, private pools, candlelit restaurants, and couples' spa treatments. From luxury retreats to high-end hotels, tiny homes, and cosy Airbnbs, with the best omantic getaways in Queensland listed below, we guarantee you'll earn those brownie points.
Winnow's Rise
Stanthorpe
Ok, we are really dialling up the romance straight away. Our personal fave, Winnows Rise has been set up by its super hosts to be a tranquil, perfect spot to reconnect with your special someone or completely unplug from the hustle and bustle of day-to-day life. The handmade woodfire pizza oven is perfectly placed for an easy dinner, while the stone hot tub overlooking dappled grazing land and views towards the Great Dividing Range is the spot for a glass of wine. There are heaps of indoor creature comforts too, like snug interiors and luxurious linen robes and sheets, as well as the just-right cottage kitchen. Book here.
Mouses House
Springbrook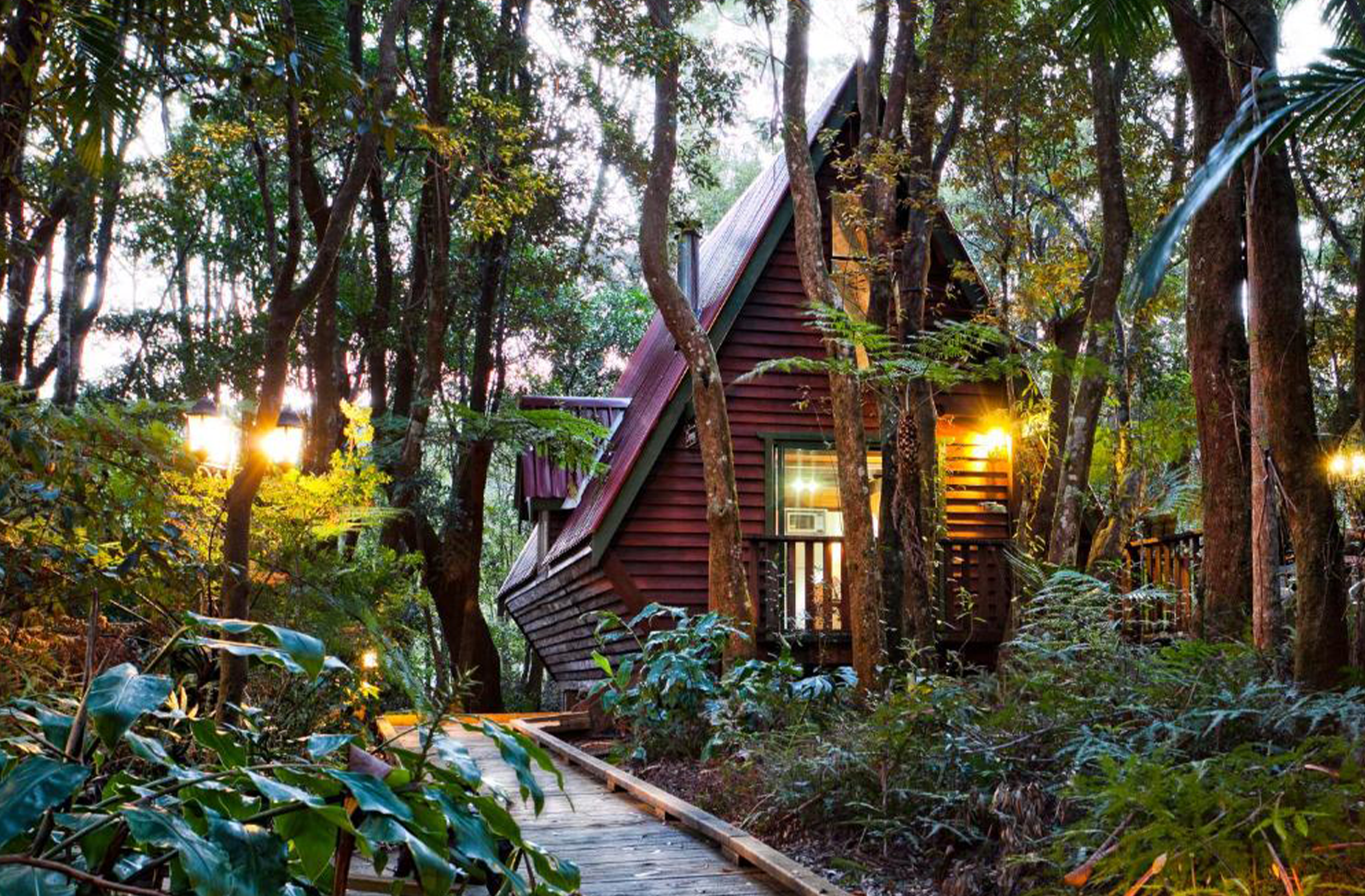 This cosy cabin buried within a rainforest just outside of Springbrook National Park is the perfect escape for lovebirds. Book in for a stay in the Mouses House luxury rainforest spa and stream chalet, fit with a private outdoor hot tub and fireplace. All conveniently built next to a mountainside stream for some casual scenery extras. Sky lofts, spa rooms and adorable Snow White-named cabins scattered through the forest mean you'll feel completely secluded and completely in lurrrve. Food baskets and delivered brekkies are on the ready as well as picnic hampers, booze and even gushing waterfalls within walking distance. Book here.
Clouds Safari
Beechmont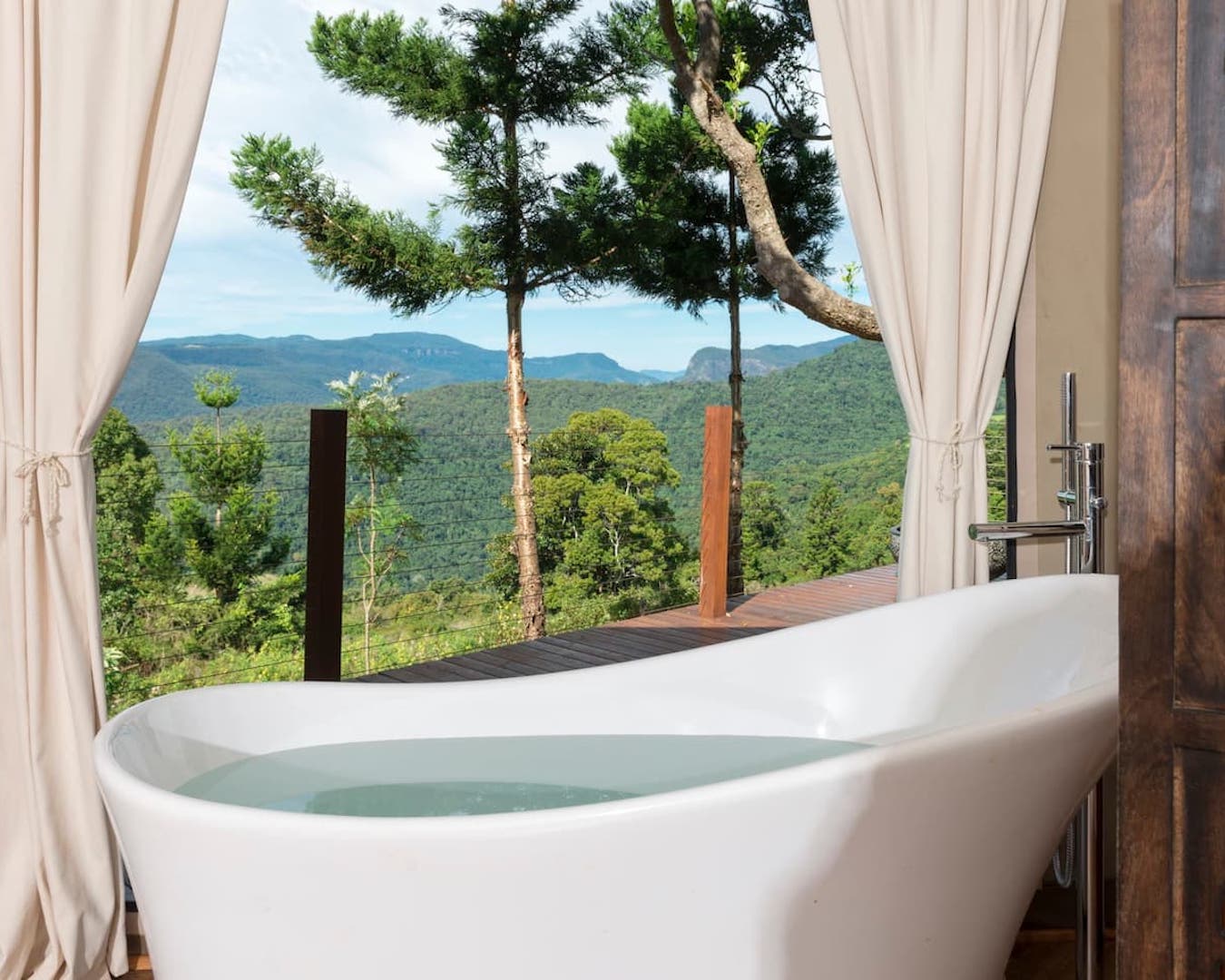 Check in to stunning views of the lush green rainforest at this safari-style tent accommodation in the Gold Coast hinterland. You'll enjoy 180-degree views of Springbrook Mountain and Numinbah Valley, even while soaking in the gorgeous tub that can be completely opened up to the outside world. Clouds Safari has a projector so you can settle in for a movie, and a large deck for soaking in the views with a coffee or wine.
Spicers Hidden Vale
Scenic Rim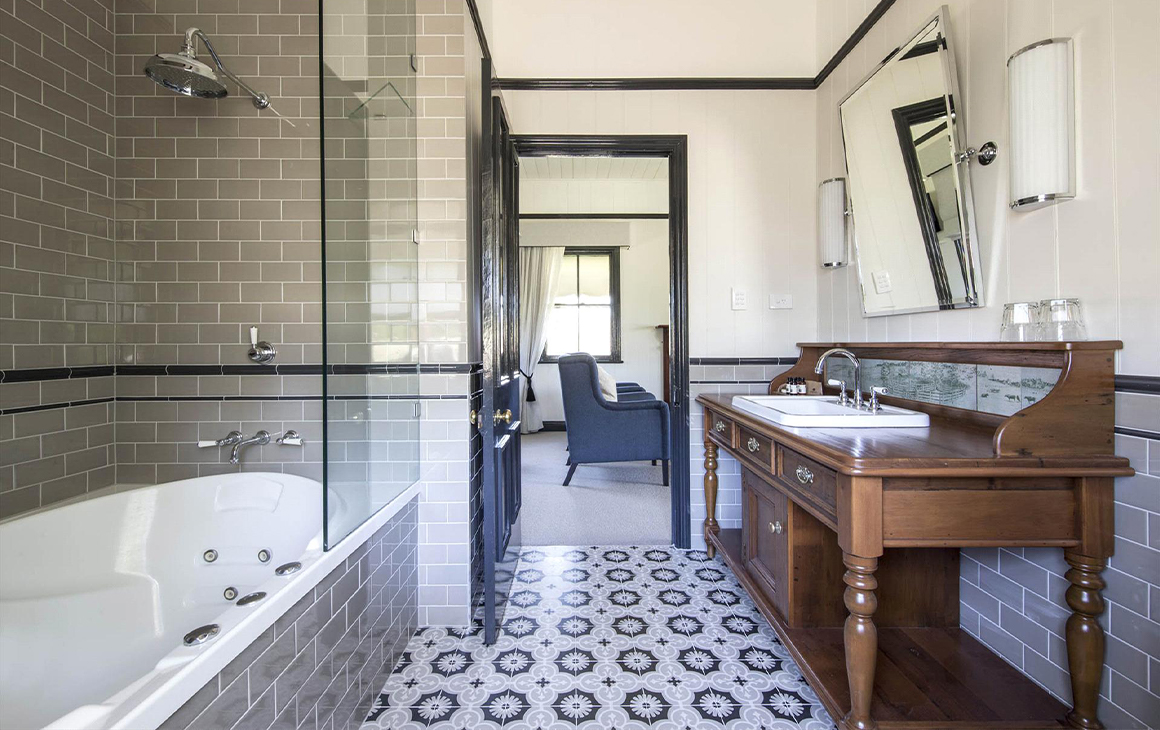 Whether you're needing to score serious brownie points, Spicers Hidden Vale has everything you'd ever want, for whatever type of plus one you may bring, from cabins with boujee spa baths to mountain biking trails and hiking. If you're a bit of a foodie, then you'll want to make sure you book yourself in for dinner at Homage Restaurant, where everything is grown in the market garden onsite or collected from nearby farms—your tastebuds will tap-dance in happiness. All this plus two pools, a campfire under the stars, koala safaris, cheese and wine tastings and epic views? You'll achieve peak romance points.
Narrows Escape
Montville
If a friend has come back from Montville raving about a cottage getaway they experienced, chances are they're talking about Narrows Escape. Why? Because everyone who stays there, only says great things. Narrows Escape was officially named as Tripadvisor's 'Most Romantic Hotel In The World' in 2021 and this cosy, hidden rainforest retreat that's nestled in the Sunshine Coast Hinterland is nothing if not romantic. Curl up in the hammock and read a book, tramp through the rainforest, or feast on all the goods crammed into the specially-made gourmet hampers. They've just added two new cabins that feature private heated plunge pools on their balconies. Relaxation and romance will hit an all-time high here, so don't come with a to-do list. Book here.
Luxury Cabin At Round Hill Retreat
Obi Obi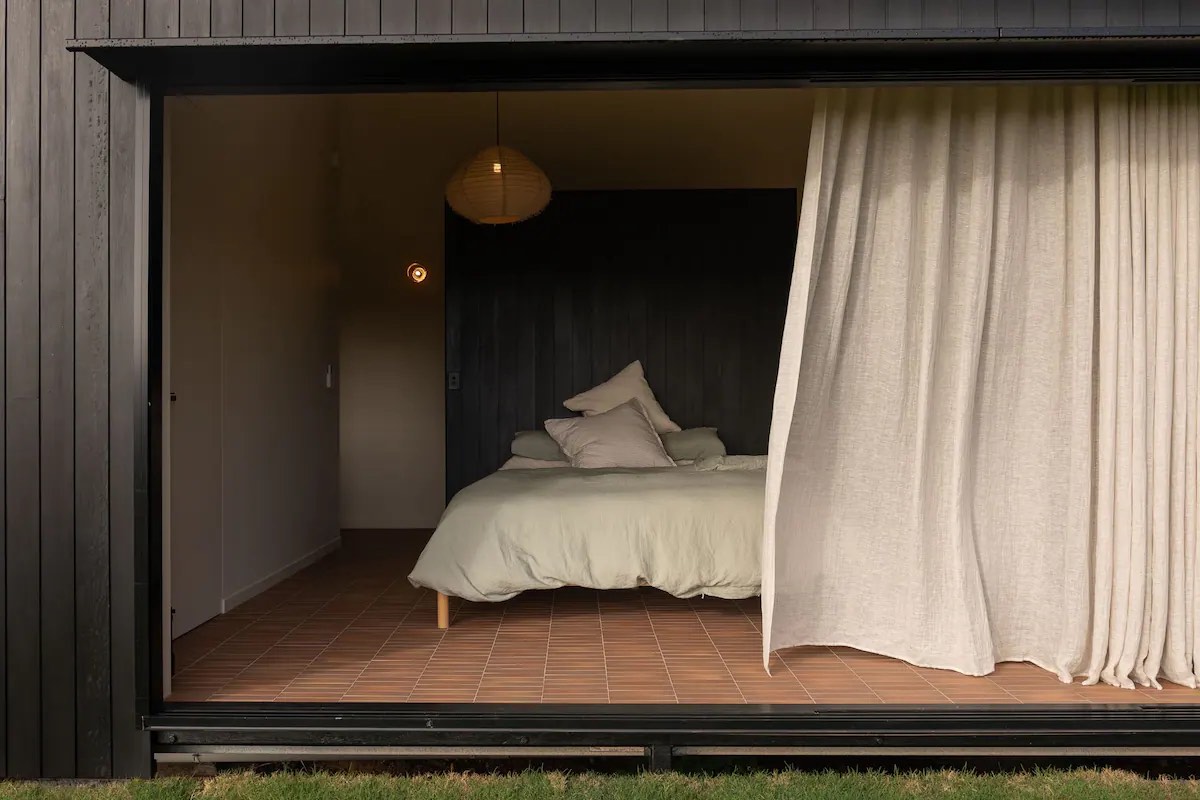 Nestled in the hills of the Sunshine Coast Hinterland, this romantic getaway is designed to be a place for you to hit the reset button and connect with your loved ones. With a circular above-ground pool overlooking the lush forest and paddocks, you'll instantly drift away into your own world of peace and serenity—it doesn't get much better than that. After a dip in the pool, end the night with a relaxing bath or a rain shower—and a drink or two—to fully immerse yourself in the experience. Ditch the electronics and book your stay now.
Nightfall Camp
Lamington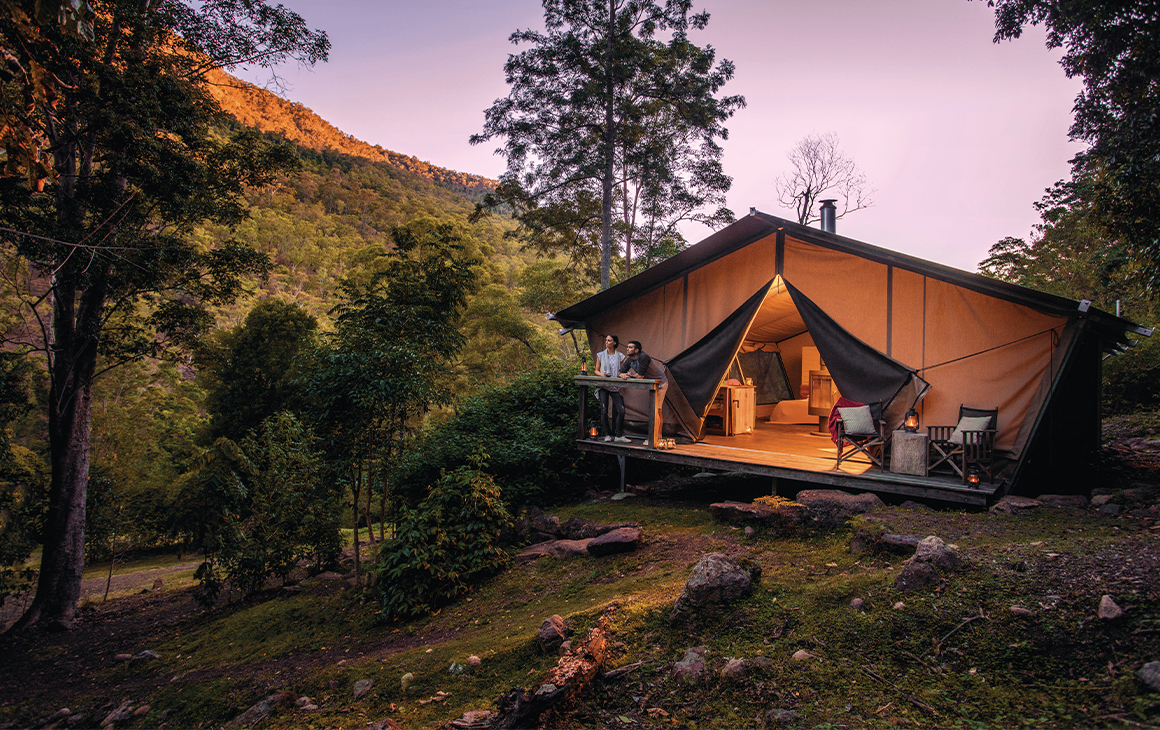 For those who love the great outdoors but not everything that comes with it, Nightfall Camp is sure to delight. Nightfall has pitched its luxury tents beside the crystal-clear waters of Christmas Creek and Queensland's ancient Lamington National Park rainforests. Go bush in style with the help of a 360-degree roaring fireplace, two bathtubs, a shower, a kitchen, a lounge and a king-sized bed.The only thing missing? Phone reception—but trust us, you won't miss it.
Palmer & Gunn
Gold Coast Hinterland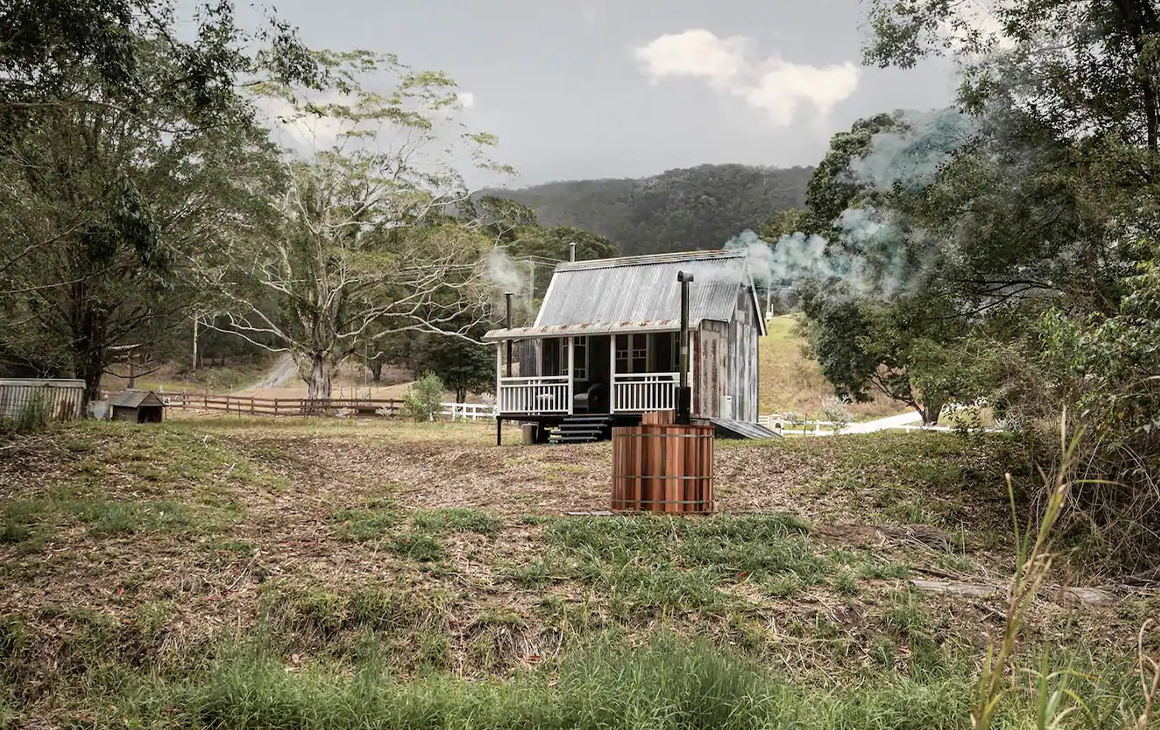 So, you want to experience a sustainable, tiny house vacation, but you're not quite ready to give up the hot tub and the air-con? No problem. Soak your stresses away at Palmer & Gunn, a hidden gem tucked away in the Gold Coast hinterland just outside Springbrook National Park. Outdoor hot tub: check. Luxurious bedding: check. A burbling creek as your only background noise: check. Soaking in the aforementioned hot-tub under the stars right next to said creek: now we're talking, and we're packing our bags already. Book it here.
Bedarra Island Resort
Bedarra Island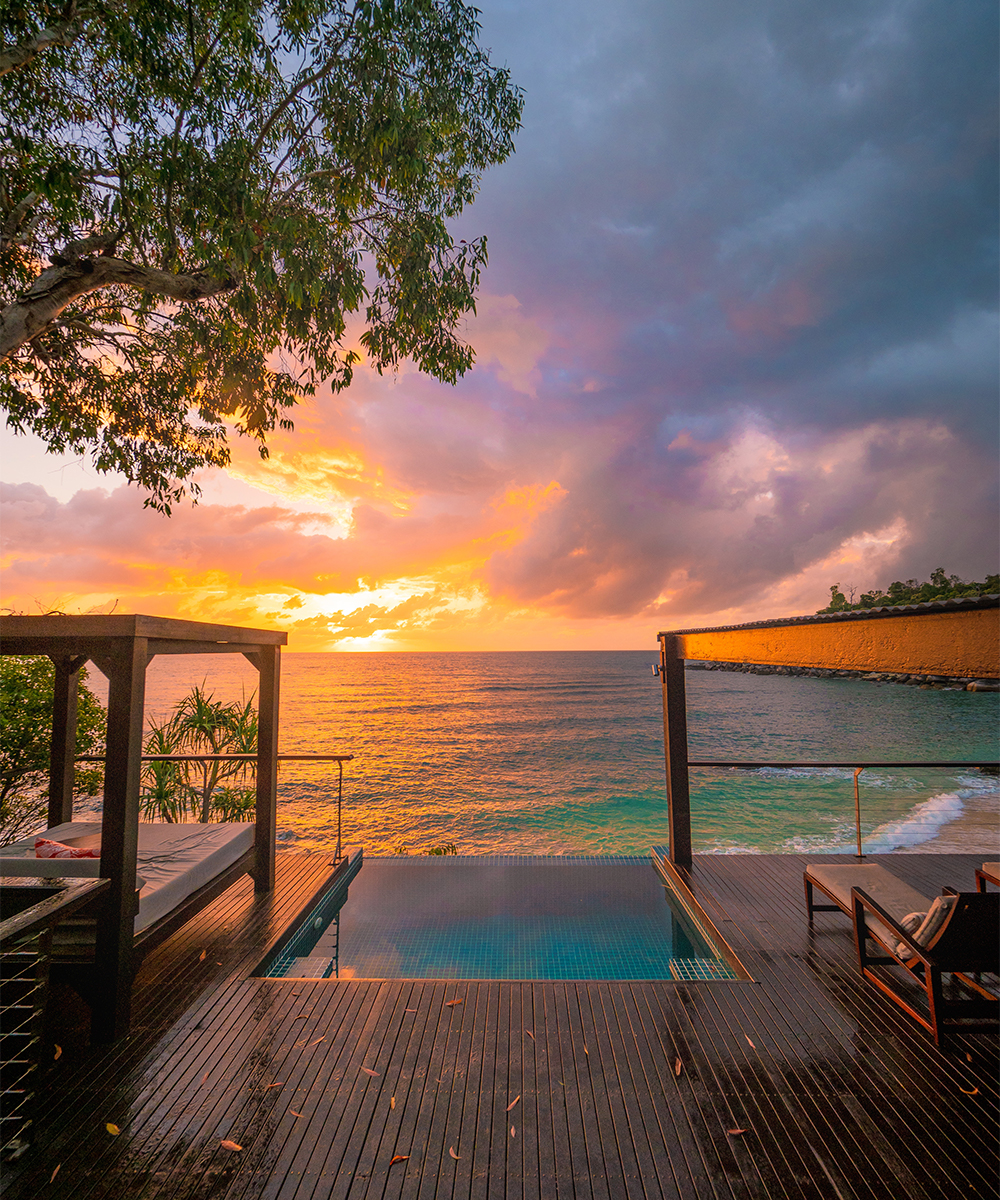 Looking for a place to get away from it all? We're pretty sure we've found the perfect spot. With just ten private villas nestled amongst 45 hectares of tropical rainforest, Bedarra promises guests solitude and privacy alongside breathtaking views over the sparkling waters of the Great Barrier Reef. Each villa offers a unique escape from civilisation, from private plunge pools to outdoor bathrooms and sprawling sundecks. Indulge in a 5-star dining experience with a candlelit dinner for two on your own private beach deck, or sample the chef's exquisite menu with a meal at the open terrace restaurant. Either way, with food this good, you know you'll be coming back for seconds of this luxury resort Queensland loves.
The Bower
Maleny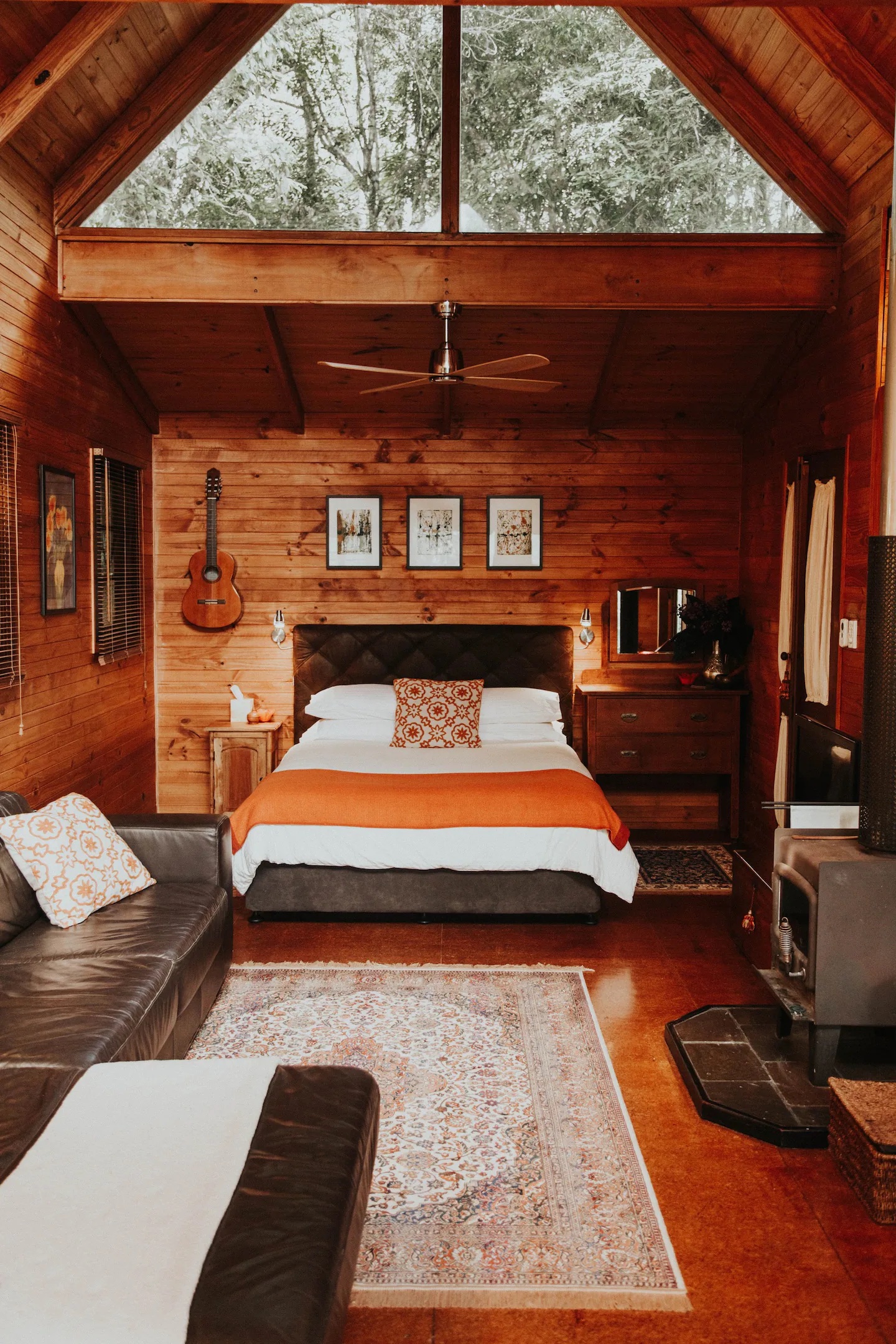 It doesn't get much more cosy than this romantic rainforest retreat, with a wood-burning fireplace, claw-foot bathtub, and a gorgeous balcony to greet the local birdlife each day. Your booking includes breakfast provisions and firewood, so all you need to bring is a good book and a few snacks for the ultimate switch-off getaway.
Gilberton Outback Retreat
Einasleigh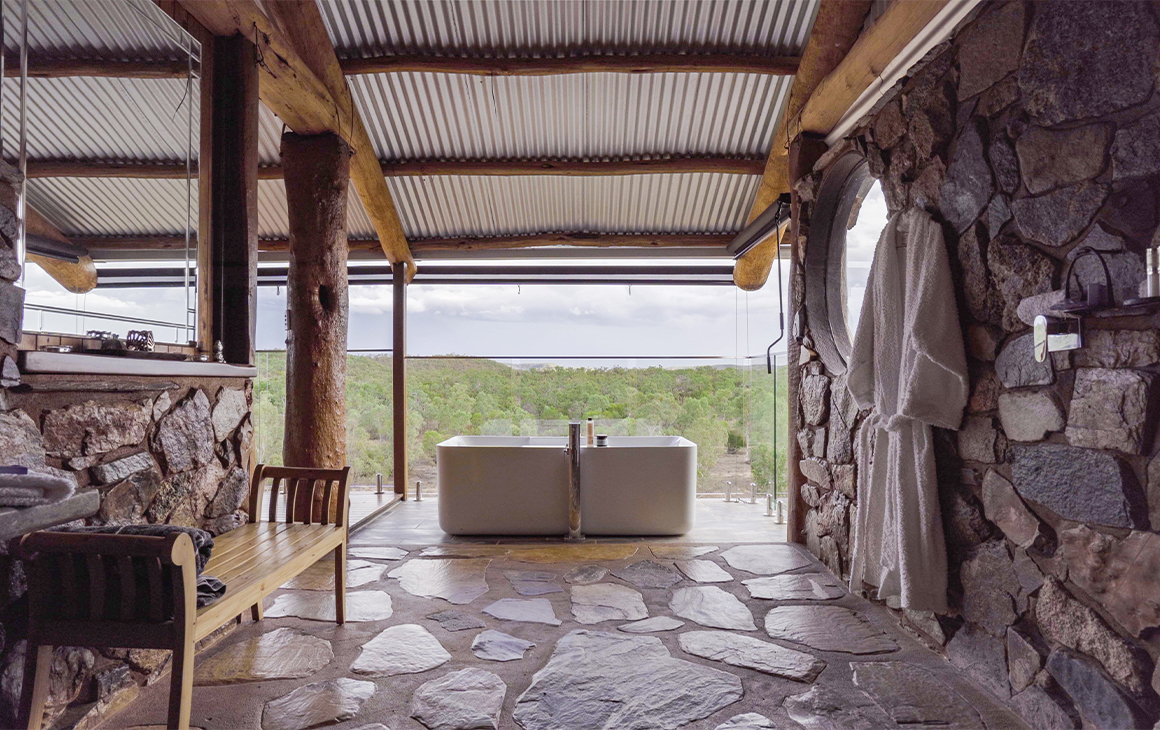 Gilberton Outback Retreat is the perfect place for a digital detox—if you've got the coin to pay for it. Perched on a bluff overlooking the Gilbert River, this luxurious getaway offers uninterrupted panoramic views of the surrounding rugged landscape. All activities and meals are inclusive, including their 4WD Buggy Safari and Gold Mining and Fossicking Tour. There's plenty to see and do in the area; we recommend a trip to Cobbold Gorge, or an Outback Tour From Above. Retreat to your room to nibble on your complimentary welcome platter as you don a luxurious fluffy bathrobe and matching slippers.
Allure
Stanthorpe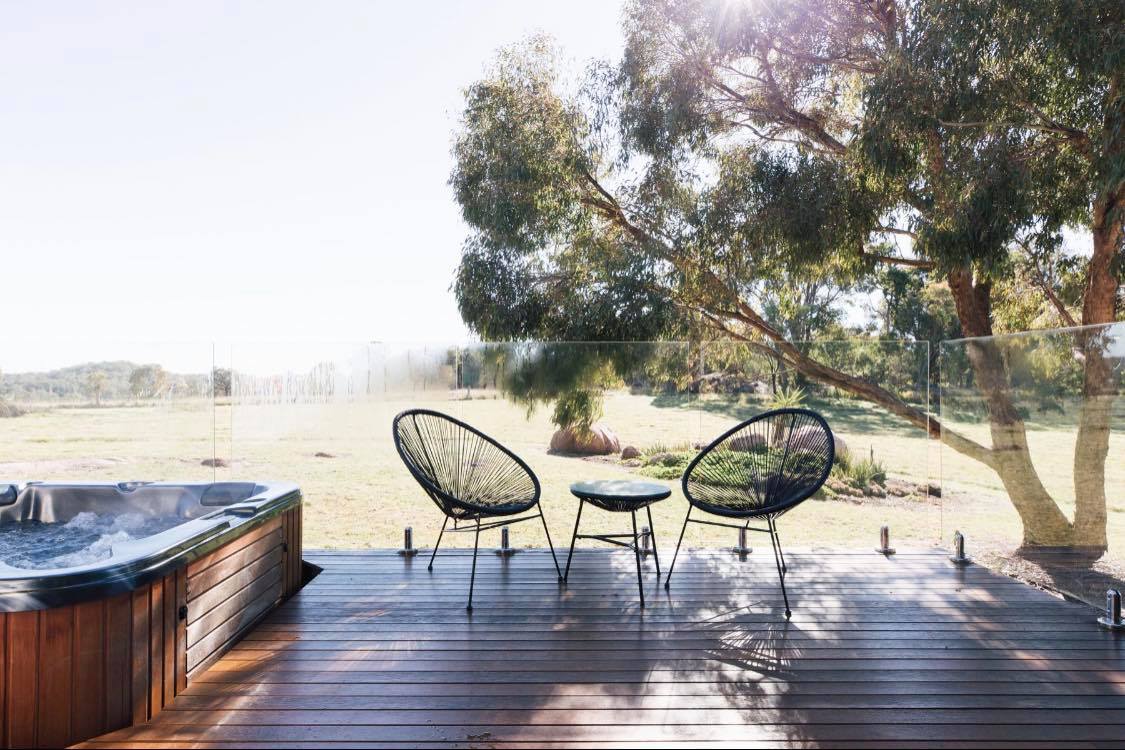 Alure Stanthorpe is the only way to do it, if you ask us. The luxe villas and glamping tents are nestled away just a five-minute drive away from the center of town and feel delightfully secluded. They'll even leave fresh, locally sourced breakfast in your villa for each morning (which we recommend enjoying on your private deck, overlooking the cows in the nearby field). Plus, they're pet friendly and, your pup will even get a doggie bathrobe. Honestly, we can't even. Book it here.
Spicers Peak Lodge
Maryvale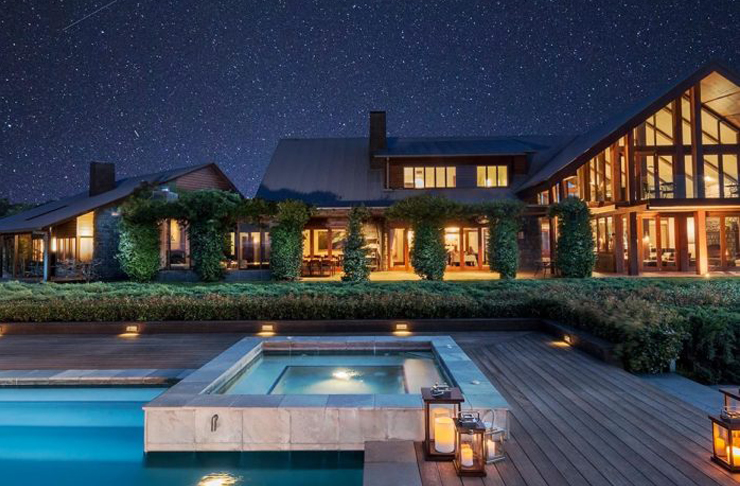 Jaws will drop as you enter the majestic 12km driveway of Spicers Peak Lodge. Located 1100 metres above sea-level in South East Queensland (just over two hours from the Gold Coast), Spicers Peak offers the height of luxury via its all-inclusive holiday styling. Melt into a treatment at Spa Anise, dine at award-winning restaurant, The Peak, explore the surrounds with a gourmet picnic hamper in hand, or alternate between the pool and tennis court for some localised fun. C'mon, you can't get much more romantic than this. Book here.
Kanimbia Luxury Glamping
Obi Obi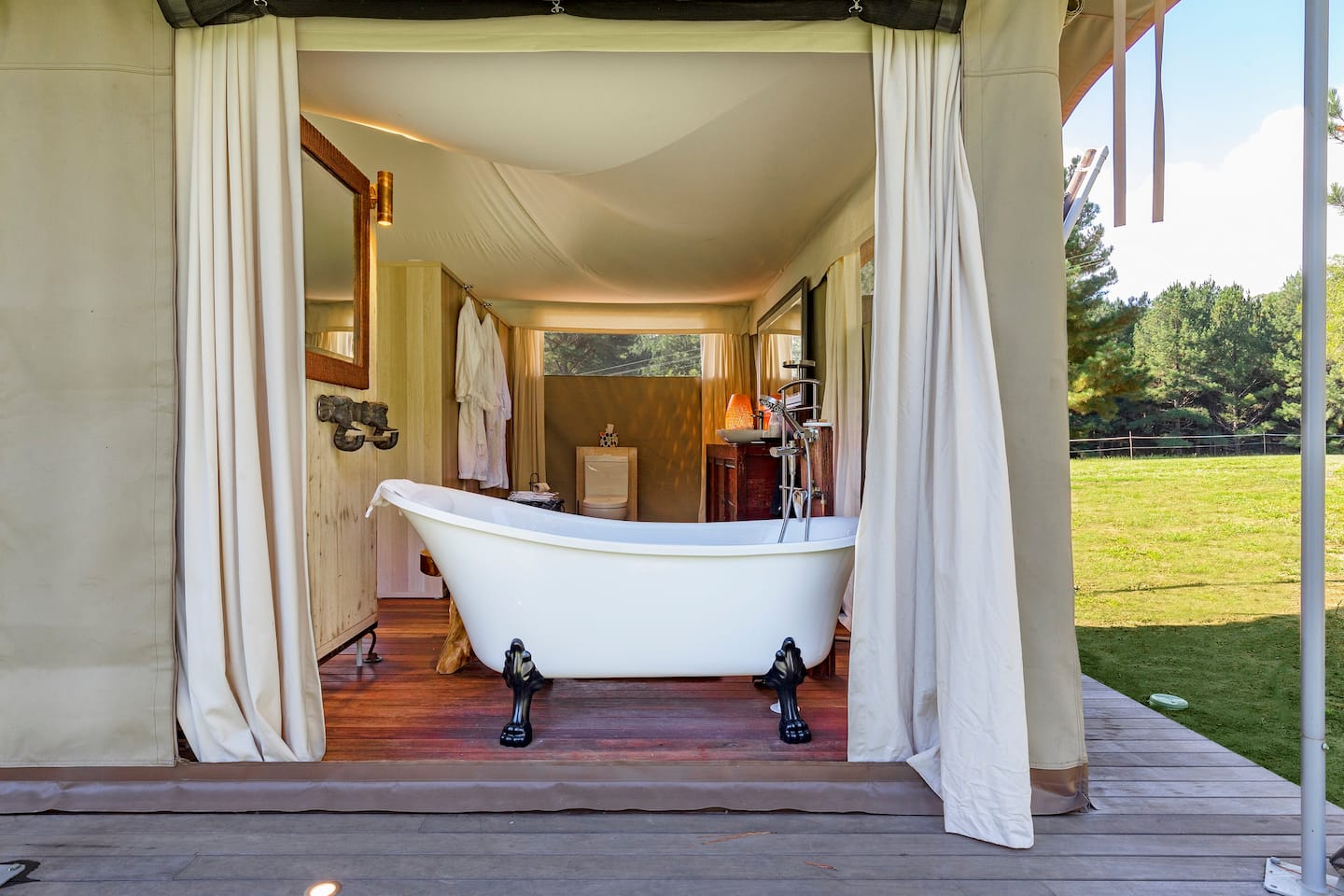 By now, we're all well aware of glamping and how it one-ups camping in every way, but this Kanimbia Luxury Glamping site has taken the idea to the next level, putting the "glam" in camping (times 100). If you're looking to truly immerse yourself in the great outdoors away from anyone else, you're in luck because this luxury safari tent is surrounded by 50 acres of land. Recharge in the bathtub, which sits behind a canvas wall that you can fully open up to truly be at one with nature.
Verandah House Country Estate
Tamborine Mountain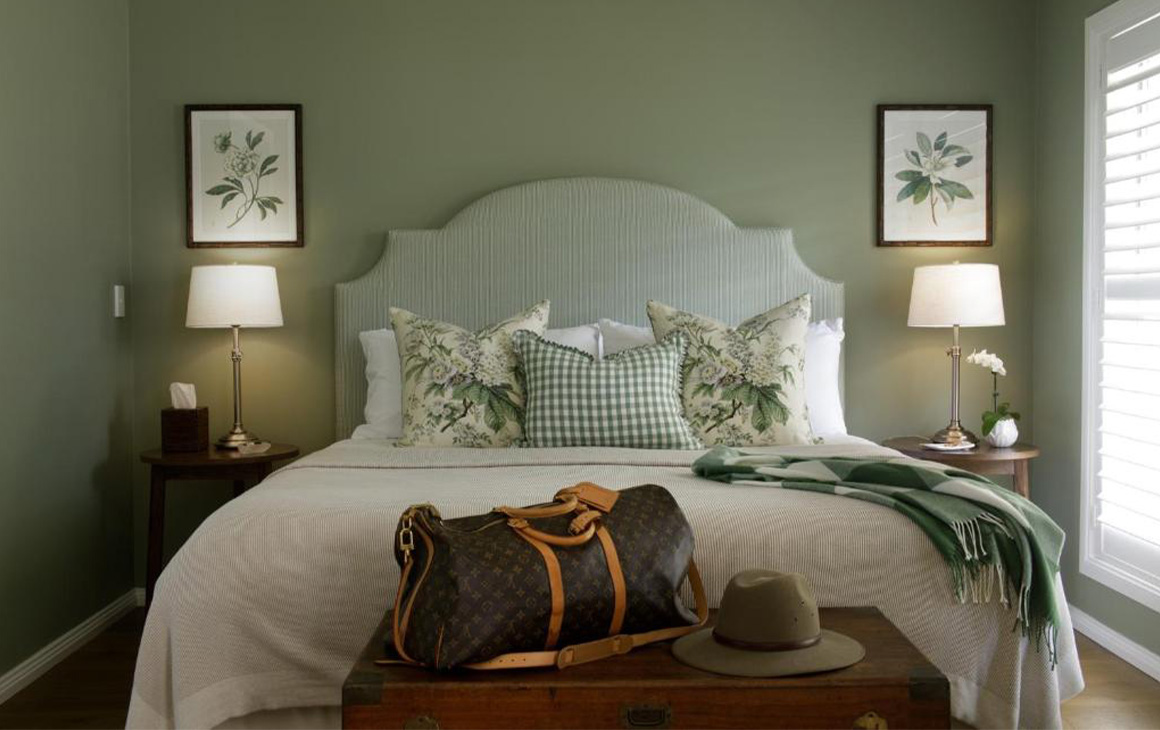 If the first word out of your lips when you see the incredible views visible from Verandah House Country Estate's hot tub isn't 'wow,' you need to get your eyes checked. This brand new boutique accommodation in Tamborine Mountain features just nine luxe suites, all designed with a country aesthetic in mind to match the wide open surrounds. Each suite has its own balcony or verandah where you can take in those views, as well as a fireplace, kitchenette, lounge area and ensuite. There's also a pool, outdoor fire pit, community kitchen and day spa on the property, and a continental breakfast spread is supplied each morning for you to eat wherever you please—we'll be taking ours back to bed.
InterContinental Hayman Island Resort
Whitsundays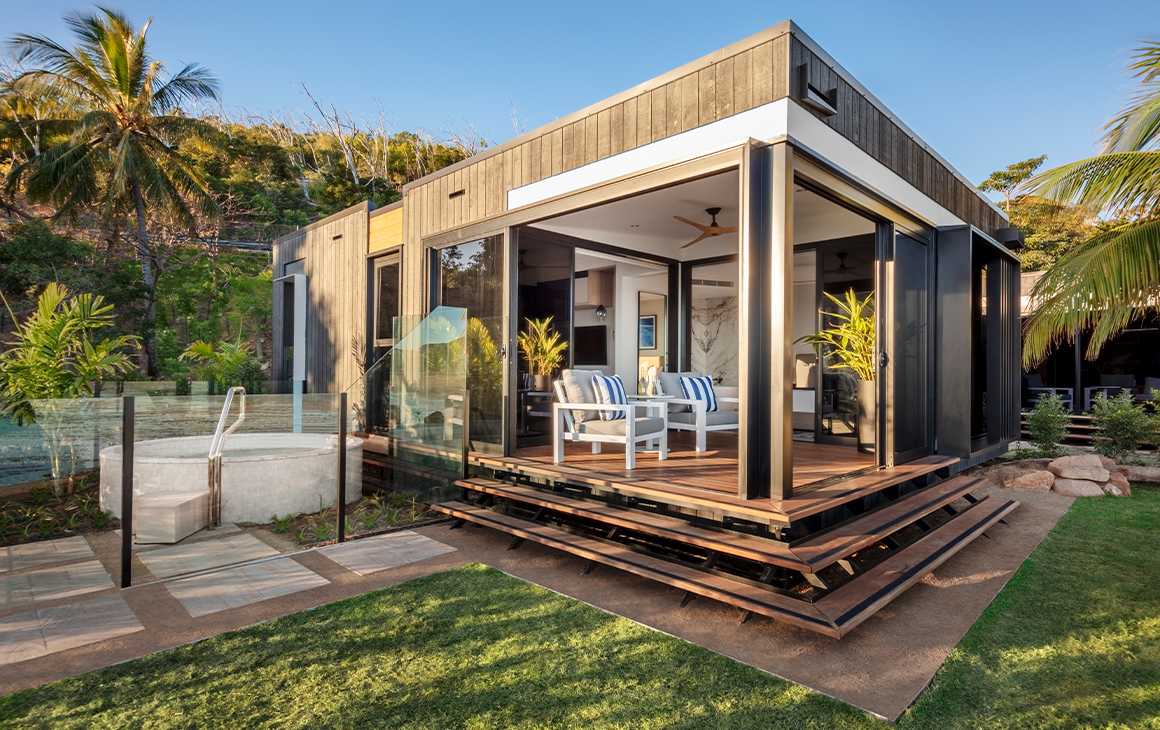 If you want all the luxury and amenities of a mega luxury resort but you also want total privacy and a kid-free slice of beach literally at your front door, InterContinental Hayman Island Resort's new Beachfront Pavilions are the getaway you're looking for. These adults-only one-bedroom cabins are perched on the edge of Hayman Bay, with the ocean just steps away from the front deck of each of the 12 sites. You can gaze out on the horizon from the private heated plunge pool, your plush king-sized bed or even the free-standing bath, whichever best matches your mood for the day. Of course, if you want to leave your dreamy bubble of perfection, the resort's restaurants, bars, pools and spa are only a short walk away. Book in here.
We've also rounded up the most romanitic getaways around Brisbane, the Sunshine Coast and the Gold Coast.
Image credit: TEQ, Booking.com, Airbnb