Dreaming about lazing the days away without a care in the world? Craving some fresh country air? Longing to relax and unwind somewhere that's completely off the grid? If yes, then we think you are definitely due for your next holiday and we have got the list of retreats just for you. And, if not, keep reading. Once you see these country escapes we've found, we just know you'll be requesting leave from work, clearing the calendar and booking them straight away.
The Old Glenroy Dairy
Kenilworth | Sleeps 2
This stay, originally built in the early 1920s has been restored into a rustic cottage that still maintains the history and character of the old barn. For ultimate laze, we recommended purchasing a cheese platter (or two) on offer by the hosts and nibbling the arvo away. The Old Glenroy Diary promises mornings welcomed with a misty view over the river flats and evenings by the outdoor fire. Book your stay here.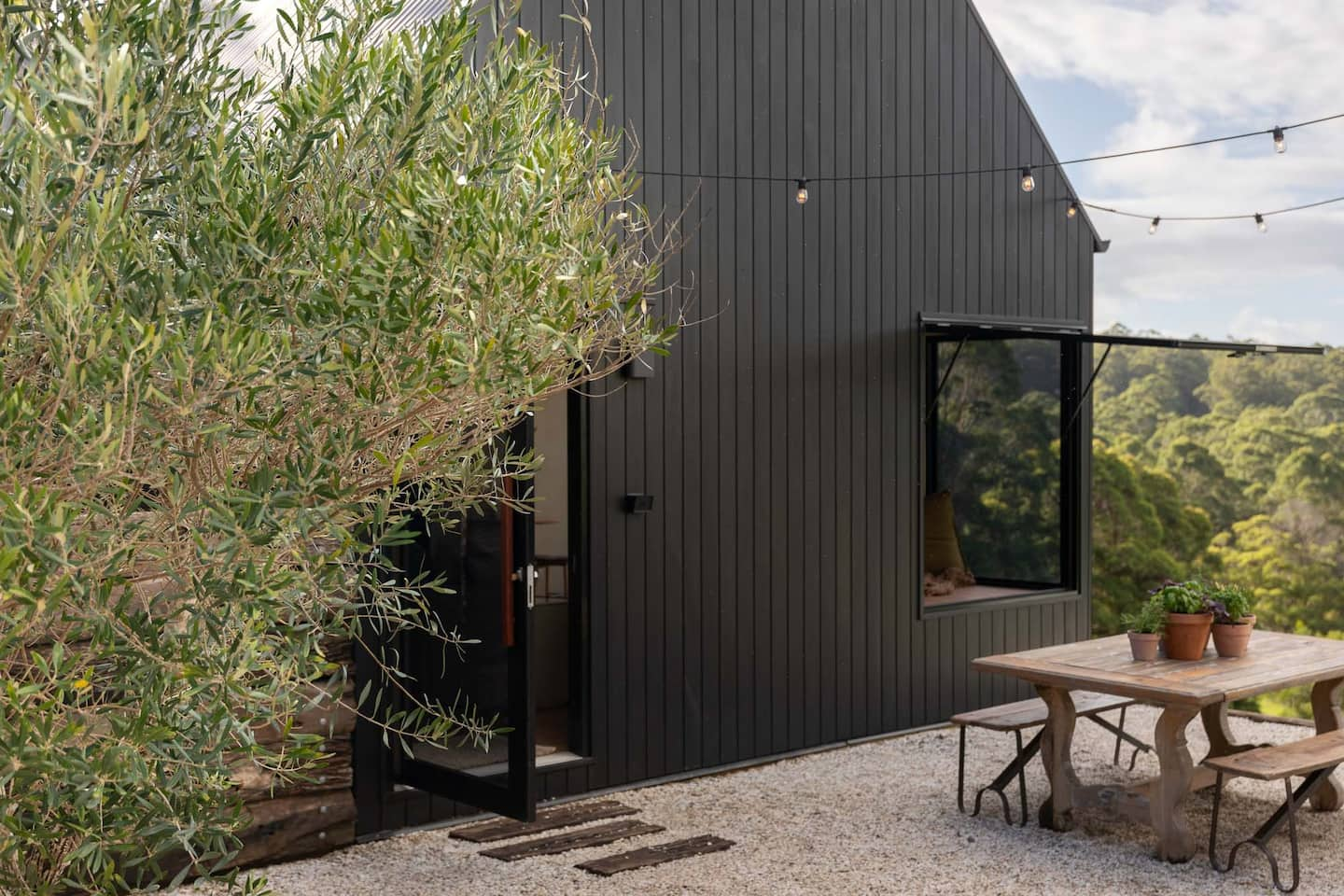 Round Hill Retreat
Obi Obi | Sleeps 2
Rolling green paddocks. A private plunge pool. Walks and waterfalls to explore. Do we need to say more? This cabin is nestled in the Sunshine Coast Hinterland and is the perfect place to relax, unwind, and laze the day away. While there's waterfalls and walks on offer nearby, the retreat has such gorgeous interiors we don't think you'll want to leave. Book your stay here.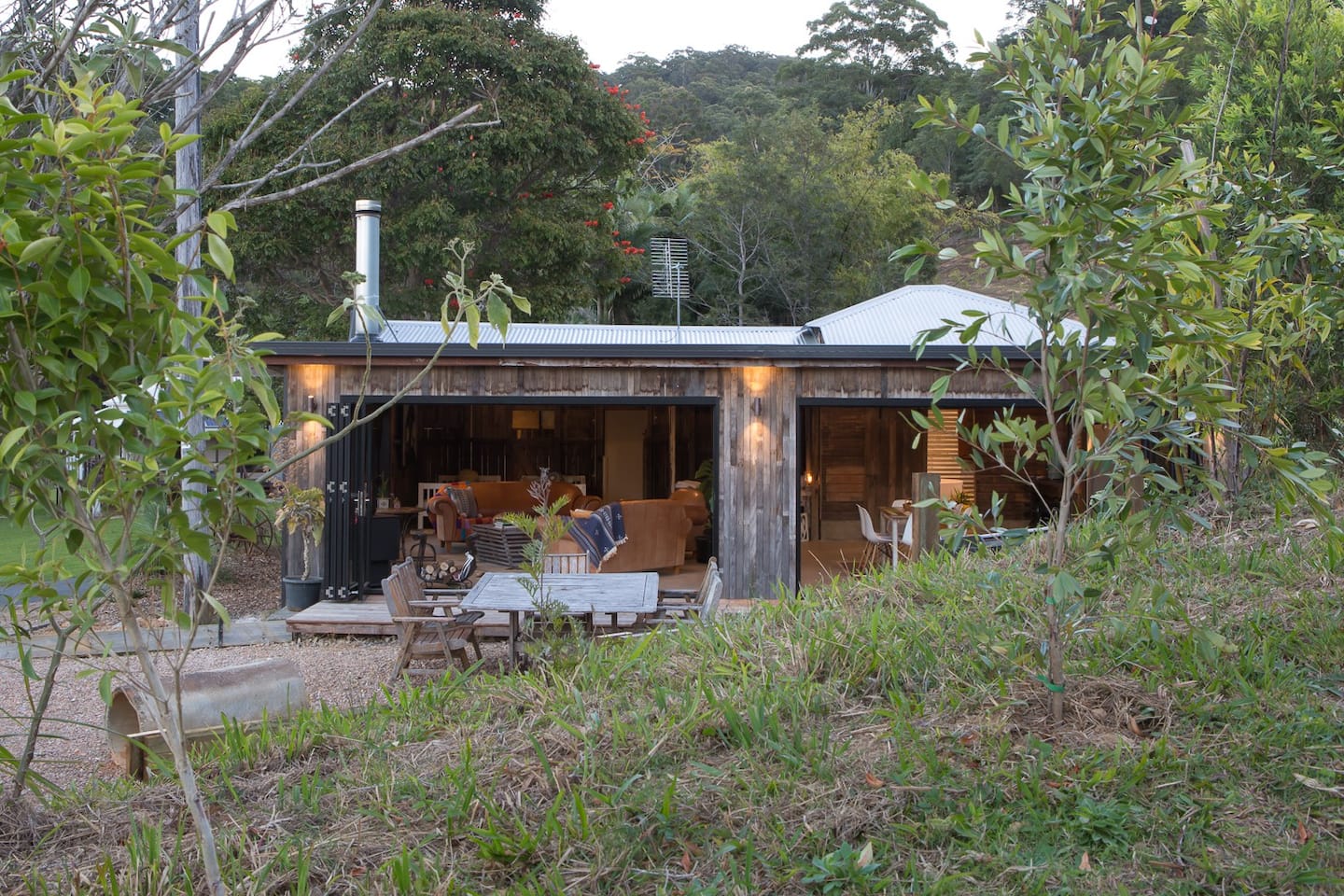 The Old Dairy
Cudgera Creek | Sleeps 4
Desperate to escape the rat race? Look no further than this retreat. The Old Dairy is a restored and renovated dairy shed, featuring modern accessories with walls of the old wood. Wake up to the sight of incredible painted sky sunrises from the comfort of your bed and finish the day stargazing and roasting marshmallows at the outdoor firepit. Feel free to explore the surrounding property and farm, feed the animals, or if you're feeling super adventurous, it's just five minutes to the Pottsville beaches and 25 minutes to Byron Bay. Book your stay here.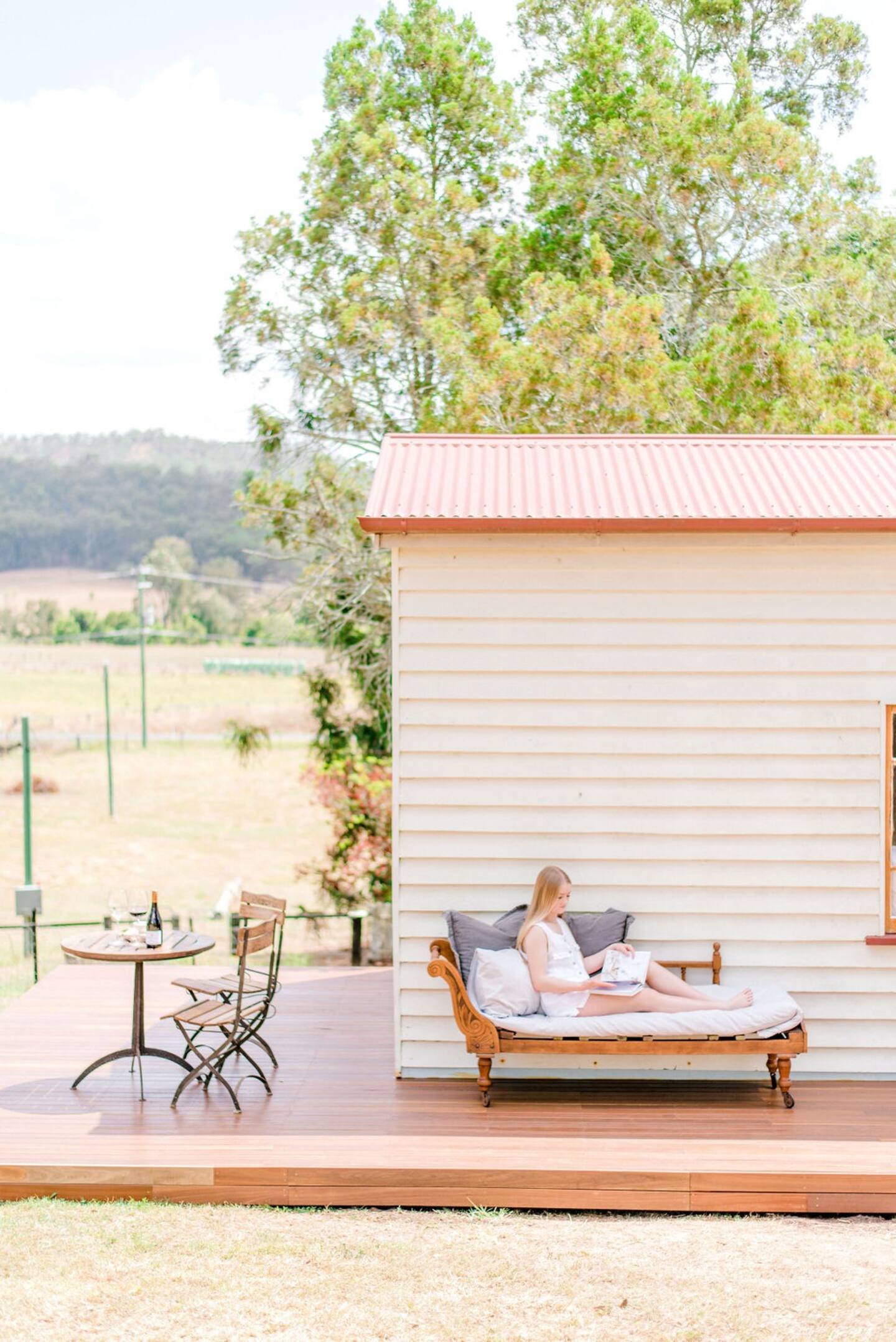 The Granary
Biddaddaba | Sleeps 2
A cottage nestled within fruit orchards and olive groves and it's surrounded by mountain views? Yes please. At The Granary you'll be able to explore gorgeous wineries along the Scenic Rim during the day and return home just in time to enjoy a glass of wine amongst the beautiful olive groves at sunset. Plus, with an indoor fireplace, we're talking ultimate cosiness during the cooler months. Book your stay here.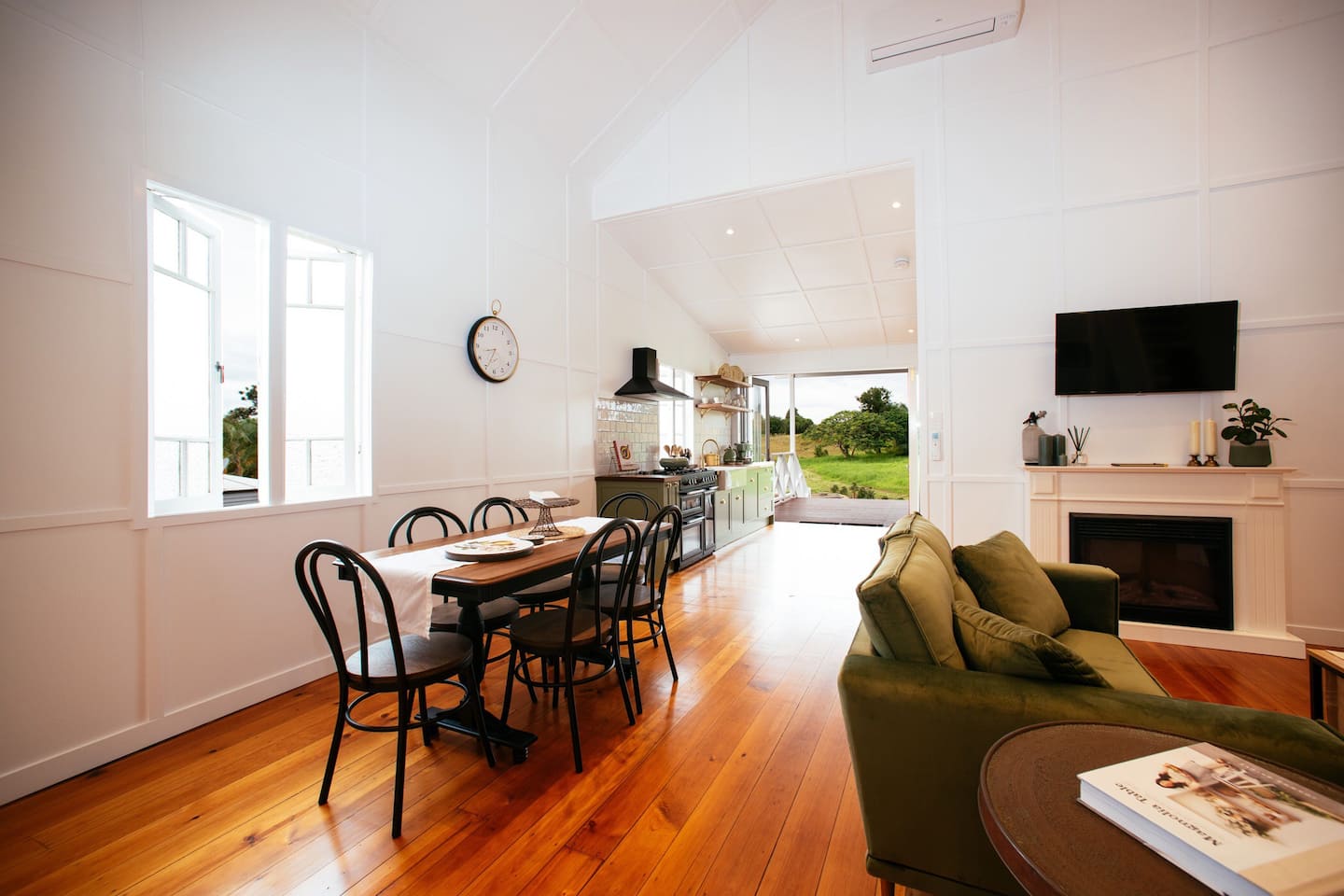 The Church
Roadvale | Sleeps 6
This home away from home has room for six, so grab your mates, stock up on supplies along the way and head out to this retreat. Once a church, the stay has been transformed into the ultimate luxurious country escape away from the hustle and bustle of city life. Once you arrive, enjoy mountain views and explore the surrounding farmland, then cruise on out to the firepit night after night to stare at the stars. For those of you who are cocktail or wine enthusiasts, you'll be happy to know the bar is stocked with every glass imaginable. Book your stay here.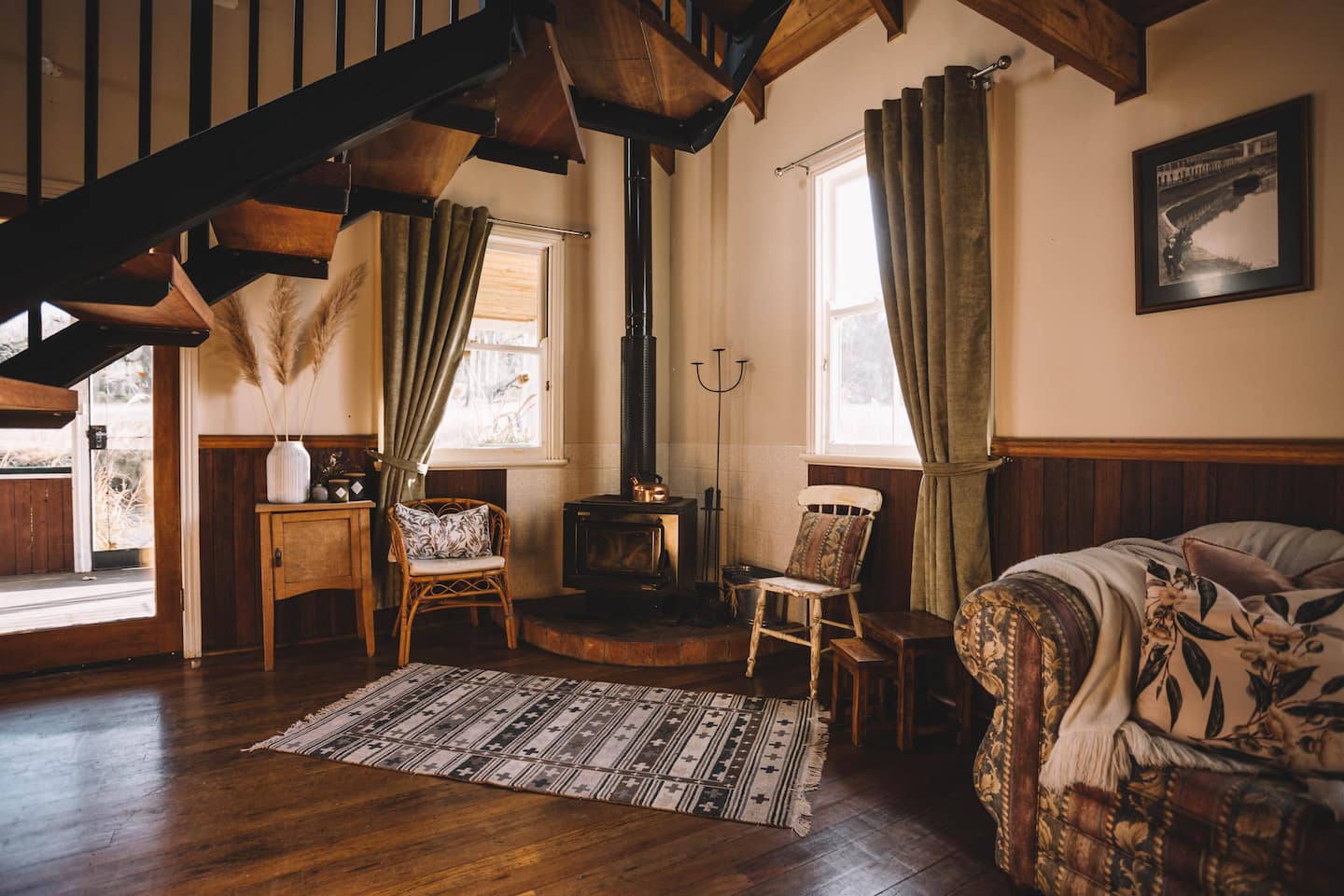 Rustic Country Escape
Tenterfield | Sleeps 2
Ultimate relaxation starts here. We're talking afternoons on the veranda with wine in hand, lake views, and perfect sunsets. Located just 6km outside the historic town of Tenterfield, set amongst award winning gardens and with cosy, dark timber interiors this cottage will have you wanting to stay for…well forever. Book in your stay here.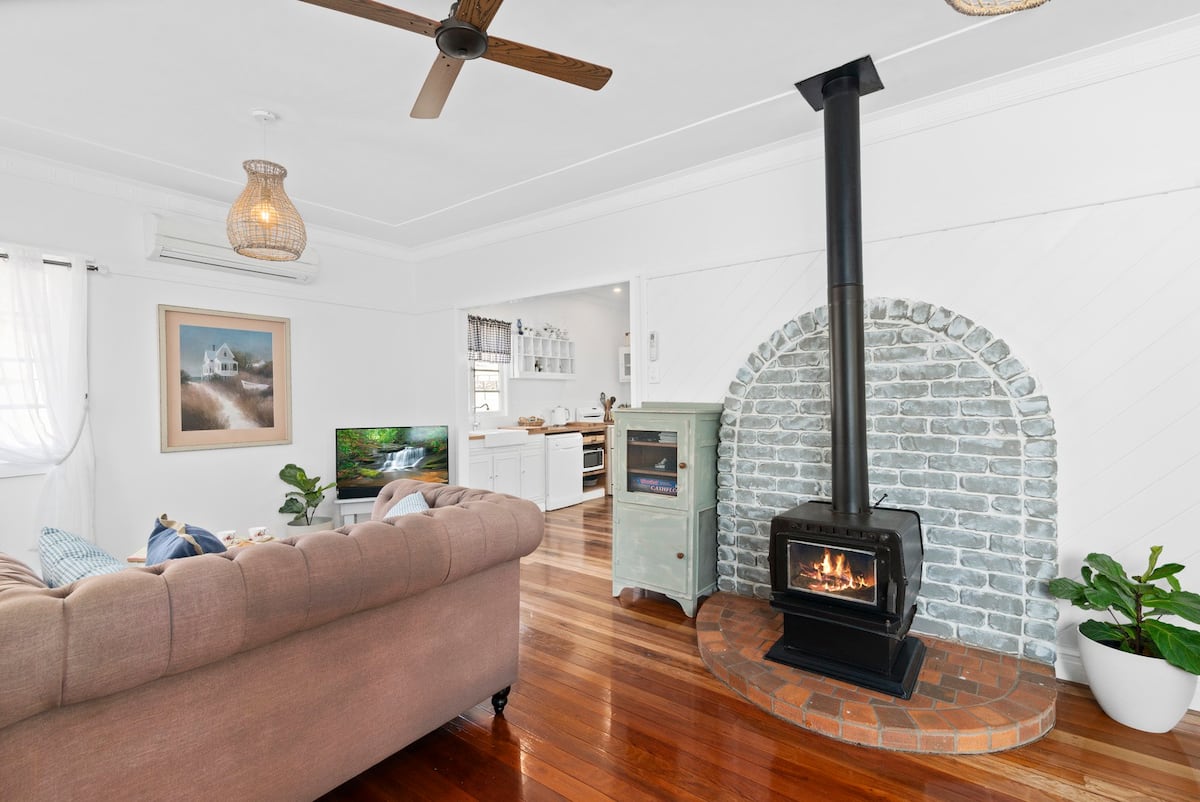 Vintage Cottage
Canungra | Sleeps 6
Luxury living meets yonder years at this quaint cottage tucked away in the stunning Scenic Rim. Just an hour's drive from the Brisbane CBD (and a few minutes away from O'Reilly's Winery), the recently-renovated home is set across four sprawling acres, under clear country skies. The surrounding mountain ranges make a beautiful backdrop for brekky on the spacious undercover deck, or to watch the sunset with a complimentary bottle of bubbly. Fur babies will love the rolling country hills, so be sure to bring them along. Book your stay here.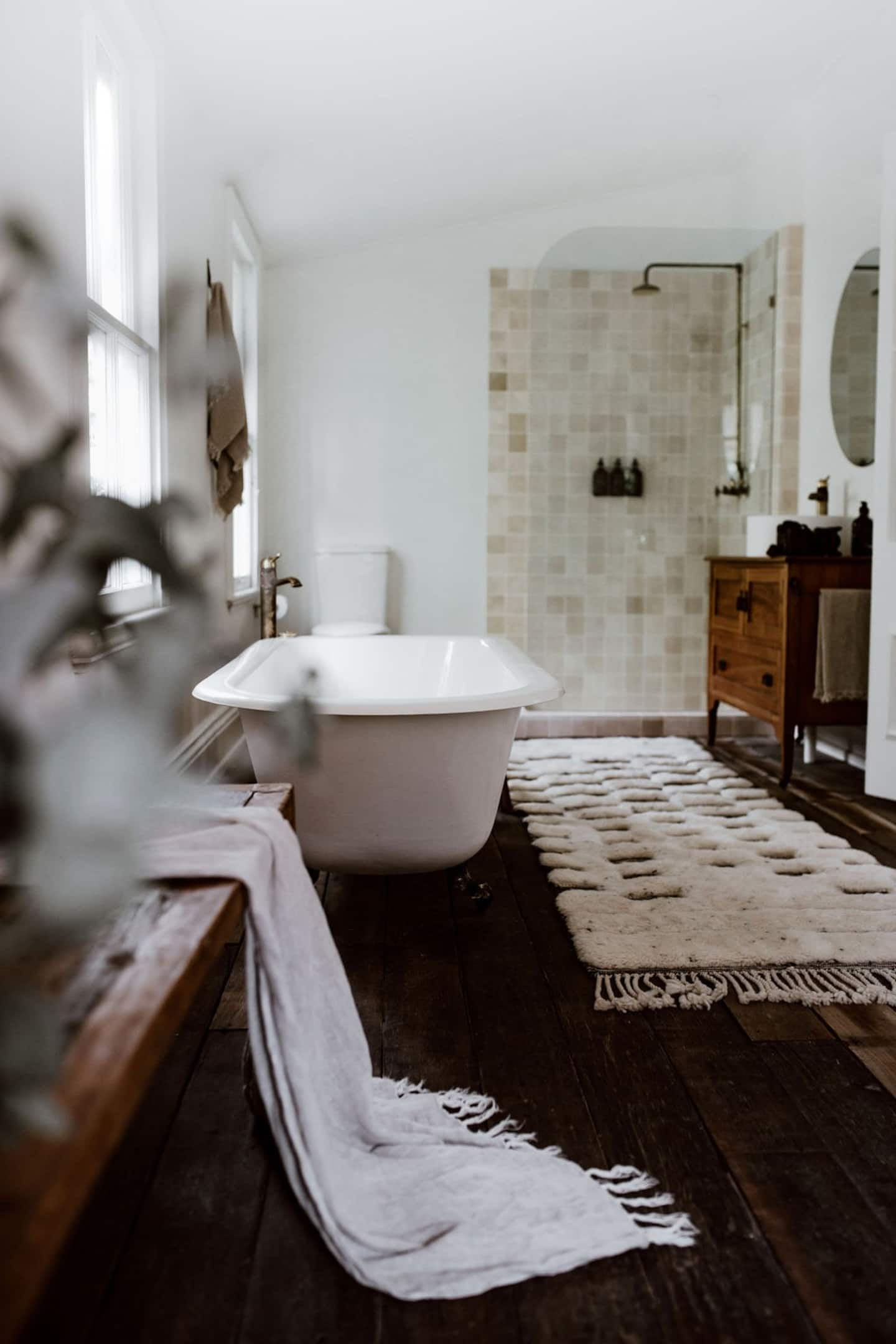 The Postman's Cottage
Montville | Sleeps 2
Did someone say luxurious and romantic getaway for two? One of the cutest hinterland towns near Brisbane, Montville makes for a perfect winter getaway, and The Postman's Cottage is a top option for mega cosy accommodation for two, within an easy walk to town. Set within a 1.5-acre estate, the cottage includes a charming wood-burning fireplace, clawfoot bathtub and full kitchen, and access to the grounds for strolls and bird spotting. Book your stay here.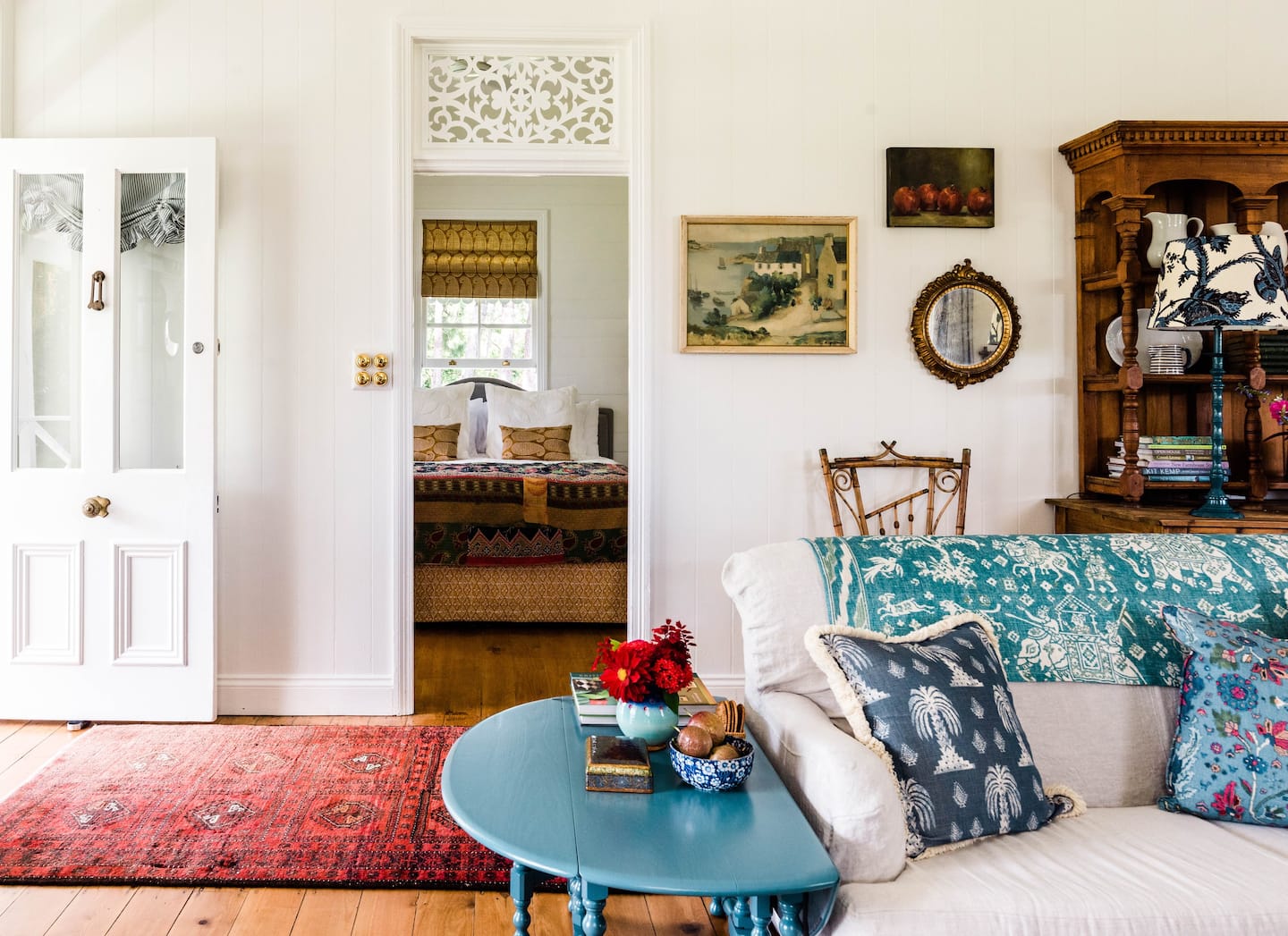 Rangeview Cottage
Eumundi | Sleeps 4
Just two hours out of Brisbane's CBD, Rangeview Cottage is a 100-year-old worker's cottage that has retained the charm and ambiance of the original Queenslander. The stay has several outdoor dining spots nestled in the cottage's gardens surrounded by hills and mountains, so we suggest bringing a recipe book to cook up a storm (or if cooking isn't your idea of relaxation, we're giving you permission to just order take-out) and dine under the stars at each spot. If you're down to explore the area, we suggest heading to the famous Eumundi Markets, Noosa or surrounding national parks. Book your stay here.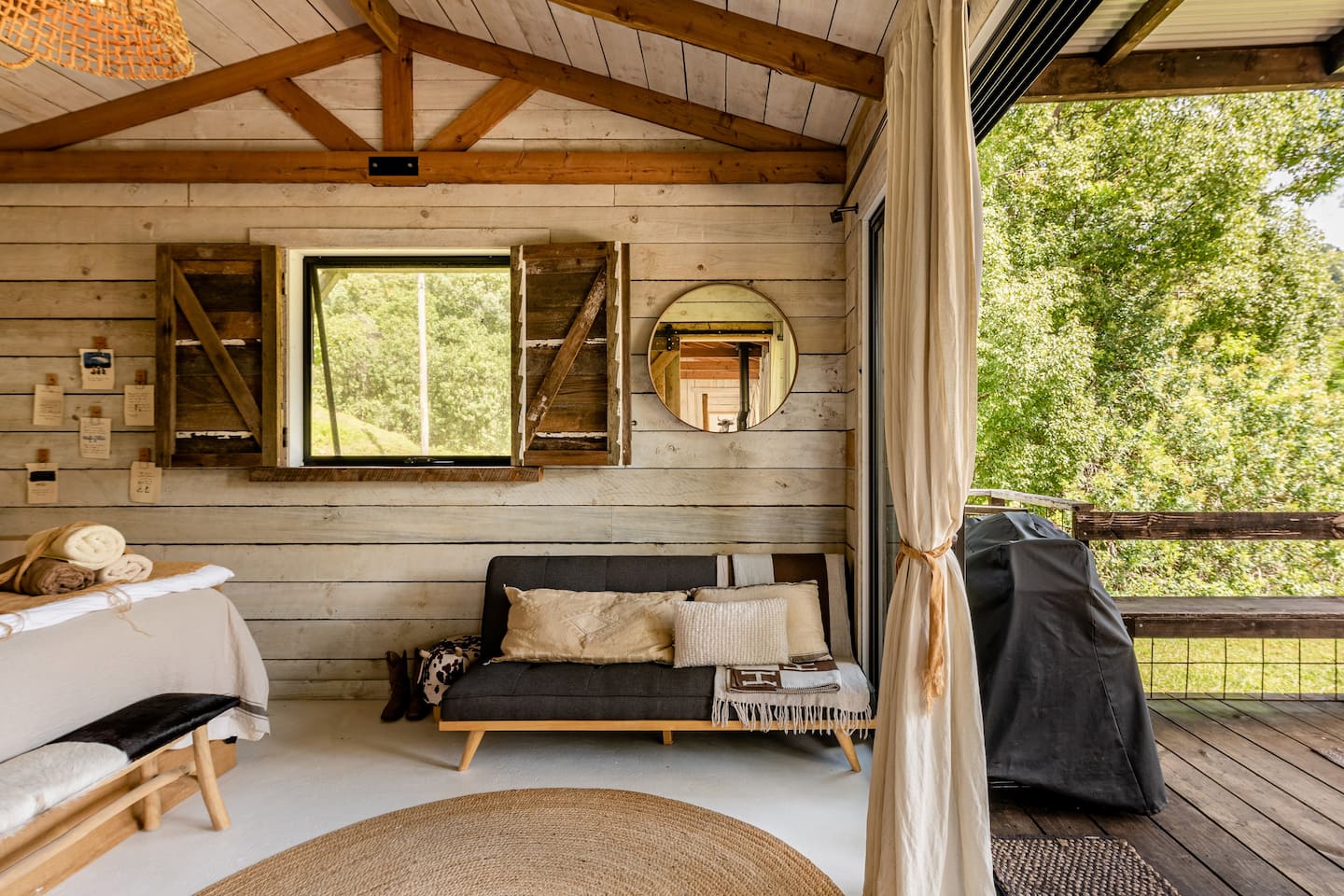 Hillview Dairy
Currumbin Valley | Sleeps 8
We've got four words for you: wine barrel plunge pool. Need we say more? Yeah, we didn't think so. Hillview Dairy offers everything you need to escape from everyday life. You'll be off the grid, but don't stress—there's plenty to immerse yourself in, including an outdoor European bathtub and stunning views of the Gold Coast countryside. Oh, and did we mention the plunge pool? Book your stay here.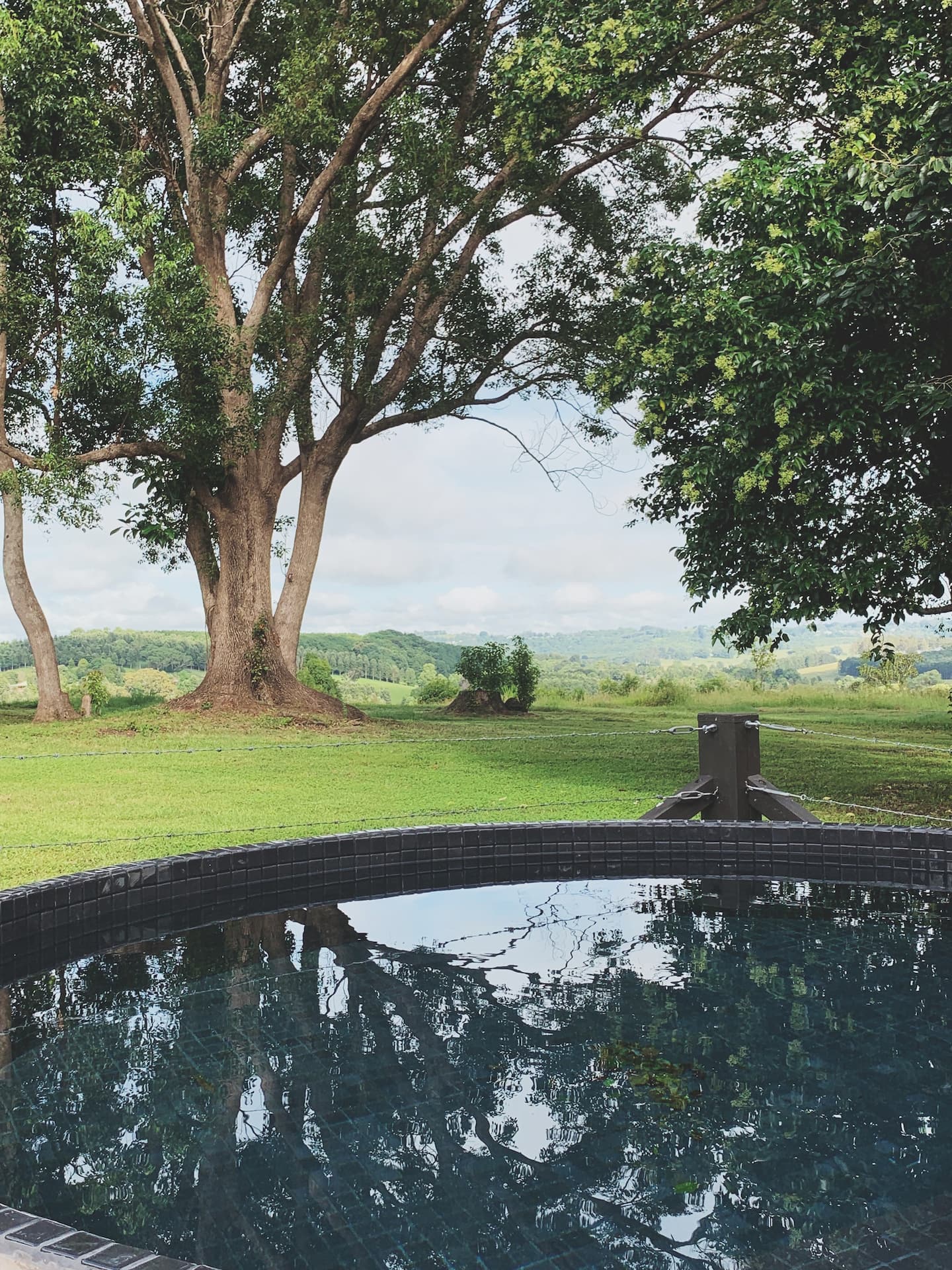 Rockhaven
Booyong | Sleeps 2
Nestled in the hinterlands of Byron, Rockhaven is the spot to be if you're chasing a zen getaway. We're talking dining areas in prime position for gorgeous country sunsets, a vintage bathtub from the 1900s, and freestanding fireplace. Rockhaven sits on a 60-acre property so you'll truly feel like you've escaped the nine to five. Book your stay here.
Prefer to head for the beach? Check out the best beach houses to stay in near Brisbane here.
Image credit: Airbnb