When was the last time you visited Mount Tamborine? How well do you know the lush waterfalls, the long-winding hiking tracks, the quaint cafes and the protected national parks?
In order to support your voyage up the mountain, we've put together a short list of the best Tamborine Mountain accommodation you're likely to find, including luxe stays, cute cottages and cosy glamping tents. So whether you're in search of a romantic retreat or a trip away with the kids, we're here to get you out-and-about among on the mountain sitting right on our doorstep.
Woolcott Cottage
HIgh up on Tamborine, this 100 year old cottage is just the spot to laze by the fire with a bottle of something special from the local distillery and a cheese platter from Tamborine Cheese. The powder blue Woolcott Cottage looks like something out of the pages of an Anne of Green Gables novel, complete with a wicker rocking chair, sun-drenched window seat and a farmhouse-style wooden table. Pack your best straw hat and book here.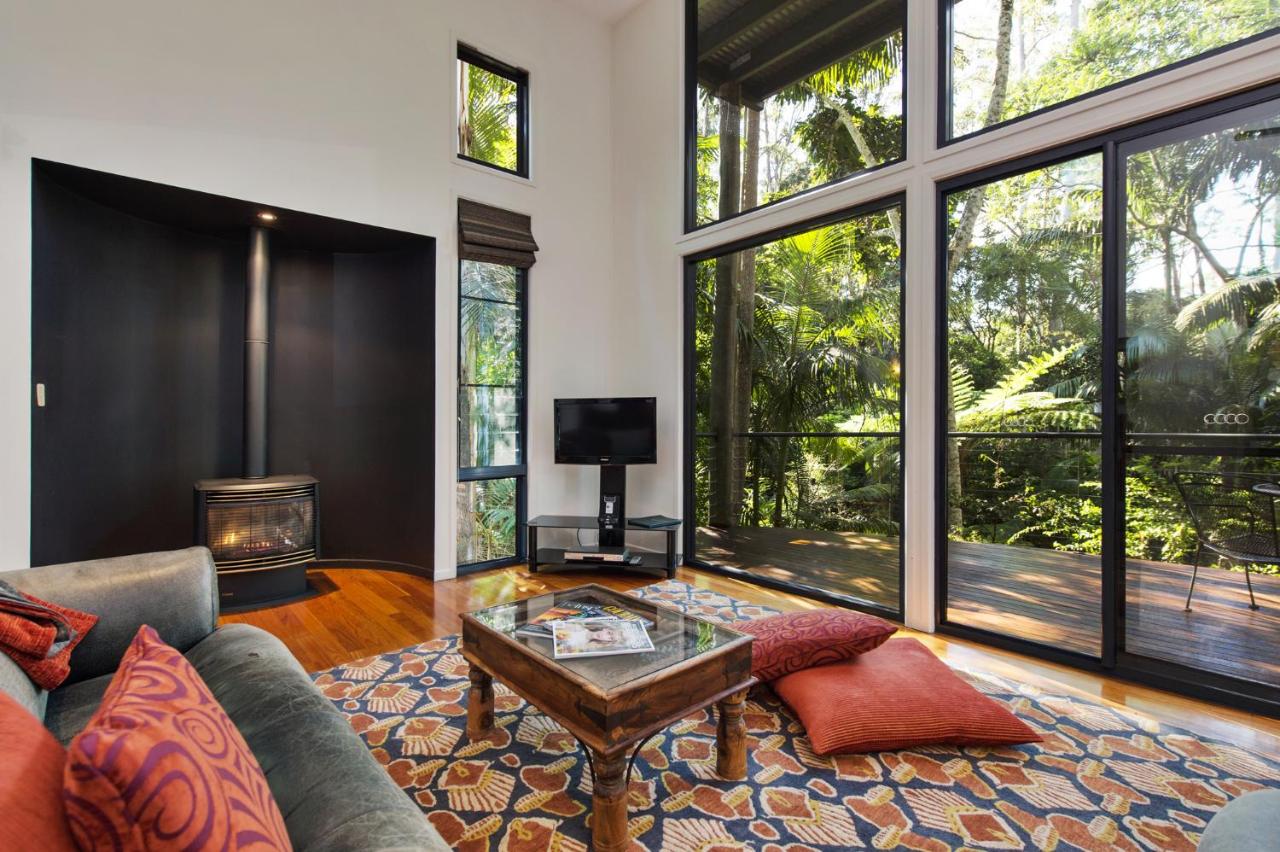 Pethers Rainforest Retreat
North Tamborine
Pethers is a secluded retreat set amidst five hectares of pristine sub-tropical rainforest. Although designed exclusively for adults, you may find yourself sharing space with local wallabies, owls, echidnas and possums that call this part of the world home. Accommodation is limited to 10 private tree houses, featuring timber floors, private spa, gas fire and five-metre tall glass windows and doors, allowing you to enjoy the outside view 24/7. Pethers Rainforest Retreat offers all of the important luxuries, including an award-winning restaurant, and massage, facials and body treatments are only a phone call away. It also specialises in weddings and functions, so give it some thought if you're looking to impress with your next event.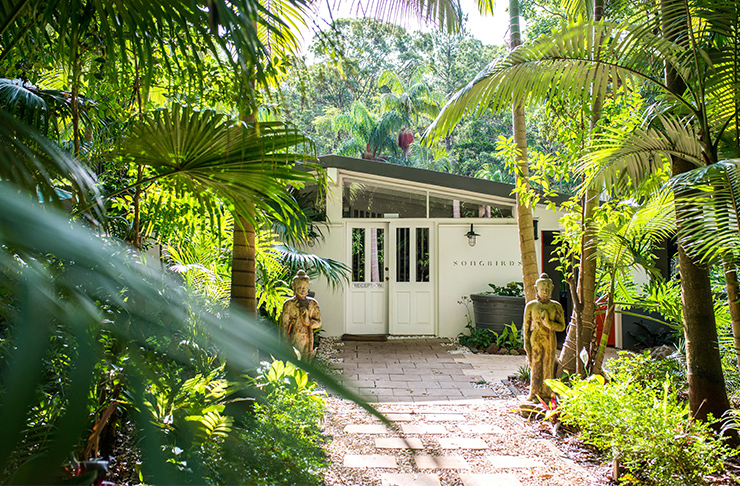 Songbirds Rainforest Retreat
Tamborine Mountain
The vision behind Songbirds Rainforest Retreat was to create an experience that blew away expectations. Its aim is to completely immerse guests in the sounds and sights of the natural environment, accompanied by incredible food. One visit and you'll know they've succeeded. Songbirds is one of the best Mount Tamborine accommodation options, so take your pick of six spacious villas spread out over 51 acres of stunning Australian rainforest, giving you a sense of ultimate privacy, while also being part of the all-encompassing environment. Don't miss Songbirds Restaurant, overseen by Head Chef Meyjitte Boughenout, for a spectacular experience of classical dishes with a modern touch, combined with just a pinch of theatre.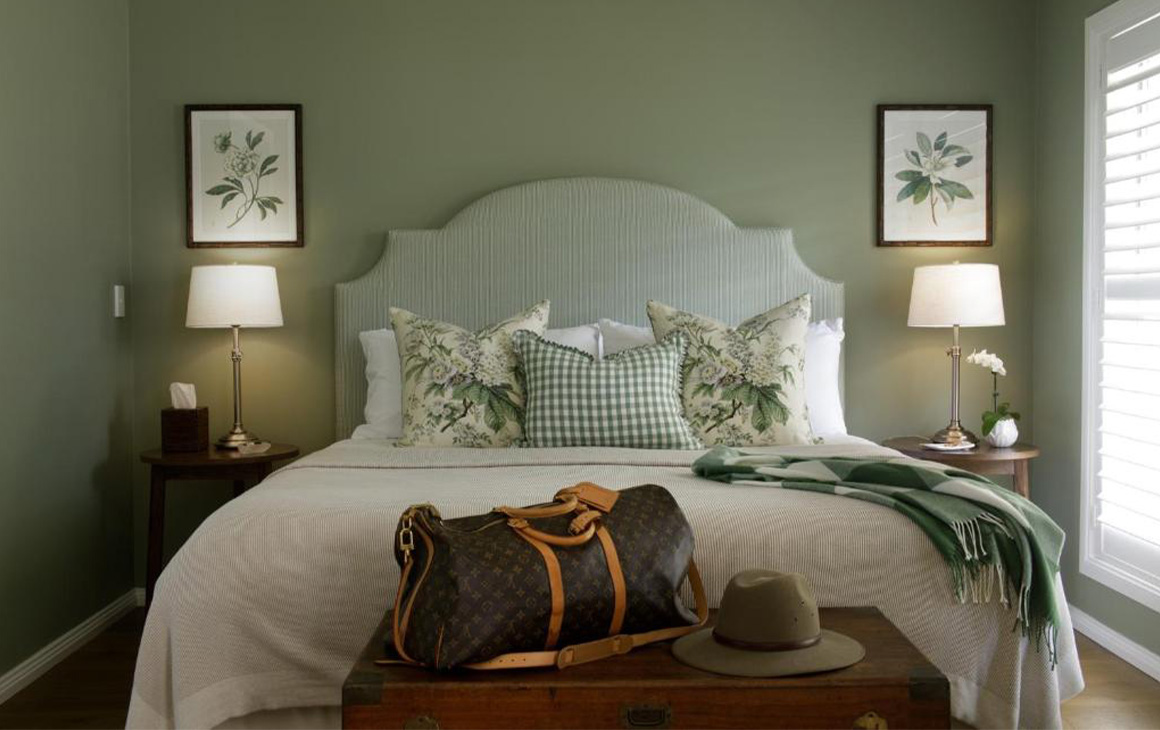 Verandah House Country Estate
Tamborine Mountain
If the first word out of your lips when you see the incredible views visible from Verandah House Country Estate's hot tub isn't 'wow,' you need to get your eyes checked. This brand new boutique accommodation in Tamborine Mountain features just nine luxe suites, all designed with a country aesthetic in mind to match the wide open surrounds. Each suite has its own balcony or verandah where you can take in those views, as well as a fireplace, kitchenette, lounge area and ensuite. There's also a pool, outdoor fire pit, community kitchen and day spa on the property, and a continental breakfast spread is supplied each morning for you to eat wherever you please—we'll be taking ours back to bed.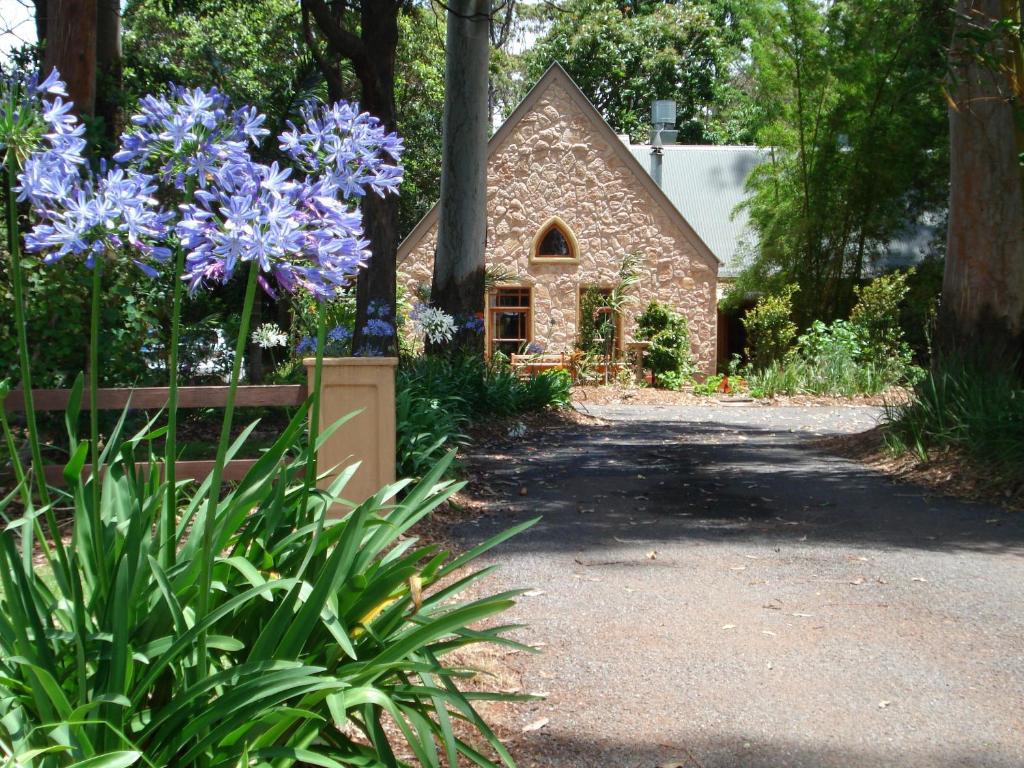 Witches Falls Cottages
Mount Tamborine
A cosy set of cottages tucked behind native trees and flower gardens, Witches Falls Cottages is the perfect base for exploring everything Mount Tamborine has to offer. Start your day snacking on a seasonal breakfast hamper delivered to your door every morning, before embarking on a 15-minute walk down to the local shops. From there, pick up some fresh local produce, and scope out Witches Falls Winery—the cab sav is to die for. Once you've sampled everything at the Cellar Door, head back to the cottages to unwind with a bath, complete with a crystal clear glass roof so you can watch the stars twinkling up above. Sounds like paradise? We thought so, too.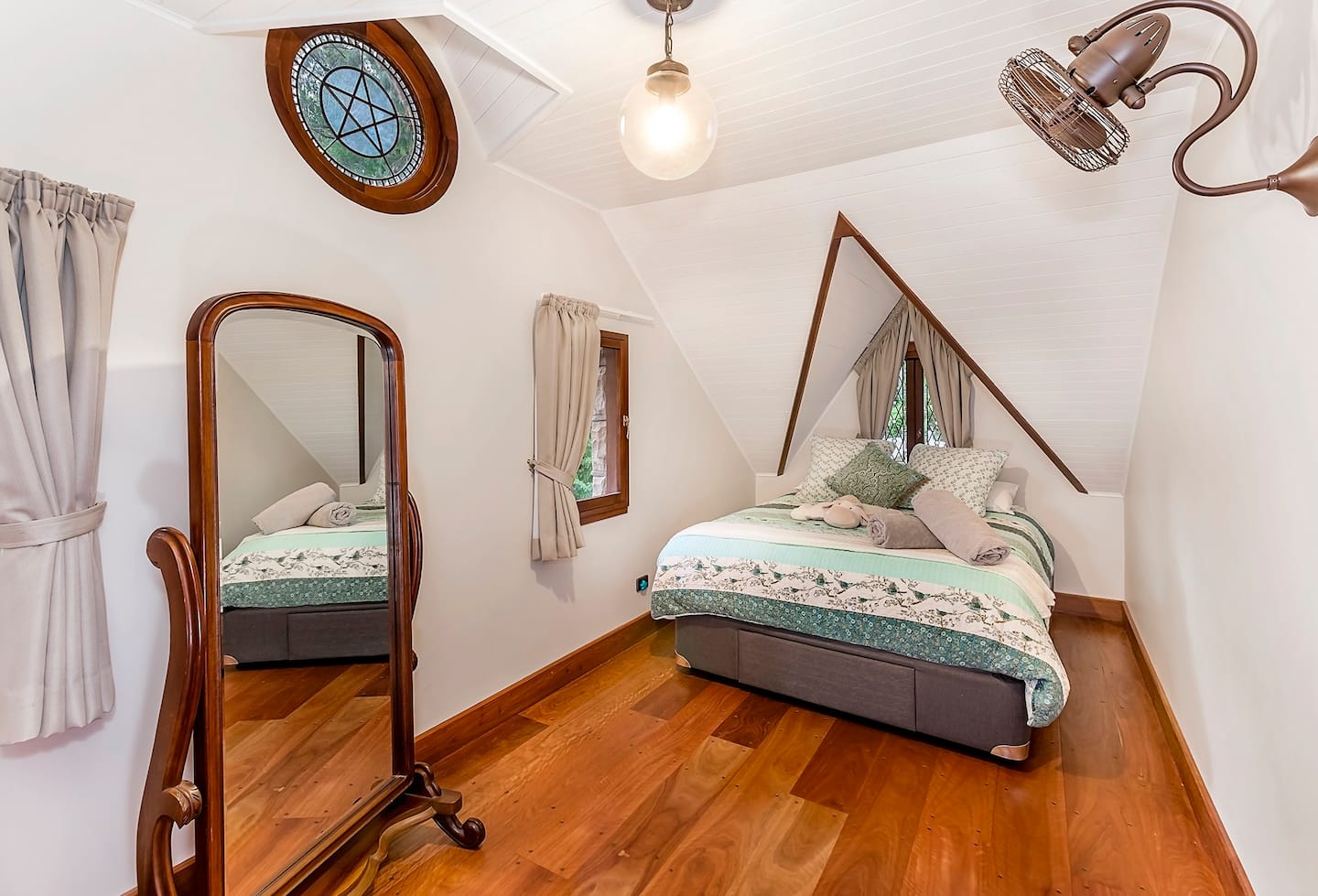 Enchanted Cottage
Mount Tamborine
If you prefer your vacays with a healthy dollop of charm and character, book yourself a stay at Mount Tamborine's Enchanted Cottage. The residence is straight out of an English romance novel, featuring handmade windows, elaborate stonework and intricate etchings that will whisk you away to the days of yore. From the cottage, it's only a short drive to the local cheese factory, the famous Gallery Walk, plus the countless natural attractions Mount Tamborine is known for. See how many you can tick off on your trip.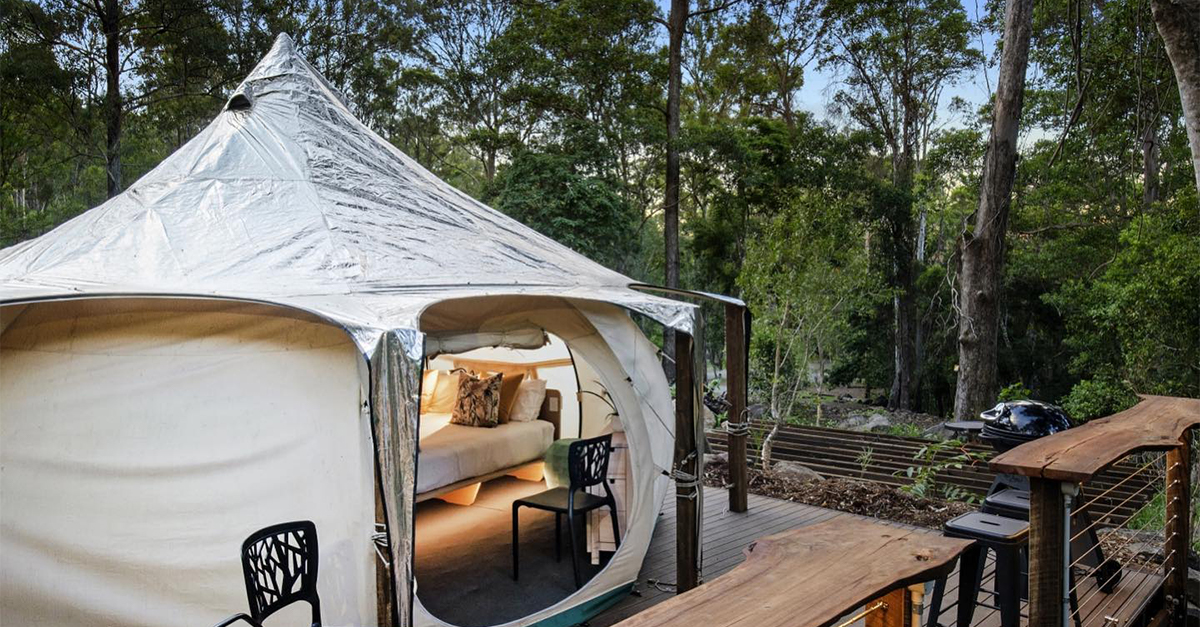 Cedar Creek Lodge Glamping Tents
Rounding out our list are the Cedar Creek Lodge glamping tents, aka the ultimate hack for going camping without putting in the hard yards. Roll on up to a luxe lotus-shaped tent fitted with a king-sized bed, outdoor fire pit and even a TV (because who wants to go fully off grid?). Topping it all off is an open outdoor shower, so you can enjoy scrubbing up with unbeatable views of the night sky above. Trust us—one night in these tents, and you'll never be the same.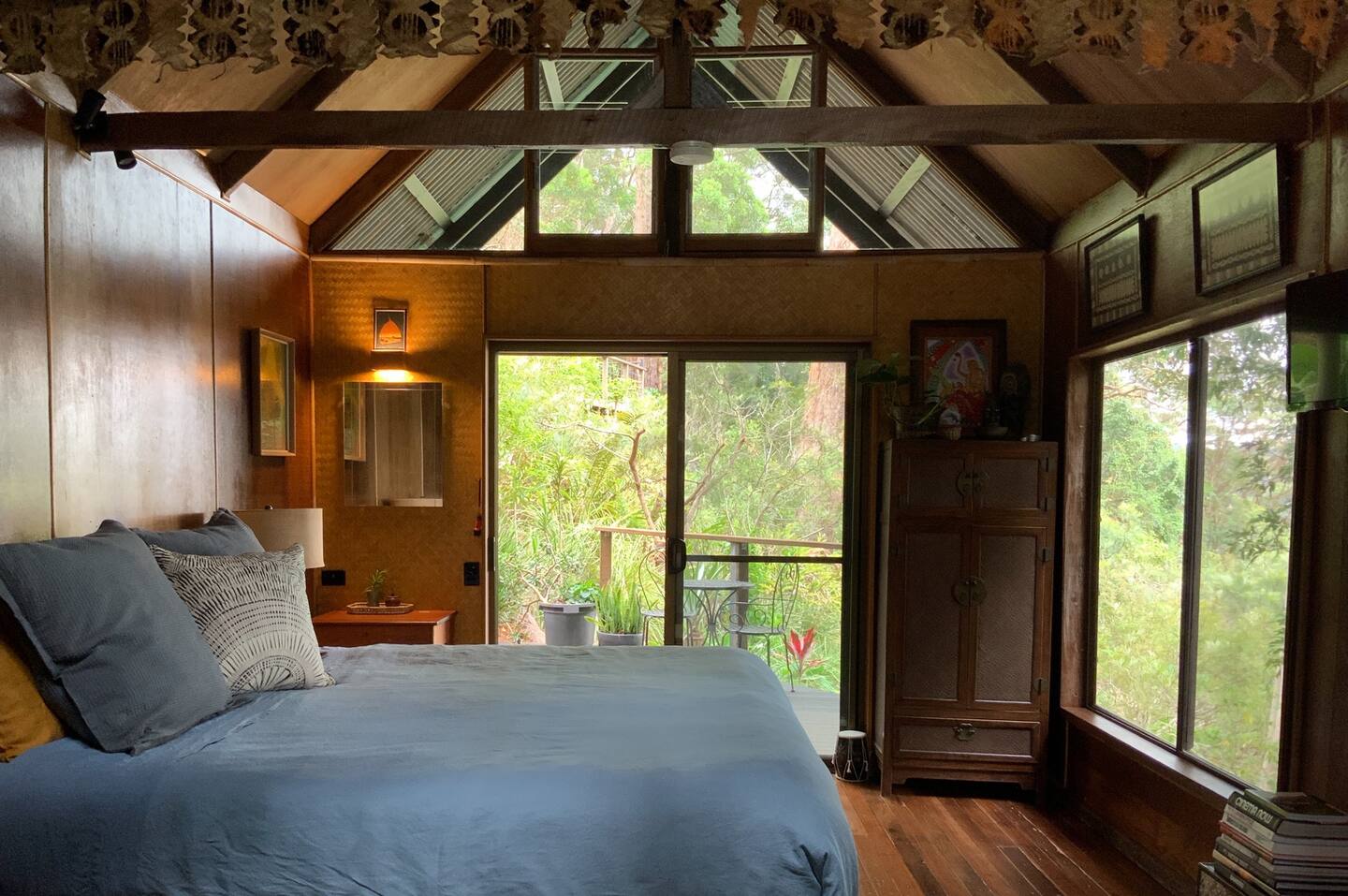 Private Eco Rainforest Cabin
If a rustic but stylish eco cabin is your jam, then you're going to want to look at checking in to this newly renovated rainforest hideaway. Originally a hardwood timber cow milking shed built in 1932, you won't recognise it now. Looking over a lush valley towards the ocean, a stay at Private Eco Rainforest Cabin will have you swapping internet and reception, for incredible views, yoga mats and housemade muesli.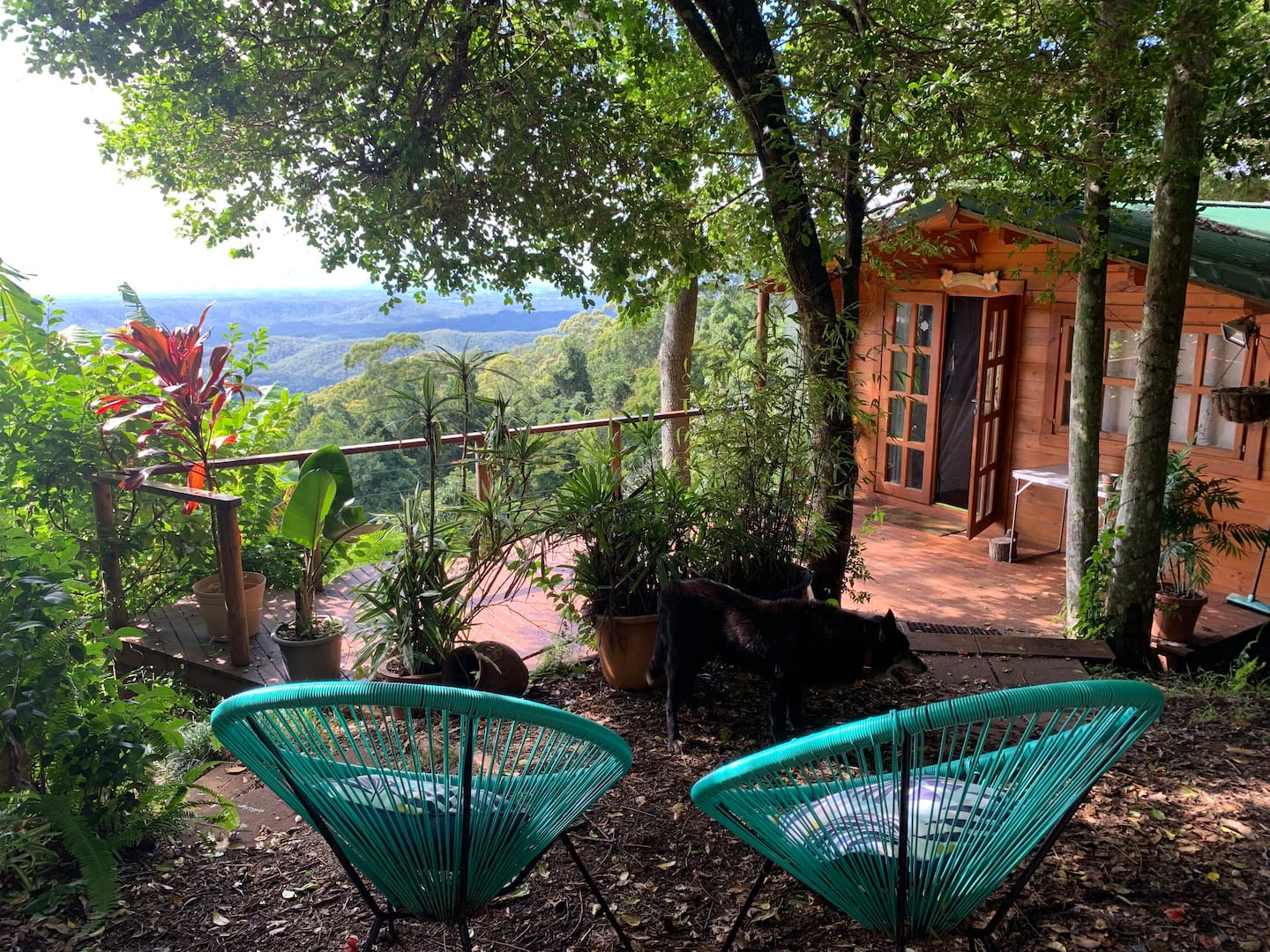 Oceanview Retreat
Nestled among the trees on an avocado farm, this tiny retreat is the ultimate escape from the hustle and bustle of the city. and boasts some of the most gorgeous panoramic views we've ever seen. Soak up incredible sunrises each morning and the twinkling lights of Surfers Paradise at night, all over a glass of vino, of course. It gets chilly at Oceanview Retreat, so be sure to pack warm clothes and your UGGs.
Want to make the most of your overnight stay? Check out this winery that does $10 tastings.
Image credit: Airbnb, Booking.com