Imagine all the smooches you'll get when you whisk your other half away on a romantic getaway with all the trimmings. C'mon, you guys adore each other. But there's only so many boxes of Favourites and sad servo flowers you can give before it gets a bit old. This time of year calls for a surprise romantic getaway without going too far from Brisbane and we've got just the places to check out (or check into).
Get all swept up in each other's irresistibleness at one of our top picks for best romantic getaways near Brisbane.
Halcyon House
Cabarita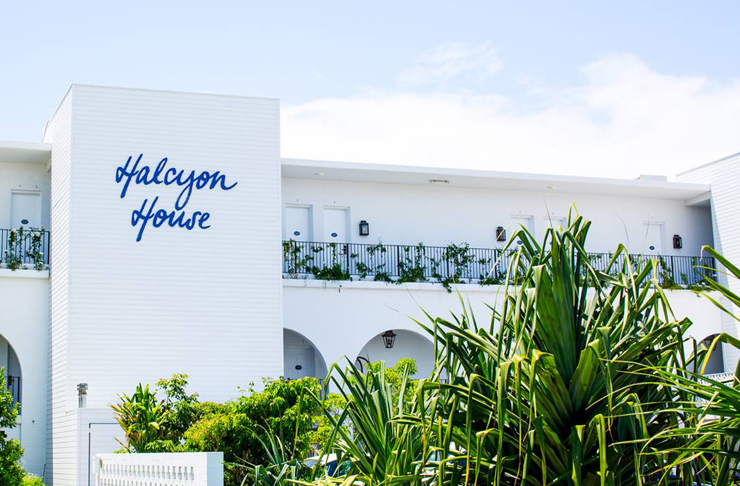 Perched on a perfect stretch of Cabarita beachfront, Halcyon House is a place that needs no introduction. Send romantic vibes soaring as you lap up a life of Anna Spiro-decadence throughout the many rooms, suites, Paper Daisy restaurant and palm-bordered pool. Halcyon House provides coastal vibes you won't find anywhere else, so indulge with a spritzer by the pool, cycle towards the Caba Headland, or book yourself a couple's massage at Halcyon Spa to really boost that loving frame of mind.
Pether's Rainforest Retreat
Tamborine Mountain
Tucked away in five acres of lush rainforest on Mt Tamborine, Pether's Rainforest Retreat is composed of just a dozen luxurious (and uber private) treehouses all with one entirely glass wall that looks straight out to the greenery beyond. When you tire of the view (never), you can sink blissfully into your private spa either before or after an intimate three-course dinner in the restaurant just a boardwalk away. Romance level: Off the charts.
Spicers Peak Lodge
Maryvale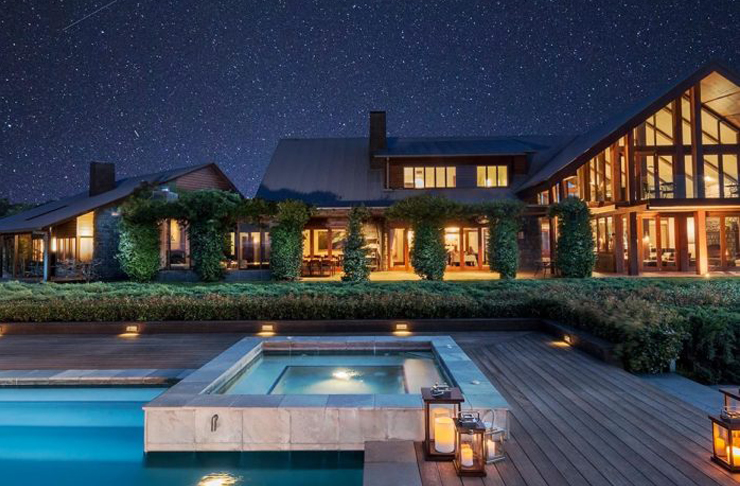 Jaws will drop as you enter the majestic 12km driveway of Spicers Peak Lodge. Located 1100 metres above sea-level in South East Queensland, Spicers Peak offers the height of luxury via its all-inclusive holiday styling. Melt into a treatment at Spa Anise, dine at award-winning restaurant, The Peak, explore the surrounds with a gourmet picnic hamper in hand, or alternate between the pool and tennis court for some localised fun.
Springbrook Mountain Chalets
Springbrook
Sometimes cosy is best. Especially when you're getting all up in your partner's space because you love 'em so much. Springbrook Mountain's chalets have that retro chic vibe about them with all wooden interiors, leather couches and balconies reaching out to the forest floor. Choose from unique 'boat-styled' chalets for two with chapel ceilings or spread out big time in the deluxe cabin with it's A frame roof and loft styled bedroom. The only real question is, who brought the marshmallows to toast in your private fireplace?
Tingirana
Noosa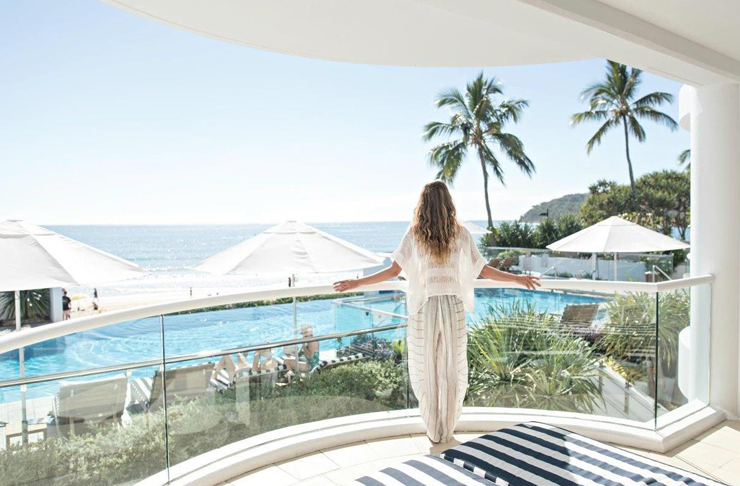 Sandwiched between Hastings Street and Noosa Main Beach, Tingirana is a clear 11/10 when it comes to weekend getaway locations. You'll be punching above your weight when you engage in a weekend fling with Tingirana's Hampton-styled suites and beachfront pool. The only thing to break your hold will be the smorgasbord of cafes, restaurants and bars upon your doorstep. And, obviously there's always time for a morning hike through Noosa National Park to Hell's Gate.
Ketchup's Bank Glamping
Boonah
Ketchup's Bank Glamping is the Scenic Rim's best kept secret—and it's barely over an hour from the centre of Brisbane. One of just two fully kitted out luxury eco tents awaits you, complete with a plush bed, en suite bathroom, fridge, gas BBQ, fire pit and everything else you could possibly need for a romantic weekend stay. Heck, there's even a hammock and a yoga mat. You'll be given goodies for an epic BBQ dinner, marshmallows and toasting prongs (no twigs here) for roasting on the fire and a tasty breakfast basket, plus feed for the local wallabies. We could go on and on—but we'll let you discover the rest for yourself.
Nightfall Camp
Lamington National Park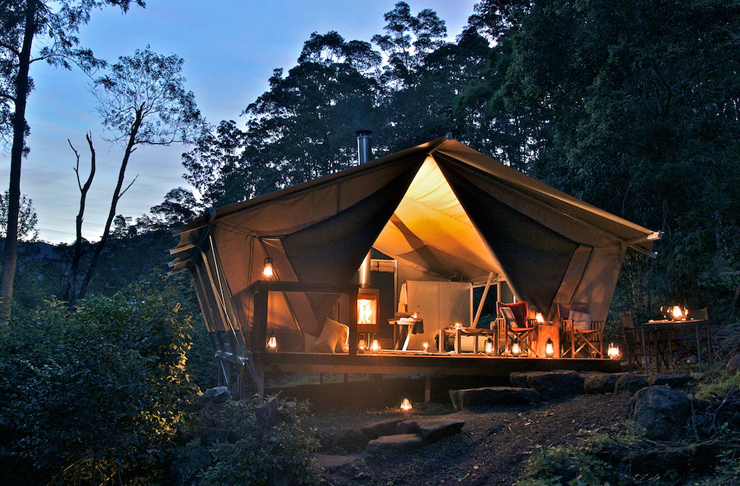 If you want to get back to nature with your beaux, but don't really find the cramped quarters of a two-man tent particularly romance-inspiring, Nightfall Camp provides 100 per cent satisfaction with its canvas-walled, vintage bath and fire-place filled safari tents. Offering a secluded chunk of Lamington National Park, ironically known as the 'Lost World', you'll lose control of your senses as you rise to the sound of chirping birds and doze off to the tranquil sounds of nearby Christmas Creek.
Narrows Escape
Montville
Curl up in the hammock and read a book, tramp through the rainforest, or feast on all the goods crammed into the specially-made gourmet hampers—you'll do it all at Narrows Escape. This romantic hideaway in Montville features six eco-friendly pavilions nestled deep in the forest. The team is committed to sustainability practices such as using rainwater tanks to supply the pavilions, selecting natives for the gardens, using LED light globes and giving food scraps to the on-site hens. But it doesn't stop there. These guys also stand by sustainable tourism, supporting local businesses by only supplying guests with locally-sourced food and seasonal produce.
Elements of Byron
Byron Bay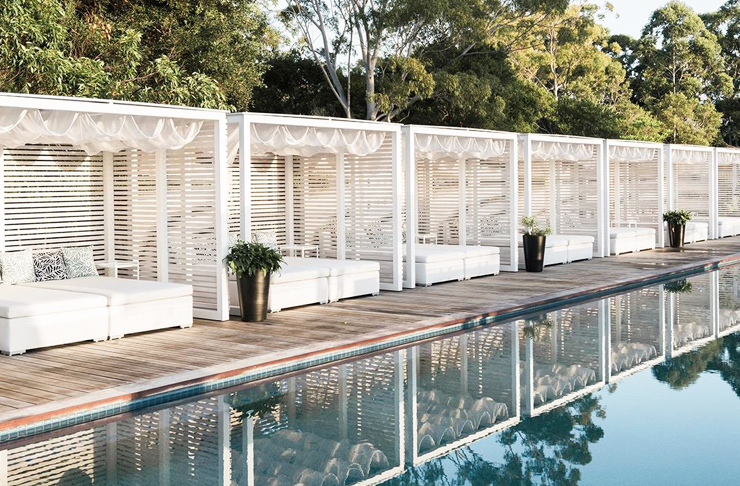 If you're the type of person who loves checking in with a 'no intention of leaving' mantra, Elements of Byron is going be your best bet. Elements is a fixture of Byron's northshore scene that has everything you need for a romantic getaway near Brisbane, including a private stretch of Belongil Beach, tennis court, day spa, onsite restaurant, firepit, lagoon-styled pool and a Mexican-themed adults-only pool for those seeking refuge from the miniature beings. There'll be no signs of boredom here.
O'Reilly's Rainforest Retreat
Canungra
Surrounded by 20,000 hectares of subtropical rainforest, O'Reilly's is the perfect escape to reconnect with nature. Bliss out in one of 48 self-contained and architecturally designed villas (made from recycled materials) perched onto the sloping hillside. There's also plenty of activities here to get you out amongst nature, including Segway tours through creek crossings to Morans Falls or opt for uber relaxation at the Lost World Day Spa, equipped with a couple's suite and 25-metre infinity lap pool. We recommend ordering a picnic hamper and setting off to one of 500 world-class waterfalls accessible via 160-kilometres of nature trails.
Crystal Creek Rainforest Retreat
Murwillumbah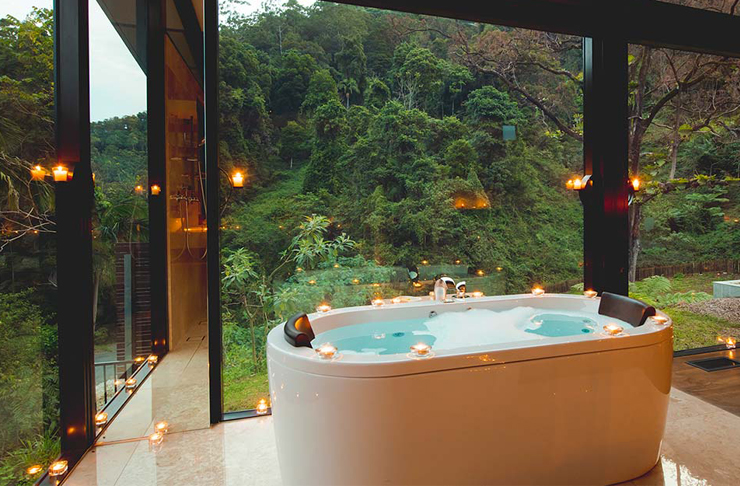 Slow down the game of life with a getaway to the rainforest retreat of Crystal Creek. The 13 architecturally-crafted bungalows dish up tonnes of wow-factor with their open-plan design, private decks, plunge pools, indoor fireplaces and sweeping views across Lamington National Park. You may not want to leave your suite but if cabin fever strikes, you can't go wrong with a leisurely stroll through nearby Springbrook National Park where 400-year old trees and waterfalls are a regular sight.
Spicers Hidden Vale
Scenic Rim
Whether you're needing to score serious brownie points, Spicers Hidden Vale has everything you'd ever want, for whatever type of plus one you may bring, from cabins with boujee spa baths to mountain biking trails and hiking. If you're a bit of a foodie, then you'll want to make sure you book yourself in for dinner at Homage Restaurant, where everything is grown in the market garden onsite or collected from nearby farms—your tastebuds will tap-dance in happiness. All this plus two pools, a campfire under the stars, koala safaris, cheese and wine tastings and epic views? You'll achieve peak romance points.
Verandah House Country Estate
Tamborine Mountain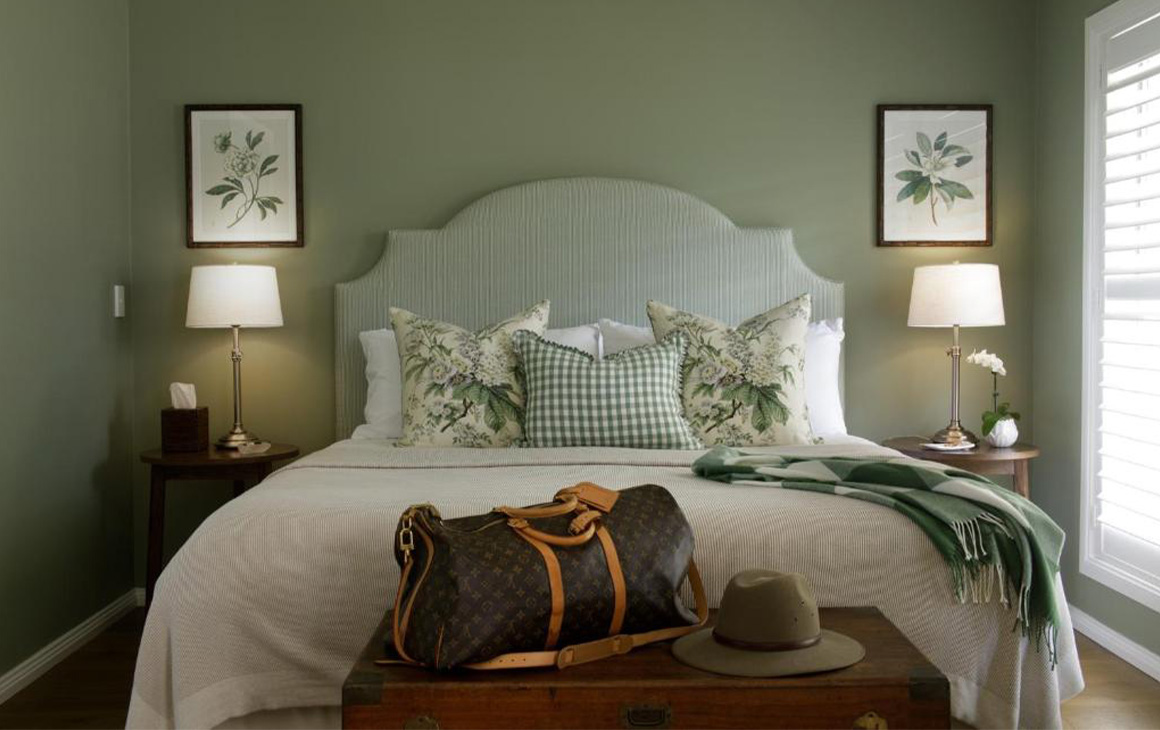 If the first word out of your lips when you see the incredible views visible from Verandah House Country Estate's hot tub isn't 'wow,' you need to get your eyes checked. This boutique accommodation in Tamborine Mountain features just nine luxe suites, all designed with a country aesthetic in mind to match the wide open surrounds. Each suite has its own balcony or verandah where you can take in those views, as well as a fireplace, kitchenette, lounge area and ensuite. There's also a pool, outdoor fire pit, community kitchen and day spa on the property, and a continental breakfast spread is supplied each morning for you to eat wherever you please—we'll be taking ours back to bed.
The Postman's Cottage
Montville
Did someone say luxurious and romantic getaway for two? One of the cutest hinterland towns near Brisbane, Montville makes for a perfect winter getaway, and The Postman's Cottage is a top option for mega cosy accommodation for two, within an easy walk to town. Set within a 1.5-acre estate, the cottage includes a charming wood-burning fireplace, clawfoot bathtub and full kitchen, and access to the grounds for strolls and bird spotting. Book your stay here.
Luxury Cabin At Round Hill Retreat
Obi Obi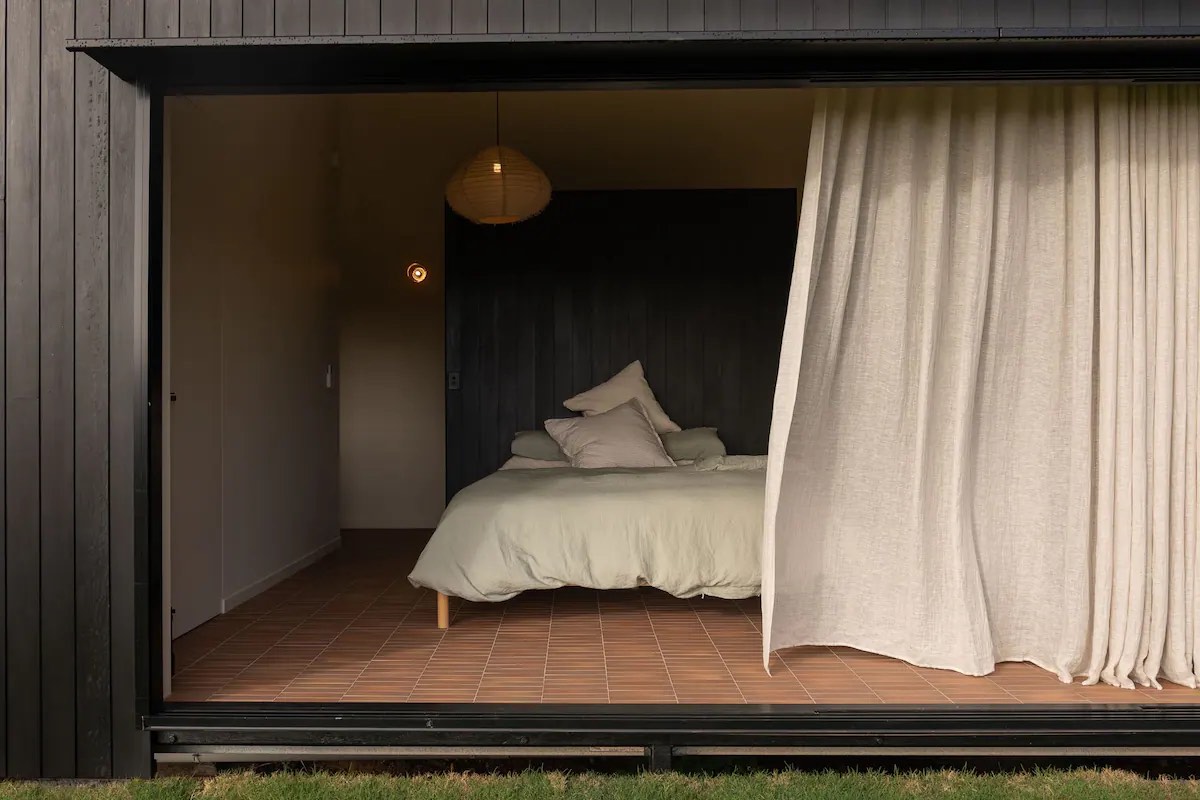 Nestled in the hills of the Sunshine Coast Hinterland, this romantic getaway is designed to be a place for you to hit the reset button and connect with your loved ones. With a circular above-ground pool overlooking the lush forest and paddocks, you'll instantly drift away into your own world of peace and serenity—it doesn't get much better than that. After a dip in the pool, end the night with a relaxing bath or a rain shower—and a drink or two—to fully immerse yourself in the experience. Ditch the electronics and book your stay now.
Hillside Chalet
Mount Cotton
Experience life among the gumtrees at this luxury hillside chalet putting Mount Cotton on the map. With a cozy balcony skirting the property, indulge in panoramic views out over Stradbroke and Moreton Island, set alight by the afternoon sun gently filtering through the tree leaves. Say hello to the ducks at the garden pond, and make friends with alpacas as you set out on a bushwalk. There's nothing beating this outdoor adventure in Brisbane's very own backyard. Book here.
Want a romantic getaway closer to home? Book in a staycay at one Brisbane's coolest hotels.
Image credits: Halycon House, Spicers Peak Lodge, Tingirana, Nightfall Camp, Elements Of Byron, Crystal Creek Rainforest Retreat