Winter is the perfect time to hunker down and recharge. No one has time to be seizing the day with an early start, or having a midday rumpus in a rooftop bar. The cold weather calls for long, pensieve walks in the woods, and snuggles under a comforter with Netflix. Time for a cheeky little stay in a cabin or cottage near Brisbane.
Combinging the camaraderie of camping with the modern comforts of indoor living and flushing toilets, cabin retreats are the ultimate way to go off the grid without leaving your comfort zone. Good thing Brisbane is just a few hours' drive from the Scenic Rim, the Sunshine Coast hinterland, the Granite Belt and even the Byron Bay hinterland. Every one of these regions are prime spots for a cosy winter getaway, with plenty of cabins and cottages dotted in and around their peaks and valleys. Here's some of our favourites.
Gingerbread Cottage
Tambourine Mountain
Tucked away in the hills a short distance away from Tamborine Mountain, you'll find this dreamy Gingerbread Cottage. The charming cottage boasts beautiful interiors that'll make you feel luxe and cosy at the same time. A veranda wraps around the house where you can barbecue, eat, and sit and read all to the relaxing hum of native birds. Enjoy views of the ocean while enjoying your breakfast and get toasty by the fireplace on the chillier nights. You may just get so comfy you won't want to leave.
The Cottage
Byron Bay Hinterland
New meets old in this beautiful recently renovated coach house from the 1890s. Believe us when we say you'll be overwhelmed this property where green landscapes stretch literally as far as you can see. The Cottage boasts high ceilings, natural light and antique furniture to emphasise the cosy feel of this oasis. Only a 20-minute drive from Byron Bay, it's the perfect spot—close enough to the beach but far enough for seclusion.
Tree House
Gold Coast
If a hilltop spot nestled in the gumtrees with glorious private views tickles your fancy, this Gold Coast Tree House is for you. The rustic multi-storey tree house is definitely one to write home about. You'll be gushing over the stunning solid stone bath, impressive hillside pool, and amazing views that stretch around the entire house. You can also become acquainted with the wildlife as peacocks, alpacas and mini goats grace the land, so you'll really feel at one with nature here.
Spicers Retreats
Maleny, Montville and Grandchester
If you're looking for a Sunshine Coast cabin with all the trimmings that also happens to be set in a stunning rainforest surroundings in Maleny, with an incredible onsite restaurant and day spa, then you really needn't look beyond Spicers Tamarind. A fan of French Provincial instead? Well then, you're in luck. Sister property Spicers Clovelly in Montville has a darling little French cottage and it's luxe to say the least. Want to gaze at the stars all night and mountain bike all day? Spicers Hidden Vale in Grandchester is for you.
Scandinavian Cabin
Maleny
Overlooking the Conondale Ranges and Mary River Catchment, this Scandinavian Cabin is an idyllic escape in the Sunshine Coast Hinterland. The modern design will be sure to impress the architect in you and the beautiful stretch of landscape scenery will have you captivated from the get-go. Curl up by the fire, cosy up with a movie, and truly find your inner peace with some yoga on the deck—the world's your oyster at this haven.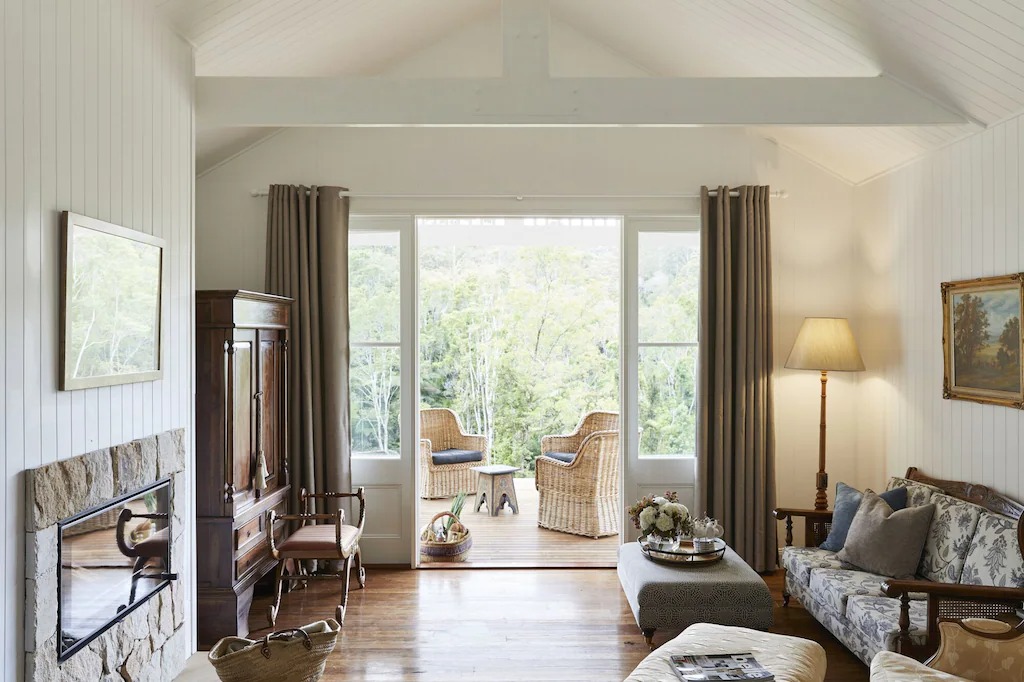 Blue Fig Cottage
Byron Bay Hinterlands
Another gem in the Byron Bay Hinterlands is this unique rainforest escape. Blue Fig Cottage is a 70-acre luxury destination set within the World Heritage Listed Nightcap National Park. Decked out in beautiful antique furniture, the house exudes luxury and class. An impressive timber deck is where you can host wine nights (or mornings—you're on vacay after all) or just curl up and enjoy the serenity. Not to mention the cottage boasts all holiday essentials—there's an indoor fireplace, a private campfire area, BBQ and free-standing bath.
Rose Gum Cottage
Mount Glorious
Rose Gum Cottage, just a stroll away from Mount Glorious, is the rainforest hideaway you've been looking for. Hidden in a spot at the edge of the rainforest and burrowed in the bush, it's privacy and seclusion at its best. Timber coated interiors create a wooden cocoon of cosiness where you'll be able to relax and recoup for hours on end.
Enchanted Cottage
Tamborine Mountain
A picturesque stone cottage with leadlight windows, timber interiors and white walls, Tamborine's Enchanted Cottage is the kind of house in the woods that'd put Hansel and Gretel on notice. Inside, a suspended fireplace warms the open living space. Outside, the encroaching woodland blocks out the modern world, and the cottage's garden is a beautifully landscaped mix of hedges and herb gardens. The cottage can sleep up to five guests, so it's perfect for a weekend with your coven. And it's just a short drive to the wineries and rainforest walks of Tamborine proper.
Narrows Escape
MONTVILLE
If a friend has come back from Montville raving about a cottage getaway they experienced, chances are they're talking about Narrows Escape. Why? Because everyone who stays there, only says great things. Curl up in the hammock and read a book, tramp through the rainforest, or feast on all the goods crammed into the specially-made gourmet hampers. Relaxation will hit an all-time high here, so don't come with a to-do list.
The Mouses House
SPRINGBROOK
Nothing screams romance like a setting taken straight from the page of a fairytale book. Snuggled amid an enchanted forest filled with pixies and unicorns, The Mouses House Rainforest Retreat is just 30 minutes' drive from the coast, yet a world away from care. These magical cedar wood chalets are self-contained and fully kitted-out with a fireplace, BBQ, cosy furnishings and some with their own jacuzzi on the deck. Okay, maybe we lied about the pixies and unicorns, but they'll probably visit you in your dreams at these Gold Coast cabins.
Glass on Glasshouse
GLASS HOUSE MOUNTAINS
Love the idea of a cottage, but the reality of staying in a poky, timber-filled space is torture to the "designer" in you? Glass on Glasshouse is your cottage soul mate. These three super luxe pavilions with floor-to-ceiling glass windows are contemporary masterpieces set to a backdrop of the rocky Glasshouse Mountains. Freestanding double spa bath—check! Fireplace—check! Wildlife in abundance (outside, of course)—check! You'll be left wanting absolutely zilch.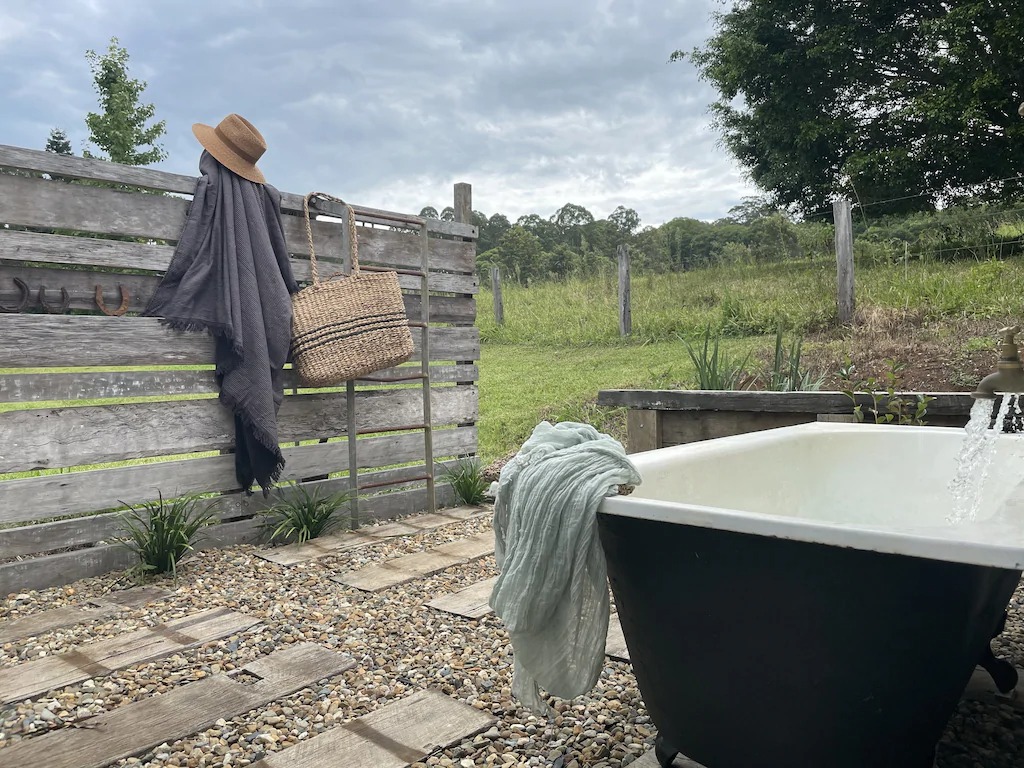 Bangalow Bails
Bangalow
It's secluded, serene and absolutely gorgeous. Bangalow Bails is truly a must if you're looking for a place where you can truly unwind and immerse yourselves in tranquillity far away from the city. This converted dairy is nestled amongst the hills just outside the town of Bangalow in the Byron Bay Hinterland. There's no one else for miles so you can enjoy the scenery, read a book, do some yoga—whatever you like—uninterrupted.
Whistle Stop Cabin
LAKE BAROON
Part of the renowned Secrets On The Lake property which covers about 40 acres, this heritage-listed cabin used to be a local train station before it was transported to its new location. Quaint, eclectic, and super cosy, you'll find a log fire, couple's love swing, and freshly-baked scones on arrival. Could this be the ultimate winter getaway? Possibly!
Silky Oak Cottage
Stanthorpe
Silky Oak Cottage is the perfect couple's holiday spot if you're looking to indulge in some romance. It's got everything you need: an indoor fireplace, an outdoor firepit, a cheeky little veranda and greenery in every direction. You'll also be dazzled by the dramatic winding staircase that'll make you feel like royalty with every step.
Witches Falls Cottages
MOUNT TAMBORINE
Nestled in Mount Tamborine's lush rainforest, Witches Falls Cottages are sanctioned as "adults only" so you can count on the serenity of chirping birds and crickets, rather than screaming kids. You'll love the daily baked bread and breakfast hamper delivery, wood fireplace, fluffy bathrobes, private courtyard garden with BBQ, and all just a short drive from the local wineries and cheese-making factory.
Want more cosy getaways? Check out these tiny house stays near Brisbane.
Image credit: Stayz, Booking.com
Editor's note: Urban List editors independently select and write about stuff we love and think you'll like too. Urban List has affiliate partnerships, so we get revenue from your purchases.