Winter is the perfect time to hunker down and recharge. No one has time to be seizing the day with an early start, or having a midday rumpus in a rooftop bar. The cold weather calls for long, pensive walks in the woods, and snuggles by the fire with Netflix. Time for a cheeky little stay in the best cabins or cottages near Brisbane.
Palmer & Gunn
Austinville | Sleeps 2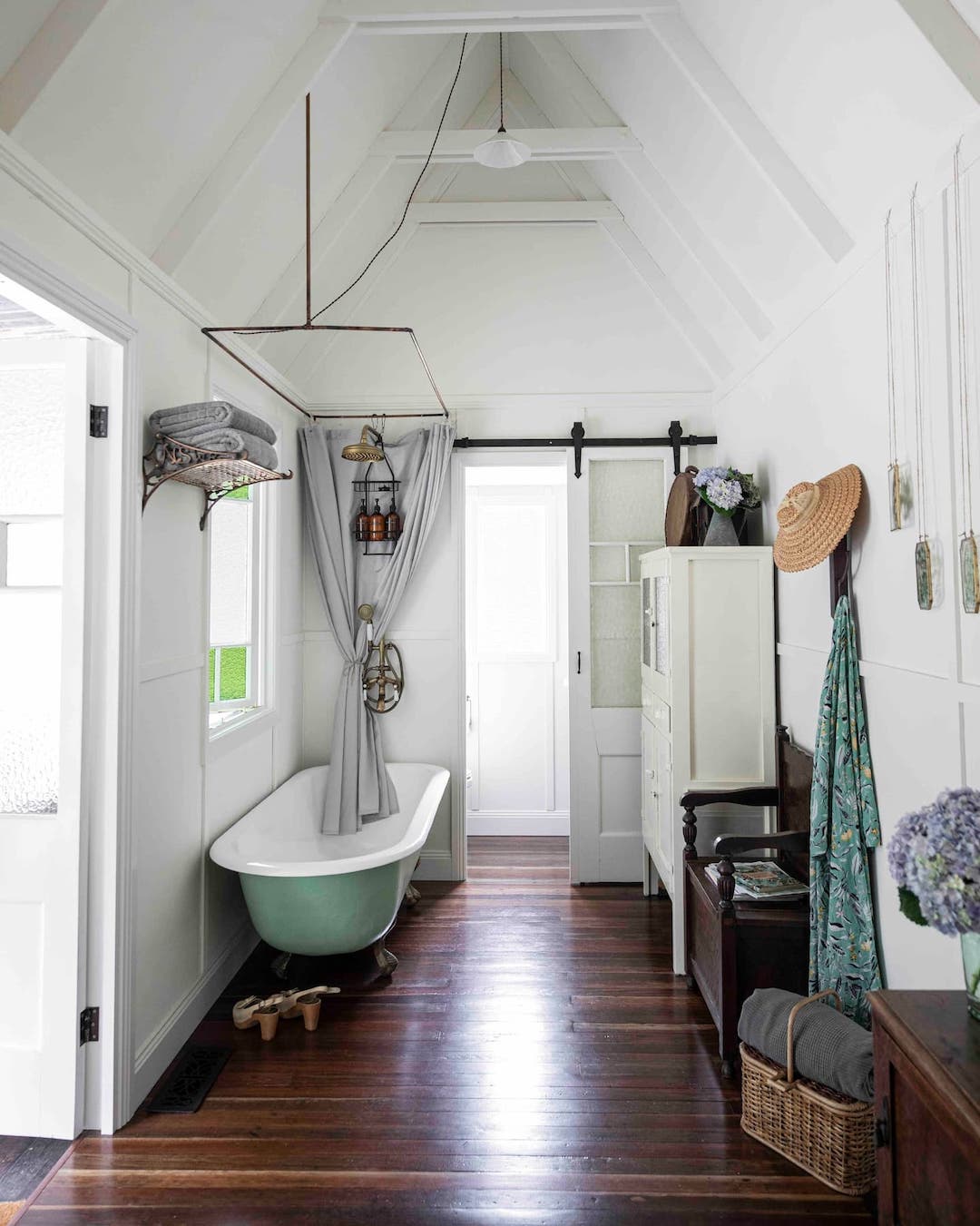 As far as tiny cabins go, this one's as cute as they come—and super eco-friendly, too. The tiny house rests near a bubbling creek, and has an outdoor kitchen, vintage cast iron bathtub inside, and outdoor hot tub for soaking in. Nearby Springbrook National Park makes for a glorious early morning walk, while the spotty phone reception forces you to really unwind—whatever you do, don't forget the reading materials.
Spicers Retreats
Maleny, Montville and Grandchester | Sleeps 4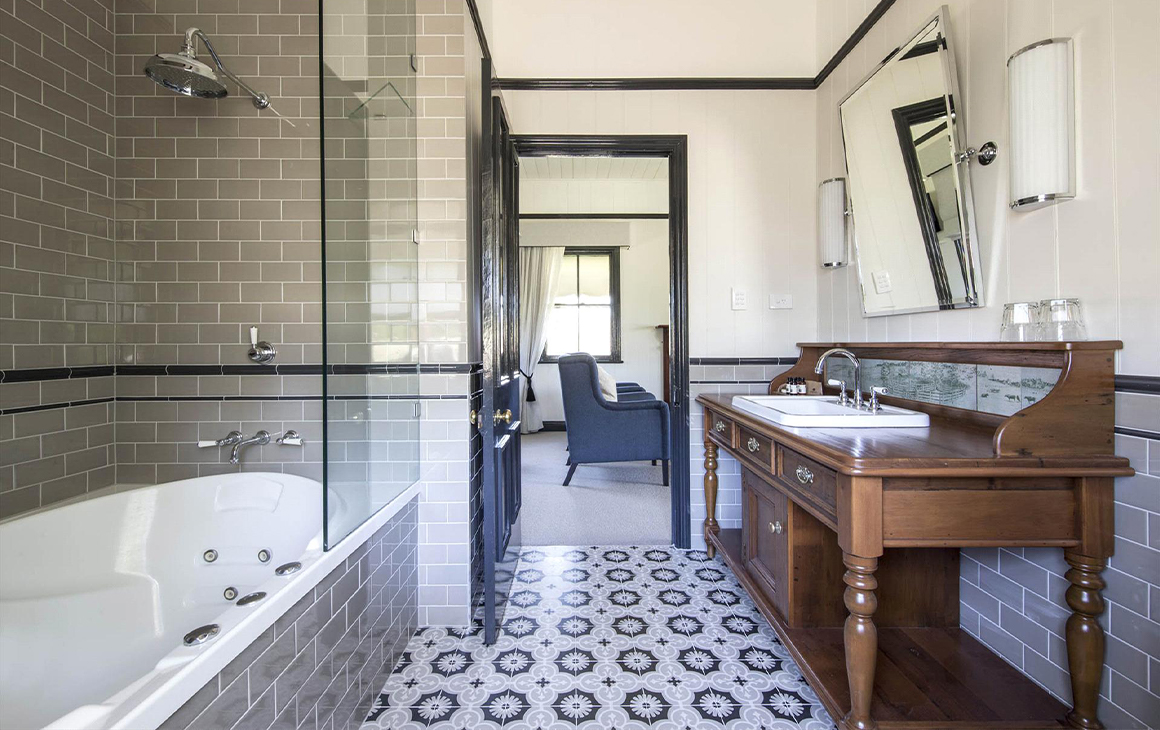 If you're looking for a Sunshine Coast cabin with all the trimmings that also happens to be set in stunning rainforest surroundings in Maleny, with an incredible onsite restaurant and day spa, then you really needn't look beyond Spicers Tamarind. A fan of French Provincial instead? Well then, you're in luck. Sister property Spicers Clovelly in Montville has a darling little French cottage and it's luxe, to say the least. Want to gaze at the stars all night and mountain bike all day? Spicers Hidden Vale in Grandchester is for you.
Joints In Byron—Friday Hut
Byron Bay | Sleeps 2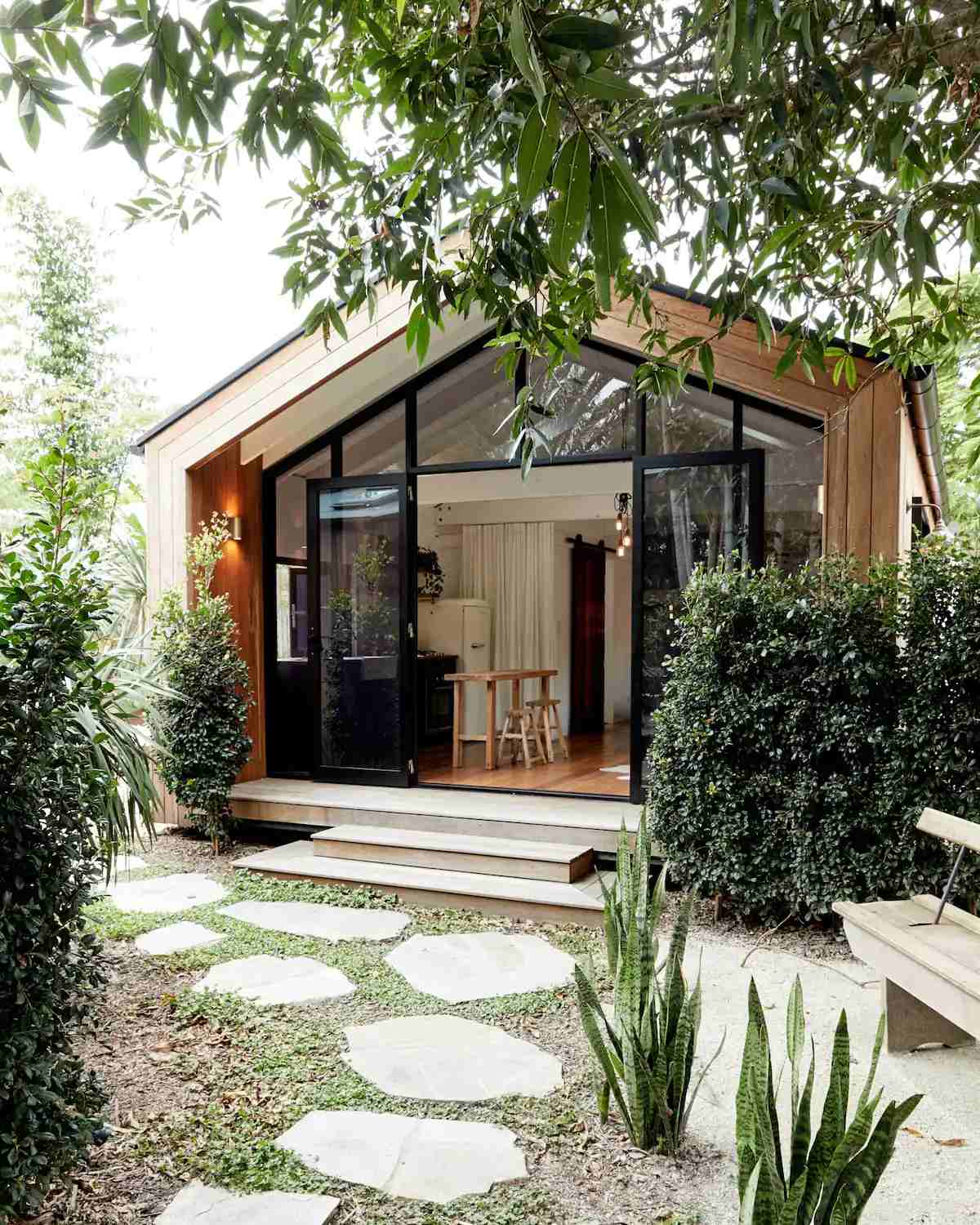 She's chic, she's cosy, and she's begging for a spot on your Insta feed. The latest accommodation option at Joints in Byron (which houses four adorable cabins), Friday Hut is a wood-textured, minimalist's dream, with a fully equipped kitchen, bathroom and cosy living spaces, plus access to the communal fire pit and veggie garden. You can always duck into Byron for the essentials, but we reckon you'd be crazy to leave when "home" looks this good.
Witches Falls Cottages
Mount Tamborine | Sleeps 2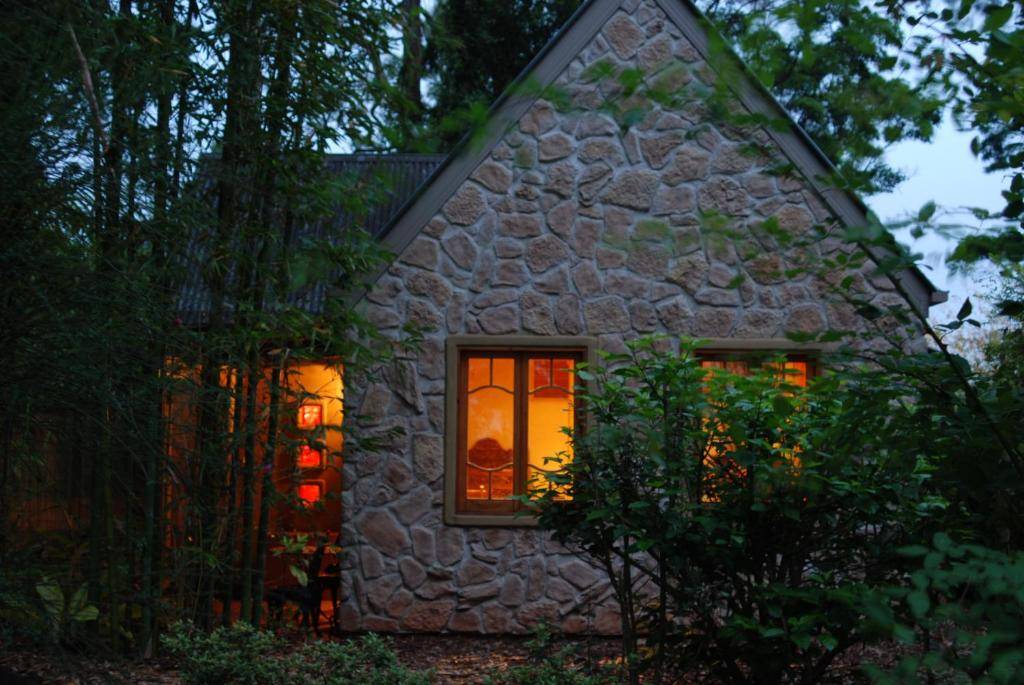 Nestled in Mount Tamborine's lush rainforest, Witches Falls Cottages are sanctioned as "adults only" so you can count on the serenity of chirping birds and crickets, rather than screaming kids. You'll love the daily baked bread and breakfast hamper delivery, wood fireplace, fluffy bathrobes, private courtyard garden with BBQ, and all just a short drive from the local wineries and cheese-making factory.
Fig Tree Villa
Ewingsdale | Sleeps 3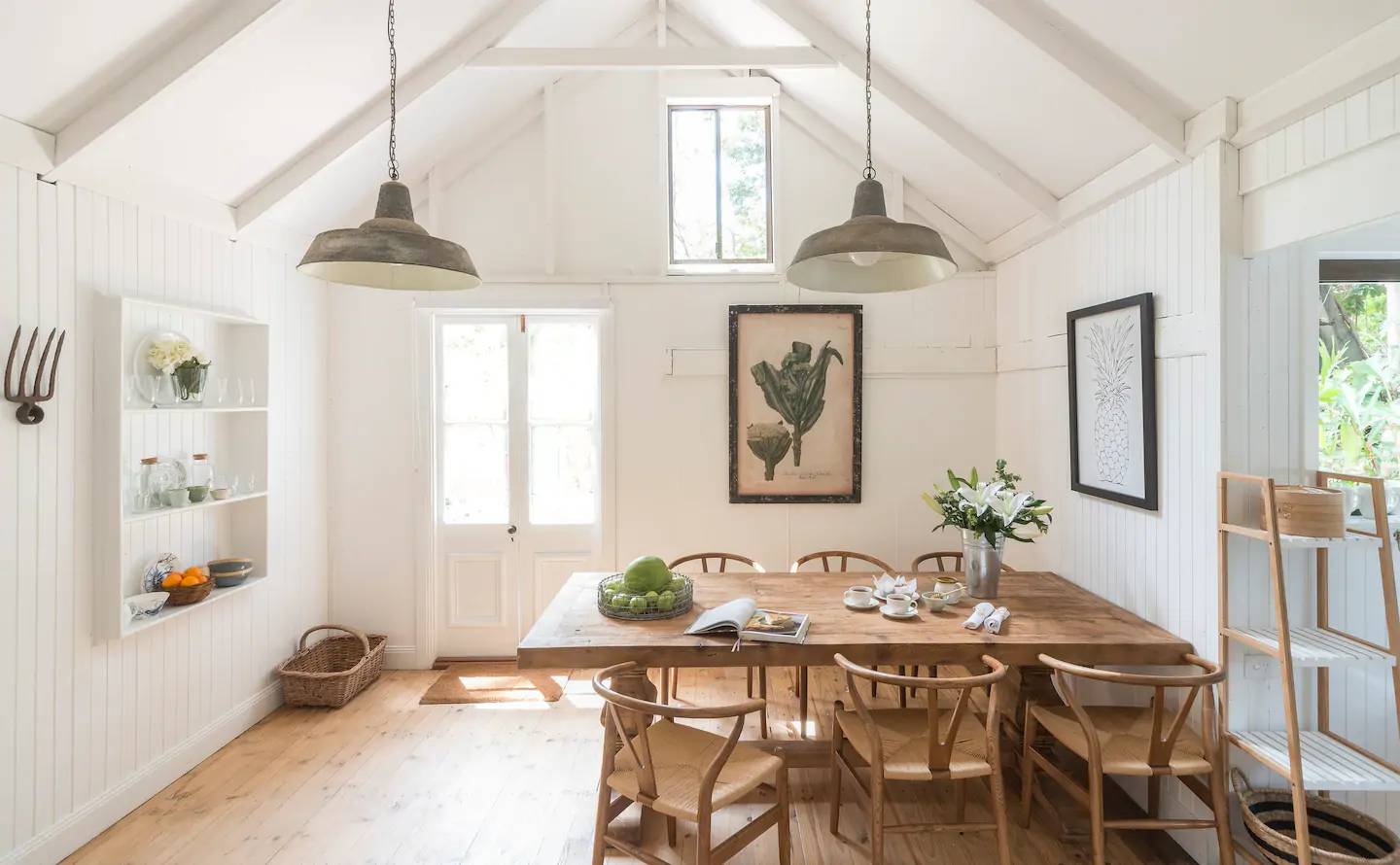 There's nothing like a getaway that you can really call home, and this stunning villa nestled under a 500-year-old fig tree offers exactly that. Settle in to enjoy the gorgeous interiors, high-end amenities and stunning surrounds, including a creek. You can cook up a hearty storm in the kitchen, soak in the bathtub or cuddle up on the balcony, with Byron just a quick hop away for essentials (read: hot choc ingredients).
Blue Fig Cottage
Byron Bay Hinterlands | Sleeps 4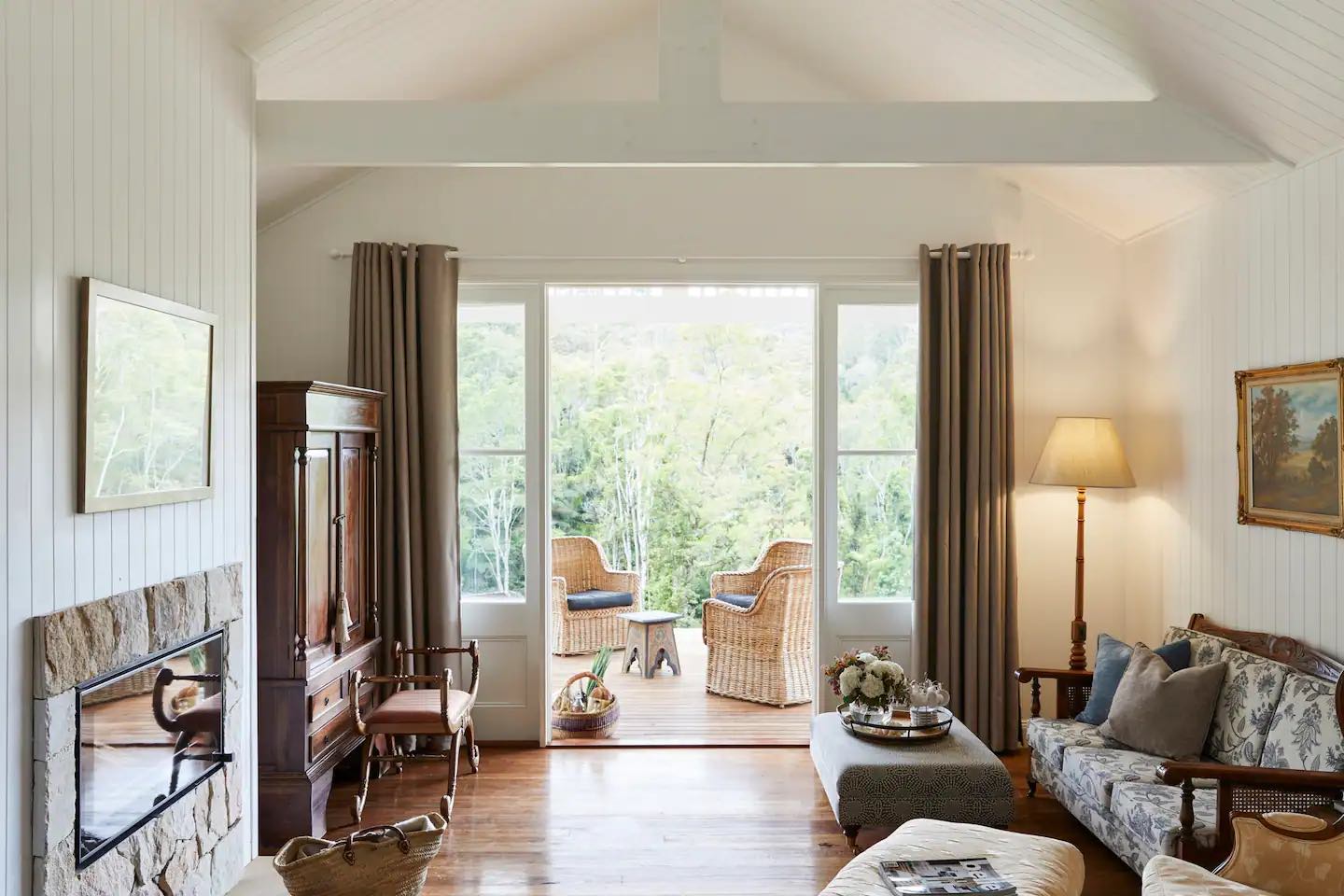 Another gem in the Byron Bay Hinterlands is this unique rainforest escape. Blue Fig Cottage is a 70-acre luxury destination set within the World Heritage Listed Nightcap National Park. Decked out in beautiful antique furniture, the house exudes luxury and class. An impressive timber deck is where you can host wine nights (or mornings—you're on vacay after all) or just curl up and enjoy the serenity. Not to mention the cottage boasts all holiday essentials—there's an indoor fireplace, a private campfire area, BBQ and a free-standing bath.
The Mouses House
Springbrook | Sleeps 5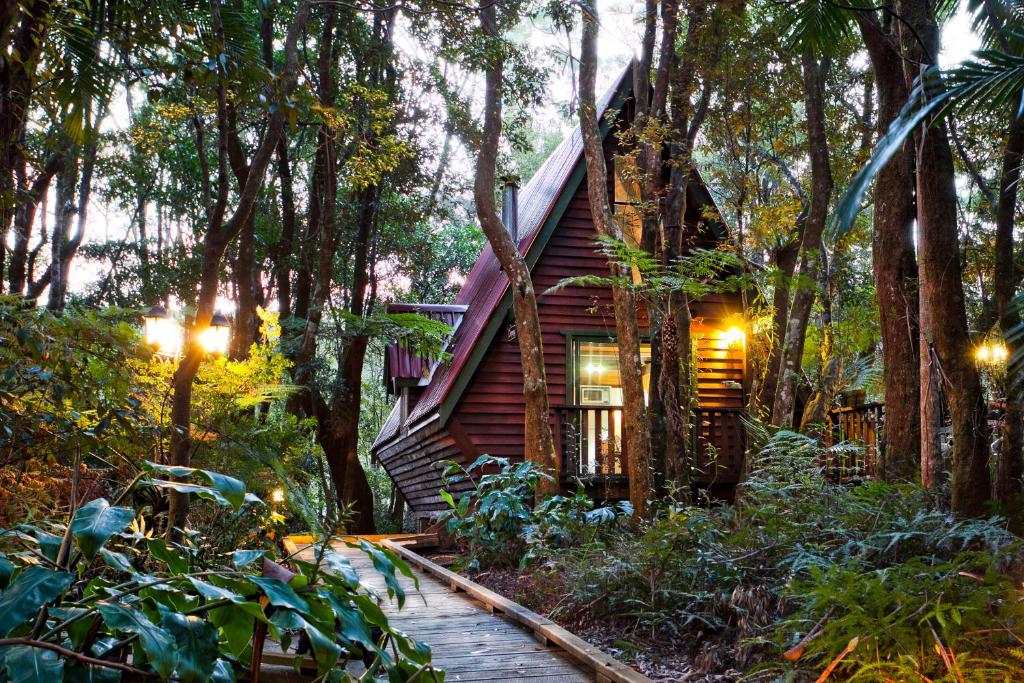 Nothing screams romance like a setting taken straight from the page of a fairytale book. Snuggled amid an enchanted forest filled with pixies and unicorns, The Mouses House Rainforest Retreat is just 30 minutes from the coast, yet a world away from care. These magical cedar wood chalets are self-contained and fully kitted-out with a fireplace, BBQ, cosy furnishings and some with their own jacuzzi on the deck. Okay, maybe we lied about the pixies and unicorns, but they'll probably visit you in your dreams at these Gold Coast cabins.
Eh Frame
Sunshine Beach | Sleeps 4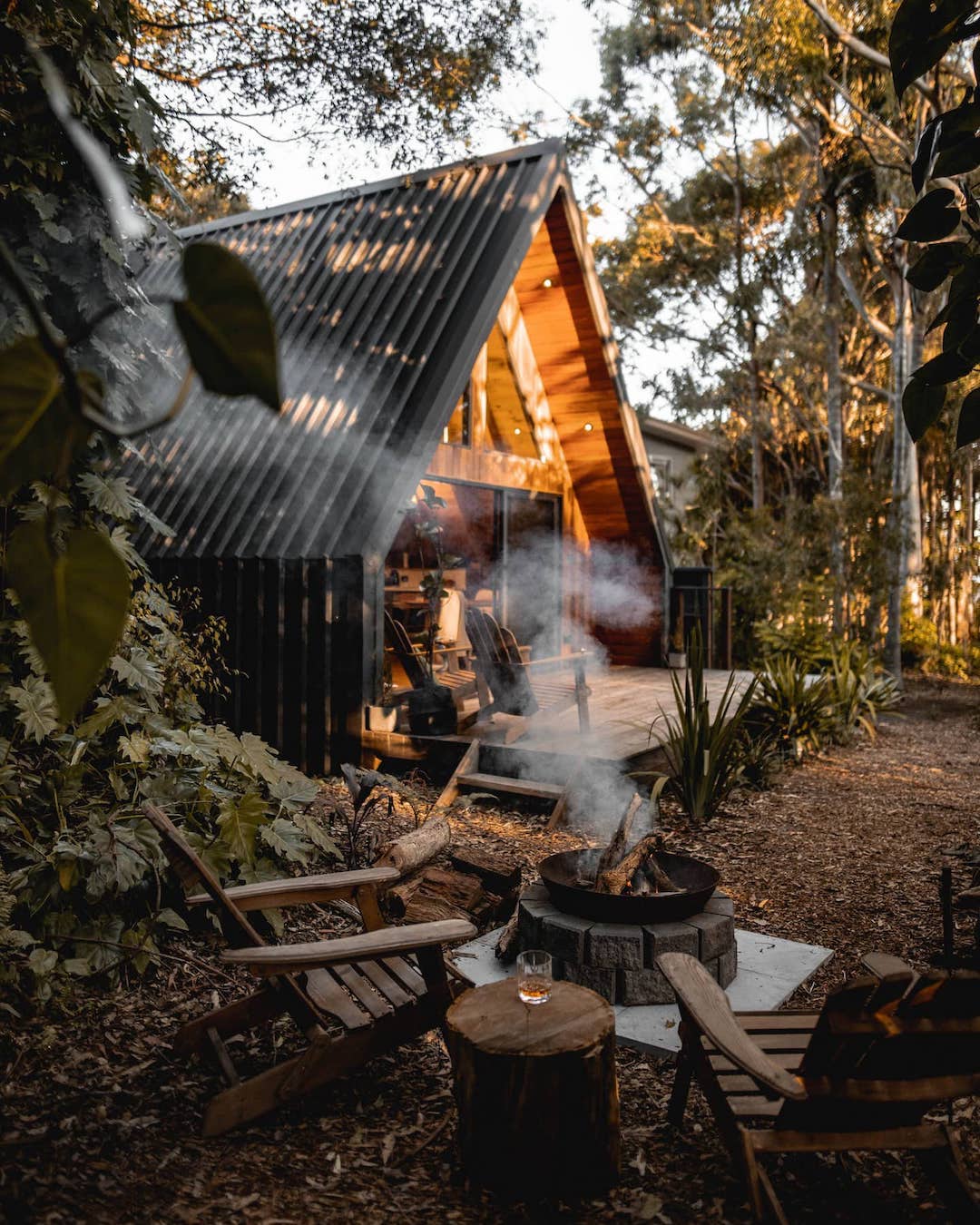 Because nothing says cosy like mid-century design! The Eh Frame (cheekily named for its Canadian inspiration) house boasts seriously stunning interiors that are begging for guests to get cosy in, with a large patio overlooking the breathtaking national park and its wildlife friends. The exposed timber, vintage furniture and unique decor give the place a Wes Anderson-style mountainous feel, while the direct access to Alexandria Bay means you can make the most of the incredible surrounds.
Narrows Escape
Montville | Sleeps 2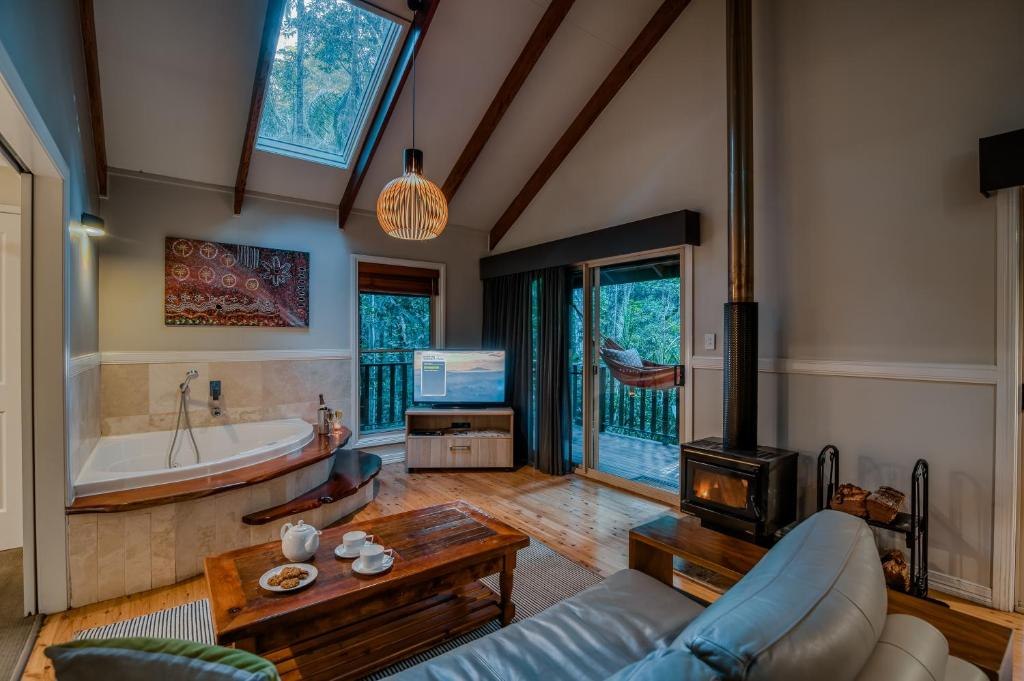 If a friend has come back from Montville raving about a cottage getaway they experienced, chances are they're talking about Narrows Escape. Curl up in the hammock and read a book, tramp through the rainforest, or feast on all the goods crammed into the specially-made gourmet hampers. Relaxation will hit an all-time high here, so don't come with a to-do list.
Mountain Top Farm House
Nimbin | Sleeps 6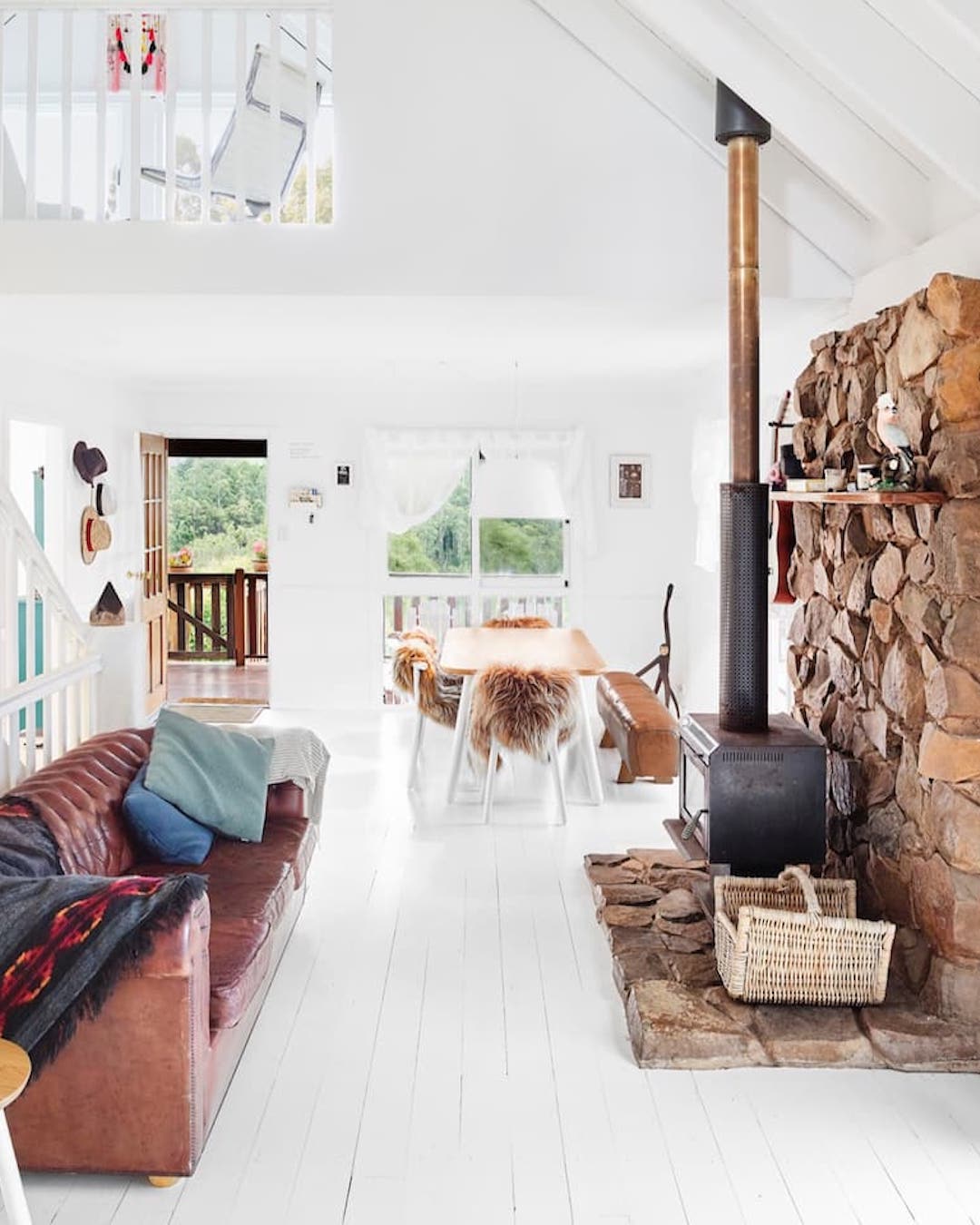 Set on a 15-acre farm on the edge of the rainforest, Mountain Top Farm House is an epic pick for a little wintery getaway. 10 minutes from Nimbin and about two-and-a-half hours from Brisbane, you can kick back in the comfy renovated cottage with all the modern amenities you would need, a roaring fireplace, and even a loft for some morning yoga. Rug up in the morning or early evening to see birds, kangaroos, bandicoots and koalas before a long soak in the generous tub overlooking the property.
Bangalow Bails
Bangalow | Sleeps 4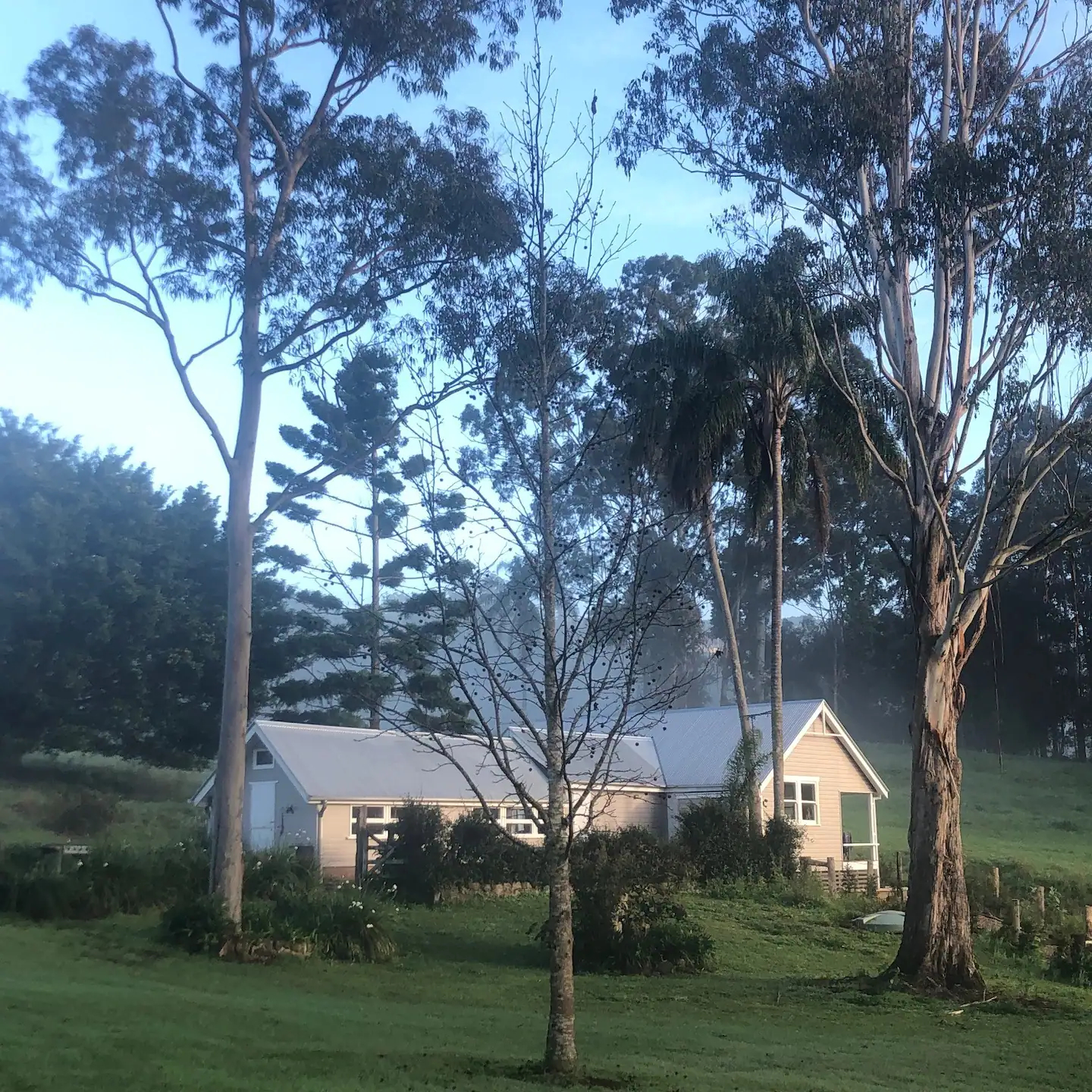 It's secluded, serene and absolutely gorgeous. Bangalow Bails is truly a must if you're looking for a place where you can truly unwind and immerse yourselves in tranquillity far away from the city. This converted dairy is nestled amongst the hills just outside the town of Bangalow in the Byron Bay Hinterland. There's no one else for miles so you can enjoy the scenery, read a book, do some yoga—whatever you like—uninterrupted.
Eumundi Rangeview Cottage
Eumundi | Sleeps 4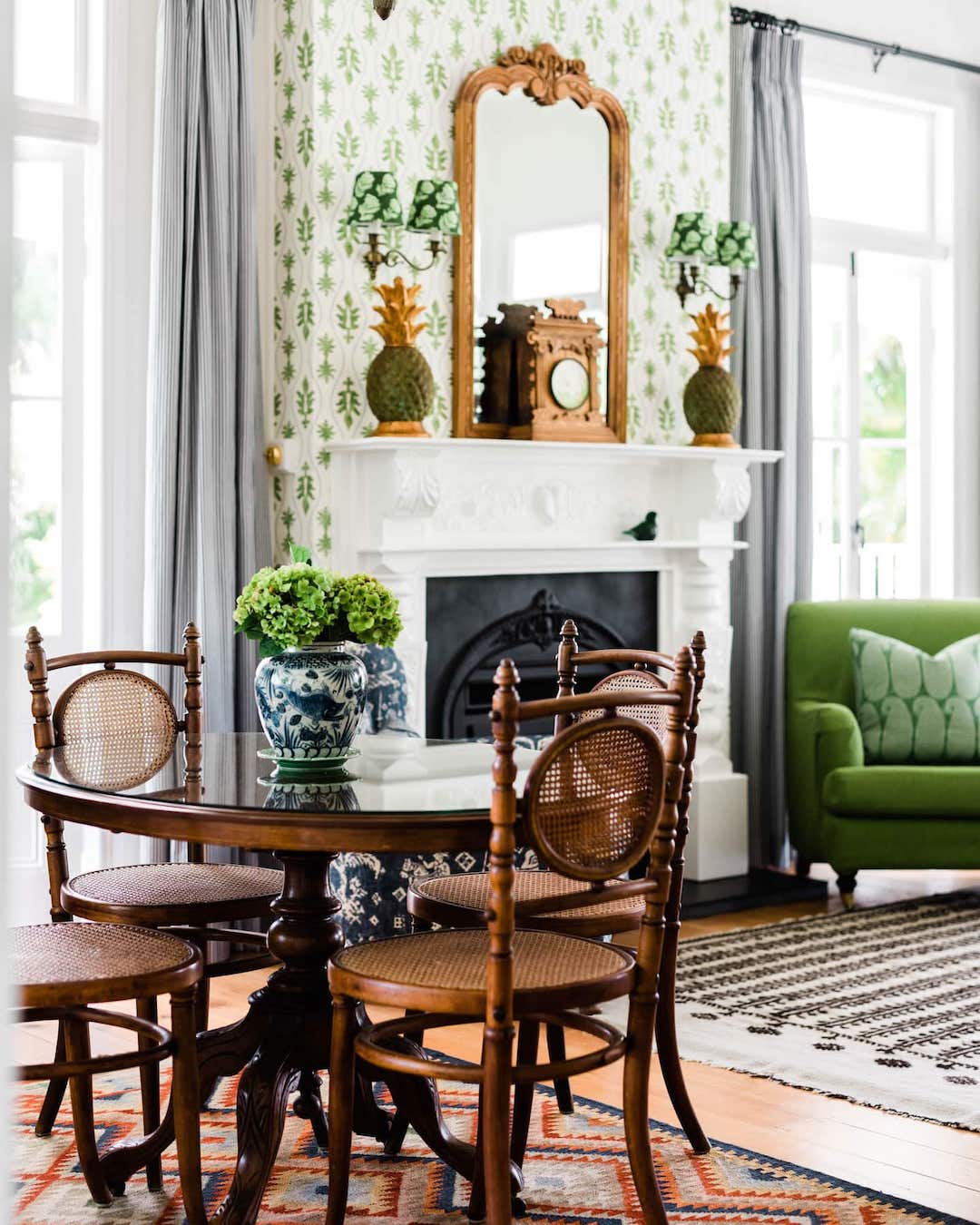 We're going to warn you straight up: when you see the interiors at this place, you will want to move in forever. Luckily, it's available to book for cosy weekends away so you can taste the aesthetic life, with 100-year-old Rangeview Cottage hosting four guests in a stunning spot near the charming town of Eumundi. Aspiring chefs will love the full kitchen, while the cosy vibes come from the charming lounge and dining areas and wood-burning fireplace. We have a feeling you'll be returning...
Silky Oak Cottage
Stanthorpe | Sleeps 2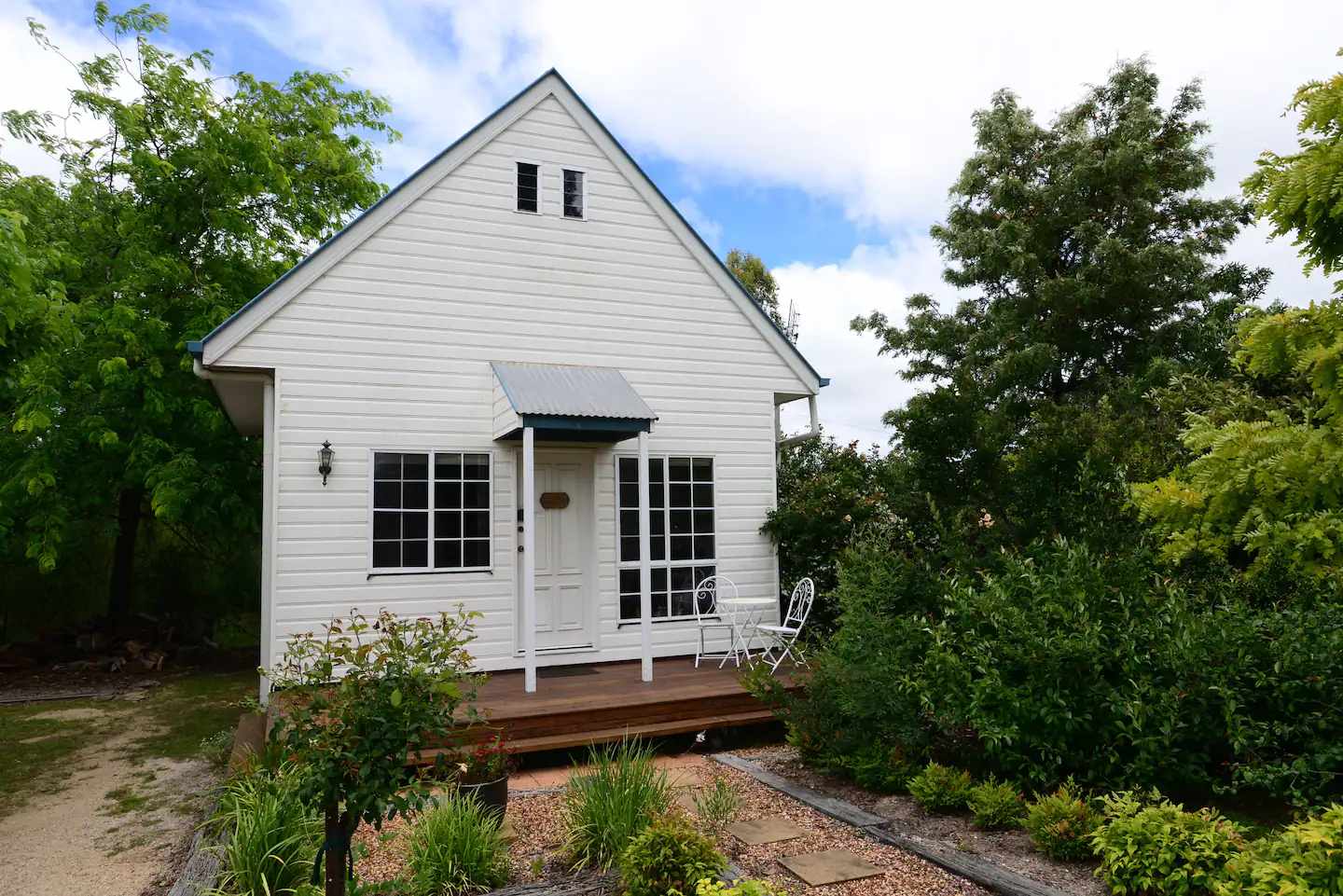 Silky Oak Cottage is the perfect couple's holiday spot if you're looking to indulge in some romance. It's got everything you need: an indoor fireplace, an outdoor fire pit, a cheeky little veranda and greenery in every direction. You'll also be dazzled by the dramatic winding staircase that'll make you feel like royalty with every step.
The Old Dairy
Cudgera Creek | Sleeps 4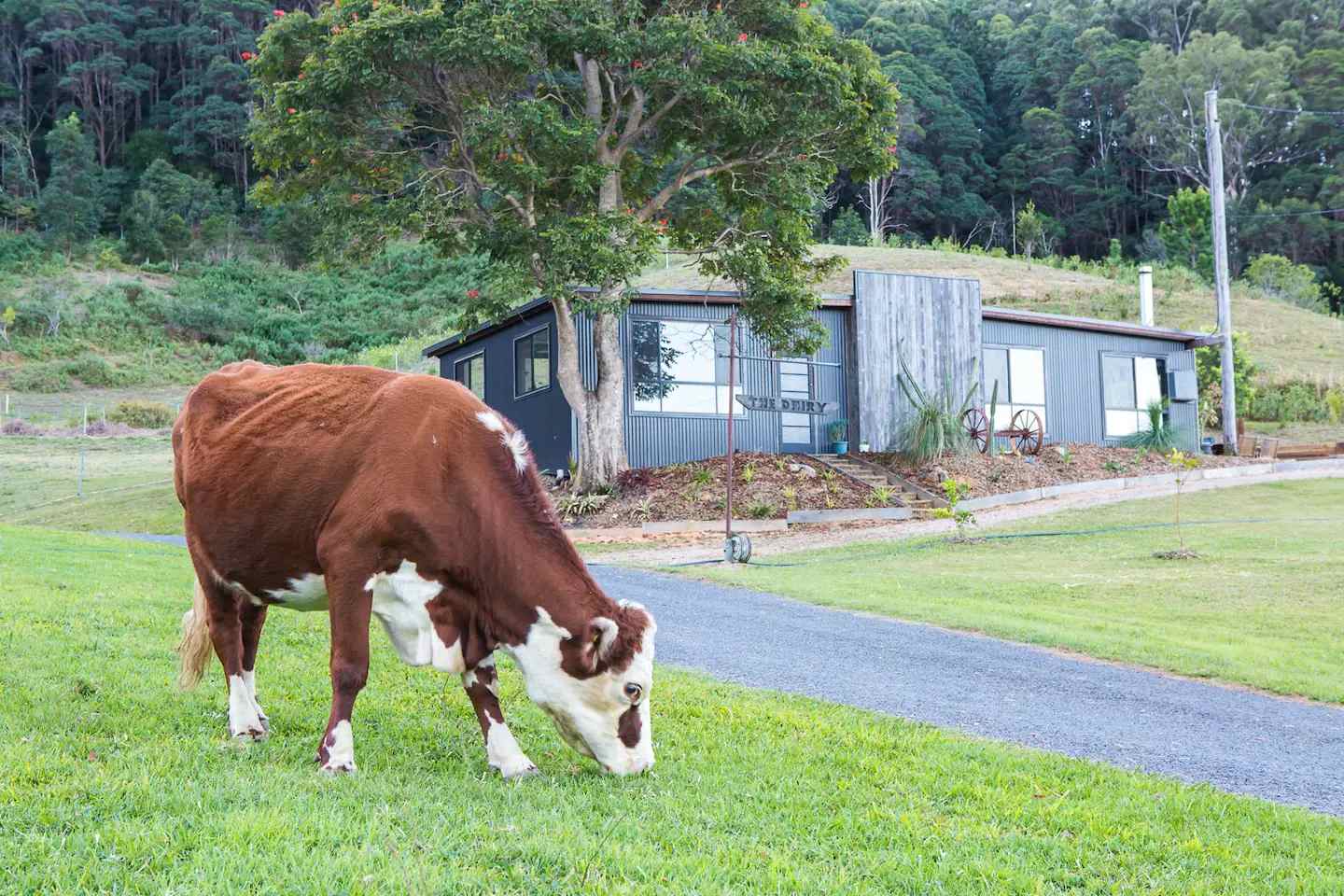 Desperate to escape the rat race? Look no further than this retreat. The Old Dairy is a restored and renovated dairy shed, featuring modern accessories with walls of the old wood. Wake up to the sight of incredible painted sky sunrises from the comfort of your bed and finish the day stargazing and roasting marshmallows at the outdoor firepit. Feel free to explore the surrounding property and farm, feed the animals, or if you're feeling super adventurous, it's just five minutes to the Pottsville beaches and 25 minutes to Byron Bay. Book your stay here.
Hinterland Barn Loft
Tamborine Mountain | Sleeps 3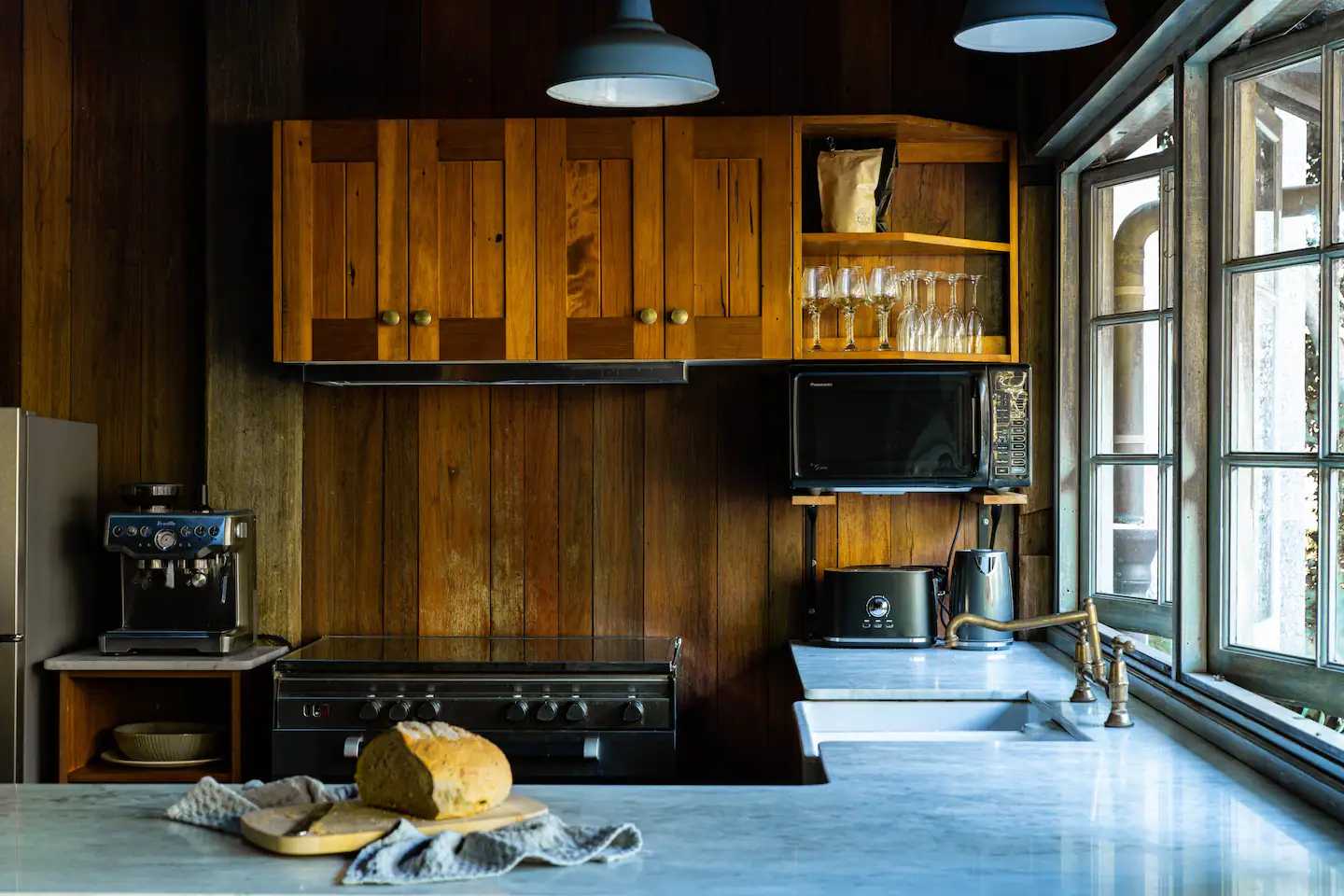 Dreaming of the perfect countryside escape? Then this cosy hinterland barn stay nestled on 18 acres of woodland at Tamborine Mountain has your name written all over it. Boasting the most striking warm, wooden interiors and rustic décor, this stay is the ultimate farm style retreat. So book yourself in and get ready to snuggle up and roast marshmallows by the fireplace on those frosty winter nights.
Neranwoods Cottage, Bathhouse And Sauna
Neranwood | Sleeps 6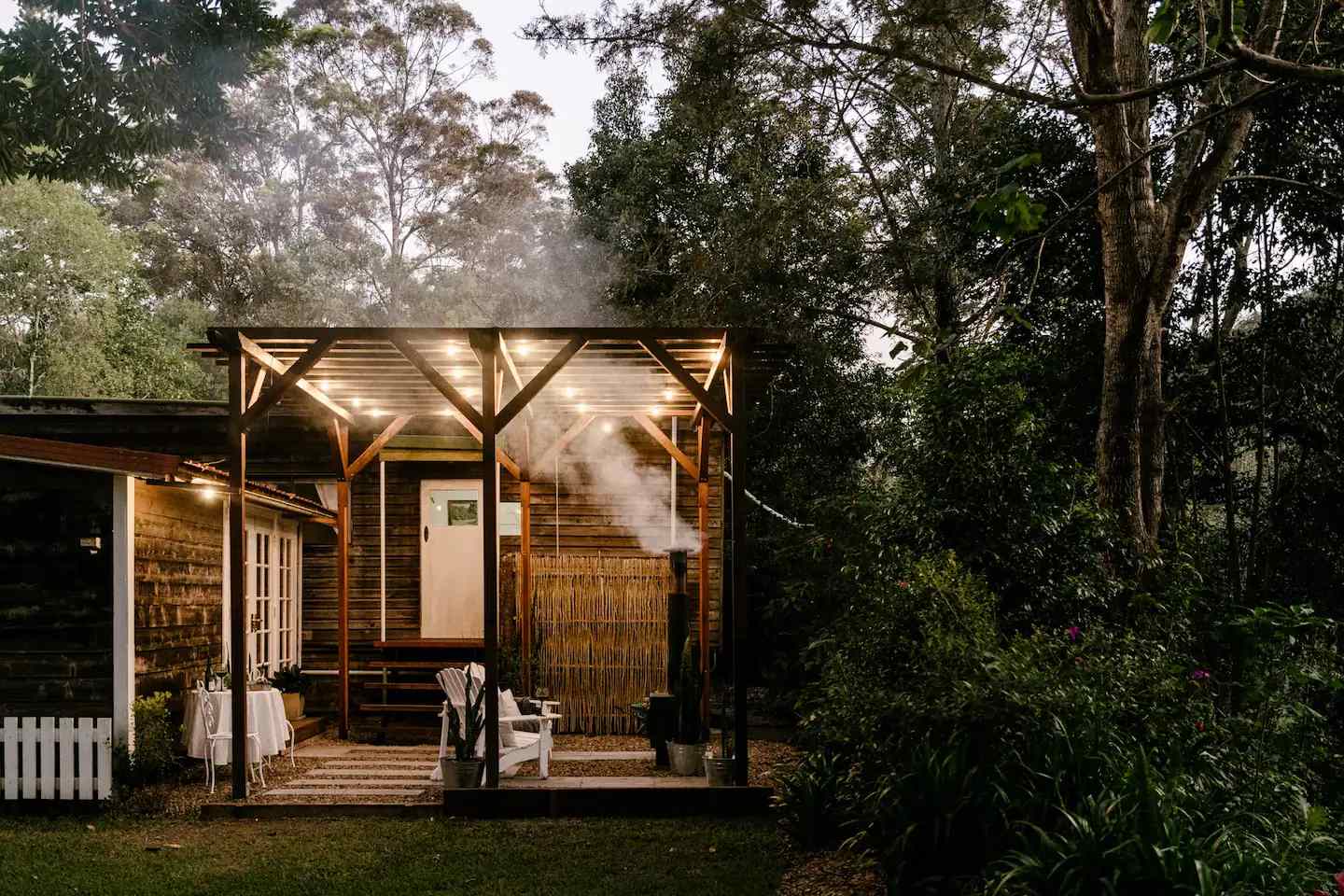 Ever wanted to experience what it would be like to have your own private bathhouse? Here is your chance—this beautifully restored cottage in Neranwood has so much to offer, along with its own bathhouse and sauna retreat, it's surrounded by a stunning forest landscape amongst cedar trees, and the outdoor fireplace provides the perfect place to relax and watch the sun set over the horizon. Did we mention there's a group of rescue chickens living out their best lives on the property? We just know they'd love to meet you.
Want more cosy getaways? Check out these tiny house stays near Brisbane.
Image credit: Airbnb, Booking.com
Editor's note: Urban List editors independently select and write about stuff we love and think you'll like too. Urban List has affiliate partnerships, so we get revenue from your purchases.