Yoga—good for the body, great for the soul, even better for the spirit. But rather than slug it out solo, why not head for one of Australia's most chilled yoga retreats, where you can take a break from your day-to-day and tap into the expertise of yogi masters with a crew of fellow yoga afficionados, sipping green tea between every session.
To help you find your zen quicker, we've rounded up the top rated yoga retreats in Australia to make for. Each with their own unique angle, you can find the one that fits with your flow.
Best For Pampering: Gaia Retreat & Spa
Byron Bay, NSW
Award winning Gaia, owned by superstar Olivia Newton-John, is renowned for its view: the retreat sits at the highest point in Ballina Shire. So while doing your downward dog and warrior one pose, you'll be taking in the views of the Pacific Ocean to one side, and the Nightcap Range to the other. Outside of the stunning seascape, the sustainable, boutique resort delivers everything you could want: a holistic day spa, meditation sessions, organic cooking classes and daybeds on an expansive Tevana deck. If you want pampering plus, go to Gaia.
Best For An Eco Escape: Billabong Retreat
Hawkesbury, NSW
45 minutes from Sydney CBD and you can find yourself immersed within Billabong's aqua therapy magnesium pool, chanting oms while you hear birdcalls or feasting on organic, gluten free, vegetarian cuisine. Totally eco-friendly, this wifi-free escape is mindful to care for the environment, as well as you: showers are limited to two to three minutes, all cleaning products are biodegradable and the ingredients for dinner are picked from the garden. Enjoy picking and choosing what you like to add to your schedule for your stay, be it yoga, meditation or a nutrition class—or simply soaking in the ambience.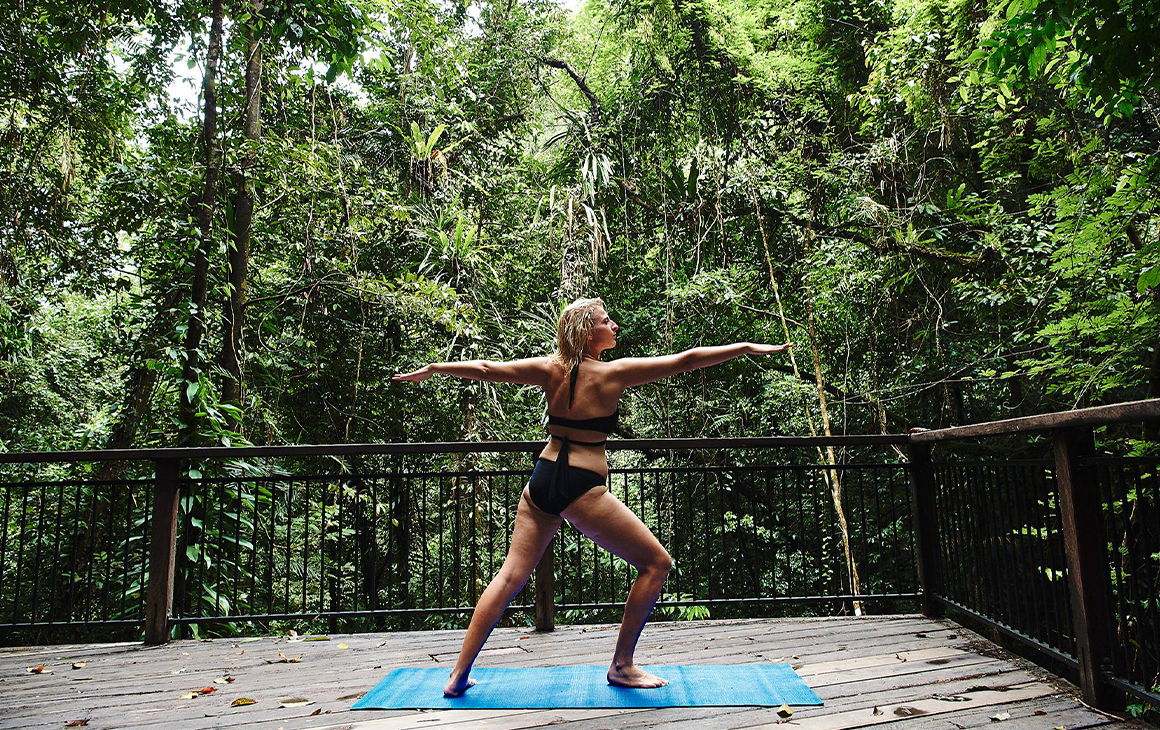 Best For Rainforest Vibes: Daintree Eco Lodge
Daintree, Queensland
Basking in a World Heritage listed breathtaking rainforest canopy, your senses will be invigorated like never before: if not because of the private onsite waterfall, it may be from the cool air from the oldest tropical lowland rainforest on Earth. Indulge in yoga, meditation, the wellness spa or your favourite rainforest activities, from guided walks, river cruises and picnic adventures to river draft snorkelling, fishing and horse riding, basically, you'll be fully immersed in nature while you're at Daintree Eco Lodge.
Best For A Luxury Detox: Gwinganna
Tallebudgera Valley, Queensland
Considered the Rolls Royce of retreats, Gwinganna is perched atop the Gold Coast hinterland: cue rolling hills, fresh country air and basking in nature's medicine. Its infamous detox program will sort you out quick smart: no booze, no phones, and breakfast that starts with an apple cider vinegar shot. Days are filled with yoga, movement, seminars, massages with hot stones and synchronised drum playing, reflexology, therapy sessions—whatever you need to realign your body, mind and soul, Gwinganna has it.
Best For Food: Samadhi
Daylesford, Victoria
If you're looking for nirvana, you'll find it at Samadhi. Well known for outstanding cuisine, look forward to feeding your body as much as your mind with delights such as pistachio crumbed will salmon and coconut parsnip mash on the menu. Inviting you to heal, yoga and meditation sessions are paired with sound healing Himalayan rejuvenation body treatment therapies, which wraps you in a cocoon of thermal vitamin rich mud with sea extracts (all for detoxification, of course).
If you'd prefer to just laze by a pool, check out the most epic hotel pools in Australia.
Image credit: Gaia, Daintree Eco Lodge