If you've been dreaming of your next getaway, but don't want to spend big to satisfy your wanderlust, we've got great news for you. The first airline to launch in Australia for more than 15 years officially embarked on its first flight this week and flights are now on sale for as low as $49 per person one way.
Bonza is Australia's newest and only independent low-cost carrier, operating locally on the stunning Sunshine Coast. Bonza will fly to 17 Australian destinations on 27 routes from its home base at the Sunshine Coast Airport. 93% of Bonza routes are currently not serviced by any airline and 96% are not serviced by a low-cost carrier, so this new airline is making some serious waves.
The flights will release in phases, but you can currently fly to destinations including:
Sunshine Coast to Albury for $69

Sunshine Coast to Avalon for $79

Sunshine Coast to Cairns for $79

Sunshine Coast to Coffs Harbour for $49

Sunshine Coast to Mackay for $59

Sunshine Coast to Mildura for $79

Sunshine Coast to Newcastle for $59

Sunshine Coast to Port Macquarie for $49

Sunshine Coast to Rockhampton for $49

Sunshine Coast to Townsville for $69

Sunshine Coast to Whitsunday Coast for $59
Other current routes include:
Cairns to Rockhampton for $59

Cairns to Mackay for $49

Newcastle to Whitsunday Coast for $79

Rockhampton to Townsville for $49
Bonza has spearheaded a unique strategy with direct bookings only available the Fly Bonza app, meaning flights are not available on third party websites and the airline communicates directly with customers.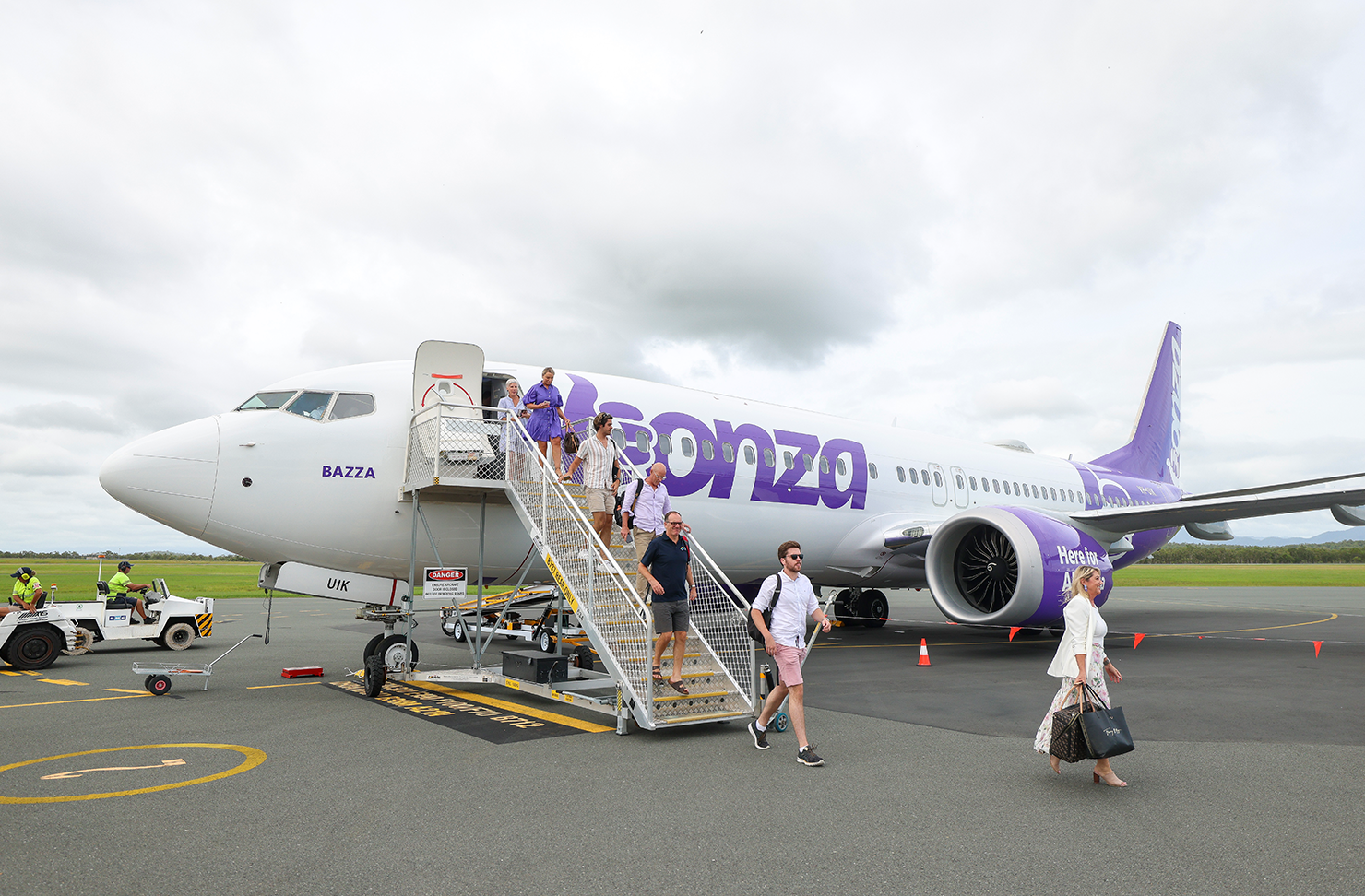 In quintessential Aussie style, Bonza's aircrafts have been named as 'Bazza', 'Shazza' and 'Sheila', which were decided by public vote. If that wasn't enough for you, Bonza is Australia's first airline to offer an all-Aussie food and drinks menu, with an emphasis on sourcing products from local small businesses. We'll be ordering the aptly named 'snag in the bag'. We promise it's better than it sounds.
Bonza's commencement of services is expected to bring an additional 772,000 seats into Sunshine Coast Airport and generate around $86 million in domestic visitor spend in the first 12 months of operation.
CEO of Bonza, Tim Jordan said, "Our team of legends couldn't be more excited to begin connecting Aussies for holidays and time with loved ones."
"What our first customers will experience onboard is a fresh approach to flying where we keep the bar high on quality, and our costs low," he said.
Heading to the Sunshine Coast? Here's your ultimate guide to the best things to do on the Sunshine Coast.
Image Credit: Bonza