Let's set the scene for a minute. It's 2am and you're still tossing and turning thanks to a combination of searing temperatures, a lack of air conditioning, and an irrational fear of sleeping sans covers. Sound familiar?
Missing a good night's snooze is an all too real summertime dilemma, but apart from migrating to a cooler climate, what can you actually do to ensure you get a solid night's sleep when the temperatures start to rise? The solution: Investing in lightweight and airy summer-friendly sheets.
Trade-in your thick, high thread count (and potentially synthetic) bedding for more breathable and lightweight materials like linen, cotton, or bamboo, which promote healthy and cool sleeping conditions thanks to their natural temperature regulating properties.
The added bonus here? You don't need to compromise your bedroom style for guaranteed good sleep. From bamboo to linen and Tencel, below we've rounded up a selection of the best cooling—and cool-looking—sheets designed to help you sleep well, all Summer night long.
Bed Threads 100% Flax Linen Sheet Set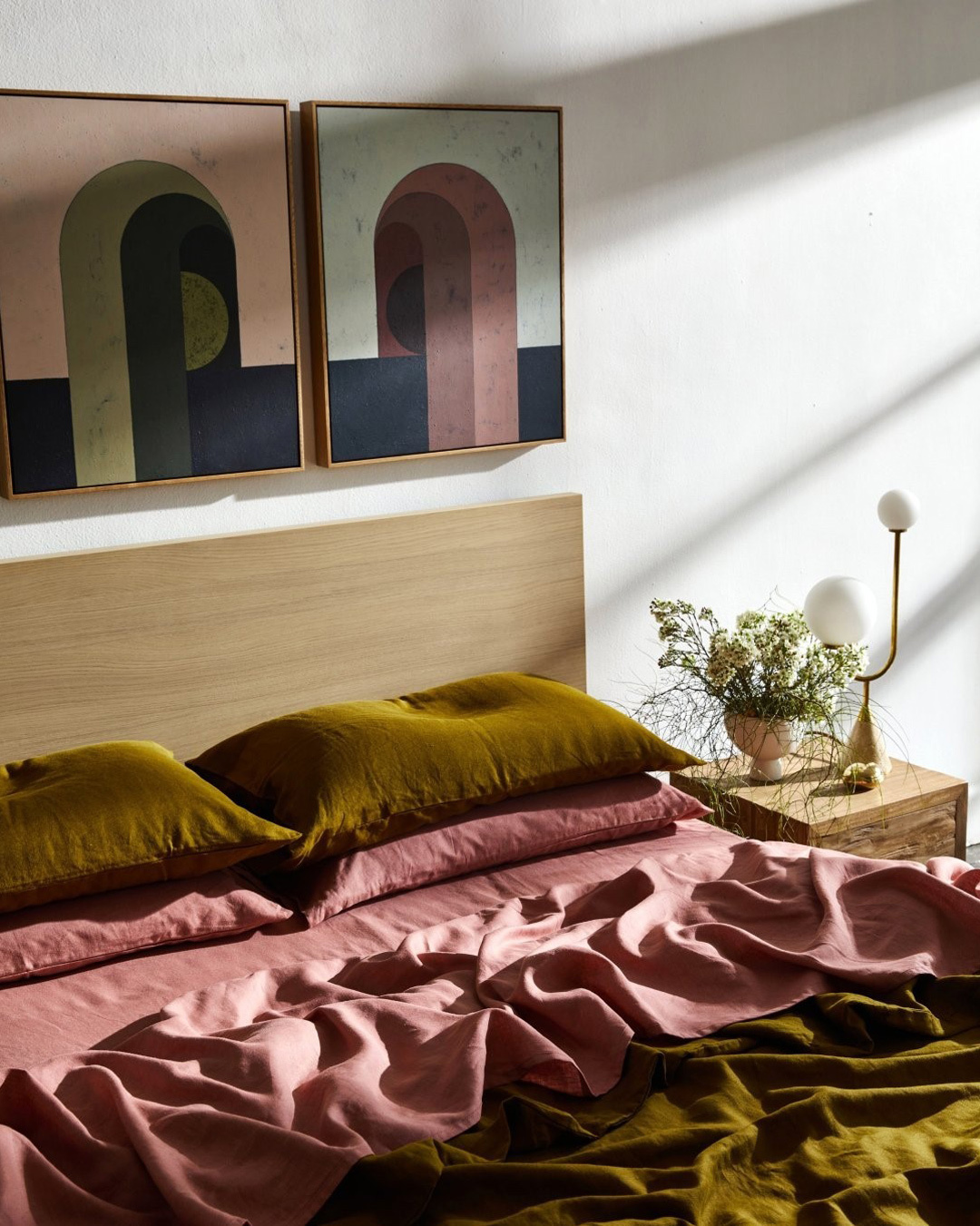 Crafted from pure French flax linen, these buttery soft, pre-washed 100% linen sheets come in a multitude of colours and are designed to adjust to your body's temperature—keeping you cool all summer long. Shop them here.
Milou Milou Flat Sheet
With an unmatched variety of unique colour choices (hello chartreuse), these 100% flax linen sheets are crisp, soft, and durable to promote healthy (and cool) sleep. Bonus, if you've got an unusually-sized bed Milou Milou offers a big range of sizes and everything is made-to-order. Shop here.
The Sheet Society Eve Linen Set
These 100% pure certified French flax linen sheets aren't just durable, breathable, and easy to care for, but they also feature clever details. With a pre-folded top edge, direction labels, and deep pillowcases (to stop your pillows escaping), you'll find both making—and sleeping in—your bed a cooler and calmer affair. Shop them here.
Suku Home Sparkle Quilt Cover Set
This label is a cult favourite for it's beautiful, hand-dyed organic bamboo rayon sheets. If you're looking for eco-conscious sheets that will stand-out, without making you sweat in the middle of the night, Suku Home should be your go-to. Shop here.
Adairs Home Republic Bamboo Linen White Sheet Separates
If you're struggling to decide between linen or bamboo, these sheets are the perfect middle ground. Made from a lightweight blend of 80% bamboo and 20% linen, they are not only beautifully soft ,but they will keep your body temperature regulated throughout the night. Shop here.
West Elm TENCEL Sheet Set
Touting benefits such as being more absorbent than cotton, softer than silk, and cooler than linen, these sheets crafted from a sustainable eucalyptus fibre are the perfect option if you're looking to cultivate a more luxe-sleep experience. Shop them here.
Ecosa Bamboo Bedding
Silky-soft and naturally cool to the touch these 100% organic bamboo, hypoallergenic, antibacterial, and eco-conscious sheets are designed to make bedtime a breeze. Plus, they feature handy keep-in-place clips and label cues so you always know which way is up. Shop yours here.
I Love Linen Sheet Set
Woven from flax grown linen in France these stonewashed sheets have a soft, ready-to-sleep feel straight out of the box. Naturally heat-regulating, their cool, dry and textured feel will keep you comfortable even on the most humid summer nights. Shop here.
Sheridan Washed Linen Cotton Quilt Cover Set
This blended linen and cotton set from the bedding juggernauts at Sheridan is a perfect investment. It'll see you through chillier nights, but be perfectly cool when we reach those steamy 30-degree-plus evenings. Bonus, it's on sale right now. Shop here.
Loom Living Loom Bamboo Sheet Set
Ethically made, these bamboo cotton sheets feature a linen look thanks to their subtle texture, making them a great option if you prefer the look of linen but the feel of bamboo. Featuring a tailored border and shell button detail, they are the perfect choice for elevating any bedroom. Shop here.
Ettitude Bamboo Lyocell Sheet Set
Made from 100% organic bamboo these sheets have been performance tested to ensure their comfort and wellness properties live up to the hype. Hypoallergenic, thermoregulating, and Oeko-Tex Standard 100 certified, these silky-soft sheets are famous for a reason. Shop them here.
In Bed 100% Linen Flat Sheet
A dream to sleep in all year round, these 100% European flax linen sheets won't have you sweating thanks to both their commitment to sustainable best practice and their naturally light and breathable properties. Shop them here.
Linen House Australian Cotton Bed Sheet Set
With a self-piped cuff detail and 400 thread count, these locally-grown, Australian cotton sheets are the perfect option for creating a more refined look. Coming in a variety of easy-to-coordinate colours, you'll be able to mix and match for both a cool looking and cool feeling night's sleep. Shop here.
Keep the cosy, light and breezy vibes going with Bed Threads' beautiful linen loungewear.
Image credit: Milou Milou, Bed Threads, The Sheet Society, Suku Home, Adairs, I Love Linen, Sheridan, Ettitude, In Bed
Editor's note: Urban List editors independently select and write about stuff we love and think you'll like too. Urban List has affiliate partnerships, so we get revenue from your purchase.